The Confidence Fitness Slim Full Body Vibration NHCFV-2000 Machine is one of the most popular vibration machines available. It still maintains a very good approval rating on Amazon after thousands of customer reviews.
It is obvious that the machine is cost-effective and most users are glad that they acquired one.
Just in case you don't know what the vibration machine really does, it improves blood circulation, metabolism, flexibility, muscle suppleness, bone density, increases muscle strength, combats cellulite, and reduces joint stress.
Interestingly, the vibration machine works on you unlike other conventional fitness equipment such as spin bikes, treadmills, elliptical trainers, etc allow you to work out through them with your movements. Simply stand on the vibration board and let the motion and the energy shed the calories off of you.
The Confidence Fitness Slim Full Body Vibration NHCFV-2000 Machine has 50 adjustable speeds that provide easy to intensive low impact vibration. There are heart rate sensors embedded into the handrails which allow you to keep an on your pulse rate target zone when gripped during a workout. This is a function some vibration machines don't have such as the Pinty 2000W Whole Body Vibration Platform Exercise Machine.
The integrated console features LED display windows that help you to keep track of your overall workout progress and a couple of buttons that allow you to navigate. It has a 600W motor with 1.5 horsepower that provides the different range of speeds. However, the motor capacity is less than the one on the Pinty Vibration machine that has a 2000W motor with almost 200 adjustable speeds.
The machine supports 300 pounds/136 kg maximum user weight capacity.
Click right here to have a peek at the price of the Confidence Fitness Slim Full Body Vibration NHCFV-2000 Machine on Amazon.
Frame and Construction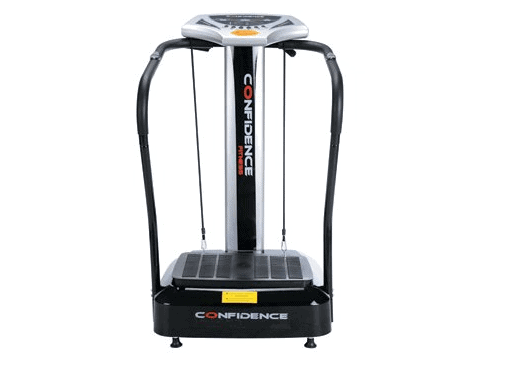 The Confidence Fitness Slim Full Body Vibration NHCFV-2000 Machine's construction consists of two elements. These are the steel for the frame and ABS material for the plate covering and other cosmetic parts.
It is sturdy and durable; users up to 300 pounds/136 kg can utilize the machine. As for stability, it is a lightweight machine with four stands underneath the vibration board; therefore it requires to be positioned on an even floor to avoid rocking.
The unit does not take up space due to its compact design. The overall assembled dimensions are 29 inches length 27.5 inches wide by 48 inches tall. So, a workout area of 2'4'' long by 2'3'' wide and a ceiling height of at least 7 feet should suffice.
The ergonomic handrails are covered with soft rubber foam to provide secure and comfortable grips. The embedded sensors on them transmit the heart rate data when held during a workout.
There are two resistance straps that allow the user to also perform some exercises that tone the upper body and arms; pulling the resistance bands in different positions target different muscle groups.
The vibration plate's dimensions are 21 inches by 15 inches and the unit weighs 62 pounds/28 kg.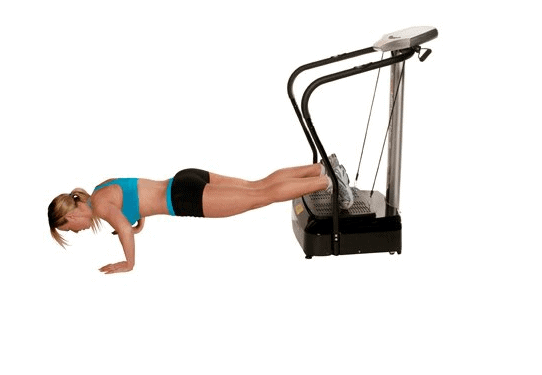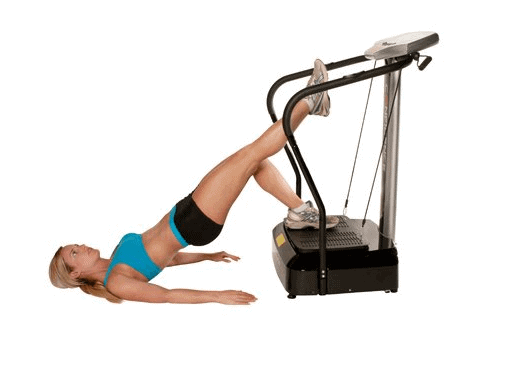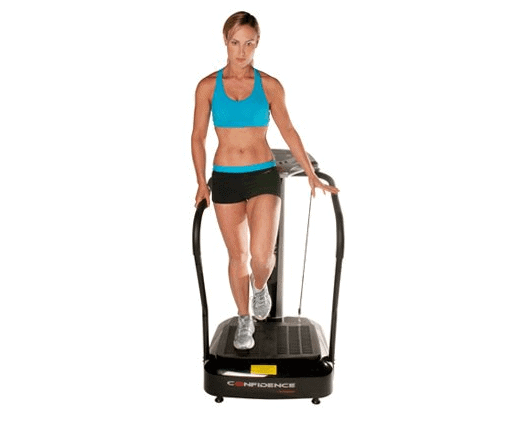 Bottom line is, the Confidence Fitness Slim Full Body Vibration NHCFV-2000 Machine is affordable and durable fitness equipment that is user-friendly and delivers results.
A few minutes spent on this vibration machine is equivalent to spending an hour on a conventional exercise.
To get the most out of it, spend 10 minutes on it, 2 to 3 times a week, and combine it with a low-fat, low-calorie diet for maximum results.
The Motor
As aforementioned, the Confidence Fitness Slim Full Body Vibration NHCFV-2000 Machine has a 600W, 1.5 horsepower capacity motor that provides 1-50 speeds. Its operation is powerful, quiet, and silent.
The motor is like the heartbeat of the vibration machine without which it will be dead and dysfunctional. It is responsible for the vibration intensity that is suitable for all users.
Due to its silent operation, one can listen to music or watch a favorite TV show while working on transiting to an improved fitness level.
Console
The Confidence Fitness Vibration Machine has a basic and simple console that features display windows for speed, a program being used, and the heart rate.
The LED monitor's readability is great and won't be compromised by a poorly lit environment.
A user can manually select a speed for a workout or can choose out of the 3 preset workout programs available in the console. The HL preset program is recommended to be used by users that are very fit while the other two preset programs are normal for everyone else.
Storage
The Confidence Fitness Slim Full Body Vibration NHCFV-2000 Machine is light, portable, and compact. It weighs 62 pounds/28 kg, has transport wheels for easy relocation and has a small footprint that doesn't require much space.
Accessory
No accessory such as a water bottle/phone holder on the machine. If you intend to use one you must improvise. By the way, it may not really matter to some people as they only spend a few minutes on the unit.
Approval Rating
This vibration machine has been around for a while, like a couple of years now, with a lot of positive Amazon users' reviews.
Yes, it has a good approval rating and most users are willing to recommend it.
Pros/Features Overview
Durably built and sturdy
Supports a high user weight capacity of 300 pounds/136 kg
3 preset workout programs designed for effective exercises
Heart rate function allows the user to keep track of the pulse data
The 600W, 1.5 HP motor is smooth and quiet during operation
There are 1-50 adjustable speeds for a different range of workout intensity
Provides great results in less time
Delivers low impact workouts
It's a full-body workout machine
The LED monitor keeps track of heart rate, speed and the preset program being used
Increases muscle strength, improves blood circulation, bone density, and general fitness, and combats cellulite
Easy to assemble
Low maintenance
Cons
No cup/phone holder
The motor is not so powerful and consequently, adjustable speeds are fewer at 1-50
Warranty
Product Dimensions and Specifications
Length 29''
Width 27.5''
Height 48''
Foldable: No
Weight: 62 pounds/28 kg
Supports 300 pounds/136 kg maximum user weight
Transport wheels: Yes
Motor: 600W, 1.5 HP
Speed: 1-50
Resistance; 2 detachable resistance bands
Console: LED Display for speed, heart rate, and a preset program
Preset programs: 3
Shipping, Assembly, and Maintenance
Shipping
The Confidence Fitness Slim Full Body Vibration NHCFV-2000 Machine is shipped in a box that weighs 70 pounds/31.7 kg with dimensions of 46'' by 29'' by 10''.
The shipping cost is determined by the retailer you are purchasing from. Nevertheless, Amazon provides free shipping and delivers within days of order.
Assembly
The assembly of this unit is pretty straight and easy. There is a YouTube video on how to successfully assemble it.
We understand that the instruction manual is not that helpful but you can get by with or without it. The assembly takes about 30 minutes or a little more by one person.
Maintenance
The Confidence Fitness Slim Full Body Vibration NHCFV-2000 Machine doesn't need any special or serious maintenance.
Just make sure to examine the machine before use for any loose or broken parts. Fix accordingly if there is an issue in order to avoid an accident or further damage to it.
Finally, always keep dry and clean from dirt and sweat before and after use.
Conclusion
It will suffice to say that the Confidence Fitness Slim Full Body Vibration NHCFV-2000 Machine is a budget machine that provides value that is a little bit higher than its cost. In other words, it is a cost-effective machine that gets the job done proportionately.
Confidence Fitness Slim Full Body Vibration NHCFV-2000 Machine Review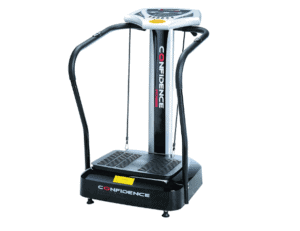 The Confidence Fitness Slim Full Body Vibration NHCFV-2000 Machine's construction consists of two elements. These are the steel for the frame and ABS material
Product Brand: Confidence Fitness
Product In-Stock: InStock