The FINER FORM Multi-Functional Weight Bench is an all-in-one home gym workout tool that could be adjusted to provide different types of workout styles. It is a full-body workout bench that was designed to exercise the arms, back, chest, glutes, core, and hamstrings.
As opposed to Bonnlo Upgraded Adjustable Bench, this could be adjusted to be used for full-body workouts such as hyperextension, sit-ups, side bend, reverse crunch, bicep curls, single-arm row, dumbbell fly, dumbbell row, bench press, and a lot more. It works with your body weight and dumbbells (to be purchased separately).
This is a simple versatile workout bench that adds value to your home gym.
Click right here to have a peek at the best price of the FINER FORM Multi-Functional Weight Bench.
The Frame & Construction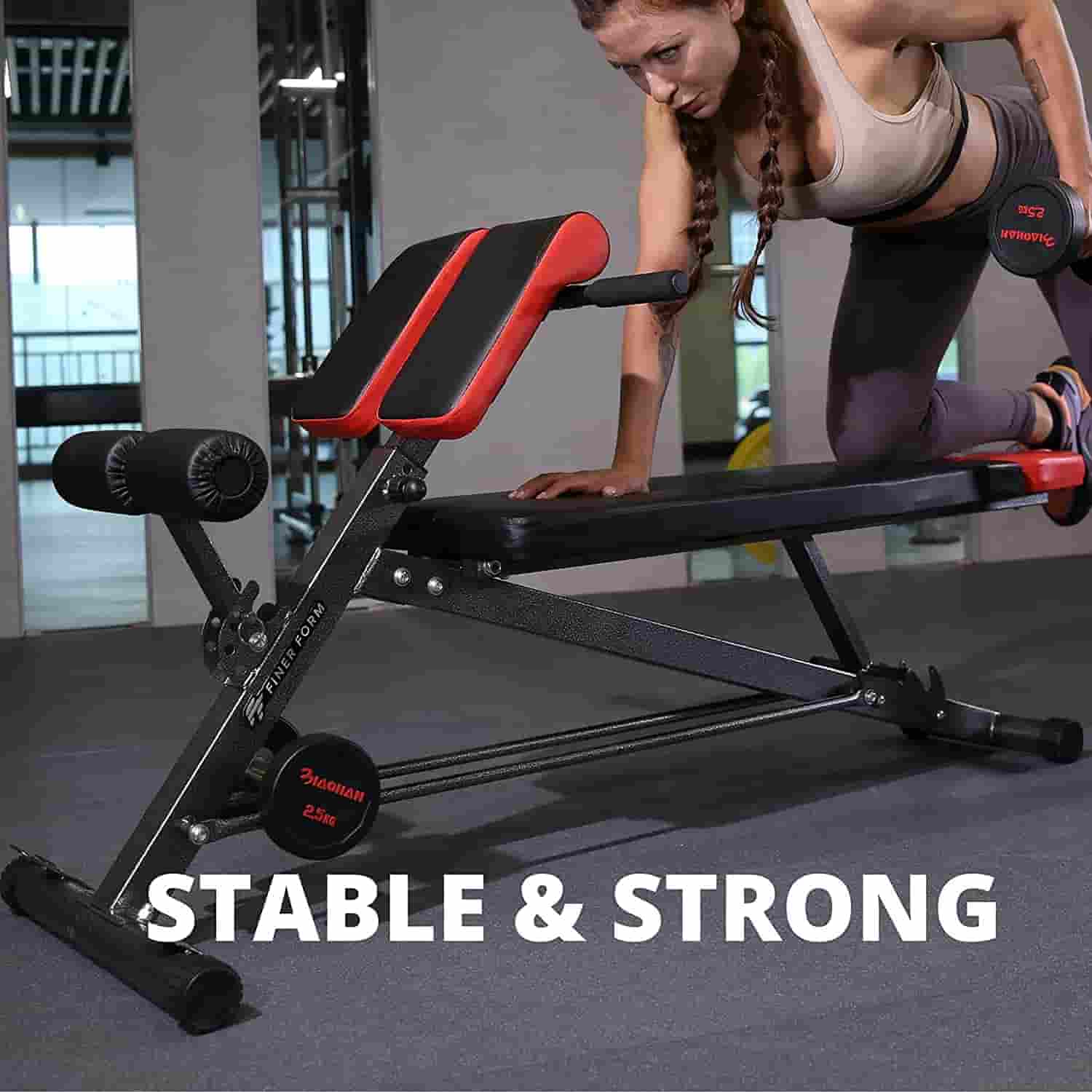 The construction of the FINER FORM Multi-Functional Weight Bench is sturdy and stable. This is a consensus by most Amazon users, hence, its high approval rating.
The frame is made of quality alloy steel that supports 660 lbs./300 kg of total weight. In other words; this covers the user's weight and additional weight of the equipment that might be used for a workout.
It is designed to decline so that different styles of workouts could be performed. Users as tall as 6'3'' tall can conveniently workout on it
The dimensions are 55'' long by 20'' wide by 34'' high, while the bench dimensions are 42.5'' long by 11.8'' wide by 2.5'' thick. This also means a workout space with measurements of 5'58'' (139.7 cm) length by 1'66'' (50.8 cm) width is required.
Moreover, an extra clearance of at least 2′ is required around it to enable you to perform your workouts without hindrance, and for easy access and safety.
Unfortunately, it is not foldable, therefore, the storage space would be the same size as the workout area without the 2′ extra clearance.
The Seat and Upholstery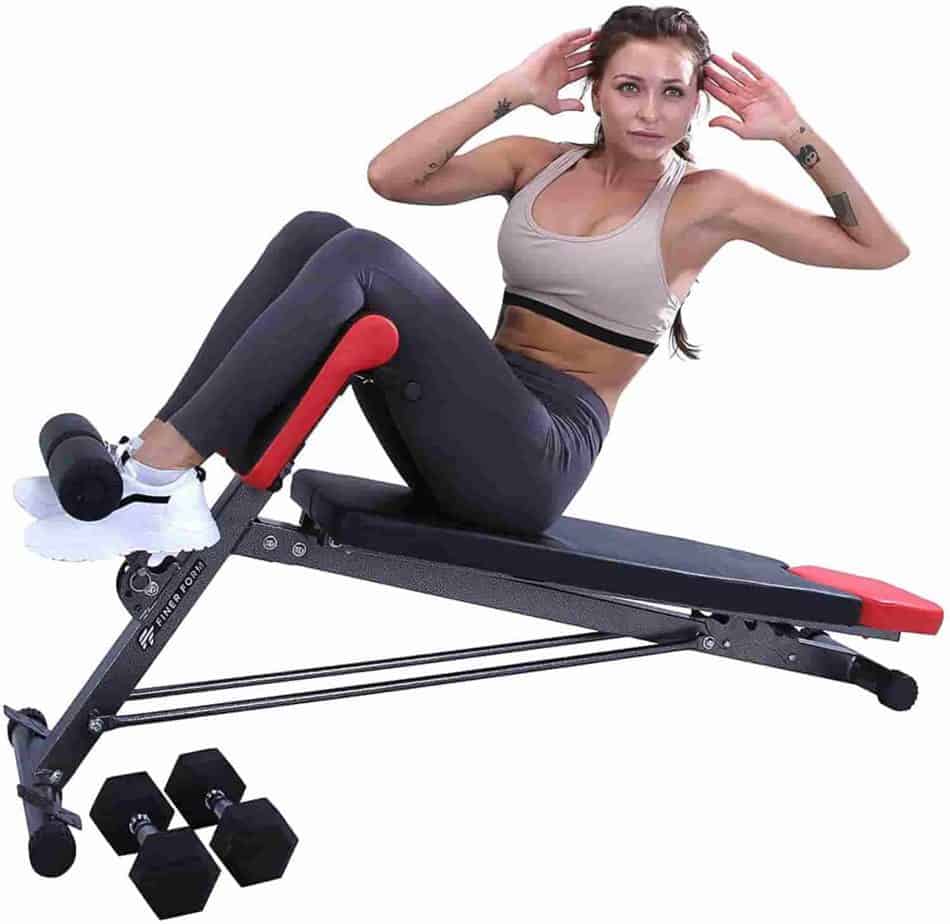 The multi-functional bench features a well-laid-out seat that is adequately cushioned for maximum comfort. Also, both the supporting pad and the leg holder rollers are generously cushioned, and they could be adjusted to 8 and 4 different positions, respectively, for a variety of workout styles.
The bench could also be adjusted to 3 different decline positions. This is the reason why the bench is versatile to support different workouts.
Storage
As aforementioned, this is not foldable like the Bonnlo FID Adjustable Bench (see the link above). Therefore, the storage space required is about the same size as the workout space needed.
It would have had an added advantage if it was folded for easy and convenient storage. Moreover, it doesn't have transport wheels. However, moving it around won't be a problem because it only weighs 36 lbs./16.3 kg.
Approval Rating
The FINER FORM Multi-Functional Weight Bench has a positive approval rating across the board. This includes independent review sites and vendors such as Amazon.
Thus, it is a good indication to purchase if you have been contemplating doing so.
Pros/Features Overview
Very strong and stable
The frame is made of high-grade steel that is powered coated with anti-rust resistance paint
Supports up to 660 lbs./300 kg maximum user weight capacity
Assembly is easy and quick
It is versatile; could be used for multiple exercises such as sit-up, dumbbell row, bench press, hyper extension, and more
Supports users that are up to 6'3'' tall
Perfect for home gym
It enables users to work out the entire body (some of the exercises it support are listed below)
The bench, the side support pad, and the leg holder rollers are well cushioned, and upholstered, and they are adjustable as well
Maintenance-free
It is affordable
Cons
It is not foldable
No transport wheels
Does not incline
List of Exercises it Supports
Upper Body Workouts
Push-ups
Single arm bent over row
Preacher curls
Bench press
Triceps dips
Bench push ups
Triceps kick back
Shoulder press
Triceps extension
Seated triceps press
Dumbbell fly
Bicep curls
Abs & Core Workouts
Extension side bend
Sit-up & twist
Crunches
Reverse crunches
Crunch kicks
Knee to elbow
Lower Body Workouts
Singel leg lunges
Single leg squat
Glute bridge
Single leg hip thrust
Reverse hyper
Full-Body Workouts
Hyperextension
Incline mountain climbers
Warranty
Product Dimensions & Specifications
Length: 55''
Width: 20
Height: 39''
Shipping dimensions: 43.7'' L x 14'' W x 7'' H
Bench dimensions: 42.5'' L x 7.8''-11.8'' W x 2.5'' thick
Maximum weight capacity: 660 lbs./300 kg
Dynamic weight capacity: 400 lbs./181.43 kg
Net weight: 36 lbs./16.3 kg
Gross weight: 38 lbs./17.2 kg
Frame: High-grade steel
Shipping
The FINER FORM Multi-Functional Weight Bench ships in a box that weighs 38 lbs./16.3 kg with dimensions of 43.7'' long by 14'' wide by 7'' high.
Often than not, it is shipped out without shipping charges, especially when it is purchased from major retailers such as Amazon.
It takes a couple of days to a week or so for it to be delivered.
Assembly
Yes, it requires a little bit of assembling. Although, it does not require any special skill to have it assembled, and it takes about 30 minutes to complete.
Maintenance
This is maintenance-free equipment.
That being said, you are required to carry out some basic maintenance that includes keeping it clean on a regular basis.
Also, endeavor to supervise it before use to ensure that all the parts are properly attached to avoid a potential accident that could lead to an injury.
Conclusion
The FINER FORM Multi-Functional Weight Bench is a recommendable multi-purpose workout tool. This is even true because of its affordability and what it could enable you to accomplish in the comfort of your home in terms of exercise.
Therefore, if you wish to perform some or all of the aforementioned workouts, then you may consider adding this to your home gym.