The Exerpeutic 5000 Magnetic Elliptical Trainer is one of the elliptical machines that have made it to our list of the best elliptical trainers. It has great features that are designed to help users experience great and challenging workouts. It is equipped with 24 resistance levels and has a Bluetooth Mobile App tracking capability.
When it comes to the aspect of durability and sturdiness it is fairly built with good user-friendliness. If you are not sure of the Exerpeutic 1318 5000 Magnetic Elliptical Trainer, we can assure you that it is a good elliptical. However, you may check out the verified Amazon customer reviews to see what the real users are saying and their rating for the machine.
The stride length is 18 inch which provides a comfortable full range workout without any stress on the knees and ankles. It features a 3-piece cranking system that ensures high performance and consistent workout and supports up to 270 pounds of user's weight.
It features extras such as the tablet holder that makes it possible for you to watch a movie, read a book or magazine during workouts, and also the ability to even check emails as well.
Its dual-action handlebars allow you to workout with versatility which means you can choose to work the upper (arms, shoulders, and the back) and the lower body or just the lower depending on the handlebars you choose to exercise with.
Buy the Exerpeutic 5000 Magnetic Elliptical Trainer on Amazon
Features/Pros Overview
It possesses 24 levels of magnetic resistance that particularly provide you with challenging workouts that could expedite weight loss. This is easily adjusted through the computer console
There are 12 workout programs available to choose from for a better workout experience plus 7 different training modes
The 18'' stride length typically provides convenient, comfortable, and full range strides that prevent any sort sourness or stress on the joints
The user maximum weight capacity is 270 pounds
The quality is great for its price but average in the sense of quality. It is also stable because of the extended leg stabilizers with non-slip feet
As aforementioned, its Bluetooth capability is one unique feature that makes the Exerpeutic 5000 Magnetic Elliptical Trainer stand out from the rest A user will be able to track workout results anywhere and anytime with the mobile app tracking that uses the Bluetooth technology
It has got a double transmission drive system that operates with a 2 flywheel and 2 belt design system. As a result, the overall gear ratio and the result are doubled with increased momentum and a smoother striding motion
It has a 5'' by 10'' LCD monitor with 4 individual settings. A user will be able to view the workout data/metrics such as time, distance, RPM, Watts, and heart rate
The dual handlebars simply allow a user to experience complete body workout
Its larger stride pedals design conveniently accommodates most users of different feet size and also prevents foot slippage when working out
Averagely good in terms of quality but great for its price range
The handle pulse sensors enable and allow the user to monitor the heart rate to maintain the target heart rate zone at all times
The machine is equipped with a tablet and smartphone holder which also includes an adjustable latch for securing mobile devices
There are transport wheels available that aid in the relocation of the machine
There are reports of good customer service from retailers such as Amazon. Users have applauded how responsive they were in handling their problems
Water bottle holder available for making water handy which is necessary for hydration during and after workouts
Cons
Some users have complained that the resistance is high even on level 1.
Some have also complained of squeaky sound during a workout but not overly loud.
Product Dimensions
55'' Length
25'' Width
64'' Height
Weighs about 84 pounds
Supports up to 270 maximum user weight capacity
What Do We Like About the Exerpeutic 5000 Magnetic Elliptical Trainer?
Well, we love all the good features mentioned above. We love the fact that this machine at its price possesses some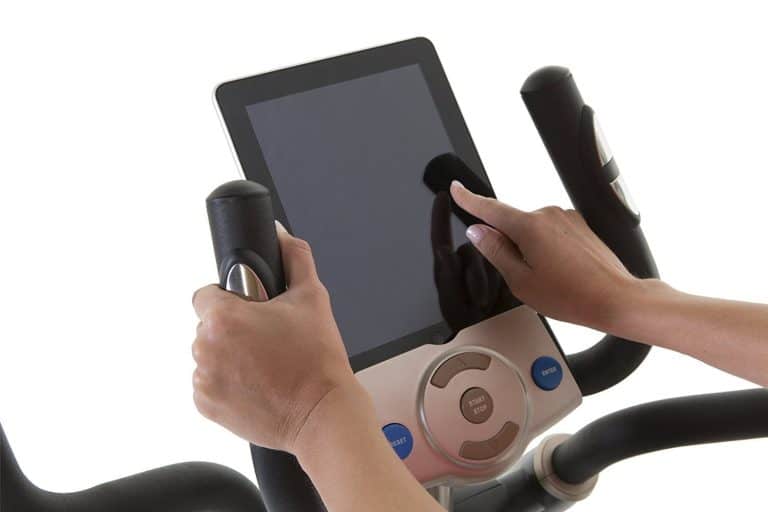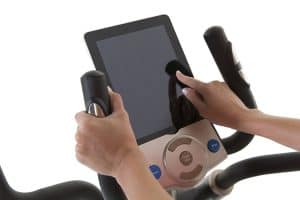 great features. The 24 levels of magnetic resistance provide the challenging workout experience to those that wish to burn a lot more calories and achieve weight loss.
The Exerpeutic 5000 Magnetic Elliptical Trainer could be considered as a reliable machine that can meet the users' expectations as to what they intend to achieve fitness-wise.
The dual transmission with 2 belts and 2 flywheels allow a user to pedal in both directions, whereas the resistance can easily be adjusted via the LCD computer display. There is no doubt that this machine was built with a quality considering its price, as we have repeatedly mentioned. The 3 piece cranking system is also evidence of the quality aspect of the machine as well. The machine can support up to 270 pounds of maximum user weight capacity which we think is fair.
Stability has never been the problem of this machine and users can work out as vigorous and intense as possible without having to worry about wobbling.
If we do not mention the Bluetooth capability then we have not been entirely fair to the good aspect of this unit. This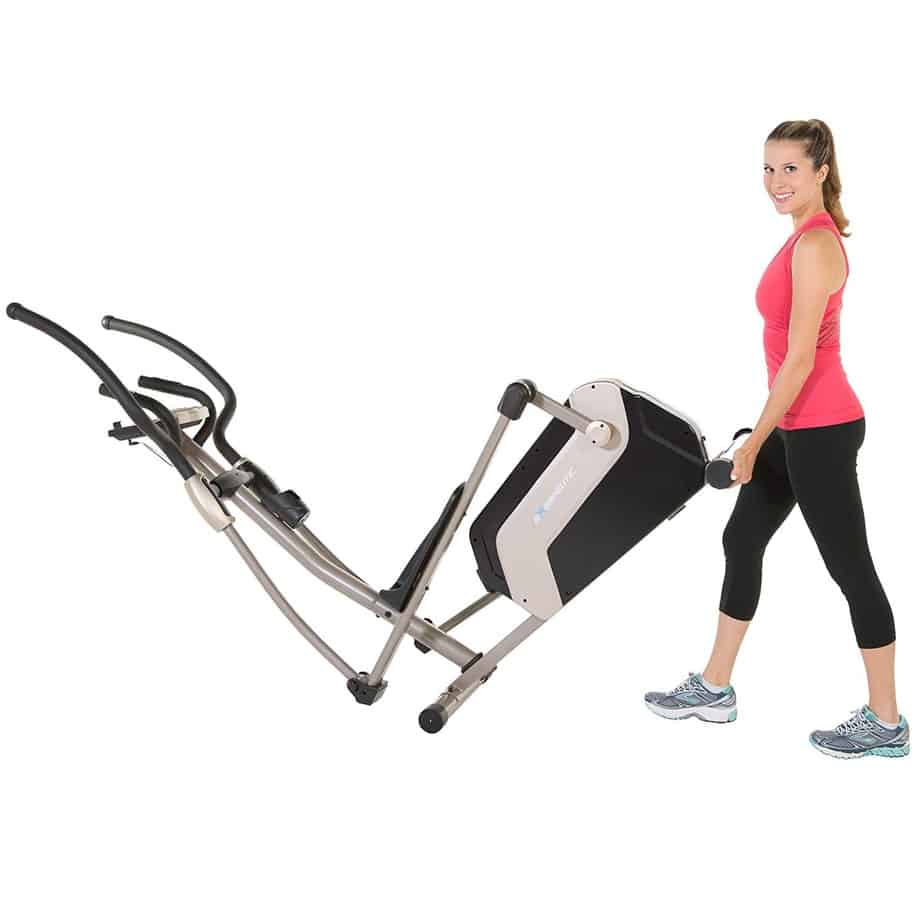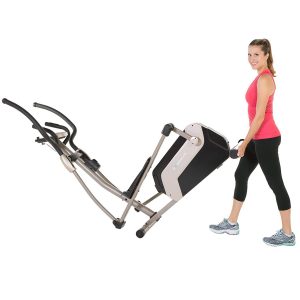 feature allows users to connect to the Exerpeutic Mobile App wirelessly with their mobile device to keep track of their workout results anytime, anywhere.
While you have an LCD monitor that provides your workout data such as time, distance, calories burned, speed, and much more. Folks of 6 feet 1 inch have no problem using this machine because they found it convenient and comfortable.
Moreover, it a medium size machine that is not too big which means it can fit in most rooms, and the weight is neither too much because it weighs about 84 pounds with transport wheels to help in the relocation process.
It generally has an ergonomic design that fits and provides comfort during a workout.
What Don't Like About the Exerpeutic 5000 Magnetic Elliptical Trainer
Of course, we don't like the fact that some users complained about how difficult the level 1 resistance is but then this is not a problem for the majority of the users.  Moreover, the assembling takes time because it is an elliptical machine and partly because the parts are not labeled to help users to identify parts easily as they follow the detailed instruction manual. But again, this should not be a problem for most people.
Shipping, Assembly, and Maintenance
Shipping
The Exerpeutic 5000 Elliptical Trainer's shipping cost depends on the retailer you are buying from, however, retailers such as Amazon ships and delivers this unit without any shipping cost or charge.
Assembly
To assemble this machine is relatively easy but takes time. It comes with a detailed manual that can walk anyone through the process of assembling except for the fact that some people have a hard time identifying the parts easily.
Maintenance
It does not require any serious maintenance expect to always keep it clean from dirt and sweat.
Conclusion
In our opinion, the Exerpeutic 5000 Magnetic Elliptical Trainer is recommendable for home use. It is built with the right features that could help any fitness enthusiast to achieve his/her fitness goals. The Bluetooth feature makes the unit stand out from the rest of the other elliptical machines in the same price range.
It does also have a good ergonomic design that makes it difficult for users to complain about comfortability.
Do leave us some comments below if you have any questions and we shall be really glad to get back to you.
Exerpeutic 1318 5000 Magnetic Elliptical Trainer Review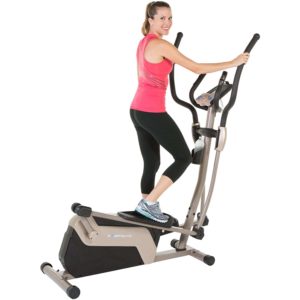 The Exerpeutic 5000 Magnetic Elliptical Trainer is one of the elliptical machines that have made it to the list of the best elliptical trainer
Product Brand: Exerpeutic
Product In-Stock: InStock