The LifeSpan TR 3000i Folding Treadmill has almost the same features as the TR 4000i. But the TR 3000i's motor capacity is 2.75 CHP, while the TR 4000i has a 3.25 CHP motor capacity.
Another difference is that the TR 3000i has a smaller running surface than the TR 4000i but less expensive though.
Click here to buy the LifeSpan TR 3000i Folding Treadmill on Amazon
Product Dimensions
56'' Height
33'' Width
71'' Length
Weighs about 220 pounds
Warranty
Lifetime for Frame
Lifetime for Motor
5 Years for Parts
1 Year for Labor
The Frame
The LifeSpan TR 3000i Folding Treadmill's frame is made of steel hence the lifetime warranty for it. It features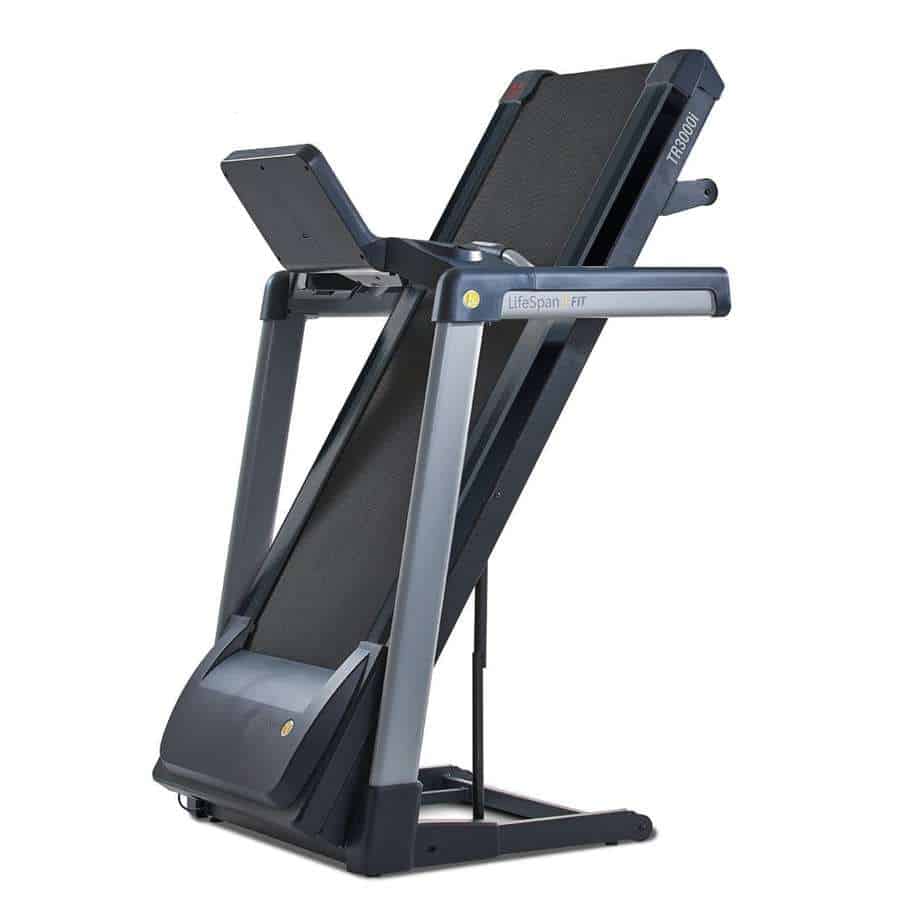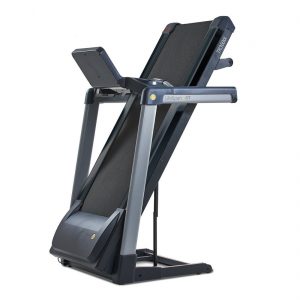 a very sturdy construction that supports 350 pounds of weight maximum user capacity.
It does weigh about 220 pounds which also adds to the stability of the machine which means you don't have to worry about it rocking or wobbling during a vigorous workout.
Now, you may worry a little about the relocation process or storage of the treadmill due to the weight. However, the integrated transport wheels make it easy to be moved for storage without hassle.
It can be folded and unfolded by the EZfold System that comprises a hydraulic cylinder. This system prevents the machine from dropping hard on the ground during the unfolding process.
Moreover, when folded the machine's size is reduced to 42'' L x 33'' W x 56'' H from 71'' L x 33'' x 56'' H which could be great for those with limited storage space and can also fit in most apartments without any issue as the size of the machine is of medium size.
The steel frame parts of the machine are coated with black and gray anti-corrosion paint that is also scratch-resistant.  The frame is constructed with durability in mind and there is no reason to worry about anything going wrong with it.
The Deck
The running surface is designed and supported by 8 compression shock absorbers that provide responsive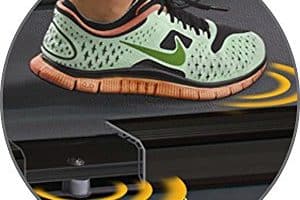 cushioning to the joints which reduce the stress to the back, knees, ankles, and feet.
With the 56'' L x 20'' W running surface a user will be able to walk, jog and run on it and as aforementioned it can conveniently support up to 350 pounds weight maximum user capacity without damaging the deck.
This machine has got a very impressive running surface that is gentle to the joints, unlike the impact one could experience when working out on the concrete or tarred road.
The deck's belt motion is consistent and smooth as well thanks to the integrated large rollers of 2.5'' at the front and 2'' at the rear. Also, the running surface is made of a quality heavy duty 2-ply belt (56'' L x 20'' W).
This can accommodate users of up to 6 feet 4 inches in height without much problem but some may experience stride restrictions if they want to run on it, therefore, a treadmill with the larger running surface may be required.
The Motor
You may have observed on the comparison table above, that the higher the treadmill model the higher the capacity of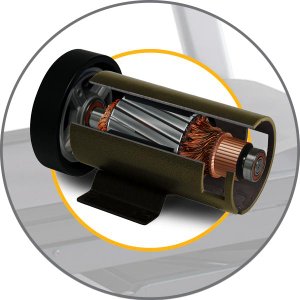 the motor. The TR 1200i has 2.5 CHP motor capacity while the TR 3000I has 2.75 CHP lower than the TR 4000i that has 3.25 CHP.
Despite the difference in their motor capacity the TR 3000i and the TR 4000i supports the same 350 maximum user weight capacities and have a speed of 05 to 12 mph.
However, the 2.75 CHP motor that it possesses is powerful enough to support an intensive workout at a full speed without breaking down or overheating or reducing the quality of performance.
The motor was durably built to withstand any kind of prolong workout hence the lifetime warranty. It is good for anyone that wishes to use the machine for regular and consistent running because the 12 mph speed it provides should be sufficient; nevertheless, it is not recommendable for professional running athletes though.
The motor is super quiet and most of its users have applauded that fact. It is quiet than some of the other treadmills in its category. The machine being quiet during operation can be a big deal for some individuals because they can remain focused on working out.
They don't have to worry about disturbing the family or the neighbors either. Also, they can conveniently watch their favorite TV show or listen to good music while working out.
The speed of the treadmill can easily be adjusted via the speed keys without having to disrupt your workout.
Just in case you don't know, the LifeSpan TR 3000i Folding Treadmill has 2 motors; one that powers the incline which lifts to 800 pounds of weight while the other powers the belt.
The Incline
This machine is equipped with a motorized incline system that can ramp up to 15%. This means that a user can experience a challenging workout that will ultimately speed up weight loss and even tone the leg muscles.
The Console
The console has a blue backlit 6'' LCD monitor on it which has high readability. A user will be able to track his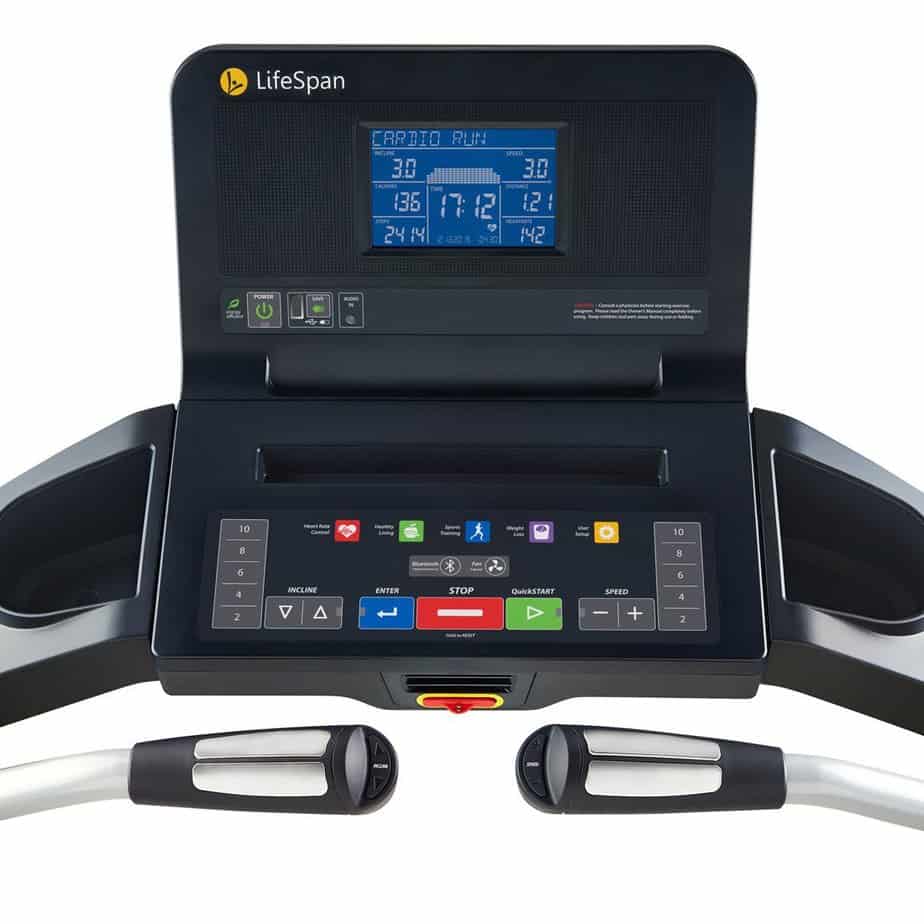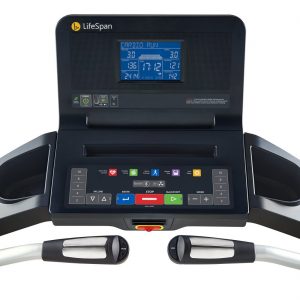 workout progress by viewing workout data such as the time, speed, calories burned, step count, and heart rate.
You have the option to set up the distance in miles or kilometers while you also have the liberty of setting the speed to measure in mph or km/h.
There are 21 workout programs available on the console which includes 5 weight management, 5 health living, 7 sports training, 2 heart rate, and 2 custom user programs. There are several interesting preset workouts available to users. 3 intensity settings are also available for each of the preset programs.
You can create your workouts using the 2 custom user settings; this is done by inputting data such as your weight so that custom workout could be tailored for you. These 2 custom workout profiles are great because you can decide to use them both and swap or if another person is using the same machine, that person can use 1 custom profile while you use one to keep your setting.
There is Bluetooth connectivity available on the console but this can only work with the LifeSpan Bluetooth adapter which is unfortunately not included when you purchase the machine but have to buy that separately.
You should be able to connect or sync wirelessly to your mobile device or even laptop to be able to use online apps such as LifeSpan Active Trac app that is designed to help you track your workout progress and also transfer data.
However, the console is equipped with a USB port that can be used for charging your mobile device and also transfers data into your free club account.
The machine is telemetry enabled which means you can use the HR chest strap to monitor your heart rate which is a lot more accurate than the contact grip. Again, just like the Bluetooth adapter, the chest strap accessory is not included, you have to purchase separately.
But if you don't want to purchase and use the heart rate chest strap you can as well use the contact grip sensors for heart rate.
There are other available features intended to make your workout enjoyable and productive.  Such features are the 3-speed fan to keep you cool through the entire workout, a sound system for quality sound output, water bottle holders for keeping water handy during workout sessions, and a tablet shelf for your mobile device.
The sound system consists of two speakers on the sides of the monitor and they are compatible with a phone device and MP3.
Pros/Feature Overview
Durably built and sturdy
It is quiet and smooth during operation
InteliGuard that stops the belt automatically after 20 seconds of stepping off for safety
Telemetry enabled
Easy to fold
The InteliKey makes program selection simple
21 workout programs that include 5 weight management, 5 health living, 7 sports training, 2 heart rate, and 2 custom
Bluetooth enabled
USB port for data transfer
The USB port can also charge devices
Motorized incline 15%
Possible to track fitness online via LifeSpan Club
3 Speed fan for cooling
Tablet/smartphone holder available
Easy to assemble
Speakers are compatible with smartphone and MP3
75 CHP motor
56'' L x 20'' W running surface
Speed range: 0 to 12 mph
Quick controls for speed and incline
Heavy-duty 2-ply belt
Has large rollers of 2.5''
Supports up to 350 maximum user weight capacity
Impressive warranty
Good customer service
Cons
Bluetooth adapter not included
HR chest strap not included
Shipping
The shipping cost of the LifeSpan TR 3000i Folding Treadmill varies depending on where you are purchasing the machine from, however, Amazon  ships and delivers this unit for free
Assembly
It is fairly easy to assemble because it comes with major components preassembled. There is also an instruction manual that is included which could walk you through the process of assembly and might take up to an hour or less to set up depending on how skillful you are.
Maintenance
The LifeSpan TR 3000i Folding Treadmill requires little maintenance of cleaning it each time you are done working out on it and dust it whenever necessary. It usually comes lubricated but there will be a time when the lubricant light indicator will pop up to tell you that you need to lubricate it. Therefore, you may want to buy the lubrication kit on Amazon.
Conclusion
The LifeSpan TR 3000i Folding Treadmill is a recommendable treadmill that could appeal to many fitness enthusiasts. It has great features that are designed to help you achieve your fitness goals and even enjoy it while doing so.
Even though the machine is constructed primarily for home use it is still very sturdy with steel frame, solid running surface, and a powerful motor that can withstand any type of high-speed workout without failing.
There are overwhelming reports on the Amazon reviews that the customer service is also very good. They listen and attend to any problem in a swift professional way.
Some people are frustrated because of poor customer service with other retailers but Amazon does an excellent job of responding promptly anytime a customer calls on them.
Finally, this is a recommendable machine and if you decide to buy, Amazon would be the best place to do so.
LifeSpan Fitness TR 3000i Folding Treadmill Review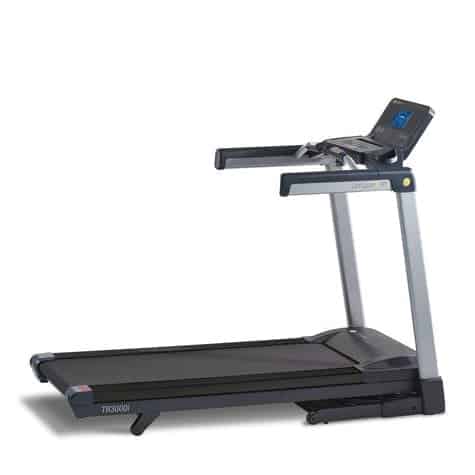 The LifeSpan TR 3000i Folding Treadmill has almost the same features as the TR 4000i. But the TR 3000i's motor capacity is 2.75 CHP, while the TR 4000i has a 3.25 CHP motor capacity.
Product Brand: LifeSpan
Product In-Stock: InStock