The Body Xtreme Fitness Bundle BXF004 Exercise Bike is interestingly affordable with features that guarantee an enjoyable and productive workout experience.
It has a sleek and sturdy construction design that appeals to the eyes and supports a maximum user weight capacity of 250 lbs./113 kg.
Its operation is smooth and quiet and even simulates riding a road bicycle due to the integrated heavy 40 lbs./18 kg flywheel and its chain drive system.
The friction resistance system with unlimited resistance levels provides a variety of workout challenges that kick-start the heartbeat, improve the heart and lungs' health, help to lose weight, tone muscles, and more.
A set of resistance bands is included at the front base for standalone strength training. Therefore, technically, the bike offers full-body workouts.
It's designed for home and office use and it comes with a free Body Xtreme cooling towel and an aluminum water bottle.
Click right here to have a peek at the Body Xtreme Fitness Bundle Exercise Bike.
The Frame and Construction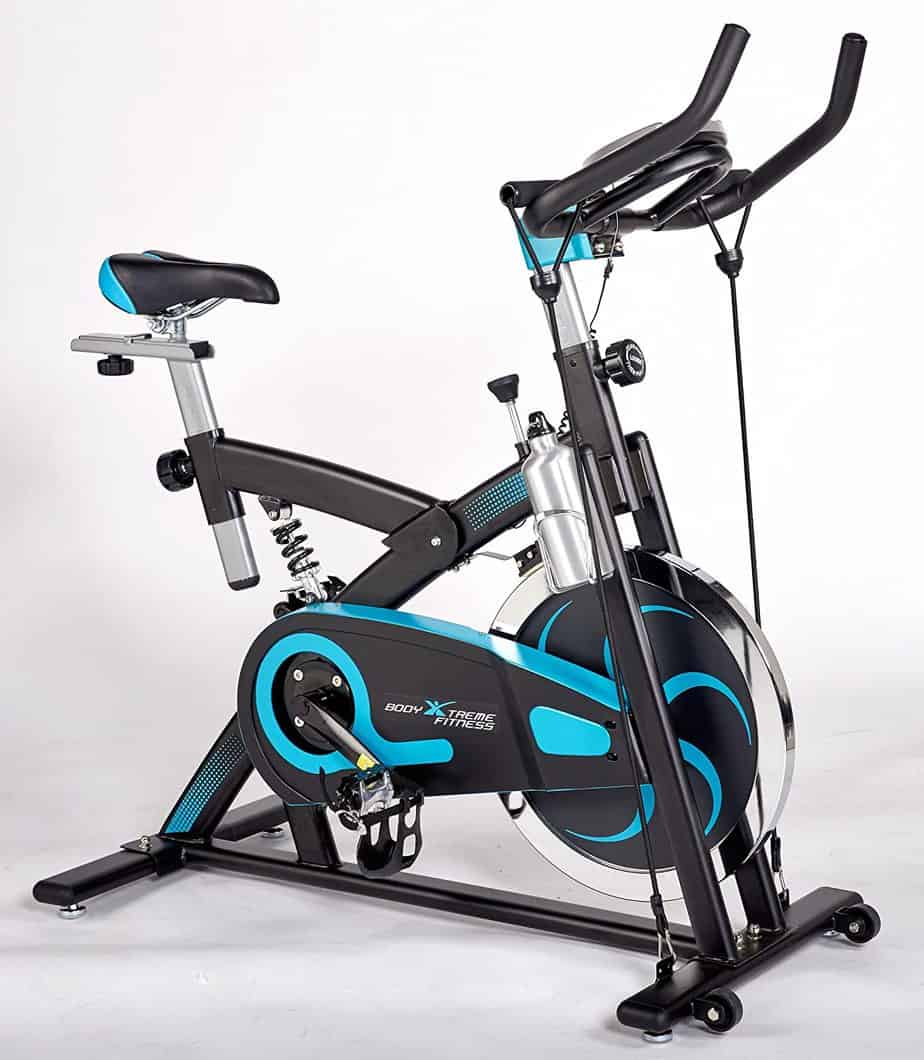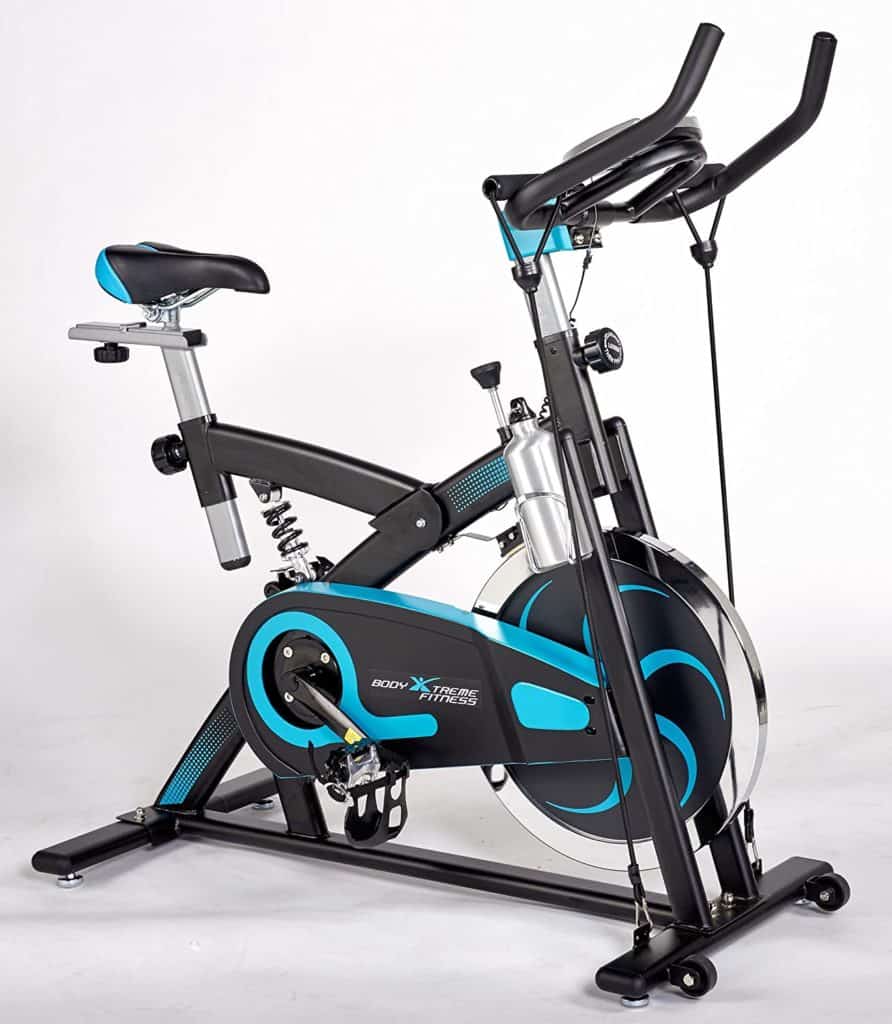 The Body Xtreme Fitness Bundle BXF004 Exercise Bike has a robust and sturdy construction that includes a shock absorber spring like the one on the IDEER LIFE Indoor Bike and the L NOW D501.
This is significant because it does positively affect the way you feel during a workout. It provides a certain level of adherence between you and the bike and as a result, it alleviates lower back pain.
The bike is made up of durable steel and ABS material.
In other words, the structural frame is made of steel while other parts such as the belt drive cover, and the console are made of ABS.
The frame is predominantly welded with fewer parts attached with bolts and nuts. They are coated with anti-corrosive paint (to conserve and prevent rust), while the seat and the handlebar posts are chrome plated.
The BXF004 Exercise Bike is not foldable, but it is compact and won't overwhelm your space.
Its overall assembled dimensions are 42.1'' long by 20.1'' wide by 45.3'' high. Simply put, this suggests the bike will require a workout area with perimeters of 3'6'' length by 1'7'' width, plus extra clearance of 1-2′ at the rear and on each side of it for safety and convenient workout experience, especially when there is the tendency for frequent mounting and dismounting of the bike.
Despite its small footprint, its stability is great due to the base features rectangular steel stabilizers that are adjoined with yet another steel bar. Underneath them are adjustable levelers that enable the user to balance the bike on every surface.
Thus, it holds up for vigorous training without rocking or wobbling.
The unit is lightweight and portable. It weighs about 91 lbs./41 kg and has transport wheels at the front base.
The Seat of the Body Xtreme Fitness Bundle BXF004 Exercise Bike
The seat on the Body Xtreme Fitness Bundle BXF004 Exercise Bike is padded and covered with vinyl material. It has a groove in the middle for breathability and healthy blood circulation during a prolonged workout.
As aforementioned, the seat and its post are attached to a steel bar with a shock absorber spring. Hence, the impact that may be felt on the lower back as a result of workouts is reduced.
If you ever wish to improve the comfort level of the seat, you could use a gel seat cover, or even have it replaced with another saddle of your choice because the connection mechanism is standard.
There are compatible options available in the local bicycle shops and on Amazon.
The seat is 4-way adjustable; vertically (upward/downward) and horizontally (fore/aft) with several adjustment positions that make it possible for users between the heights of 5'-6'2'' to be accommodated.
The Handlebar
The Body Xtreme Fitness Bundle BXF004 Exercise Bike is equipped with an ergonomic multi-grip handlebar that is well coated with rubber foam.
It allows the user to work out in different postures and provides secure and comfortable grips as well.
Lastly, the handlebar only adjusts 2-ways; vertically (upward/downward). But nevertheless, it complements and enhances the bike's overall adjustability for better accommodation.
The Pedals
The balance-weighted pedals on this spin bike are toe cages with adjustable safety straps. They are designed to be ridden with a pair of gym shoes only.
They are comfortable and could secure the feet properly during intense workouts that involve aggressive thrust.
If you wish to use clip cycling shoes then you can swap them for SPD pedals. The thread size is standard 9/16'', so, compatible options are widely available.
The Drive
The Body Xtreme Fitness Bundle BXF004 Exercise Bike has a chain drive system. This means the drive elements include a durable standard bicycle chain, a 3-piece crankset, solid crank arms, sprockets, and a heavy chromed 40 lbs./18 kg flywheel.
Together, these elements form a drive that provides smooth and nearly quiet operation.
One of the advantages of the chain drive system is the fact that the chain lasts longer if maintained properly, and if it requires to be replaced, its replacement can easily be found online or in your local bicycle shop.
The heavy 40 lbs./18 flywheel, on the other hand, promotes consistent momentum that mimics riding a real road bike.
That said, the chain may need to be lubricated or even be adjusted periodically…for the most part, it needs to be lubricated once in a while in order to keep it functioning well.
To lubricate it is not difficult, it's just similar to lubricating the chain of a bicycle. Simply take the chain cover off and drip a silicon-based oil on the chain as you roll it over.
The drive and the pedals are capable of supporting a 250 lbs./113 kg user, both in seated and standing positions.
The drive is bidirectional; meaning you can also pedal in reverse if you so wish. However, it's not possible to coast on it since the flywheel and the pedals turn simultaneously.
Of course, the operation of the bike allows you to work out freely without violating other people's (family & neighbors) privacy. You can also watch a TV show or listen to music while working out without having to raise the volume beyond the acceptable level.
The Resistance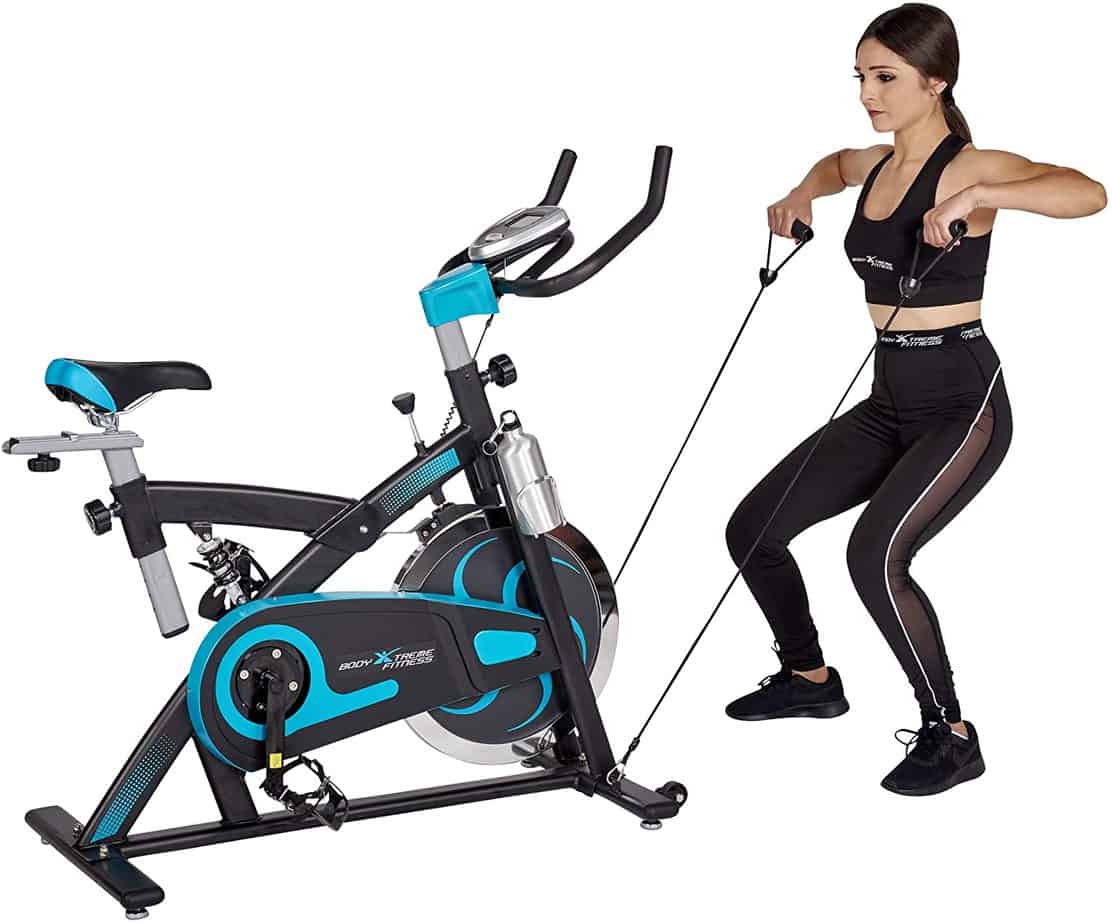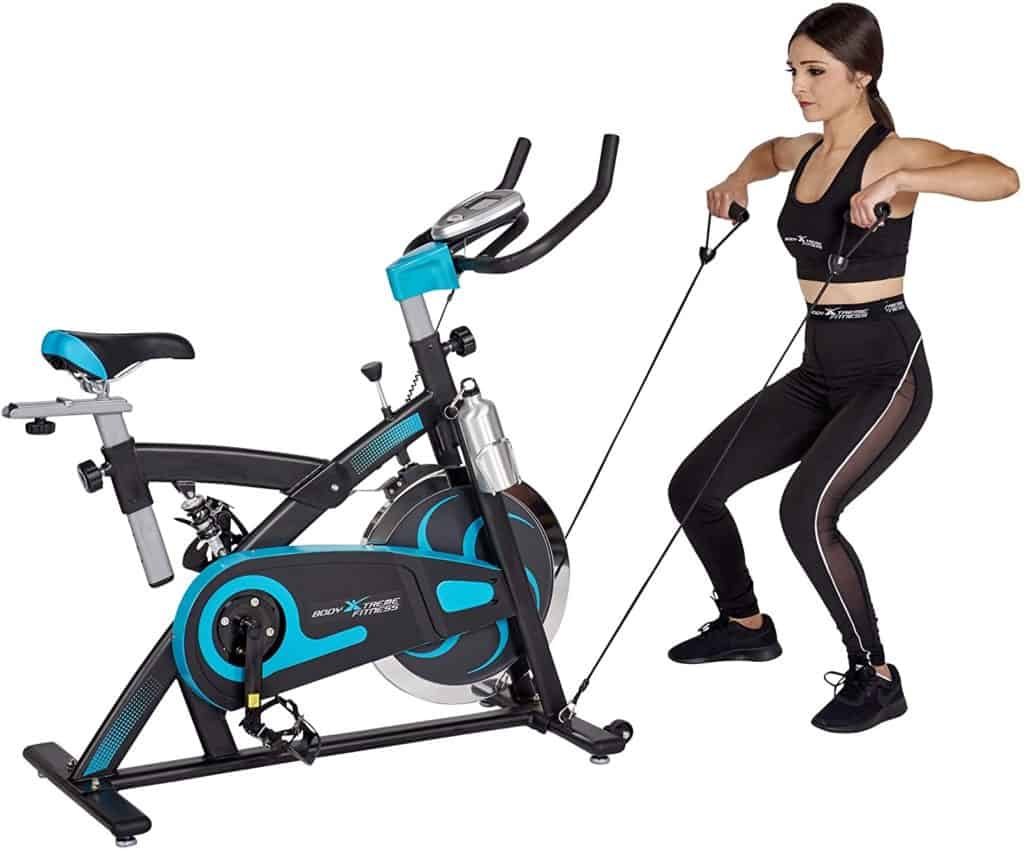 The Body Xtreme Fitness Bundle BXF004 Exercise Bike is incorporated with a friction resistance system that has unlimited adjustable levels. In other words, it has infinite resistance levels that are suitable for all users.
The resistance system consists of the felt brake pad, the flywheel, and the tension control knob.
So, when the tension knob is turned clockwise, the felt brake pad gets in contact with the top surface of the flywheel and consequently creates resistance.
Simply put, turn the tension control knob clockwise to increase the resistance and counterclockwise to decrease it.
Since there are no predefined resistance levels inscribed on the tension knob, tighten it until you feel you have the right or suitable resistance level for your workout.
The resistance system provides workout challenges that are suitable for kick-starting the heart rate, improving the heart and lungs health, toning the leg muscle groups, and of course weight loss.
Anyone can be pushed to the limit by this resistance system.
Moreover, when the tension knob is pushed down, the flywheel comes to a halt. It's otherwise known as the emergency brake that is being used when you wish to stop pedaling because the flywheel and the pedals spin together.
Finally, there are resistance bands that are equipped with D-handles and rubberized grips. They are hooked up at the front base of the bike for arms workouts such as upright rows and curls.
The Console
The console integrated into the Body Xtreme Fitness Bundle BXF004 Exercise Bike is basic and nonbacklit. It features a digital display that tracks workout stats such as Time, Distance, Odometer, Speed, and Calories.
It is an easy-to-read monitor as long as it's being viewed in a well-lit environment.
The workout data are displayed one at a time after every few seconds by the SCAN function because the screen is not large enough and it's not designed to display all the stats simultaneously.
It is also possible to override the SCAN function and instead set a certain workout value to display constantly.
Unfortunately, the monitor does not track the heart rate because it doesn't have EKG HR contact grips. But you could use an external heart rate monitoring device to track and maintain your target heart rate zone.
There is a single button that allows you to turn the monitor ON/OFF, Reset, and navigate through other functions.
The monitor is battery-powered; and as a way to manage the power consumption, it automatically shuts down when there is no activity (pedaling) on the bike and turns ON automatically when activity resumes.
Accessory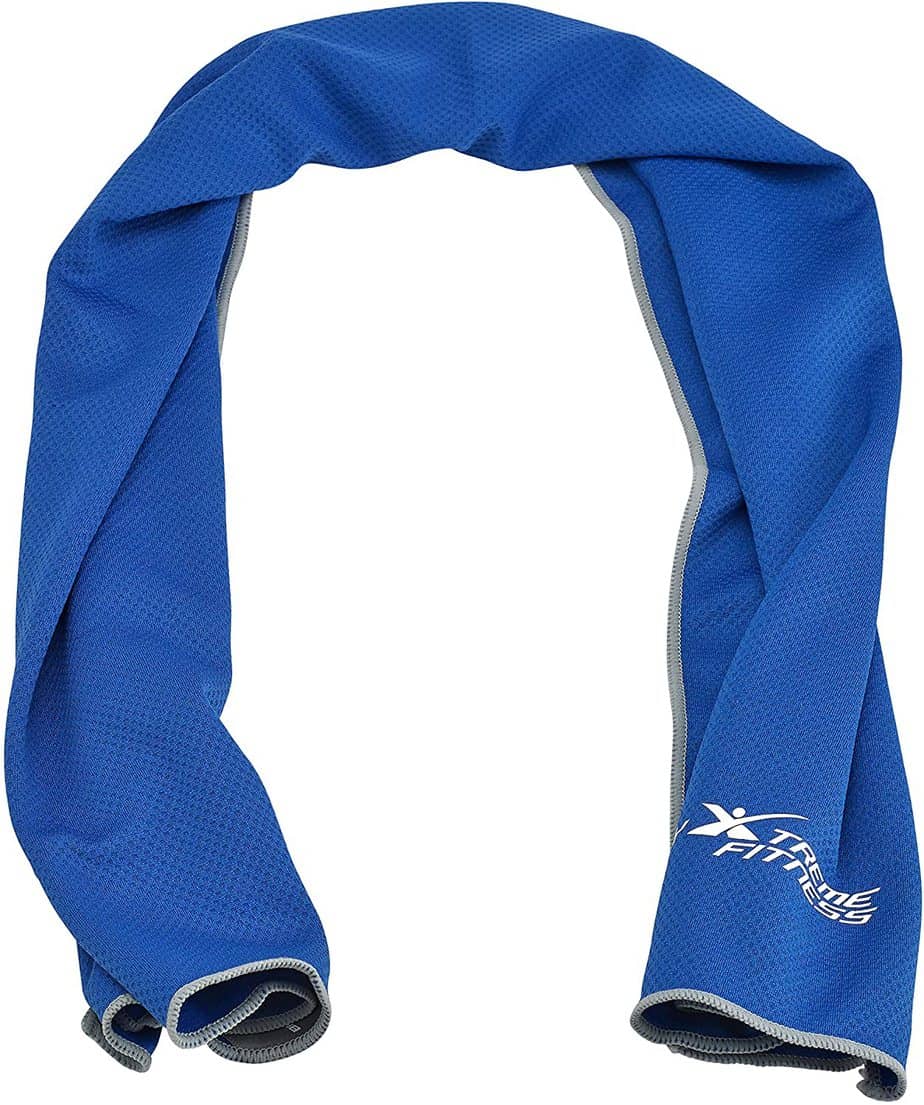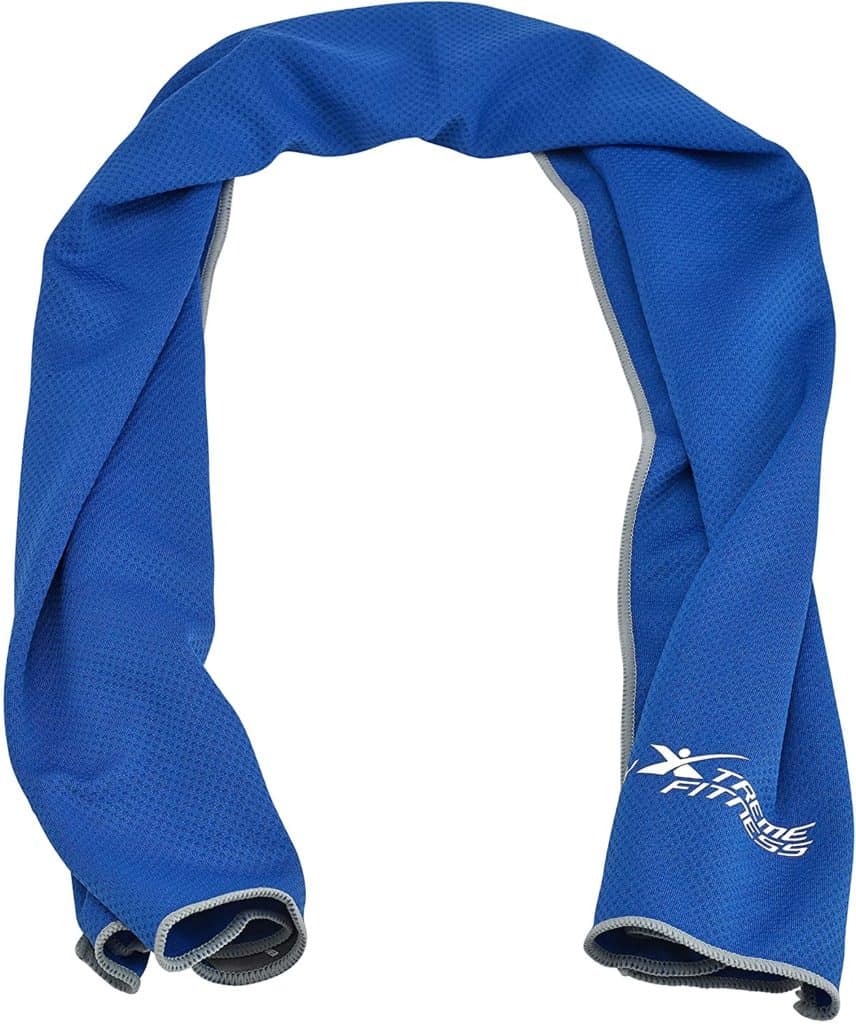 This bike is accompanied by a couple of accessories that include a free aluminum water bottle and a towel, a tablet holder, and resistance bands.
These extras positively improve the quality of your workout experience. You can maintain proper hydration, wipe away sweat, and strengthen the arms.
Storage
The Body Xtreme Fitness Bundle BXF004 Exercise Bike is compact, lightweight and portable. It doesn't take up much space and it's easy to relocate due to the integrated transport wheels at the front base.
It could be stored in the garage, under the staircase or just by the wall.
Pros/Features Overview
It's sturdy and durable
It is compact and portable with transport wheels
Supports 250 lbs./113 kg maximum user weight capacity
It features a base with adjustable levelers for optimum stability
The seat is comfortable and it's 4-way adjustable
A shock absorber spring under the seat reduces back pain
The multi-grip designed handlebar is coated with rubber foam for secure and comfortable grips
Smooth and quiet operation
Durable chain drive system
The friction resistance system provides unlimited levels that could impress anyone, including advanced athletes
Its high inertia 40 lbs./18 kg flywheel provides consistent momentum that mimics outdoor bike's operation
Monitor tracks workout progress; displays Time, Distance, Speed, Odometer, and Calories Burned
SCAN function
Resistance bands for arm workouts
Free towel included
Free aluminum water bottle included
Water bottle holder included
Easy to assemble
Little maintenance required
Cons
The monitor is nonbacklit
No tablet holder
No heart rate monitoring function
Product Dimensions and Specifications
Length 42.1''
Width 20.1''
Height 45.3''
Net weight: 91 lbs./41 kg
Gross weight: 97 lbs./44 kg
Maximum user weight capacity: 250 lbs./113 kg
Seat: 4-way adjustable sits on a spring shock absorber
Handlebar: Multi-grip, 2-way adjustable
Pedals: Toe cages with adjustable safety straps
Console/Monitor: Basic, nonbacklit
Flywheel: 40 lbs./18 kg
Frame: Steel
Drive: Chain
Resistance: Friction, infinite
Aluminum water bottle included
Water bottle holder: Yes
Transport wheels: Yes
Resistance bands for arms workouts
Free towel
Shipping
The Body Xtreme Fitness Bundle BXF004 Exercise Bike is shipped out in a well-packaged box that weighs 97 lbs./44 kg.
Amazon transports it to your home free of charge and does that in a couple of days upon purchase.
Assembly
The bike is not difficult to assemble. It comes with the drive/resistance elements already assembled.
Therefore, you are to attach the base stabilizers, the adjustable levelers, the seat and the handlebar posts, the seat, the handlebar, the pedals, the resistance bands, and the console to the main unit.
An instruction manual and the tools kit are included to help you carry out the assembly successfully.
It takes about an hour, more or less to completely assemble the bike aside from unpacking it.
Maintenance
It requires periodic lubrication of the chain in order to prevent it from rust or damage. This is done by taking off the chain guard and simply applying a silicon-based oil on the teeth of the chain.
Other than that, always keep it clean and ensure to examine the bike for any loose or broken parts before use.
Conclusion
The Body Xtreme Fitness Bundle BXF004 Exercise Bike is an indoor cycling bike that is made for home use. It is designed to offer cardio workouts and strength training.
With it at your disposal, you can begin to improve and maintain your physical health.