The HARISON 407 Inversion Table is primarily a therapeutic machine used by Physical therapists or Chiropractors to do traction on spine jobs for patients. But now, due to its benefits, it's being used as a fitness machine by many for the relief of back pain, spine pressure, and the promotion of blood circulation to the upper body.
In other words, if correctly used, users are going to see ROI (return of investment) as their physical fitness level is improved as well.
However, it is recommended to contact your physician before purchasing this unit, due to the fact that some individual reacts aggressively and negatively to the use of it, especially those that have heart or circulatory condition, high blood pressure, and osteoporosis.
That said, click right here to have a peek at the HARISON 407 Inversion Table on Amazon.
The Frame and Construction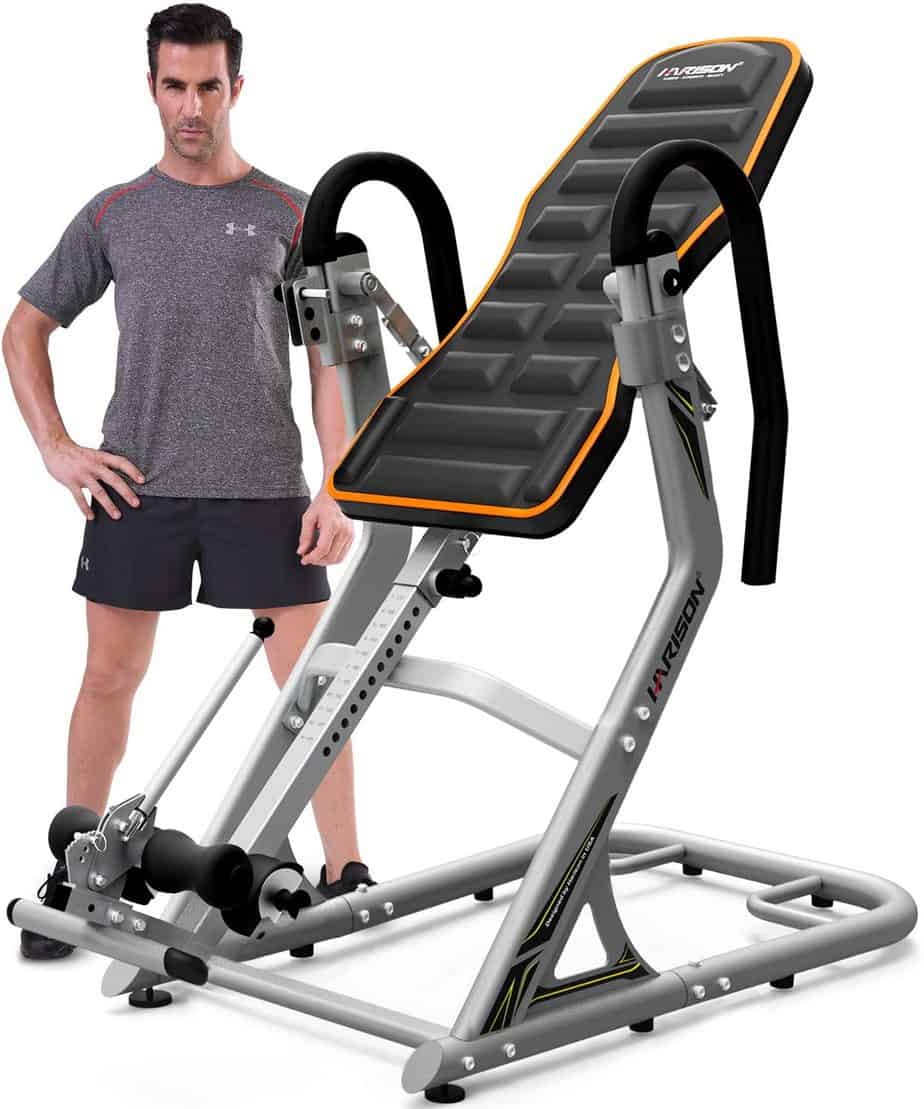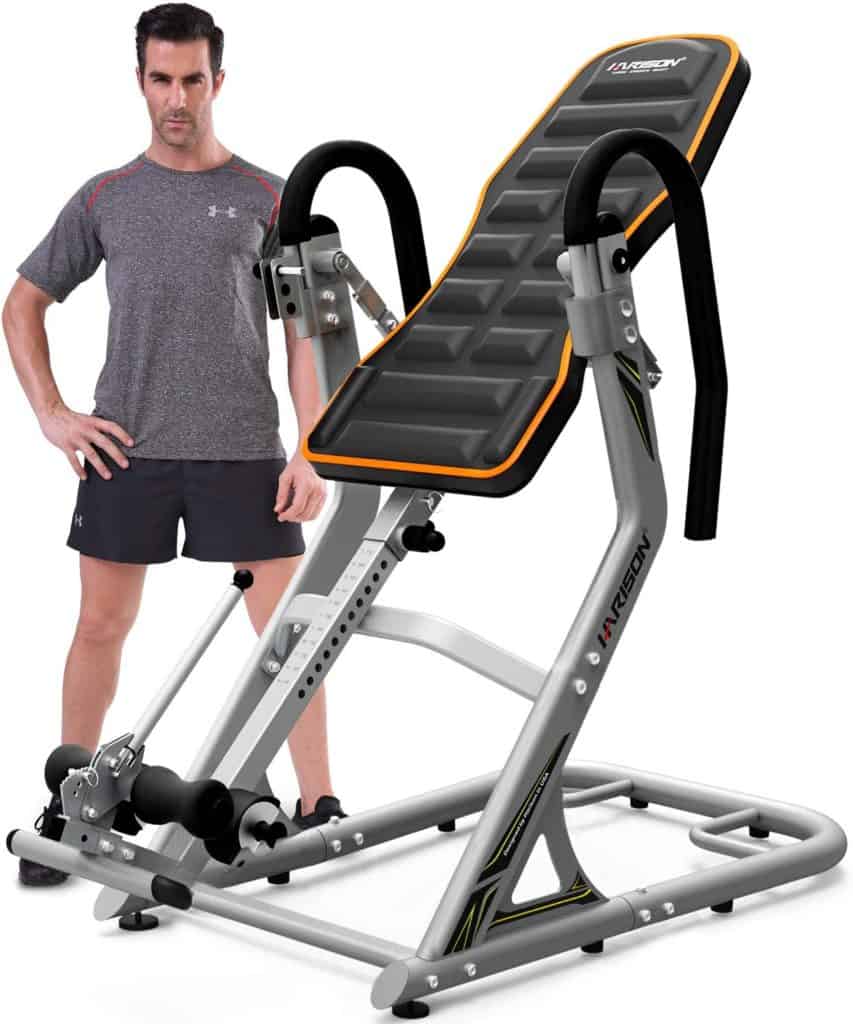 The HARISON 407 Inversion Table is a piece of genuine patented equipment with an exclusive design that makes it stand out from the rest.
It has a durable heavy-duty ovalized steel tubing that supports a maximum user weight capacity of 300-350 lbs./136-158.7 kg. It is further fortified with a gray anti-rust and scratch paint that ensures it doesn't have degradation issues in the long run.
Stability is an essential part of a fitness machine, especially an inversion table that gets the user to invert from 20-180 degrees. Therefore, the need for optimum stability and safety cannot be overemphasized.
That said, the HARISON Inversion Table has a D-shaped robust base system that features rubberized nonskid pads underneath with those at the front base adjustable. So, it does meet the optimum stability level that is safe.
The unit is not foldable but it's not overly large either. Nevertheless, it's going to need a little bit of space just as most indoor rowing machines would require.
Its overall assembled dimensions are 75'' long by 28'' wide by 55'' high. Differently put, the unit is going to need a usage area with perimeters of 6'3'' length by 2'4'' width and a ceiling height of at least 7' high.
Of course, extra clearance of 1-2′ around the machine is going to be necessary for safety and easy access.
This inversion table is manually-operated with no requirement to be plugged into a power source.
The Backrest of the HARISON 407 Inversion Table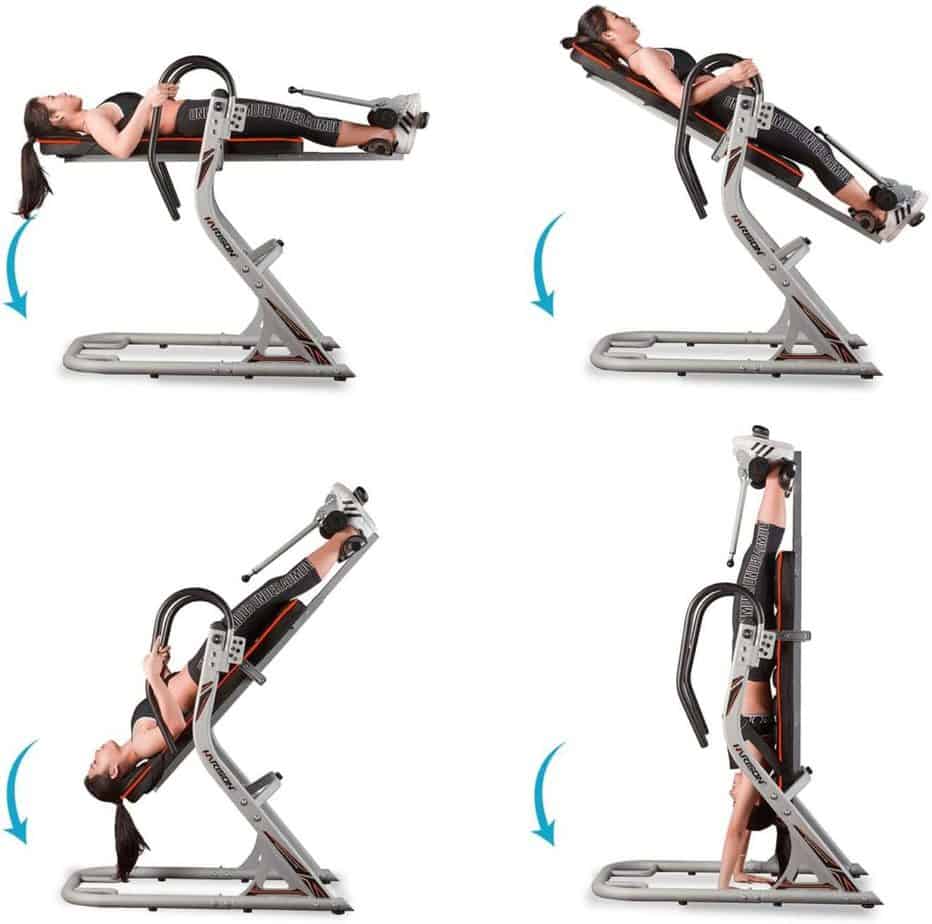 The HARISON 407 Inversion Table features an ergonomically designed 3D memory foam backrest. Its design is such that it fully fits the user's waist curve, and provides additional comfort and full-body relaxation during inversion.
It's usually in a recline position that makes it easy to mount and dismount.
There is also a thick durable and adjustable nylon safety belt that ensures users' safety during an inversion workout; this means, no slipping off of the backrest.
The steel bar upon which the backrest is attached to has several adjustment holes that enable users to adjust to a suitable height position, while the backrest can also be adjusted to 4 angle positions that are between 20-180 degrees vertical inversion.
The Handlebars
There are two big loop handlebars on the inversion table with each on either side of the backrest.
They are foam coated to provide lasting comfort and secure grips. In other words, their non-slip design provides safety while inverting and for easy upright position return.
These handlebars are not adjustable; however, they are strategically and optimally positioned for suitability for all users.
The Pedals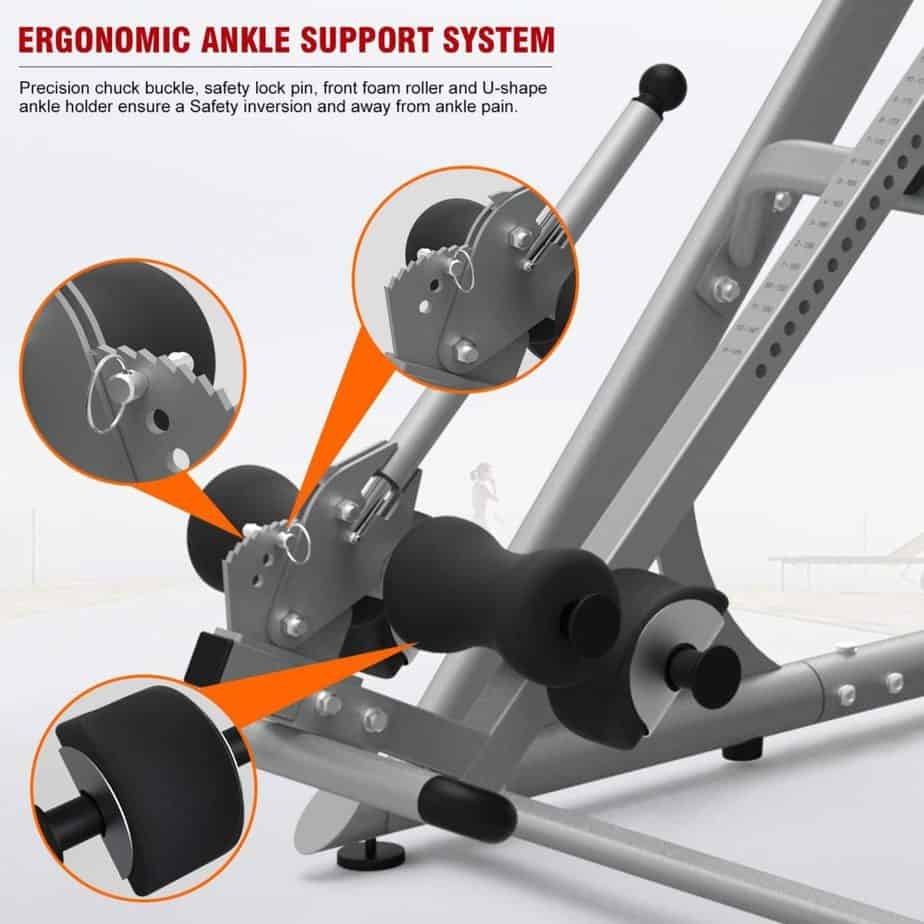 The HARISON 407 Inversion Table has a straight oval-shaped steel bar as a pedal that supports the feet. In addition to that, it has ankle cushions and a locking system that is also known as the double lock ratchet tooth mechanism.
The lock system and the sponge ankle support ensures secure, comfortable and reduced pressure to the ankles and the feet while performing an inversion exercise.
Pros/Features Overview
It's very sturdy and stable
It has a heavy-duty commercial-grade construction that supports a high user weight capacity of 300-350 lbs./136-158.7 kg
It doesn't need electricity to be functional
The ergonomic 3D backrest is safe and offers full-body relaxation
The anti-slip big loop handlebars are comfortable and safe
The backrest inverts to 4 angle positions (20-180 degrees)
Designed for inversion therapy that relieves neck pain, lower back pain, sciatica, and spine decompression; it basically keeps you away from taking pain killers such as ibuprofen
It could be used for stretching by hanging upside down, weight loss, anti-gravity beauty training and for release of pressure
The pedal is equipped with sponge rollers and a lock safety system that keeps your feet & ankle safely in place and comfortable during an inversion exercise
Customizable to fit different users' heights and sizes
No maintenance is required
Easy to assemble
30-days risk-free return
Excellent warranty
Cons
It takes a little bit of space
Warranty
5 Years for the Frame structure
Lifetime for the Parts
3 Years for the whole inversion chair
Product Dimensions and Specifications
Length 75''
Width 28''
Height 55''
Shipping dimensions: 50'' L x 26'' W x 6'' H
Net weight: 73 lbs./33 kg
Gross weight: 83 lbs./37.6 kg
Maximum user weight capacity: 300-350 lbs./136-158.7 kg
Frame: Heavy-duty steel
Backrest: Ergonomically designed 3D
Handlebars: Big loop anti-slip and foam-coated
Pedal: Straight steel bar with ankle sponge cover and lock safety system
Height limit: 4'8''-6'4''
Adjustable angle positions: 4 (20-180 degrees)
Shipping
The HARISON 407 Inversion Table is shipped out in a neatly packaged box the weighs 83 lbs./37.6 kg with dimensions of 50'' L x 26'' W x 6'' H.
Amazon provides free shipping and delivers the product in a couple of days.
Assembly
The assembly process of this inversion table is pretty straight and easy.
It takes about 30 minutes, more or less to get it completely assembled.
Any averaged skilled person can get it done
To facilitate the assembly, an instruction manual and the tools kit are included in the package. There is also an installation video available as well.
Maintenance
The unit doesn't need any serious maintenance other than keeping it clean from dirt at all times.
It is also important to take a precautionary measure of checking it for any loose or broken part in order to prevent an accident during an inversion exercise.
Conclusion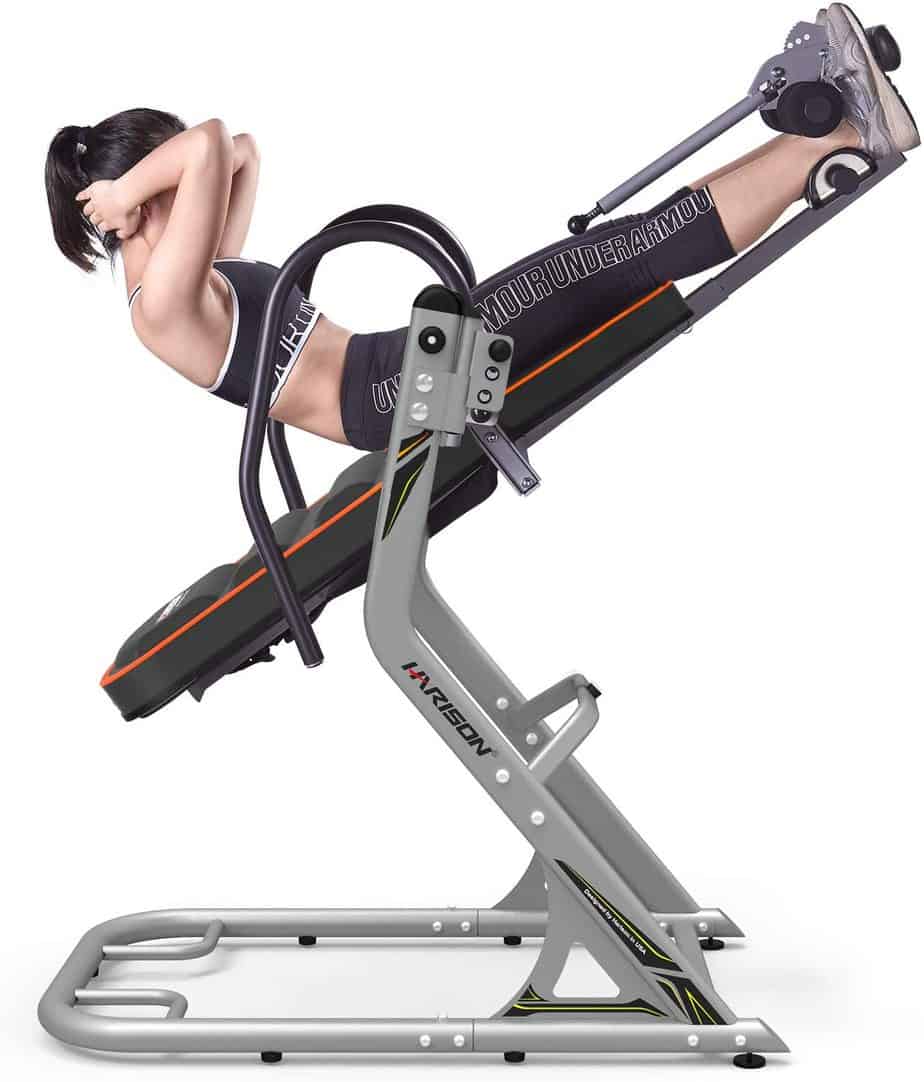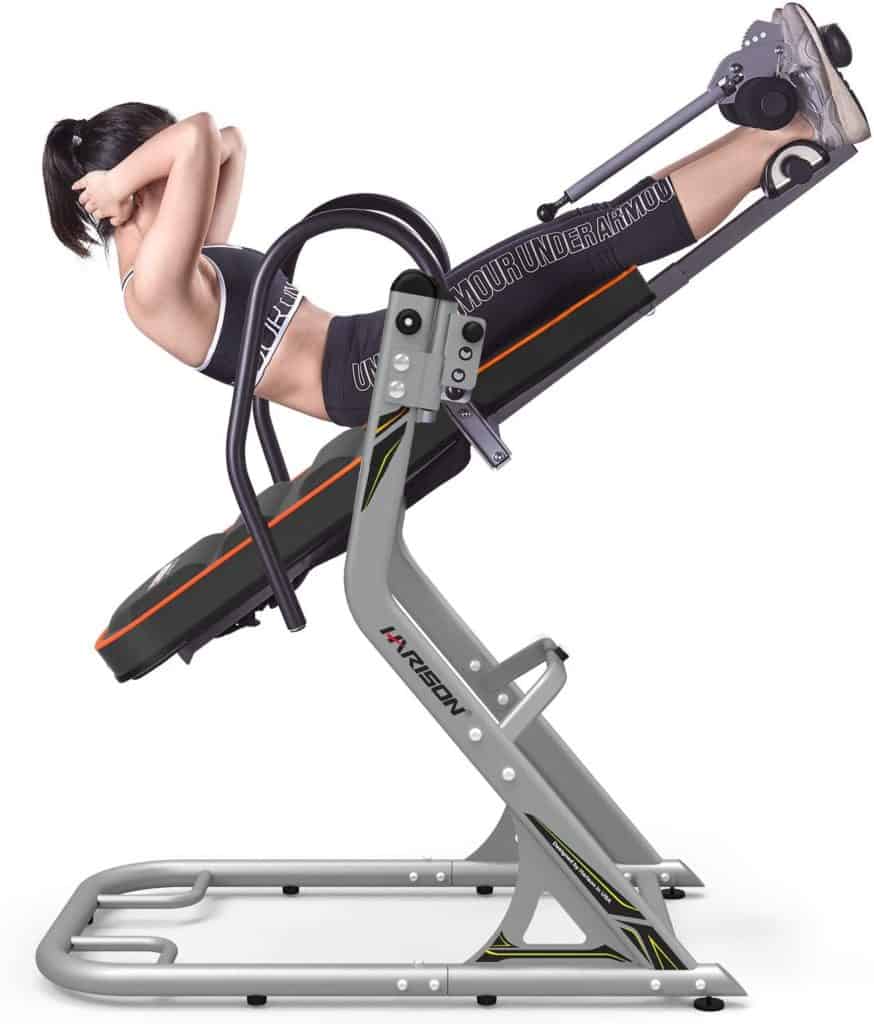 The HARISON 407 Inversion Table is built with a patented design that makes it stand out from other inversion tables.
It is a good companion for those that often experience neck and back pain.
As a bonus, it could also be used for general fitness purposes as well.