The EFITMENT IC037 Indoor Cycling Bike is a belt drive and magnetic resistance spin bike, and of the IC0 series. Its operation is smooth and quiet and it has a lot in common with the IC031.
Although, the latter has a heavier flywheel and EKG contact grip sensors.
But nevertheless, the EFITMENT IC037 is still an ideal indoor spin bike that offers cardio workouts for weight loss, heart and lungs' health improvement, and more.
It has a structural frame design that supports a maximum user weight capacity of 275 lbs./124.7 kg and a digital LCD monitor that tracks workout progress by displaying Time, Speed, Distance, and Calories.
Its customizability allows users of different heights and sizes to be accommodated, while its stability holds up for a safe and comfortable workout experience.
Click right here to have a peek at the EFITMENT IC037 Indoor Cycling Bike.
The Frame and Construction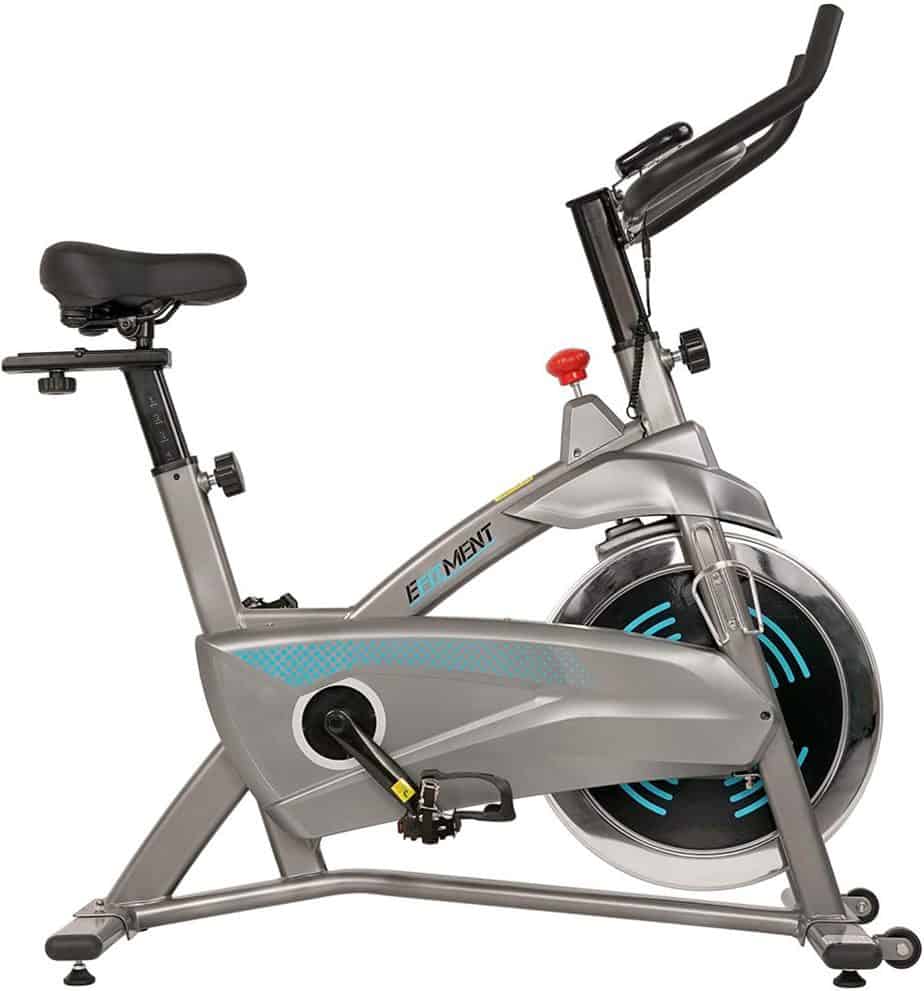 The EFITMENT IC037 Indoor Cycling Bike features a heavy-duty triangular-shaped steel frame. The belt, the magnetic pad, and the console covers are made of plastic.
The steel frame is further fortified with anti-corrosive paint, therefore, it will last longer without any sign of rust.
The unit is also stable, hence it doesn't rock or wobble during workouts due to the robust base framework with adjustable rubberized levelers. So, it is floor-friendly and even fits on a crooked surface, and doesn't leave a dent.
Moreover, its assembled weight of 73 lbs./33 kg grounds it for increased stability, while the integrated transport wheels at the front base help to easily move it from one room to another.
The EFITMENT IC037 is not only portable but also compact. Its overall assembled dimensions are 44'' long by 21'' wide by 51'' high. Differently put, the bike will require a workout space of 3'7'' in length by 1'8'' in width.
Also, it is recommended that an extra clearance of 2' be added at the rear and on each side of it for easy access and safety during workouts.
The Seat of the EFITMENT IC037 Indoor Cycling Bike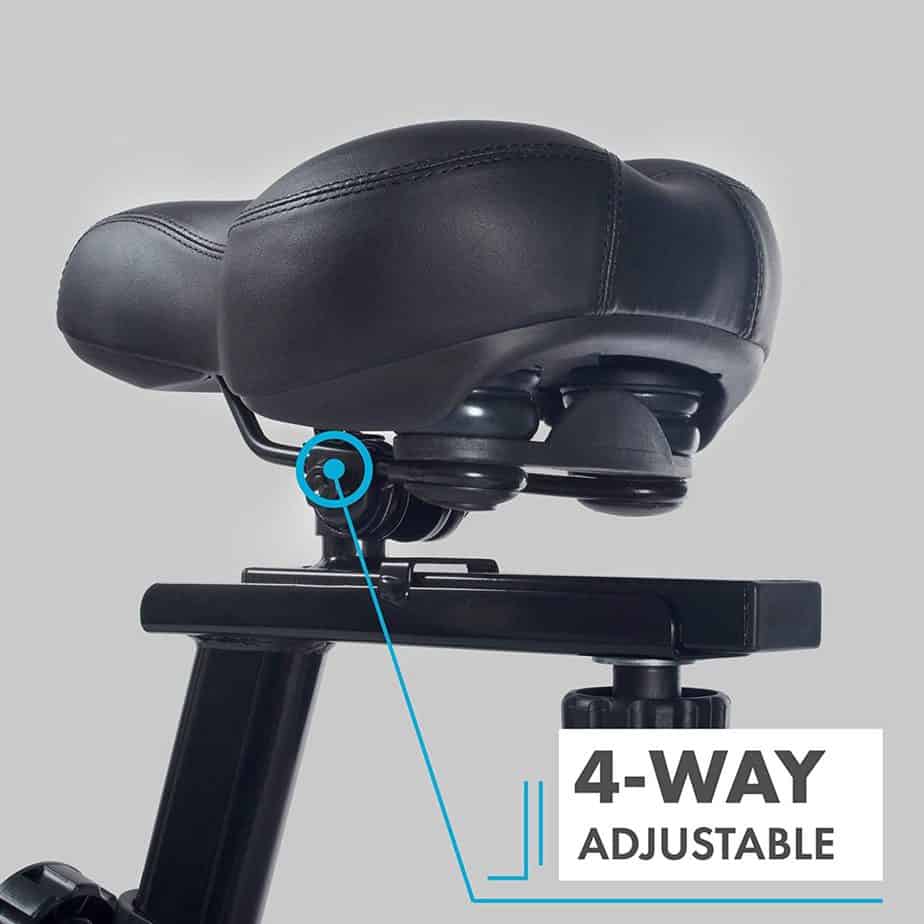 The seat on the EFITMENT IC037 Indoor Cycling Bike is large, generously padded, and covered with vinyl material. The groove in the middle of it allows air permeability. Thus, it provides decent comfort that lasts through a workout session. In other words, it allows you to work out longer.
However, if for any reason you wish to improve its comfort level, a gel seat cover could do the trick, and it's also possible to swap it with another spin bike saddle of your choice if you so wish. There are options or alternatives available both in the local bicycle shops and places like Amazon.
The seat is 4-way adjustable; meaning it could be adjusted vertically (upward/downward) and horizontally (fore/aft). This makes it possible for users with leg inseams (the length of the inner thigh to the ankle) of 29''-36'' to be accommodated.
The Handlebar
The ergonomic multi-grip handlebar does not have EKG HR sensors integrated into it.
Thus, it's not possible to track your heart rate; however, you can use an external heart rate monitoring device to keep track and maintain your target heart rate zone.
The handlebar is coated with soft rubber foam that provides comfortable and secure grips that allow you to work out in different riding postures.
You won't experience any slippage or blisters in the palms as a result of prolonged workouts.
The handlebar is 2-way adjustable; I.e., it could be adjusted vertically (upward/downward) only. Although, this complements the seat's adjustability, and as a result accommodates users of different heights comfortably.
Both the seat and the handlebar take only a few seconds to adjust to the desired positions.
The Pedals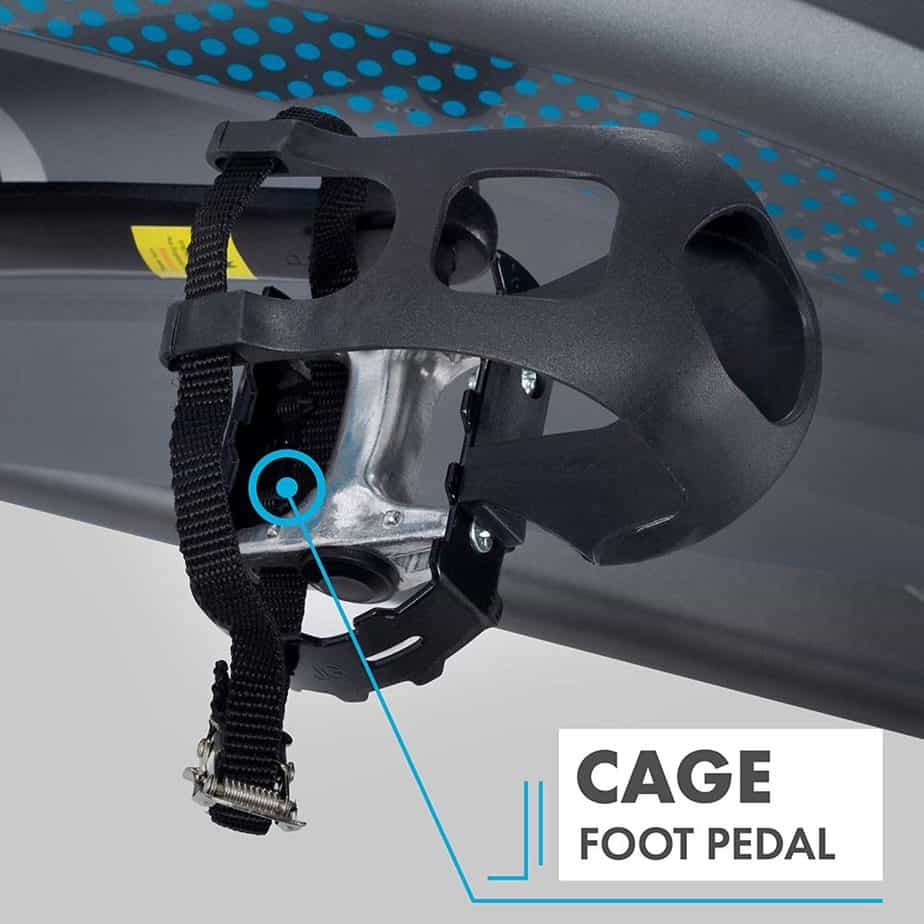 The pedals are toe cages and are made of metallic alloy.
They also have adjustable safety straps that further secure the feet in place during an intense workout. You can thrust harder and vigorously without experiencing slippage.
Different feet sizes can be accommodated, and are designed to be ridden with standard gym shoes only.
However, the pedals have 9/16'' threads, therefore, it is possible to replace them with a pair of SPD pedals for spin shoes.
The Q-Factor (the length between the left and the right pedals) is narrow. Therefore, the feet won't be wide apart causing your ankle to hurt and feel awkward.
The pedals support stand-up pedaling of a user that is within the stipulated weight of 275 lbs./125 kg or less.
The Drive
The EFITMENT IC037 Indoor Cycling Bike features a belt drive system that consists of a durable poly-v belt, solid crankset and crank-arms, pulleys, the 22 lbs./10 kg perimeter weighted chromed flywheel, and the pedals.
The belt drive system is widely known for its smooth and quiet operation. It doesn't require any maintenance such as lubrication or adjustment.
You will have the opportunity to train or work out at any time of the day without having to worry about the family or the neighbors being disturbed. You may watch a TV show or listen to your favorite music while working out without having to raise the volume so high.
The drive is bidirectional; it is possible to pedal in reverse in order to tone more muscle groups.
Although, it also means you cannot coast on the bike as you could on a road bicycle because the flywheel and the pedals are fixed and they spin together.
Hence, apply the emergency brake (push the tension control knob down) anytime you wish to stop pedaling in order to avoid an accident.
The Resistance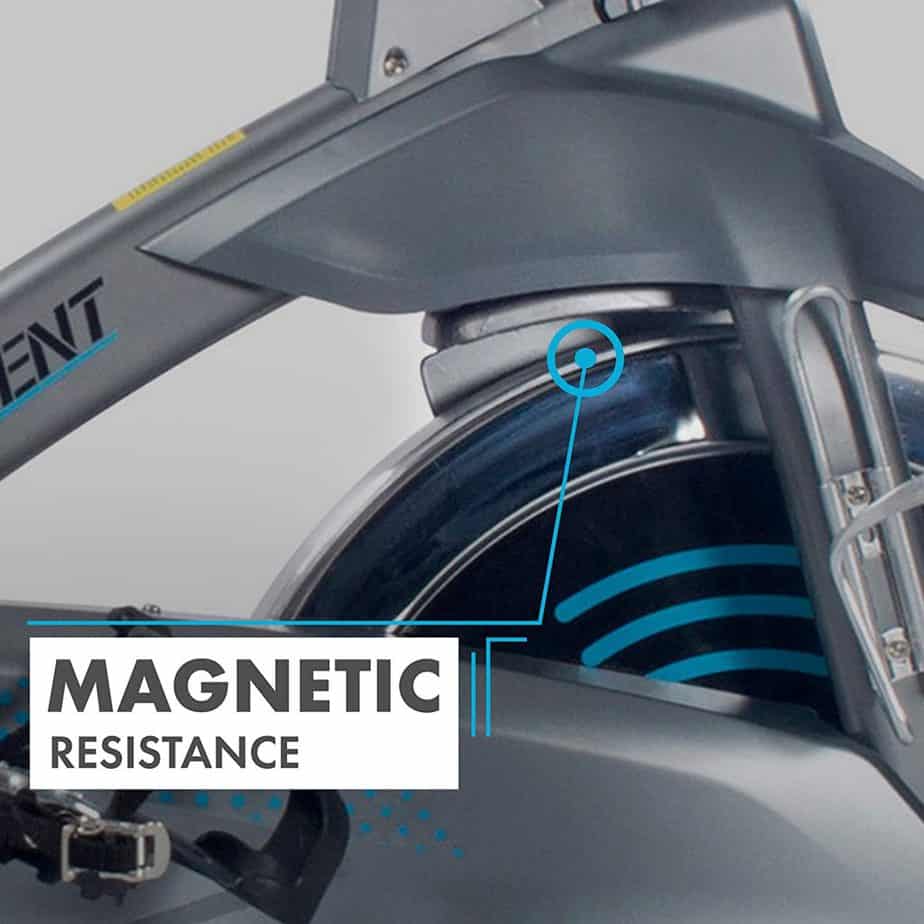 This spin bike is equipped with a manual magnetic resistance system with infinite adjustable levels.
It creates resistance without friction. In other words, none of the elements involved in the generation of resistance come in direct contact.
These elements include the magnetic brake pad that is face-down toward the chromed flywheel and the tension knob that is designated on the mainframe tube.
Resistance is generated when the tension knob is turned clockwise and the magnetic brake pad moves toward the flywheel's top chromed surface and emits a magnetic field.
Tighten the tension knob until you feel you have the suitable resistance intensity for your workout, and turn counterclockwise to reduce it.
The resistance is only controlled manually, therefore, it doesn't need to be plugged into a power outlet and it provides a variety of resistance intensities many would consider suitable.
Remember, none of the resistance system's part wears out, hence, no replacement will be required at any point in time.
The Console
The EFITMENT IC037 Indoor Cycling Bike comes with a basic console that features a nonbacklit LCD monitor.
The monitor tracks workout progress by displaying easy-to-read data such as Time, Distance, Speed, and Calories Burned.
There is a SCAN function that displays the workout data rotationally one at a time after every few seconds because the monitor cannot display them simultaneously. However, you may override it and set a preferred workout data to display constantly instead, if you want.
The monitor is battery-powered; it's powered by 1 AA battery that also comes with the package.
Unarguably, the display motivates and keeps you focused on achieving your fitness goals.
It has a single navigation button on the console that enables you to Reset, Select, and Set values.
Finally, to view the display clearly, it has to be in a well-lit room or environment, otherwise, the view will be poor because is not backlit.
Accessory
The IC037 has a water bottle holder designed to help you keep water within reach for proper hydration during a workout session.
Storage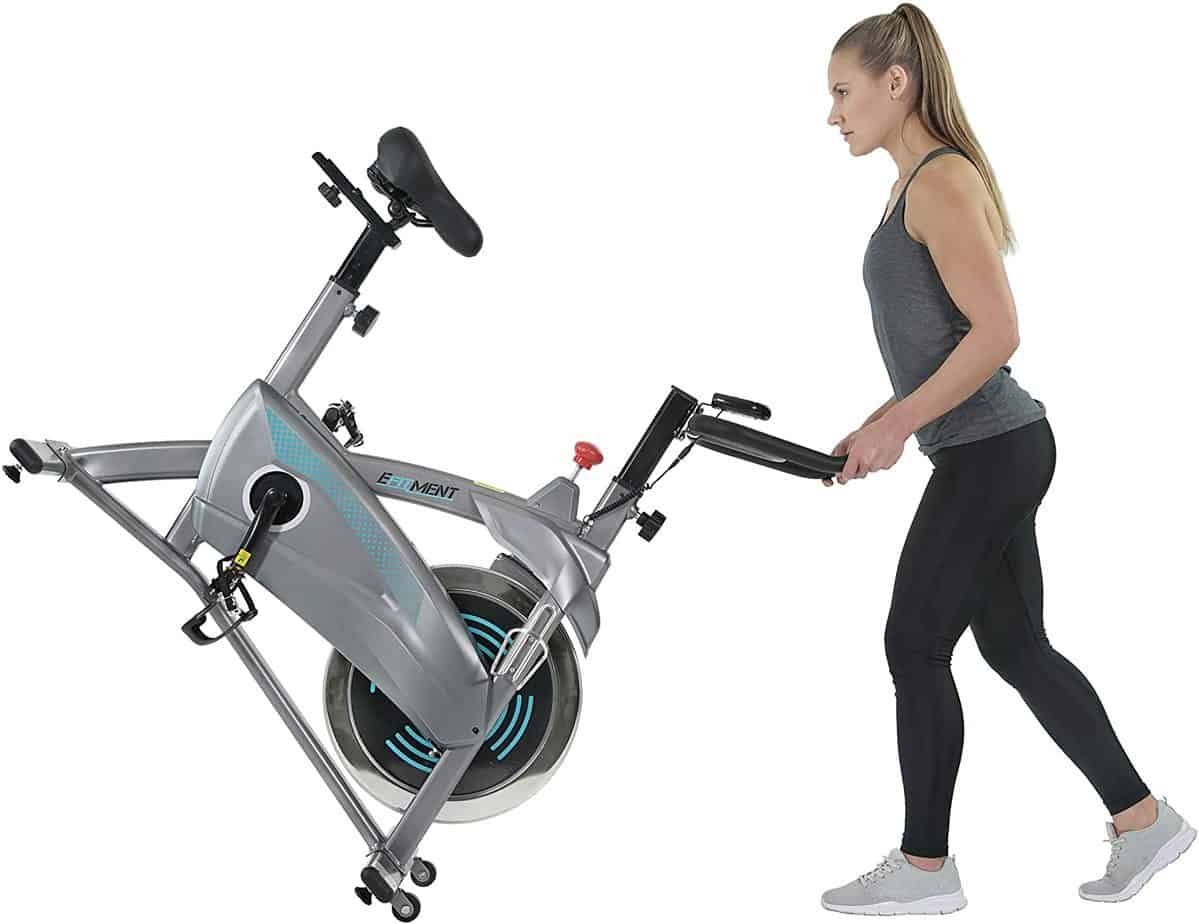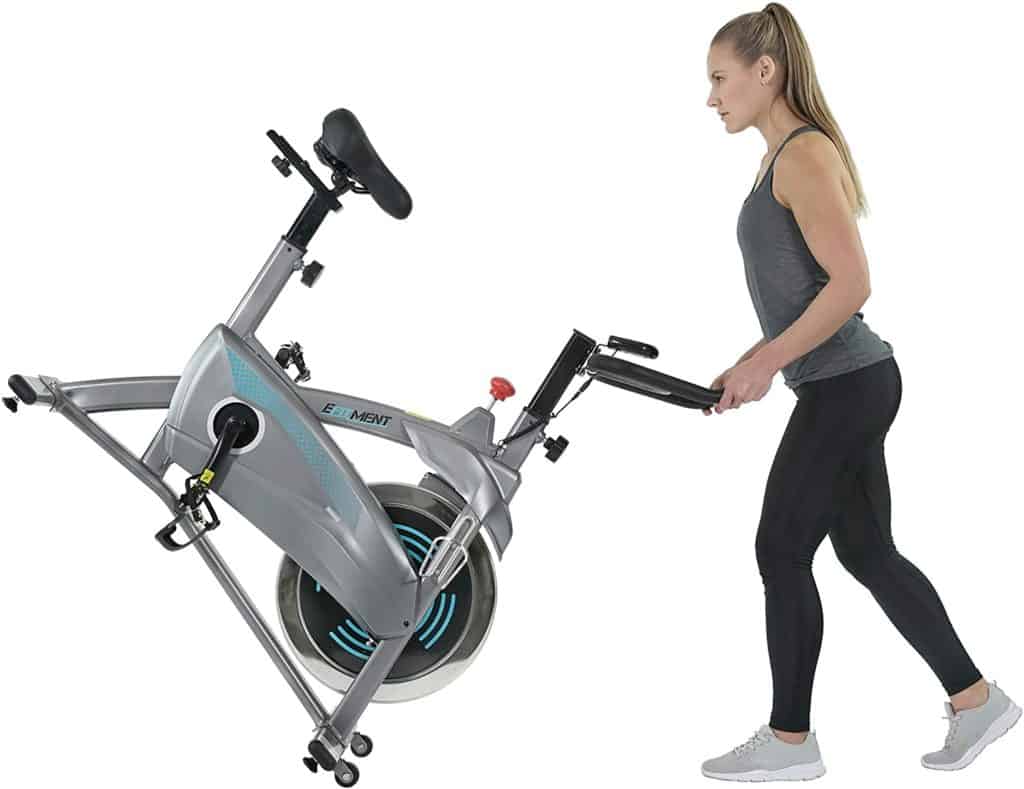 The unit is not foldable but it's not large either. Therefore, it's compact and portable.
It requires minimal space for storage and it has got transport wheels integrated at the front base for an easy relocation process.
It could be stored in places like the garage, under the staircase, or just next to the wall. Better still, if you can afford it, leave it in a dedicated workout space.
Pros/Features Overview
Sturdily built & durable
Supports a maximum user weight capacity of 275 lbs./125 kg
Robust base with adjustable rubberized levelers provides optimum stability
Compact, doesn't take up much space
Portable with transport wheels that enable you to easily relocate it
Its operation is smooth and quiet
Manual magnetic resistance system with unlimited adjustable levels
It provides workouts that target weight loss, cardio and lungs' improvement, leg and core muscle group toning and more
The 4-way adjustable seat is large and comfortable
The 2-way adjustable handlebar is multi-grip designed and coated with soft rubber foam that prevents slippage and blisters in the palms
Customizable; users of different heights can be accommodated
The perimeter-weighted 22 lbs./10 kg flywheel provides consistent momentum during workouts
Equipped with a digital display that tracks workout progress
A water bottle holder is included
It's maintenance-free
Cons
No heart rate monitoring function
The monitor is not backlit
No tablet holder
Warranty
Product Dimensions and Specifications
Length 44''
Width 21''
Height 51''
Net weight: 73 lbs./33 kg
Gross weight: 86 lbs./39 kg
Maximum user weight capacity: 275 lbs./125 kg
Frame: Steel
Flywheel: 22 lbs./10 kg
Drive: Belt
Resistance: Infinite level manual magnetic
Seat: 4-way adjustable
Handlebar: 2-way adjustable
Pedals: Toe cages with adjustable safety straps
User leg inseam: 29''-36''
Console/display: Basic LCD monitor tracks Time, Distance, Speed, and Calories Burned
Transport wheels: Yes
Water bottle holder: Yes
Shipping
The EFITMENT IC037 Indoor Cycling Bike is shipped out in a box that weighs 86 lbs./39 kg, and Amazon offers free shipping.
The product is usually delivered in a couple of days after purchase.
Assembly
The assembly of this unit is easy. Anyone with an average skill level can put it together without hassle.
It comes with the major and complicated components already assembled.
You are only required to attach the front and the rear stabilizers, the adjustable levelers, the seat and the handlebar posts, the seat, the handlebar, the pedals, and the console to the core unit.
This takes about an hour, more or less to put together.
A user manual and the assembly tools are included in the package.
Maintenance
The only maintenance needed is to keep it clean at all times, and do not expose the console to liquid or moisture.
Examine the bike before use for any loose or broken part, and ensure to fix any problem that might arise.
Conclusion
The EFITMENT IC037 Indoor Cycling Bike brings the gym to your home.
It allows you to perform cardio workouts that burn fat and improve your overall physical fitness level.