The Body Champ 2 in 1 Cardio Dual Trainer earned that word ''dual'' to its name because it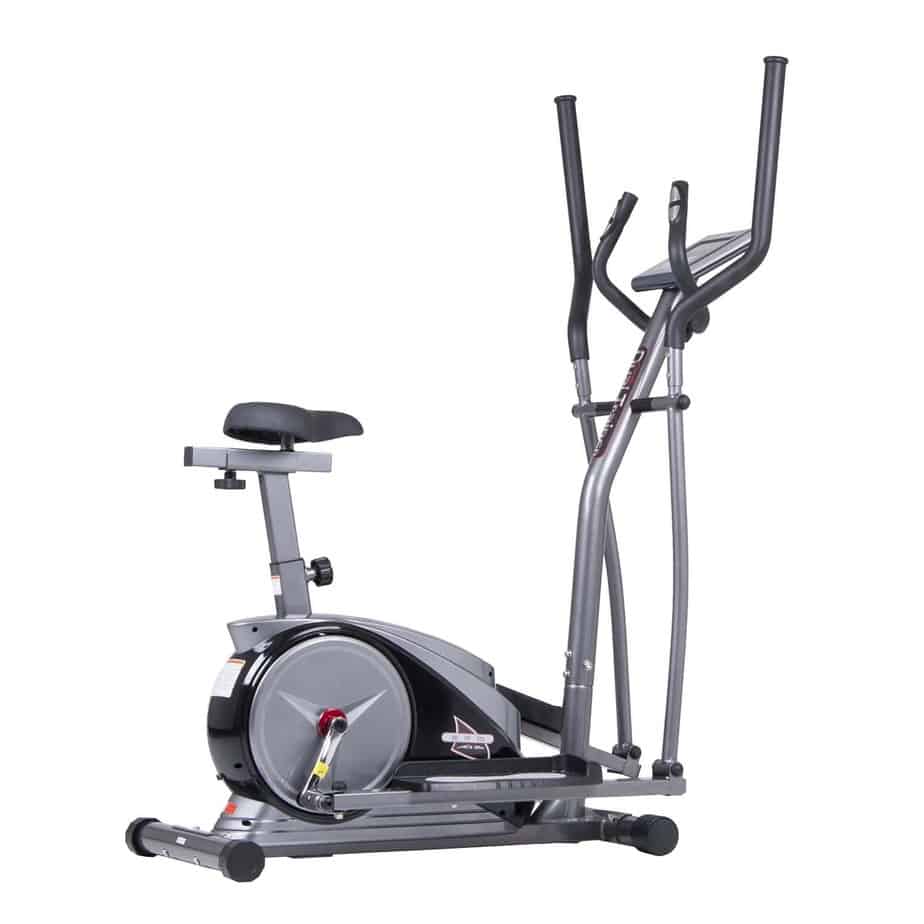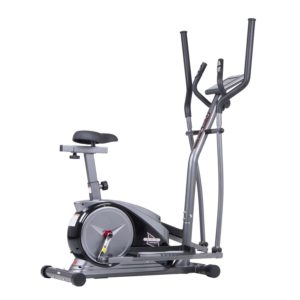 can both be used as an exercise bike and elliptical trainer, can you beat that? And what's the price again? A little more than $200 as at the time this article was written. We still think is a good buy but let us give you more reasons why you should also think it is a good buy, and not just a good buy but worth adding to your home gym too. If you have a minute just read on…
There are many elliptical trainers and exercise bikes out there but very few can do both and this is one of the many things that makes this equipment worth buying. Its design is patented which means it is owned by the manufacturer Body Flex Sports; it can't be copied without the permission of the original inventor. Let's see the features/pros overview of the Body Champ 2-in-1 Cardio Dual Trainer Dark Gray/Black.
Features/Pros
Patented 2 in 1 Design– This is one feature that makes this equipment to stand out from the rest. Working out with this machine is amazing because it is versatile that it can be used as elliptical trainer and exercise bike. What that means is that if you don't already own an exercise bike then there is no need because that one is covered. This design is still owned by Body Champ as the licensed owner.
17 Preset Workout Programs– It has 17 preset workout programs that would help you achieve your goal easily without hassle.
Advanced LCD – This computer allows you to monitor and use the 17 preset workout programs, although it has no backlit. A user can observe the time, distance, calories burned, and pulse through the LCD monitor.
Integrated Heart Rate Technology – you can monitor your heart rate through the computer interface and by holding the embedded heart rate sensor on the handlebars.
Advanced Programmable Magnetic Resistance System– That ensures that the user can have a challenging workout for an optimum result while experiencing a smooth and quiet ride with a very minimal impact on the knees, ankles, and hips. Just in case you don't know, the elliptical trainer is gentler on the joints.
Workout DVD– that shows you how to do a proper warm-up and getting the most out of the machine.
Gel-Styled Seat- ensures that the user experiences nothing short of comfort, the gel-styled seat is padded and adjustable horizontally and vertically so that your workout position is not compromised.
Dimensions- 52'' X 30'' X 62'' and weighs about 77.2 pounds.
Maximum User Weight Capacity– 250 lbs
Cons
The Body Champ 2-in-1 Cardio Dual Trainer is an entry-level machine even though it has got the cool feature of elliptical trainer plus exercise bike, it has got some things we would have loved to see included and that is a fan. A fan can always go a long way in cooling the user off during a workout. The other thing we also think could have been cool if it was integrated is iPod or MP3 port because music has always been part of an exercise.
Lack of incline has almost made the machine half as useful as it would be with an incline. Incline with the magnetic resistance would be super faster to achieving workout result, nonetheless, we get it, it is budget friendly, right?
Conclusion
This machine is a good buy especially with its unique 2 in 1 design that gives the user the ability to workout with either the elliptical trainer or the exercise bike. If you wish to get one of this, the likely place to get it at an affordable price is at the Amazon, even the manufacturer sells online from Amazon.
[rank_math_rich_snippet]