The Merax Folding Treadmill is an electrically driven treadmill that is designed for home and office use. Its running surface is anti-slip lawn textured, safe for walking and jogging exercises.
The steel frame is sturdy enough to support a maximum user weight capacity of 240 pounds/108.8 kg and it doesn't take up much space due to its compact and space-saving design.
The treadmill is equipped with an energy conservative, high-temperature heat resistant 1.5 horsepower motor that also operates near-silently. The motor provides a speed range of 0.5-7.5 mph and there are 12 workout programs and 3 goal settings for Time, Distance, and Calories Burned.
Aside from the treadmill's guaranteed reliability, there are features that allow you to distract yourself while you work out by listening to music from a playlist on your smartphone or a flash via the built-in speakers.
It is a lightweight yet stable treadmill that can easily be moved to and from storage.
Click right here to have a peek at the price of the Merax Folding Treadmill on Amazon.
The Frame and Construction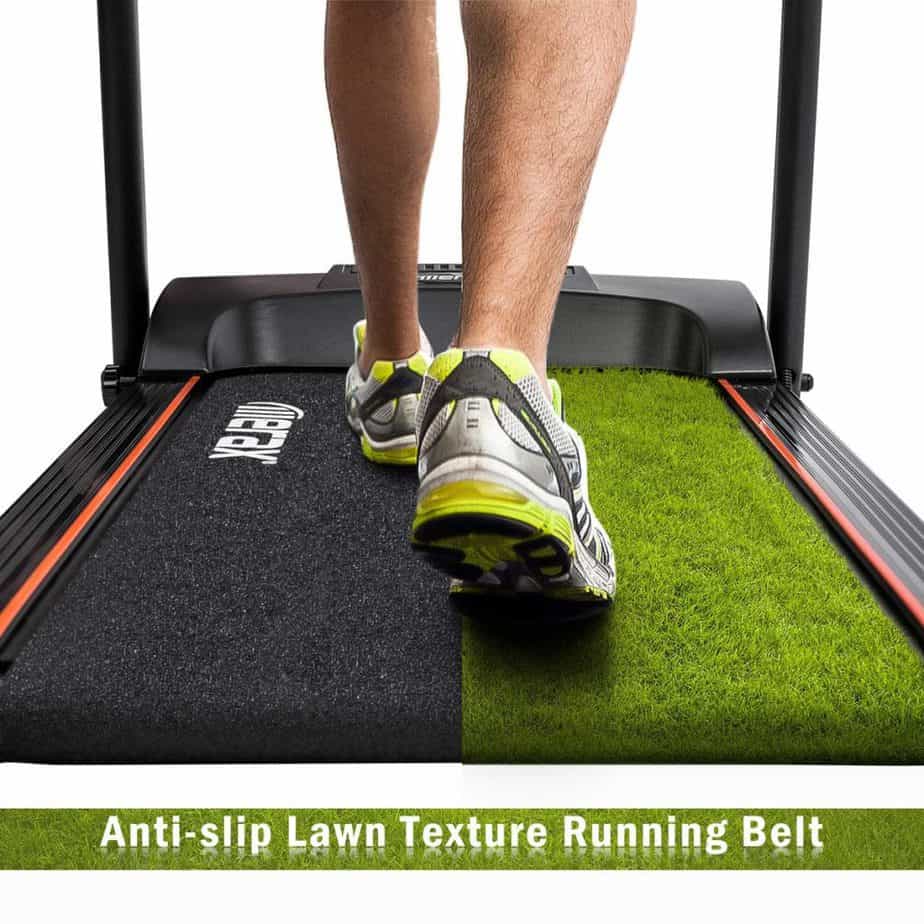 The Merax Folding Treadmill has a durable robust steel frame that is predominantly coated with black anti-corrosive paint that conserves it from degradation over time. There are other parts that are made of ABS plastic, such as the console dashboard, motor compartment cover, and side rail cover.   
Apparently, the treadmill has more steel elements than plastic.
The treadmill has a rubberized base that makes it floor-friendly and stable. That said, it might be a good idea to place the treadmill on a protective rubber mat though.
It has a small footprint and does fold as well. Therefore, it won't overwhelm your workout and storage spaces. The overall assembled dimensions are 55'' long by 23.5'' wide by 43'' high. So, a workout area with a perimeter of 4'6'' length by 2' width will be fine for the treadmill. However, additional extra clearance of 3' at the rear and 2' on each side of the treadmill is recommended for safety and easy access reasons.
When it's time for storage you can fold up the unit by raising it 90 degrees up so that it stands in a vertical form such that you can store it in a closet or in a corner. Just to be clear, it can't be stored under the bed like you could if it were an under-desk treadmill.
The folded dimensions are 29.5'' D x 23.5'' W x 49'' H, obviously, the length is reduced to almost half it overall assembled length.
Transport wheels are included to facilitate easy relocation.
The deck/tread belt dimensions are 43'' L x 15'' W, enough space for most individuals to walk and jog.
This treadmill is an entry-level unit that gets you to engage in aerobic exercises that lose weight, tone the muscles, improve cardiovascular health, and overall wellness.
The Motor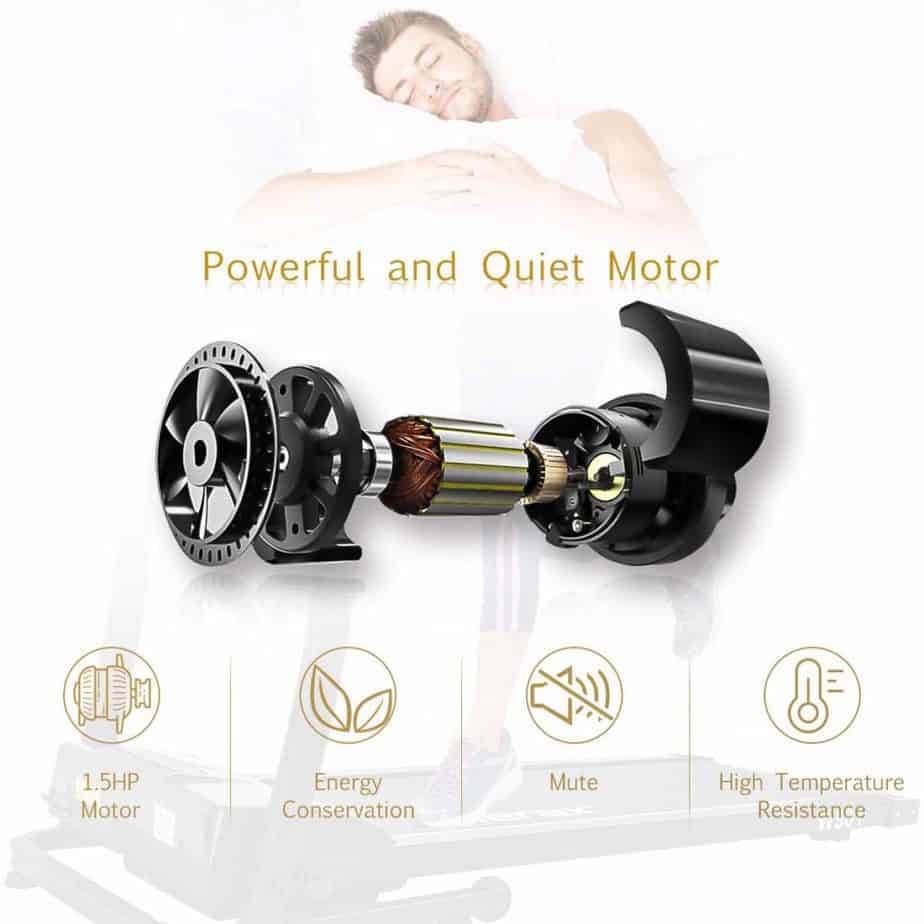 The Merax Folding Treadmill is integrated with a powerful 1.5 HP motor that is designated at the front base. Its operation is quiet and almost vibration-free due to the incorporated small flywheel.
It is an energy-efficient motor that requires 110V rated outlet in order to be functional. This also means low energy bills for you.
The motor provides the adequate drive needed for walking and jogging activities of a user up to 240 pounds/108.8 kg. It does endure through a prolonged workout without getting heated or breaking down.
You can work out at home or in the office without constituting a nuisance. In other words, the family, co-workers, and neighbors won't feel that their privacy is being invaded. Although, you need to keep the tread belt periodically lubricated in order to keep it silent and properly functional.
The 1.5 horsepower motor provides a speed range of 0.5-7.5 mph (0.8-12 km/h) and it could be adjusted via the onboard speed buttons or through the ones on the right side of the handrails.
Incline
The Merax Folding Treadmill doesn't have an automatic or a manual incline system.
The Console of the Merax Folding Treadmill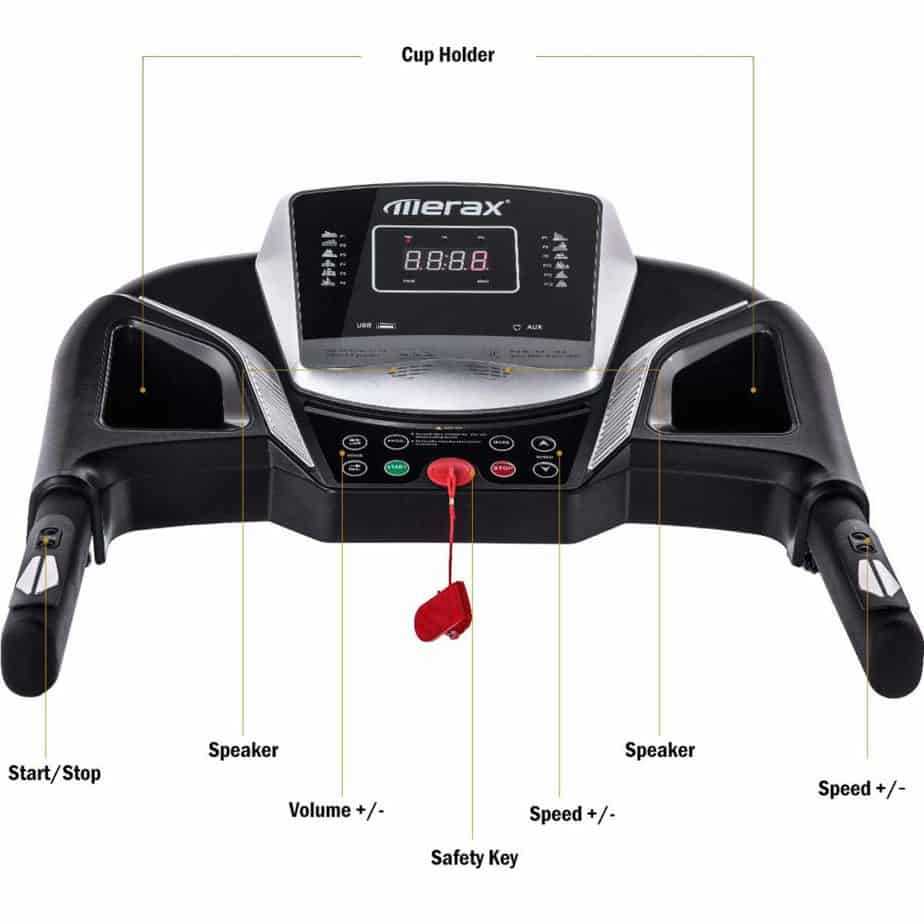 The console on the Merax Folding Treadmill is mid-range and has rather fewer but necessary features for achieving a good user experience.
Basically, the console includes an LED Display Screen, Volume buttons, Speed buttons, a Mode button, a Program button, Start and Stop buttons, and a Safety key.
The display monitor distinctively tracks workout stats such as Time, Distance, Speed, Calories Burned, and Pulse. The console is not telemetry-enabled but could track the heart rate data when you grip the EKG pulse sensors on the handrails during a workout.
The Start/Stop buttons are also integrated into the left side of the handrails while the speed buttons are integrated on the right side of the handrail. These are meant to offer quick access without having to use the buttons on the dashboard.
Unfortunately, we noticed that the treadmill does not have a Pause button that enables you to stop the treadmill from running while it still retains your previous workout stats. Moreover, the side rails that could have allowed you to step on them as a quick exit whenever you wish to take a short break from exercising without turning the treadmill OFF are only a few inches wide.
This means you have to be careful while stepping on them in order to avoid slipping off of it.
There are 12 workout programs that include preset programs designed for achieving specific fitness goals such as weight loss, muscle toning, and more. There is also a goal count-down setting function for Time, Distance, and Calories.
If you select any of the preset programs, a speed range is selected for you automatically.
Lastly, there are built-in speakers, a USB port, an auxiliary jack, cup holders, and a smartphone holder that are incorporated into the console dashboard.
Storage of the Merax Folding Treadmill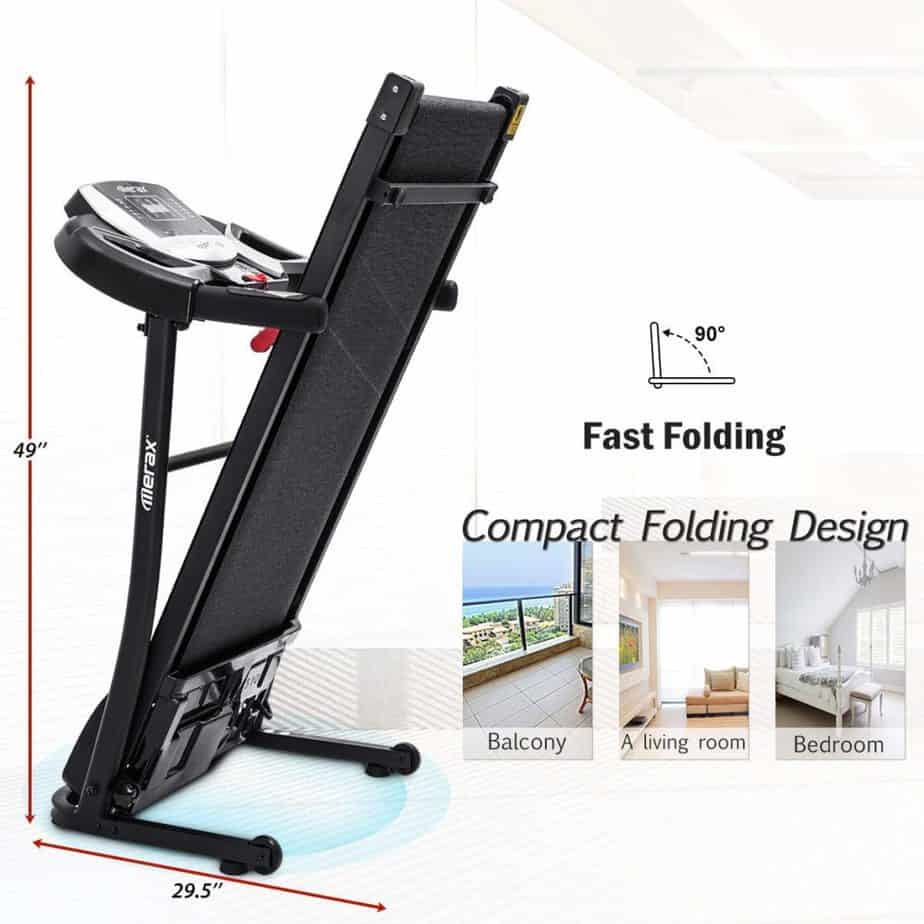 Measures are put in place to ensure that the Merax Folding Treadmill can easily be stored away. It has this folding and unfolding mechanism that enables you to fold it up for storage and to unfold when you wish to use it again.
Also, it is lightweight (64 pounds/29 kg) and has transport wheels integrated into it to facilitate the relocation process without hassle.  
It can be stored in a closet, the garage, in a corner of the living room once it's folded.
Accessory
As aforementioned, the Merax Folding Treadmill has a number of accessories that include built-in speakers, cup/water bottle holders, USB, and auxiliary ports, and a phone holder. 
So, with the use of your phone or any other playlist device you can listen to your favorite music being streamed through the built-in speakers.
While the cup/water bottle holders enable you to keep water handy for adequate hydration.
Approval Rating
Amazon users have a positive view of this treadmill. In most part, the individuals that purchased the treadmill from Amazon suggest that they were glad they acquired the unit.
Pros/Features Overview
It's affordable with a decent overall construction
Supports 240 pounds/108.8 kg maximum user weight capacity
It's compact and portable, makes storage easy and convenient
Space-saving design
Operation is silent, smooth, and vibration-free
The 1.5 horsepower motor is high temperature resistant and saves energy
Speed range is 0.5-7.5 mph (0.8-12 km/h)
LED monitor displays workout stats clearly, even in a poorly-lit room
The monitor tracks Time, Speed, Distance, Calories, and Pulse
EKG contact sensors are included for heart rate reading
12 workout programs
3 count-down goal setting for Time, Distance, and Calories
Built-in speakers
Water bottle holders for maintaining hydration
A phone holder is included
A USB port and an auxiliary jack for charging your phone and also for streaming music via the built-in speakers
Not difficult to assemble
The maintenance requirement is low
Cons
No Pause button
The textured side rails are not as wide as the those on the BARWING Folding Treadmill
The display screen gets blocked when a smartphone device is placed on the phone holder
Product Dimensions and Specifications
Length 55''
Width 23.5''
Height 43''
Folded dimensions: 29.5'' L x 23.5'' W x 49'' H
Tread belt dimensions: 43'' L x 15'' W, anti-slip lawn textured
Maximum user weight capacity: 240 pounds/108.8 kg
Assembled weight: 64 pounds/29 kg
Motor: 1.5 HP
Speed range: 0.5-7.5 mph (0.8-12 km/h)
Rated voltage: 110V
Shipping Dimensions: 57'' L x 27'' W x 10'' H
Display: LED monitor, tracks Time, Speed, Distance, Calories, and Pulse
Incline: No
Transport wheels Yes
Programs: 12
Goals settings: Yes
EKG contact sensors
Frame: Steel
Built-in speakers: Yes
USB and auxiliary ports: Yes
Phone holder: Yes
Cup holders: Yes
Shipping
The Merax Folding Treadmill is shipped out in a box and delivery is made in a couple of days upon purchase from Amazon.
Assembly
The treadmill can be assembled in 30 minutes, more or less because it is delivered almost completely assembled, except for the masts and the console that need to be attached to the core unit by you.
An instruction manual and tools are included in the package to help you put the treadmill together.
Maintenance
Usually, standard treadmills require periodic lubrication of the tread belt and so does the Merax Folding Treadmill.
Also, try to make sure that the belt remains clean at all times to guarantee smooth operation.
Further maintenance instructions are detailed in the owner's manual.
Conclusion
The Merax Folding Treadmill is an entry-level treadmill for beginners and intermediary users that wish to prioritize their physical wellness. It is foldable and portable; therefore, it won't take up much space, and storing it away is easy.  
Moreover, its price tag is reasonable.
[rank_math_rich_snippet]