The Dripex Indoor Exercise Bike is a thick-looking unit with a perfect color scheme that appeals to the eyes. It also appears to be capable of absorbing any type of hard-use it might be subjected to and so hopes are high. But the question is, does it?
This is what this review is all about and even more.
In summary, the Dripex Indoor Exercise Bike is a 2019 version, an entry-level machine that possesses a gym-ready construction. It has a thick frame and an encased lightweight 14 pounds/6.3 kg heavy-duty flywheel that enables users to perform interval training.
Ordinarily, one would think that the indoor cycling bike is pretty heavy but on the contrary, it's not. The reason is that it has several protective plastic coverings for safety reasons which makes it appear very bulky and this is the difference with the older version.
Nevertheless, the spin bike is sturdy and stable during a vigorous workout. It supports 330 pounds/149.6 kg maximum user weight capacity and accommodates users between the heights of 5'3''- 6'5''.
Click right here to have a peek at the price of the Dripex Indoor Exercise Bike on Amazon.
The Frame and Construction
The Dripex Indoor Exercise Bike is equipped with a solid heavy-duty steel frame that features a predominantly black anti-corrosive paint that has a little bit of red and white color design and inscriptions that give it a professional and catchy outlook.
The bike also has plastic coverings on the parts that are deemed prone to cause an accident or injury. Therefore, it's very safe to use in an environment where there are people around especially, children.
The cycling bike has a well-engineered base that features big oval-shaped steel stabilizer bars. Underneath these stabilizers are adjustable rubber levelers that enable users to level up the bike on a surface that is not even, thus, boosting its overall stability.
The bike doesn't take up much space as its appearance suggests. Instead, it has a small footprint and overall dimensions of 40 inches long by 21 inches wide by 40 inches high.
So, an area with a perimeter of 3'4'' long by 1'8'' wide can accommodate the bike. However, an additional extra clearance of 1-2′ at the rear and on each side of the bike will be necessary and should be considered for safety and convenience reasons.
The lightweight flywheel provides decent momentum for a smooth ride and also enables users that wish to perform high-intensity interval training to do so. They can easily switch from slow to fast pedaling and vice versa.
The Seat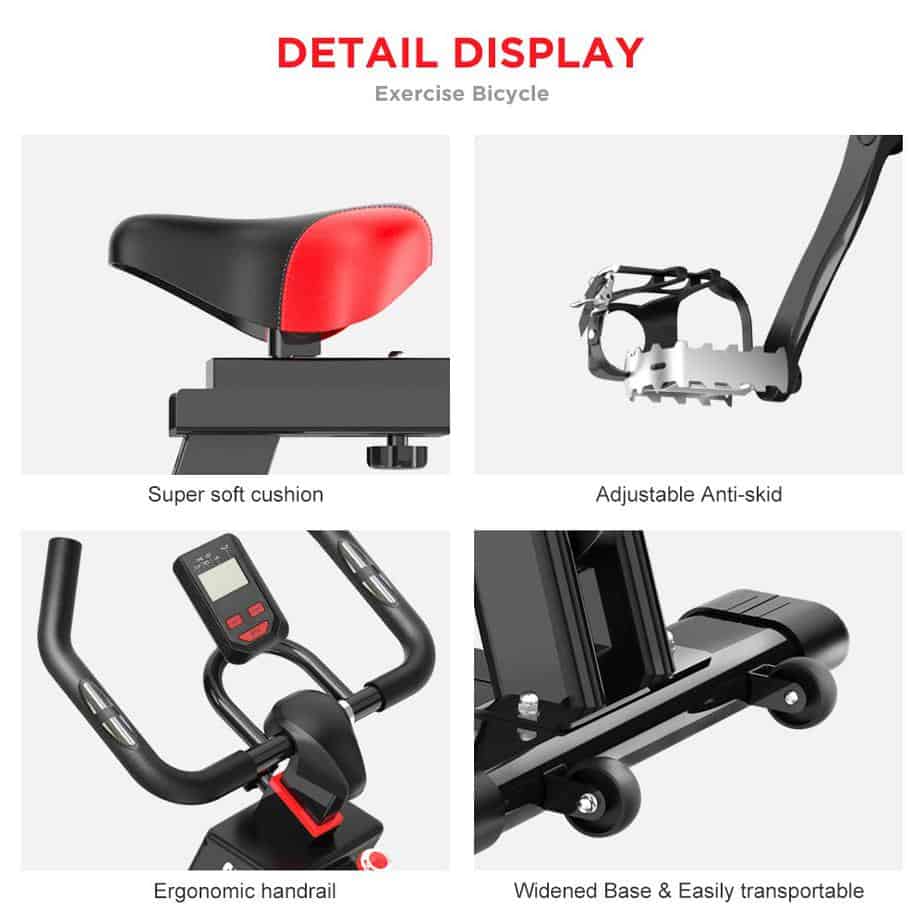 The Dripex Indoor Exercise Bike has a 4-way adjustable saddle. It could be adjusted vertically (upward/downward) and horizontally (fore/aft). This enables users of different heights and sizes to be accommodated.
However, users could have been able to determine the bike's suitability if the inseams it supports are stated.
The seat consists of high-density foam and leather covering that is intended to provide the much-needed comfort that keeps the user working out longer.
Although, one or two users have complained of how uncomfortable they think the seat was. So, if you are of the opinion that the seat is not comfortable enough, you can use a gel seat cover to enhance it or better still swap it for a better spin bike seat.
The seat adjustment doesn't take a minute and it's very easy to do.
The Handlebar
The handlebar has a complimentary 2-way adjustment that supports the seat adjustability and its handgrip positions.
It could be adjusted vertically only, I.e., upward and downward. This improves the workout positions the multi-grip handlebar provides.
The handlebar has the digital LCD monitor attached to it and it's coated with a soft foam material that provides secure and comfortable grips. Thus, you can work out longer without experiencing slippage or blisters in the palms.
EKG heart rate sensors are also integrated into it so that you can monitor the heart rate when they are gripped during a workout via the monitor. It's very important to note that this allows you to keep an eye on and maintain your heart rate zone throughout the entire workout session.
The Pedals
The Dripex Indoor Exercise Bike comes with anti-skid toe cages pedals with adjustable safety straps.
These pedals are safe and comfortable to use. They accommodate standard gym shoes only.
The left pedal needs to be screwed in a counterclockwise fashion, very important to take note of.
The Drive
The Dripex Indoor Exercise Bike is among the cycling bikes that come with a belt drive system. It's a popular drive system the provides a smooth and quiet operation that doesn't bother others.
It is super suitable for a home environment. You can schedule your workouts at any time of the day and you won't be restricted to working out in certain places around the house. The family or the neighbors won't feel bothered with workout activities.
The drive consists of a solid crankset, crank-arms, a heavy-duty belt, pulleys, and pedals. It's bidirectional, meaning, you can pedal in reverse if you wish to and it also supports out-of-seat pedaling.
That said, you cannot coast on the bike as you could on a road bicycle because of the pedals and flywheel spin simultaneously. Therefore, you must apply the emergency brake by pushing the tension knob down whenever you wish to stop pedaling.
Another important aspect that is worth mentioning is the fact that the drive doesn't require any maintenance as a chain drive system does. It is basically maintenance-free, no post lubrication or adjustment will be needed.
The Resistance
The bike is equipped with a friction resistance system. It consists of a brake pad, a tension knob, and the flywheel. The brake pad and the flywheel are encased in a plastic covering.
The resistance system provides a variety of workout difficulties that are suitable for beginners, intermediaries and even advanced athletes. It offers resistance for acceleration, uphill, cross-country, and climbing rides.
Turn the tension knob clockwise to increase the resistance and turn counterclockwise to decrease it, and as aforementioned, press down to apply the emergency brake.
The resistance is infinite, meaning, it doesn't have predefined resistance levels as the Keiser Cycling Bike. Simply twist the tension knob clockwise or counterclockwise as you wish to reach the desired resistance level suitable for your workout.
The Console
The Dripex Indoor Exercise Bike has a console that features 3 navigational buttons and a small digital LCD monitor that tracks workout stats such as time, distance, speed, calories burned and heart rate. These keep you focused and motivated toward achieving your fitness goals.
The display is non-backlit but has good readability as long as it's being viewed in an environment that is well-lit.
The bike doesn't need to be plugged into a power outlet to be functional neither does the monitor. The LCD monitor is powered by batteries. The display screen deactivates when there is no pedaling activity on the bike for a few minutes in order to save the batteries' power and it also activates when pedaling resumes
You can manually turn the monitor ON if you wish by pressing the MODE button.
The workout stats are displayed one at a time after a few seconds by the SCAN function. By so doing, you will be informed of all the workout stats. However, you can choose to set a preferred workout value to display constantly as long as you want.
Accessory
The Dripex Cycling Bike doesn't have any accessories such as a tablet and water bottle holders, unfortunately.
If they were included that could have been great but the absence of these does not pose as a deal-breaker either.
We know how important it is to keep water handy for hydration and healthy exercise and a tablet/smartphone for taking calls and entertainment while working out. They help to make your workout less boring and productive.
That said, you can improvise or purchase an external version of water bottle and tablet holders.
Storage
This bike is lightweight, compact, and portable. It has transport wheels at the front base that facilitate easy relocation of the bike.
It's not foldable but neither is it too large. It only takes 3'4'' long by a 1'8'' wide space area for storage.
Best storage options would be in a garage, under the staircase, or next to a wall. But if you can afford to have stored in a dedicated workout area then that would be great.
Approval Rating
The Dripex Indoor Exercise Bike obviously has a good approval rating on Amazon and other review sites view it positively as well.
Pros/Features Overview
It has a professional outlook
It's sturdy and supports a higher user weight capacity
Customizable for users of different heights and sizes
It's compact and portable; doesn't take up much space and could easily be rolled to storage
Comes almost completely preassembled
Low maintenance
The digital LCD monitor tracks workout progress and displays time, distance, speed, calories burned and pulse rate
The operation is smooth and quiet
The drive is bi-directional; you can pedal forward and in reverse
It has adjustable levelers that put the bike on a balanced position on a crooked surface
The resistance system offers a variety of workout intensities that are suitable for all
The seat can be swapped for another saddle
The handlebar offers multiple workout handle positions
Cons
The monitor is basic and non-backlit
There are no water bottle and tablet holders
Warranty
All parts have 12 months warranty with free replacement
Product Dimensions and Specifications
Length 40''
Width 21''
Height 40''
Product weight: 53 pounds/24 kg
Gross/shipping weight: 62 pounds/28.1 kg
Maximum user weight capacity: 330 pounds/149.6 kg
Shipping dimensions: 40'' L x 9.4' W' x 33.5'' H
Drive: Belt
Resistance: Friction
Adjustable levelers: Yes
Seat: 4-way adjustable
Handlebar: 2-way adjustable, multi-grip designed
Pedals: Anti-skid toe cages
Flywheel: 14 pounds/6.3 kg
Console: Digital LCD, tracks time, distance, speed, calories burned, pulse, and SCAN
Frame: Steel
Tablet holder: No
Water bottle holder: No
Transport wheels: Yes
Shipping
The Dripex Indoor Exercise Bike is shipped in a box.
Amazon provides free shipping and makes delivery within a couple of days.
Assembly
The bike is partially preassembled. You only need to attach the front and the rear stabilizer bars, the pedals, the handlebar, and the console to the main core.
The assembly doesn't take up to 30 minutes.
The tools needed for the assembly are included in the package so is the instruction manual as well.
Maintenance
No serious maintenance is needed.
Just ensure that the bike is clean at all times and also inspect it before use for any loose or broken part. Fix any problem that might be accordingly.
Conclusion
The Dripex Indoor Exercise Bike is an entry-level machine designed for home use. It is sturdy, compact, and portable.
It has a resistance system that offers easy to extremely difficult workout intensities.
Overall, the bike gets the job done if weight loss, improving cardiovascular health, strength, and endurance are your goals.
Dripex Indoor Exercise Bike Review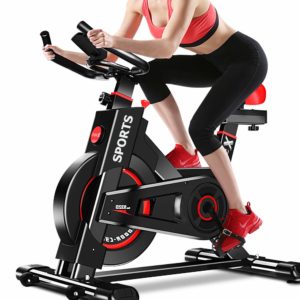 The Dripex Indoor Exercise Bike is a thick-looking unit with a perfect color scheme that appeals to the eyes. It also appears to be capable of absorbing any type of hard-use it might be subjected to and so hopes are high. But the question is, does it?
Product Brand: Dripex
Product In-Stock: InStock