The Ancheer S8100 Folding Treadmill has some interesting features that could help anyone to improve overall physical fitness.  It is elegantly designed and equipped to help you burn off fat and stay physically fit.
So far, I went through the Amazon consumer reviews and found out that most of the reviews were positive and recommendable. Most users find it very comfortable to use due to its generous size. Also, it is quiet and smooth during operation which allows users to watch a favorite TV show while working out.
If you are a cardio enthusiast and don't like going to the gym and paying for that membership fee, then this unit provides you the opportunity to own a great treadmill in your home gym at a great price.
Click right here to have a peek at the price of the Ancheer S8100 Folding Treadmil on Amazon.
Features/Pro
Bluetooth App Control connects a smartphone wirelessly with the treadmill and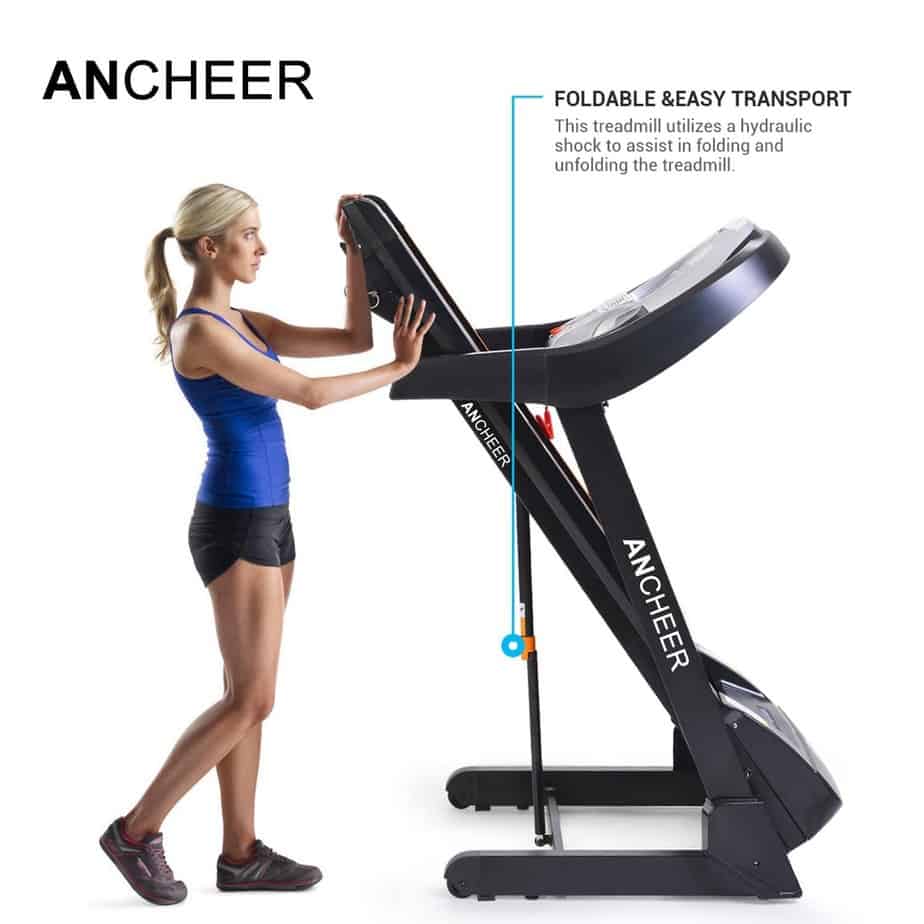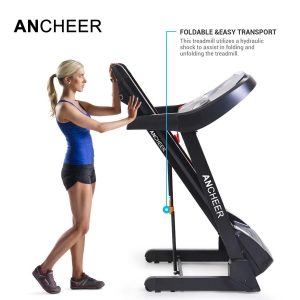 this is how it works.
Scan the two-dimension (QR) code on the control panel, download the software named 'G-FIT'.
Open the Bluetooth in your mobile and connect with the machine
Open 'G-Fit'', and you can control the machine through your mobile phone and you can also make a fitness plan for your treadmill.
One other amazing capability that the Ancheer App Control Treadmill S8100 has is that G-Fit can automatically generate training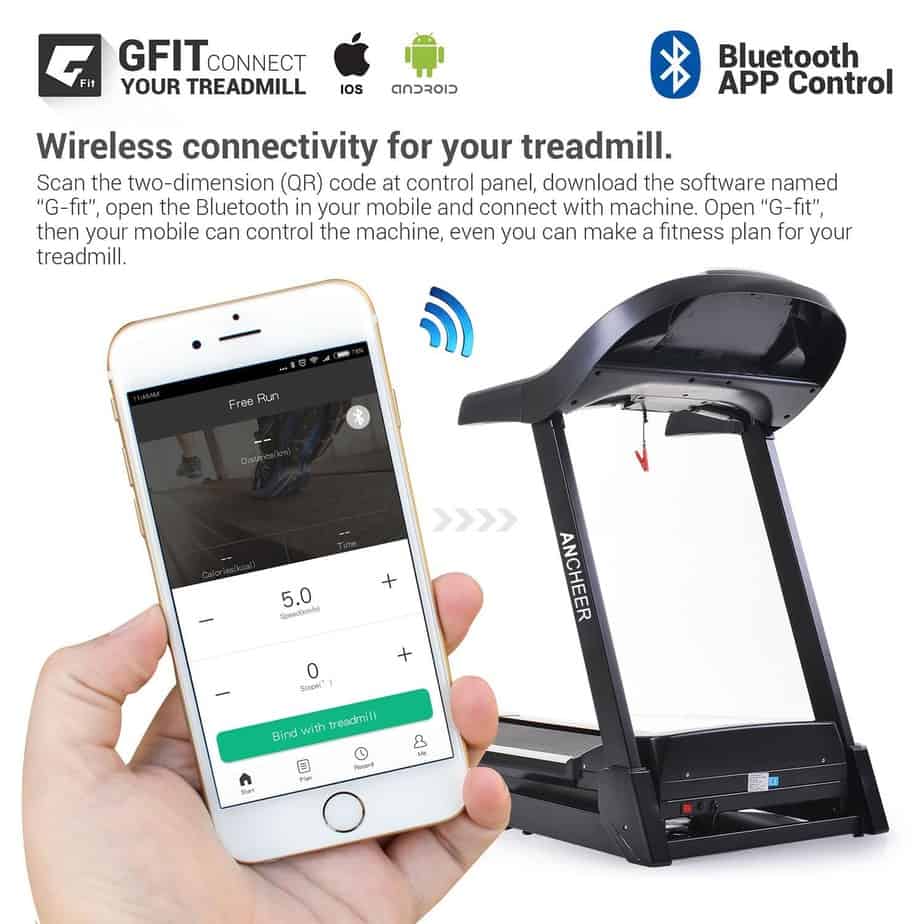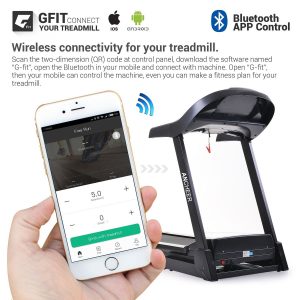 plan for the treadmill based on your heart rate, height, and weight record, is that not amazing? There is also the possibility to set your own personal training plan as well.
It will basically record our running history, get your health report, and help you reach or attain those fitness goals.
It has the ability to say space because of its space-saving design; one can easily it up for storage.
It has a two-position manual incline that is designed to help you burn more calories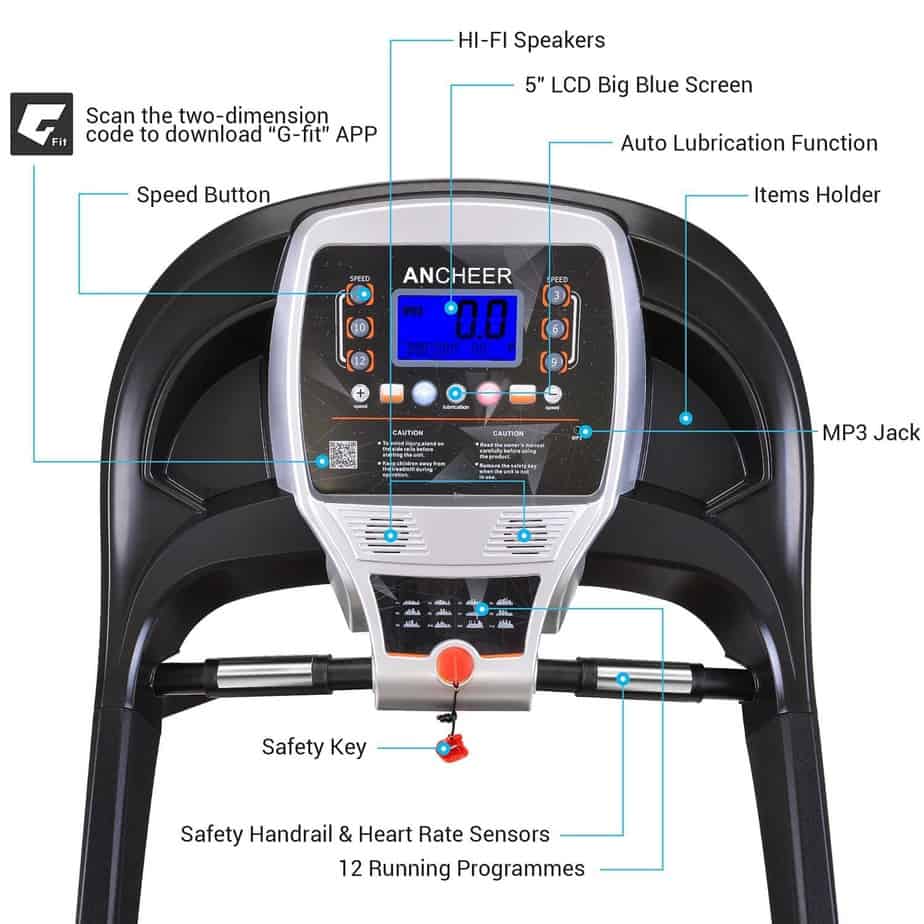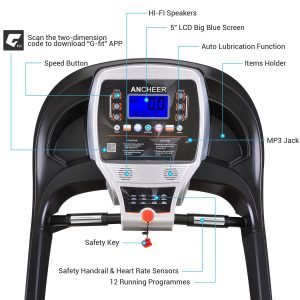 than you could ordinarily do.
It has absorbers strategically located on each side of the treadmill deck to absorb shock and prevent joint stress that is usually associated with treadmills.
It was designed to have low noise; therefore, you don't have to worry about watching that favorite TV show or disturbing the family and neighbors.
It has got a level 6 damping system, anti-slip, anti-static lawn texture belt that ensures safety to the joints.
The Ancheer products have passed CE, ROHS, CB, EN957, IEC certifications by SGS.
Its backlit LCD monitor displays time, speed, distance, heart rate, and calories. Other features are the MP3, Bluetooth, and a speaker that would enable you to be entertained while working out.
It has got an auto lubrication system.
Cons
It does not have a water bottle holder
The incline is a manual system.
Product Dimensions
69'' Length
59'' Width
23'' Height
Foldable Dimensions
33'' Length
39'' Width
53'' Height
Warranty
3 years on motor
2 years on frame
Shipping and Assembly
The shipping cost usually depends on where you are buying the unit from; should you be purchasing from the Amazon (recommended), then the shipping is free.
As for assembly, the Ancheer S8100 Folding Treadmill is very easy to assemble because it comes in folding size, all it will require you to do is to fix some few screws and you have working cardio equipment that is ready to be used. So, it is time-saving in terms of assembly.
Conclusion
The Ancheer tried to create something that would be fitness goal-oriented and fun to use at the same time, and this unit just fit the description of workout and comfort.
At the time of this review, it has a positive approval rating on Amazon which indicates that the majority of users have a favorable view of it.
[rank_math_rich_snippet]