The Sunny Health & Fitness SF-B1805 Exercise Bike is a light commercial unit that is designed for home use. It is released in 2018, and it keeps on thriving as it receives a lot of positive reviews. It looks like any other regular and standard indoor cycling bike yet is sturdy and cost-effective.
It is a compact bike that is equipped with a belt drive and magnetic resistance system for productive and quiet workout experiences.
Click right here to have a peek at the best price of the Sunny Health & Fitness SF-B1805 Exercise Bike.
The Frame & Construction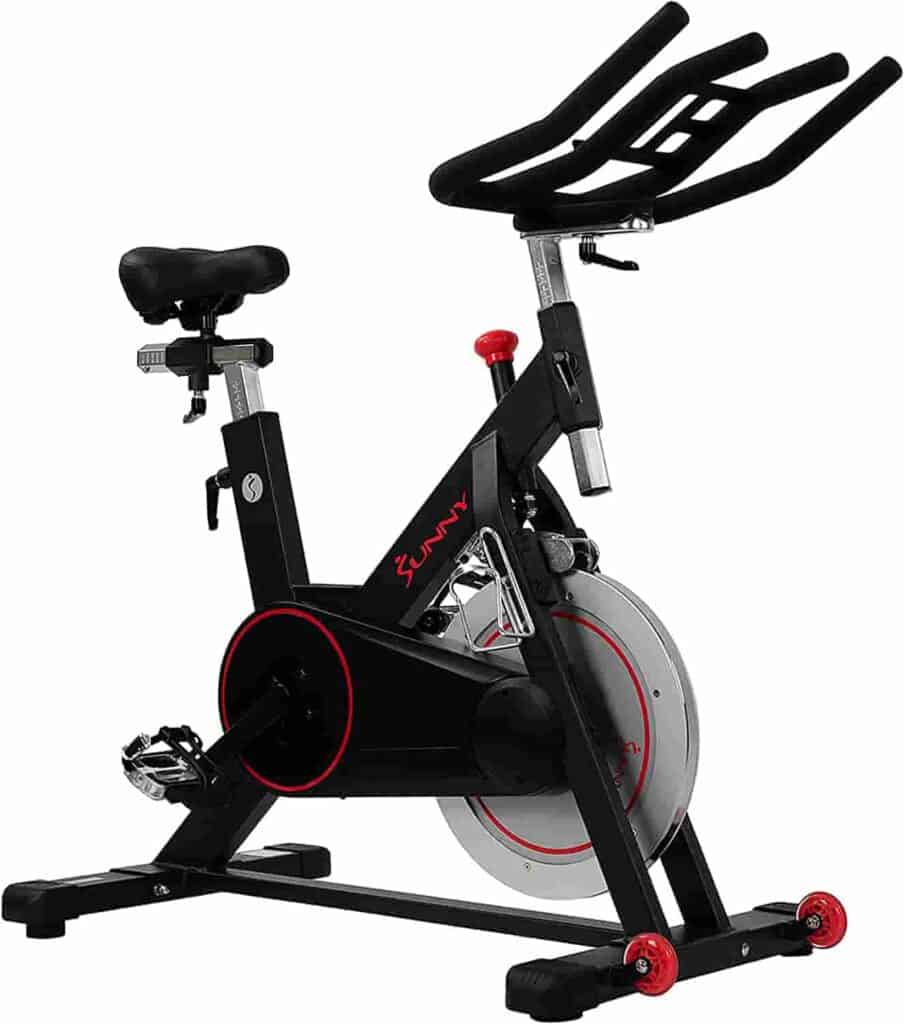 The Sunny Health & Fitness SF-B1805 Exercise Bike structure is mostly made up of steel with less plastic material. In other words, it is 95% durable steel and 5% plastic for the drive-train cover, and stabilizer end caps.
It is coated with black anti-corrosion paint (while the brand logo is printed in red), and then the flywheel, the seat, and the handlebar posts are chrome plated.
It supports a maximum user weight capacity of 300 lbs./136 kg.
When fully assembled, it weighs 125.7 lbs./57 kg, which enhances its overall stability. Although, the integrated front and rear stabilizers with adjustable levelers are primarily responsible for its stability because you can level up the bike on a platform that is not entirely even, and the rubberized levelers have a good grip on the floor.
You should be able to work out without experiencing wobbling or rocking even though the bike is compact with a small footprint.
Speaking of its size, the assembled dimensions are 48'' long by 23'' wide by 45'' high. To put it differently, it means the workout area measurements the bike would need should be 4' (122 cm) in length by 1'91'' (58.42 cm) in width. Then, additional clearance of at least 2' at the rear and on both sides of it will be required for safety workout execution and easy access purposes.
The bike has a decent low step-up design that enables users to easily step in and out of it without hassles.  
The Seat of the Sunny Health & Fitness SF-B1805 Exercise Bike
The seat is designed to be more comfortable because it is 3'' thick, 10'' long, and 8'' wide. It has a groove for air permeability and is generously padded to keep a user comfortable for a prolonged amount of time.
The seat is 4-way adjustable offering several levels of adjustments for a user to fit in. It can horizontally, and vertically be adjusted. Thus, supporting 28''-38'' inseam lengths. In other words, if your inseam is between 28''-38'' you will be able to use the bike comfortably without feeling cramped.
It is suggested that by estimation 5'-6'4'' tall individuals will be accommodated. But to be certain, it is better if you determine your suitability by your inseam length.
Finally, it is worth mentioning that the seat could easily be replaced because options or alternatives are widely available both online and at the local bicycle shop.
The Handlebar
The handlebar is also 4-way adjustable, complementing the overall adjustability of the bike. It could be adjusted several inches vertically and horizontally. As a result, the space between the saddle and the handlebar could be between 17''-21''.
Both the seat and the handlebar adjustments could be done in a couple of seconds because they have adjustment levers and posts that are distinctively level-marked.
The handlebar is coated with a soft anti-sweat rubber foam material that provides secure and comfortable grips. Therefore, the chances of getting calluses in the palms because of frequent gripping of the handlebar would be slim.
Users can engage in different workout positions due to the handlebar's multi-grip design. However, heart rate sensors are not integrated into it as is the case with most indoor cycling bikes. Therefore, no heart rate monitoring function is available on the bike.
Nevertheless, you may use an external heart rate monitor to keep track of your heart rate.
The Pedals
This bike is equipped with alloy metallic toe-caged pedals with safety adjustable straps. They are designed to be ridden with standard gym shoes only because there is no SPD clip option on them.
Since the pedals have standard thread, they are swappable, and options, including those for special spin shoes, are available.
That said, the pedals are safe and comfortable as they keep the feet secured from slipping off during intense pedaling. They are sturdy enough to support users that wish to perform stand-up pedaling.
The Q-Factor is 182 mm; that is like 7''. Usually, bicycles have Q-Factors between 150 mm (about 5.91 in) to 170 mm (about 6.6 in), depending on whether they are road or mountain bicycles. But indoor cycling bikes usually have slightly wider Q-Factor due to their structure.
Now, whether or not the Q-Factor is going to be a problem for users depends on the individual. However, generally speaking, it won't be a problem in our opinion because it won't affect the way your feet are placed on the pedals or necessarily cause stress to the ankles.
The Drive
The Sunny Health & Fitness SF-B1805 Exercise Bike is equipped with a belt-drive system. This means that its elements include a strong anti-stretch belt, a pulley, and a heavy high-inertia flywheel that weighs 44 lbs./20 kg.
The heavy flywheel is a big deal because not only does it provide consistent momentum that eliminates any form of vibration during exercise, but it also kind of enhances resistance.
So, one of the advantages of a belt drive system is that you can exercise without bothering other people around you with noise, and you will be able to watch your favorite TV show or listen to music without having to amplify the volume above the acceptable level.
The second advantage is that no maintenance is required, as opposed to a chain drive system.
The drive is bidirectional; meaning you can pedal forward and in reverse as well since the pedals and the flywheel spin simultaneously and not independently when you stop pedaling.
In other words, it is not possible to coast on the bike as you could on a road bicycle. For this reason, it is important to always apply the emergency brake by pushing down the tension control knob whenever you wish to make an abrupt stop in pedaling for safety reasons.
The Resistance
This unit has a manual magnetic resistance system that comprises magnetic brake pads, the tension control knob, and the flywheel.
Interestingly, due to the magnetic resistance system, the bike's operation remains smooth, quiet, and vibration free. The reason is that no friction occurs during the process of generating resistance. The magnetic brake pads simply release magnetic fields on the flywheel to generate resistance without direct contact with the flywheel.
The tension knob is used to increase or decrease the resistance intensity by turning it clockwise or counterclockwise.
The resistance levels are not pre-determined like the one on the Asuna Lancer 7130 Indoor Cycling Bike, instead, it is infinite. Just turn the tension control knob until you feel the suitable intensity for the workout you wish to perform.
The advantage of having unlimited resistance levels is that it seems suitable for every user at any fitness level. Beginners, intermediaries, and advanced users will appreciate the challenges they get; thus, they will be able to achieve their fitness goals quickly.
The Console
There is no console on the Sunny Health & Fitness SF-B1805 Exercise Bike.
Accessory
The unit has a water bottle holder on the right front side of it for the purpose of maintaining proper hydration.
There is also a tablet holder that is integrated into the handlebar, large enough to accommodate even a large device.
Storage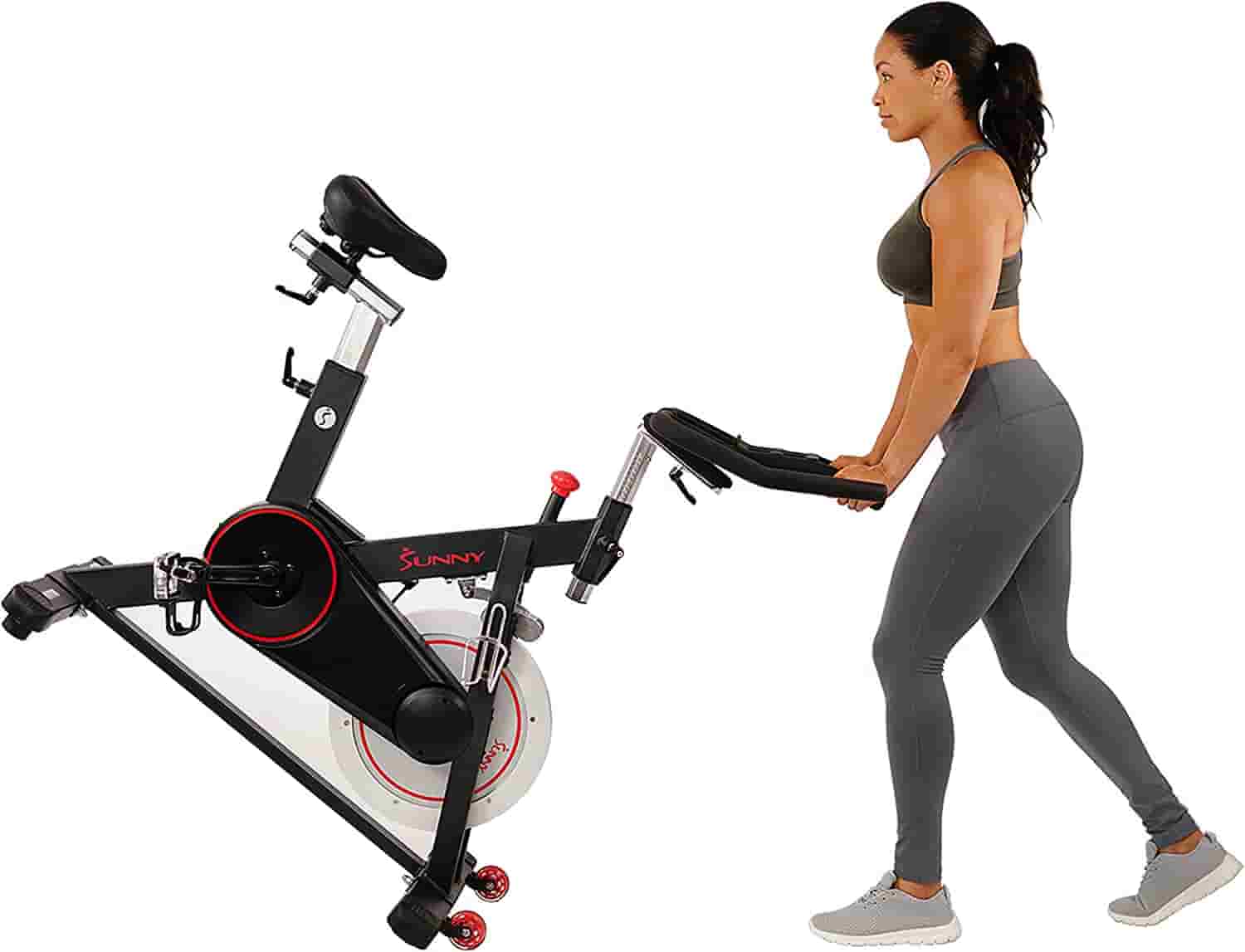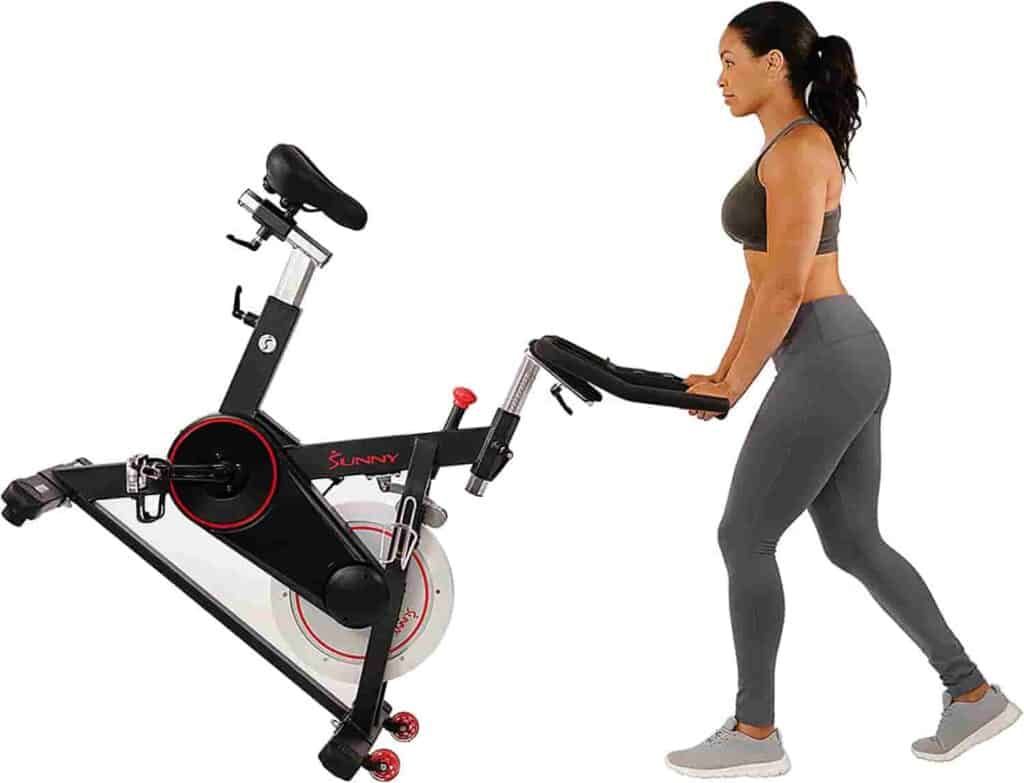 This bike can easily be put away even though it weighs 125.7 lbs./57 kg. This is because it is equipped with transport wheels at the front base which makes it easy for it to be rolled away around the room by one person.
It is also compact; thus, it doesn't require too much space for storage. A storage area with measurements of 4' (122 cm) in length by 1'91'' (58.42 cm) in width will suffice.
Therefore, it is a storage-friendly piece of equipment.
Approval Rating
The bike has been around since 2018 and has kept on garnering positive reviews across review websites and some major vendors such as Amazon.
Hence, this is indicative of good recommendations.
Pros/Features Overview
Compact and sturdy
Supports a maximum user weight capacity of 300 lbs./136 kg
It is stable
The operation is quiet, smooth, and vibration free; thanks to its drive and magnetic resistance system and also the heavy high inertia 44 lbs./20 kg flywheel
It is micro-adjustable due to the 4-way adjustable seat and handlebar
5' to 6'4'' tall users can fit in comfortably
The seat is designed with suspension springs, a groove, and padded for maximum comfort
The handlebar is multi-grip designed and coated with anti-sweat soft rubber foam material for secure and comfortable grips
The pedals are toe-caged with adjustable safety straps and made of metallic alloy
Resistance levels are infinite, providing a wide range of workout challenges
Its maintenance requirement is minimal
Easy to put together
Can easily be moved around the room via the incorporated transport wheels at the front base
A large tablet holder is included
A water bottle holder is included
Warranty is decent
Cons
No monitor
Pedals are not dual-sided
Warranty
Frame: 3 Years
Parts: 180 Days
Product Dimensions & Specifications
Length: 48''
Width: 23''
Height: 45''
Shipping dimensions: 41.5'' L x 35'' W x 10'' H
Net weight: 125.7 lbs./57 kg
Gross weight: 140 lbs./63.5 kg
Maximum user weight capacity: 300 lbs./136 kg
Frame: Steel
Flywheel: 44 lbs./20 kg
Drive: Belt
Resistance: Manual magnetic
Q-Factor: 182 mm/7"
Seat: 4-way adjustable
Handlebar: 4-way adjustable
Pedals: Toe cages with adjustable safety straps
Console/monitor: N/A
Transport wheels: Yes
Water bottle holder: Yes
Tablet holder: Yes
Shipping
The Sunny Health & Fitness SF-B1805 Exercise Bike shipping box weighs 140 lbs./63.5 kg, while the dimensions are 41.5'' long by 34'' wide by 10'' high.
Upon purchase, it takes a couple of days to weeks, depending on where you live, to make it to your doorstep. Oftentimes, it does not require a shipping fee, especially if purchased from major vendors such as Amazon.
Assembly
Putting this bike together doesn't take much to accomplish because the complicated parts are already assembled or preassembled.
Once you unbox it, you will have to attach the stabilizer bars, the seat and the post, the handlebar and the post, and the pedals to the core unit. The assembling may take about an hour or less.
Moreover, there is an instruction manual, and tools included to help you navigate the assembling process proficiently.
Maintenance
The maintenance requirement is minimal because no lubrication or adjustment is needed.
All it takes is to keep it clean always and store it in a cool, dry, and clean area. Do a checkup of the parts before using the cycling bike for exercise to ensure that all the parts are tight and in good condition.
Conclusion
The Sunny Health & Fitness SF-B1805 Exercise Bike does not possess special features other than the basics. However, it does look pretty solid and could withstand hard use.
It is compact, transportable, and stable. Users weighing up to 300 lbs./136 kg could exercise with the bike. Its operation is smooth, quiet, and vibration-free. Moreover, it is almost maintenance-free.
Sunny Health & Fitness SF-B1805 Exercise Bike Review
Usability -

7/10

Features -

6.5/10

Durability -

8.5/10
Summary
The Sunny Health & Fitness SF-B1805 Exercise Bike does not possess special features other than the basics. However, it does look pretty solid and could withstand hard use.