Proform 300 SPX Indoor Cycle Trainer is from the same stable as the Proform Hybrid Elliptical Trainer, one of the best and affordable elliptical trainers. You may check it out if you are interested, but this article is all about the Proform 300 SPX Indoor Cycle Trainer.
This indoor bike is designed for everyone that includes amateurs and pros. It is loved by people that already knew it because of its exceptional features that make working out not just about getting fit and losing weight but fun as well. It is also protected with a 5-year frame warranty obtainable through Amazon, which also supports a 250 pounds weight users.
Click right here to have a peek at the discounted and of of the ProForm 300 SPX Indoor Cycle Trainer on Amazon.
Ergonomic Design
It has this ergonomic design that provides comfort and eliminates stress, especially to the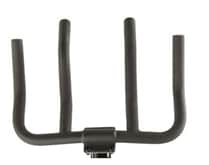 back. Its non-slip handle is adjustable (unlike the conventional bikes that you would have you sitting upright). Therefore you can position it whichever way you want.
Just so you know, bringing the level of the handles in line with your hip is great for targeting your gluteus and the leg muscles. It has four handlebars running parallel to the wheel which enables you to place your hands where it is most comfortable.
The overall design guarantees that your back is comfortable. Just as I have mentioned earlier on about its ergonomic design that would allow the upper weight of your body to be shared between your shoulders and arms as you lean forward while working out.
You will enjoy working out while sitting upright and also curving your spine forward at some point to ease the weight of the upper body to the lower back. Otherwise, if you keep on exercising on an upright position, which might be good at the time of the exercise, but may cause you to pay a visit to a chiropractor the next day.
Pros/Features
Flywheel
The Proform 300 SPX Indoor Cycle Trainer has a flywheel that weighs about 42 pounds, because the heavier the flywheel the better as this ensures smooth glide and stroke, which also guarantees steadiness while working out, not having to struggle with a wobbling stationary bike as you increase your pace.
Pedals
How about the pedals that have cages/straps that ensure the security of your feet. They secure the feet and prevent slippage;  it gives you the comfortability and confidence to ride on and push yourself to the limit.
Great for Pushing to the Limits
If you are looking for something that can withstand your quest for pushing to the limit, then Proform 300 SPX Indoor Cycle Trainer is just what you need; great for seasoned rider and a person desiring to become one.
You will get the toughest resistance as it comes with wool felt resistance system that would allow you to challenge yourself by applying pressure to the wheel, making it so difficult for you to spin. Therefore, you don't need to put your living room at an incline to get more intensity out of your workout, lol. And this is activated by simply turning a knob to transit from flatland routine into a mountain climb routine.
Warranty
It has an impressive warranty of 5 years on the frame while it can support 250 pounds, weight user.
[rank_math_rich_snippet]
Proform 300 SPX Indoor Cycle Trainer- A Must See Review!
Conclusion
Did I mention its affordability? Well, it is affordable compared to its kind and what you stand to gain from it. And if you are a seasoned athlete or one that intends to start out, then the proform 300 SPX Indoor Trainer would be ideal equipment to start with.
Great for weight loss and physical fitness, therefore, go get yours now and experience the power of ergonomic designed machine.