This is the review of the Ativafit Fan Bike; the compact, customizable, and full-body workout air bike. A versatile and affordable upright bike that doesn't take up space yet accommodates users of different heights without losing its stability.
Its air resistance system provides dynamic workout resistance levels that are suitable for everyone at any fitness level. Aside from the ability to exercise the upper and the lower body, you can also pedal in reverse if you so wish to work and tone more muscle groups.
Its construction features a strong steel frame that supports 250 lbs./113 kg maximum user weight capacity. There is an LCD digital monitor that tracks your workout progress in real-time so that you can remain motivated and focused on achieving your fitness goals.
A tablet holder is also integrated to enable you to keep a smartphone or a tablet device for entertainment and taking calls while working out.
The bike is manually operated and only requires batteries for the monitor. Therefore, it does not need to be plugged into a power outlet.
Click right here to have a peek at the Ativafit Fan Bike.
The Frame and Construction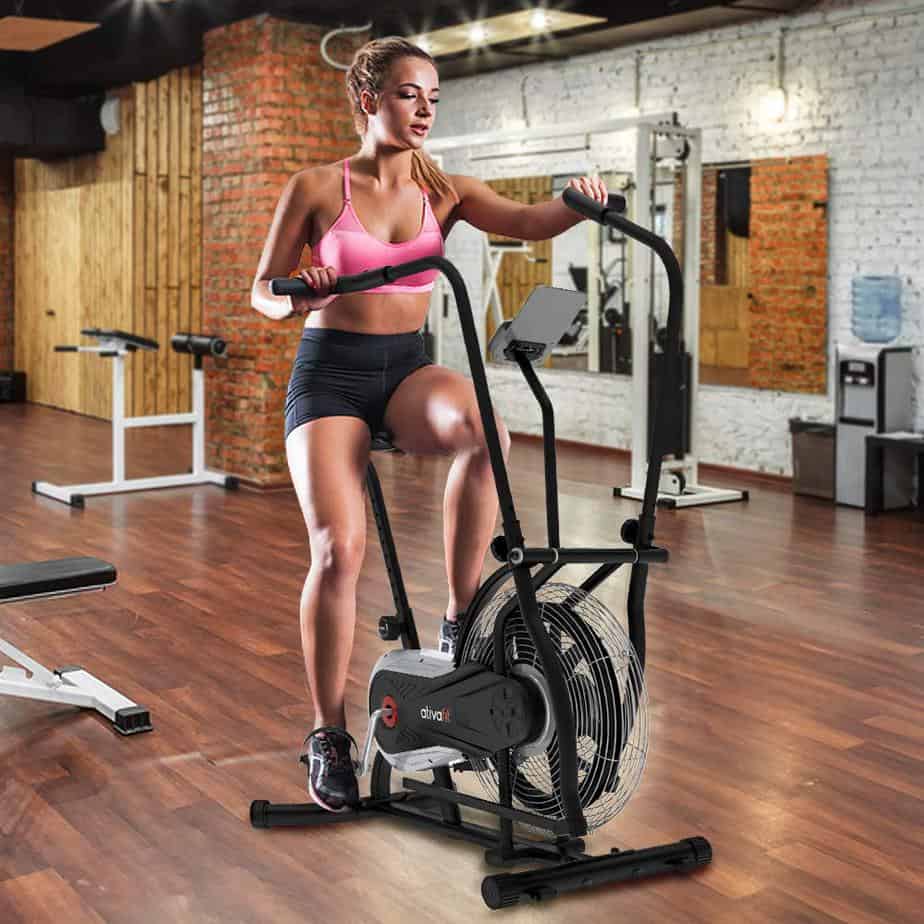 As aforementioned, the Ativafit Fan Bike is one of those full-body stationary exercise upright bikes with an air resistance system.
Its frame is made of steel and finished with black anti-corrosive paint that preserves its quality and ultimately makes it last, while the drive cover is made of ABS plastic.
The bike has a small footprint that makes it fit in a room without inconvenience. Its overall assembled dimensions are 39'' long by 20'' wide by 54'' high. Therefore, a workout area with perimeters of 3'3'' length by 1'7'' width will suffice for exercising with the bike.
There should be an additional clearance of at least 2' all around it so that you can work out with safety and convenience.
The base features a U-shaped steel stabilizer at the rear and a straight rounded steel stabilizer at the front. Moreover, the stabilizers have either a polygonal or textured rubber cap on each end for floor-friendliness and for the promotion of optimal stability on all kinds of flooring.
In other words, regardless of the bike's compact design, it doesn't wobble or rock while exercising on it, not even when doing so vigorously. That said, it won't be as stable if you are pedaling while standing; although this is not a typical bike for out-of-seat pedaling, spin bikes are.
There are small transport wheels at the front base that are intended to help you roll the bike away to and from storage.
It also has a design that allows every user to mount and dismount easily.
The Seat of the Ativafit Fan Bike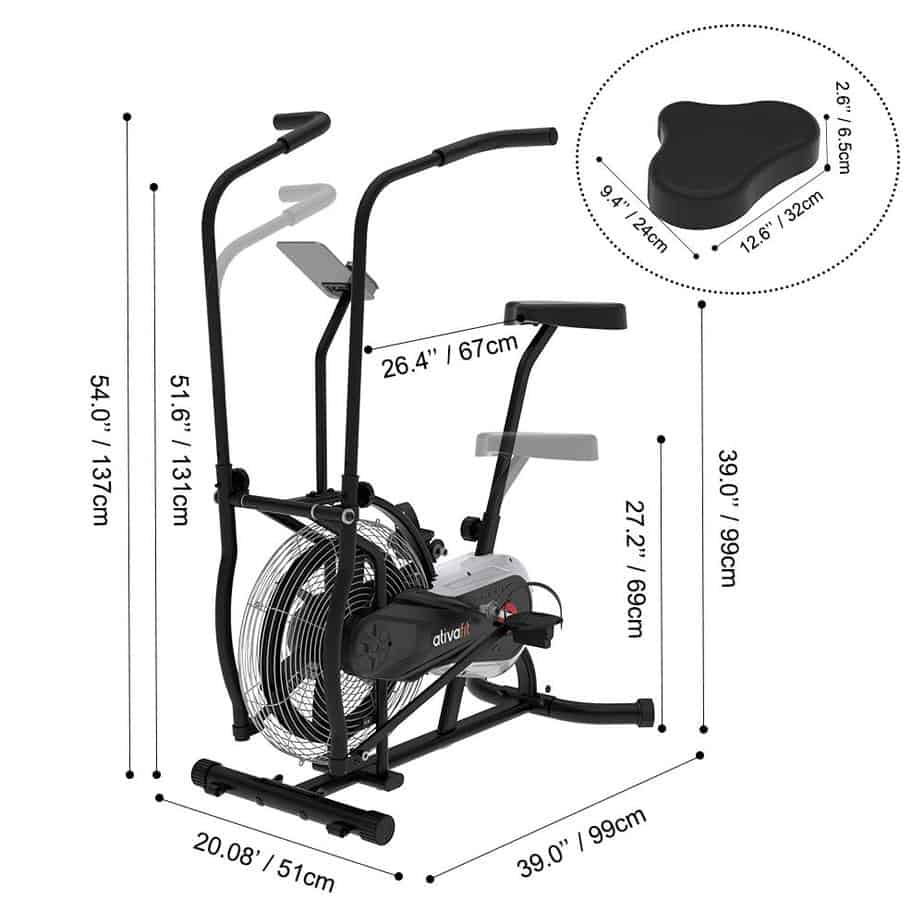 This bike's seat is considerably large, thickly padded, and covered with vinyl material. Its (seat) dimensions are 9.4'' long by 12.6'' wide by 2.6'' thick. There won't be the need to use a gel seat cover or even have it replaced.
It is 2-way adjustable (upward/downward), with several positions. It supports min. 28''-max 39'' inseams (length of your inner thigh to the ankle). As a result, users of different heights can fit in, even users as tall as 6'7''. But it's best to know if your inseam falls within the range it supports.
The Handlebars of the Ativafit Fan Bike
The handlebars integrated into this bike are also adjustable; they could be adjusted just like the seat, upward/downward with several positions. They are padded with a soft rubber foam that provides comfortable and secure grips.
They are movable; these allow you to work out the upper body by swinging your arms forward and backward even as you pedal.
The handlebars and the pedals are connected and fixed, thus, they are not independent of each other but move simultaneously.
So, if you wish to have the handlebars static, simply loose the 7 and 8 connecting rod that connects them together and put them down. That way, they can be used as handles only.  
It is pretty easy and fast to adjust either the handlebars or the seat.
The Pedals
The Ativafit Fan Bike has anti-slip pedals with adjustable safety straps. They are designed to accommodate standard gym shoes.
They allow different foot sizes to be accommodated conveniently and safely.
Moreover, they are bidirectional, meaning you can pedal in reverse as well
The Resistance System of the Ativafit Fan Bike
This upright bike, apparently, is equipped with an air resistance system that consists of fan blades. It is very dynamic and suitable for all users regardless of their state of physical fitness.  
It is an unlimited resistance system that provides workout difficulty that's dependent on your pedaling ability. Differently put, the resistance becomes intense when you pedal faster and less intense when you don't.
So, the resistance you get is proportionate to your fitness level and how far you can go. This is the reason it is suitable for beginners, intermediaries, and advanced folks.
Of course, it is not as quiet as a bike with a magnetic resistance system. The fan definitely generates some level of noise (every fan bike does) depending on your speed.
However, that won't stop you from watching your favorite TV show or listening to good music while working out.
Finally, the resistance system allows you to perform HIIT (high-Intensity Interval Training) at home without going to the gym.
The Console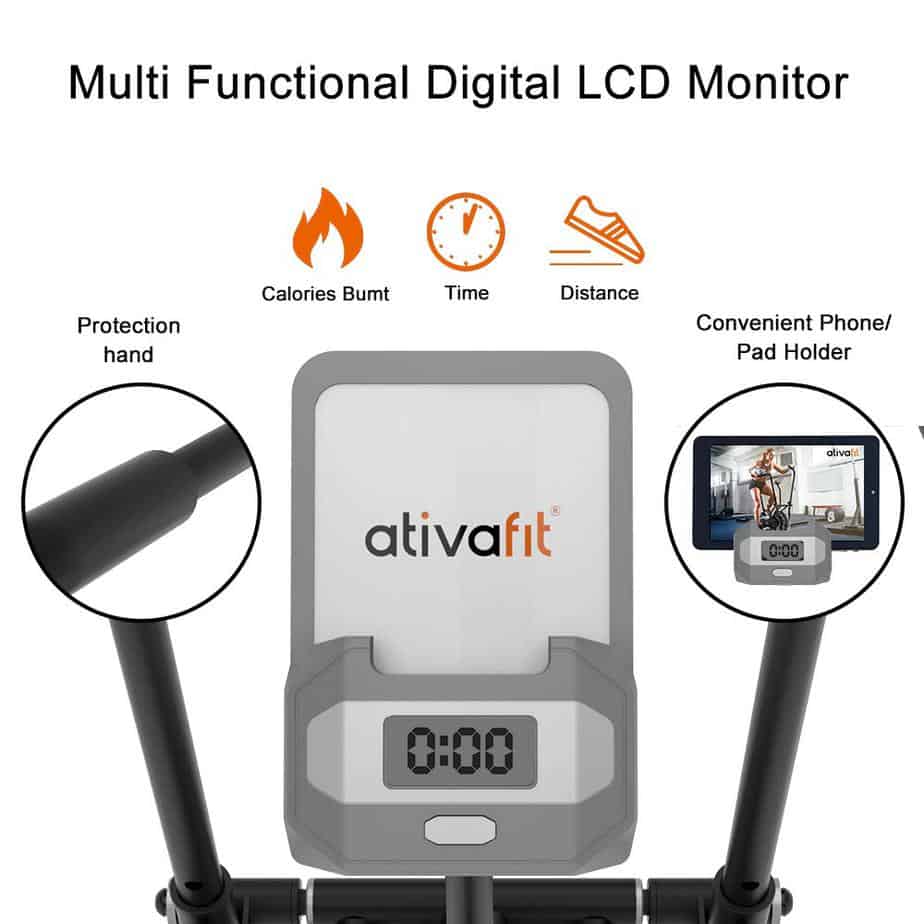 The Ativafit Fan Bike has a basic console that features an LCD monitor with a screen that is just wide enough to display workout data one at a time. The monitor has good readability as long as it is being viewed in a well-lit environment because it's not backlit.
It has a single button that enables you to navigate through its functions.
The battery-powered monitor keeps you focused and motivated by tracking workout stats such as Time, Distance, Speed, and Calories.
The SCAN function displays the workout data one at a time after a few seconds.
Interestingly, the console also features a tablet holder that is strategically positioned so that when a device is placed on it your view of the monitor doesn't get compromised or blocked. So, you can watch a movie via a tablet device and still be able to view your workout progress data at the same time.
Accessory
The Ativafit Fan Bike only has a tablet holder for your smartphone/tablet device placement. This, of course, allows you to use a smartphone for distraction (entertainment) activities as you work out to improve your overall physical fitness.  
Storage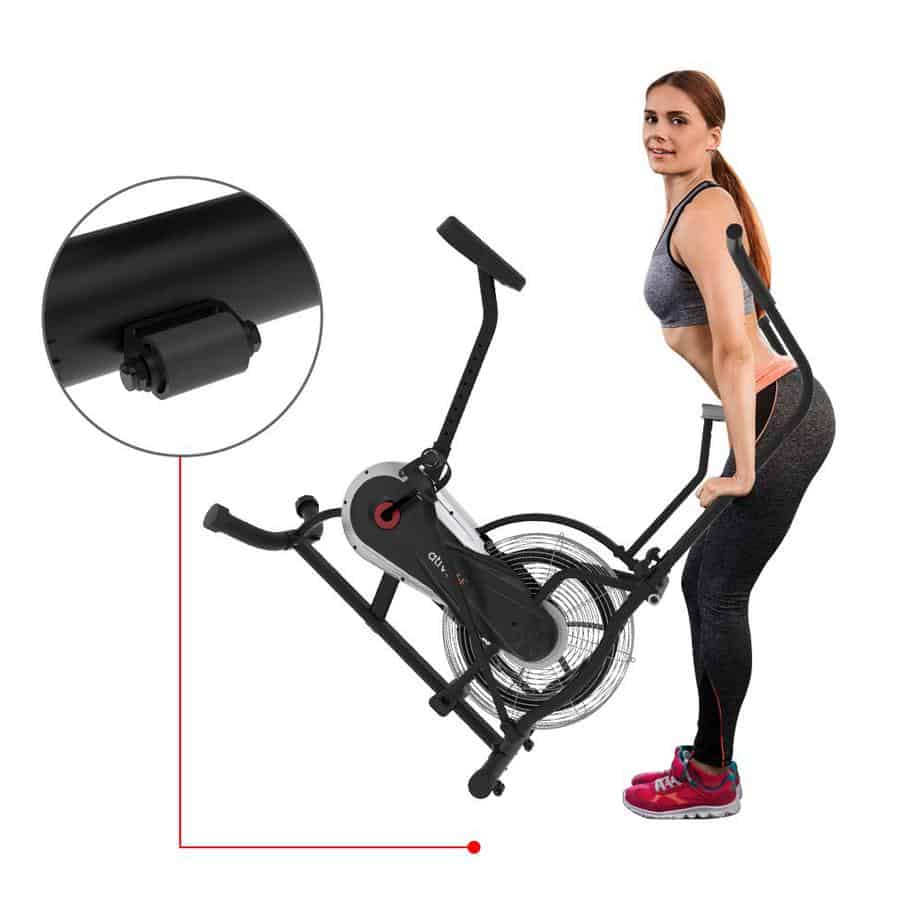 The Ativafit Upright Stationary Fan Bike is less than 67 lbs./30 kg in weight and has transport wheels at the front base. So, it's easy to roll it away to storage by an adult.
Also, it doesn't take up much storage space as well.
Approval Rating
At the time of this review, the majority of users on Amazon believe they made the right choice by acquiring the Ativafit Fan Bike and would recommend it considering the price.
Pros/Features Overview
Sturdy and stable
It's affordable
Supports 250 lbs./113 kg maximum user weight capacity
Air resistance system with unlimited levels
It's suitable for everyone and those that wish to engage in HIIT
It is compact with a small footprint (doesn't take up much space)
It's portable with transport wheels at the front base (easy to relocate)
The seat and the handlebars are adjustable (customizable to accommodate users of different heights)
The seat is large and comfortable
It provides full-body workouts
The anti-slip pedals with adjustable safety straps accommodate standard gym shoes and are bi-directional
The LCD monitor tracks Time, Speed, Distance, and Calories
Low maintenance
Not difficult to assemble
Tablet holder included
Cons
No heart rate function (you may use an external HR device to track and maintain your target heart rate zone)
No water bottle holder
The air from the fan does not channel to the body for cooling as some air bikes do
Warranty
12 Months Limited warranty
Product Dimensions and Specifications
Length 39''
Width 20''
Height 54''
Maximum user weight: 250 lbs/113 kg
Shipping weight: 66.6 lbs./30 kg
Inseam: 28'' min.-39'' max
Resistance; Air
Console/Monitor: Non-backlit LCD, tracks Time, Speed, Distance, and Calories
Seat: 2-way adjustable
Handlebar: moveable, 2-way adjustable
Pedals: Anti-slip with adjustable safety straps
Transport wheels: Yes
Tablet holder: Yes
Water bottle holder: No
Shipping
The Ativafit Fan Bike is shipped out in a box that weighs about 66.6 lbs./30 kg.
Amazon provides free expedited standard shipping that gets the product delivered in a couple of days.
Assembly
The assembly of this bike is easy. Although, you may be intimidated upon opening the box. However, when you follow the instructions on the manual you will be fine.
Moreover, the major components are already assembled.
The tools required for the assembly are included in the package.
Maintenance
Ensure to keep the bike clean at all times possible. Prevent water from getting into the monitor and examine the bike for any loose or broken parts before use.  
Conclusion
The Ativafit Fan Bike is designed for home use. It helps you to get on with healthy workout activities at home when you cannot make it to the gym.
The full-body exercise bike enables you to engage in HIIT workouts that could burn tons of calories and ultimately get you to lose weight and improve your overall physical fitness.  
Ativafit Fan Bike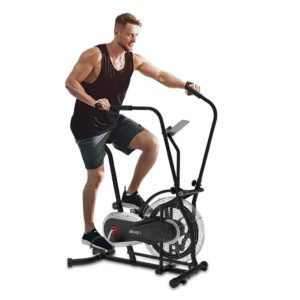 The Ativafit Fan Bike only has a tablet holder for your smartphone/tablet device placement. This, of course, allows you to use a smartphone for distraction (entertainment) activities as you work out to improve your overall physical fitness.  
Product Brand: Ativafit
Product In-Stock: https://schema.org/InStock