The TECHMOO Indoor Cycling Bike is equipped with a belt drive and a friction resistance system (not a magnetic resistance system as advertised).
It is integrated with a 35 lbs./16 kg perimeter weighted chromed flywheel that provides uninterrupted momentum for smooth vibration-free spinning operation.
The bike is customizable; therefore, users of different heights can adjust to fit.
The frame is made of solid steel that can hold up 300 lbs./136 kg maximum user weight. Its large LCD monitor displays workout stats (such as Time, Distance, Speed, Calories Burned, and Pulse) simultaneously and distinctively so that you can remain focused and motivated on achieving your fitness goals.
There are anti-skip toe caged pedals with adjustable safety straps that were designed to be used with a pair of standard gym shoes, and strategically positioned phone holders that allow you to use your phone for entertainment purposes without compromising the view of the digital display.
A water bottle holder is also designated in a position that makes it easy for you to reach for water while exercising. Moreover, it's inexpensive and seems to be a good buy.
Click right here to have a peek at the TECHMOO Indoor Cycling Bike.
The Frame and Construction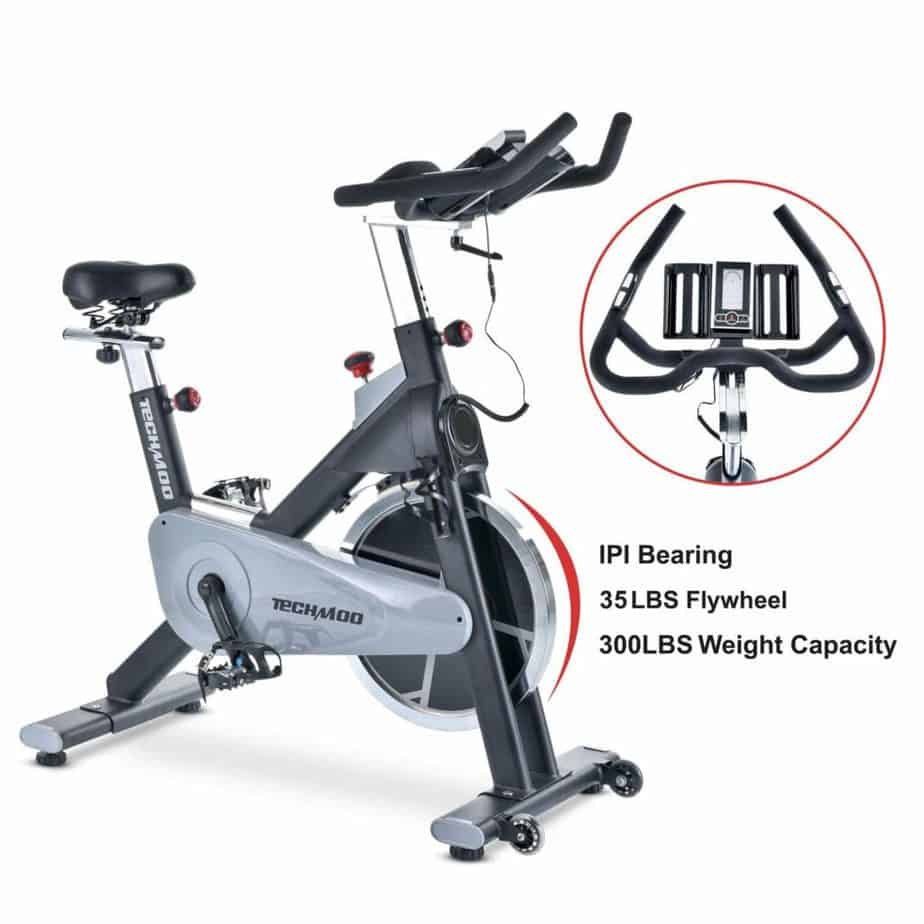 The TECHMOO Indoor Cycling Bike has a fortified triangular-shaped steel frame that supports 300 lbs./136 kg maximum user weight capacity, while the belt cover is made of plastic.
Not a very large spin bike; its overall assembled dimensions are 41.7'' long by 20.3'' wide by 50.4'' high. Differently put, the bike requires a workout area with measurements of 3'5'' length by 1'7'' width.
That said, it is recommended to consider leaving an extra clearance of at least 2' on each side of the bike and 3'' at the rear for easy access and a safe workout experience.  
The base features robust front and rear steel stabilizer bars with adjustable air suction cup levelers underneath them. Thus, the bike is not only stable on a good floor but also on crooked ones. However, it tends to leave a footprint on a carpeted floor, which is insignificant though.
Nevertheless, you may place it on a protective rubber mat to prevent the direct contact of the footprint to the floor and to also prevent sweat from spilling to the ground.
TheTECHMOO Indoor Cycling Bike weighs about 100 lbs./45 kg which advantageously improves its overall stability.
There are transport wheels at the front base that makes the relocation of the bike easy regardless of its weight.
Lastly, its step-thru design allows a user to easily mount and dismount the bike.
The Seat of the TECHMOO Indoor Cycling Bike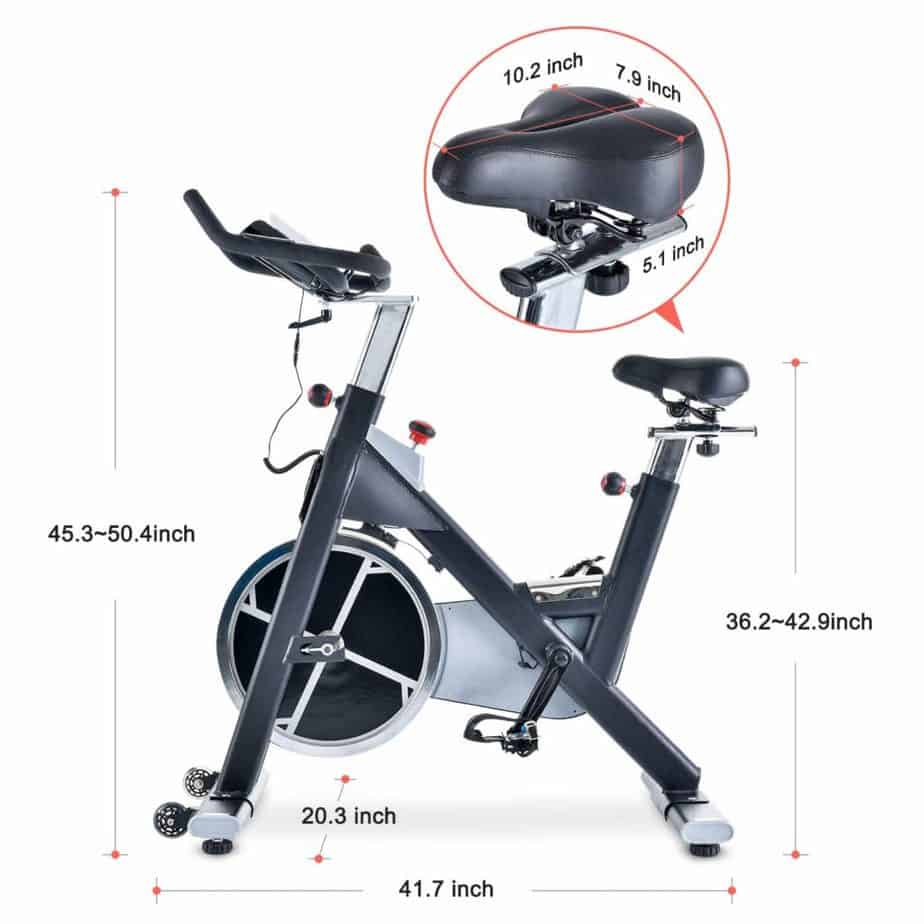 The seat on this bike is generously padded, contoured with a groove for air permeability and lasting comfort. There are also two springs underneath that serve as shock absorbers for your rear movement adaptation.
The seat's dimensions are 10.2'' long by 7.9'' width by 5.1'' thick. As a result, you can work out longer and comfortably. It can be adjusted a few inches horizontally (fore/aft) and several positions vertically (upward/downward). In other words, it is 4-way adjustable.
The Handlebar of the TECHMOO Indoor Cycling Bike
This indoor spin bike has a multi-grip handlebar that is ergonomically designed to provide comfortable, safe, and secure grips.
It is coated with a soft rubber foam that prevents slippage or blisters in the palms regardless of how long you work out.
The phone mounts and the LCD monitor are attached to it while the EKG HR contact sensors are integrated onto it so that when they are held during a workout the heart rate data can be transmitted and be viewed.
Just as the seat, the handlebar can also be adjusted 4-ways, horizontally and vertically. Thus, the bike has a micro-adjustability that enables users of different heights and sizes to be accommodated.
The Pedals
The TECHMOO Indoor Cycling Bike comes with anti-slip toe caged pedals that also have adjustable safety straps.
They provide optimum safety and good alignment of the knees, ankles, and feet.
The pedals are strong to support out-of-seat pedaling (stand-up pedaling) and are compatible with standard gym shoes only.
The Drive of the TECHMOO Indoor Cycling Bike
The bike is equipped with a belt drive system that offers smooth and near-silent operation. Its mechanism comprises a durable belt, 3-piece crankset, durable crank-arms, the pedals, and the 35 lbs./16 kg perimeter weighted flywheel.
The belt drive system is commonly found on most modern indoor cycling bikes due to its impressive operation and maintenance-free status.
It allows users to workout in unlikely environments without disturbing those around, such as one with a sleeping newborn baby or neighbors living in close proximity.
No maintenance is needed either, except to replace the belt when it wears out, which often occurs after a very long time of usage.
Pedaling in reverse is possible since the pedals and the flywheel are fixed, meaning that they both spin simultaneously. Therefore, you can diversify your pedaling activities in order to work and tone more muscle groups.
That said, for safety reasons, ensure to apply the emergency brake by pushing the tension knob down before you stop and jump off the bike because you cannot coast on it.
The Resistance
The TECHMOO Indoor Cycling Bike features a friction resistance system that consists of a wool felt pad, the tension knob, and the flywheel.
Resistance is created when the wool felt pad comes in direct contact with the top chromed surface of the flywheel.
The resistance system provides different shades of resistance intensities that are suitable for all kinds of users, including the elderly, and those recovering from an injury. Even those that seek to experience extremely difficult workouts will be impressed.
Being a friction resistance system also means that its resistance is variable. There are no definite resistance levels. Simply twist the tension knob clockwise to increase the workout difficulty and counterclockwise to decrease it.
In case a squealing sound occurs when the resistance is engaged, simply apply a silicon-based oil on the top surface of the flywheel to make it go away. This may happen because of the friction between the wool felt pad and the flywheel.
The Display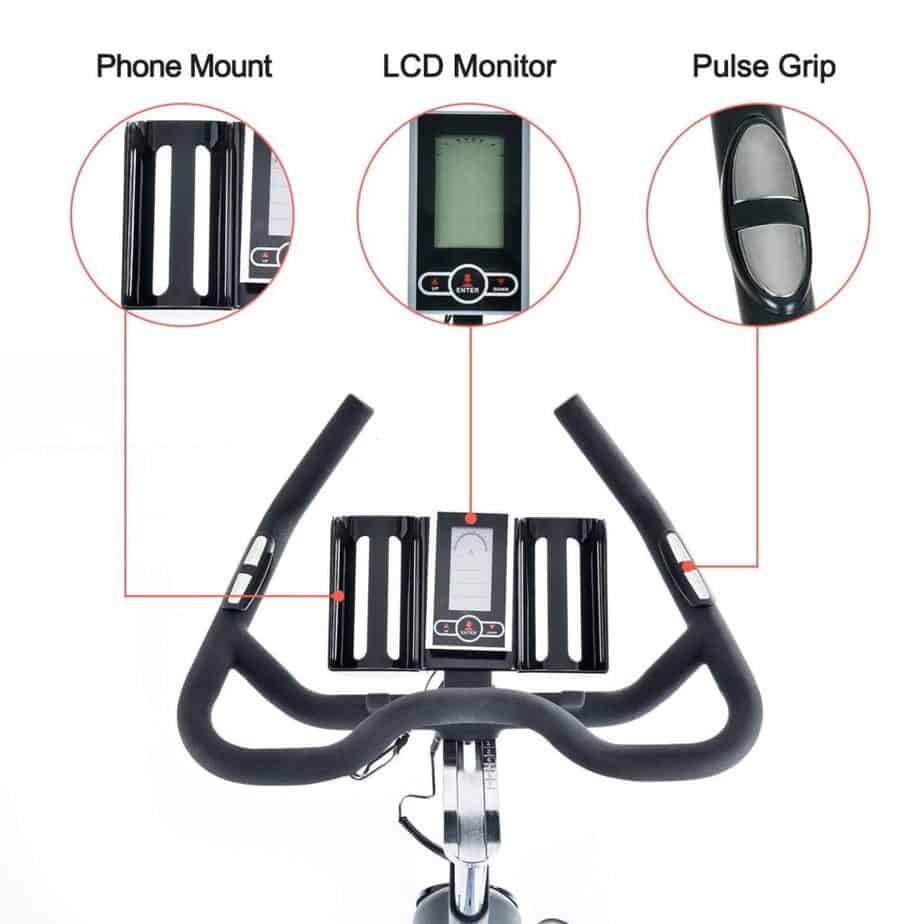 The TECHMOO Indoor Cycling Bike's LCD display is large and can track multiple workout data simultaneously and does so with good readability.
It tracks important and useful workout stats such as Time, Distance, Speed, Calories Burned, and Pulse. These basically enable you to remain focused and motivated on achieving the purpose of working out.
The monitor is battery-powered and has easy to use buttons that include UP, ENTER, and DOWN buttons.
It is important to note that the console does not have additional functions such as pre-set workout programs or Bluetooth connectivity. Neither is it compatible with a wireless HR chest strap device.
Accessory
There are phone and water bottle holders on the TECHMOO Indoor Cycling Bike. Both are essential for experiencing comfortable and productive workouts.
The phone mounts are attached to the handlebar where it won't interfere with the view of the monitor when a phone device is placed on either of them. Thus, you can enjoy watching a movie or listening to music even as you view your workout data at the same time.
Maintaining adequate hydration during a workout session is important and the water bottle holder allows you to do just that.
Storage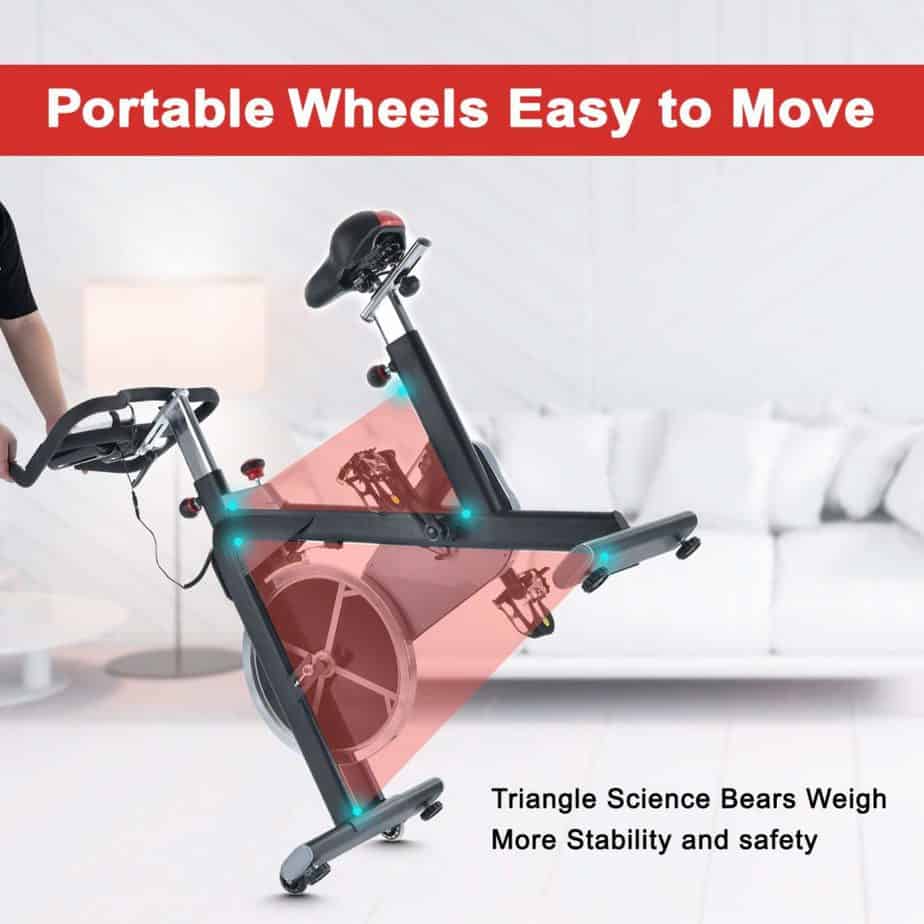 The TECHMOO Indoor Cycling Bike can easily be moved to storage without hassle, thanks to the integrated transport wheels at the front base.
Moreover, it doesn't need a large space for storage. A storage area with measurements of 3'5'' length by 1'7'' width will suffice.
You can simply put it in the garage, under the staircase or just next to the wall.
Pros/Features Overview
Sturdy and durable
Its stability is great
It's cost-effective
Supports 300 lbs./136 kg maximum user weight capacity
It has a micro-adjustability that allows users of different heights and sizes to be eligible to use it
The seat is large, super padded, and comfortable
The handlebar is multi-grip designed and coated with soft rubber foam material for comfort
Step-through design
The friction resistance system is suitable for everyone at any fitness level
Its operation is smooth and near-silent
It possesses a heavy-duty 35 lbs./16 kg perimeter weighted flywheel that provides consistent momentum that simulates riding a real road bike
The LCD monitor tracks workout progress and displays data simultaneously
Transport wheels for an easy relocation process
EKG HR contact sensors transmit heart rate data to the monitor
Water bottle holder included
Phone mounts included (doesn't block the view of the LCD monitor)
Low maintenance
Easy to assemble
Cons
The monitor tracks only basic workout data
Product Dimensions and Specifications
Length 41.7''
Width 20.3''
Height 50.4''
Maximum user weight capacity: 300 lbs./136 kg
Shipping weight: 105.8 lbs. /48 kg
Drive: Belt
Resistance System: Friction
Flywheel: 35 lbs./16 kg
Seat: 4-way adjustable
Handlebar: 4-way adjustable
Pedals: Toe cages
Frame: Steel
Monitor: Large LCD display tracks Time, Distance, Speed, Calories Burned, and Pulse
EKG HR sensors: Yes
Telemetry-enabled: No
Transport wheels: Yes
Water bottle holder: Yes
Phone Holders: Yes
Shipping
The TECHMOO Indoor Cycling Bike is shipped in a box that weighs 105.8 lbs./48 kg. It's shipped for free by Amazon and gets to its destination in a couple of days.
Assembly
Just as with any average indoor cycling bike, this unit is pretty easy to put together because the complicated components such as the drive/resistance system are already preassembled.
Therefore, you are left with the front and the rear stabilizer bars, the seat, the handlebar, the pedals, and the console to be attached to the main core unit.
It won't take up to an hour to complete the assembly.
Also, an instruction manual and tools are included in the package for easy assembly.
Maintenance
Basically, you are required to keep the unit clean at all times and to avoid liquid from getting into the console.
Always check the bike for any part that might be loose or bad before usage.
Conclusion
The TECHMOO Indoor Cycling Bike is sturdy, stable, and simply cost-effective.
It does provide you with the opportunity to train in the comfort of your home so that you can lose weight and improve your overall physical fitness.  
[rank_math_rich_snippet]