The Sunny Health & Fitness Evo-Fit SF-T7955 Treadmill is one of those home exercise treadmills you may want to acquire if your goals are to be able to run, lose weight, and build strength and endurance. This is possible because it is built and designed to do just that.
It has a wide tread belt, a steep incline, a powerful motor that provides a speed range that is up to 11.5 mph (18.5 km/h), and more.
Its operation is environmentally friendly and could easily be folded and moved to a storage spot.
Click right here to have a peek at the best price of the Sunny Health & Fitness Evo-Fit SF-T7955 Treadmill.
The Frame & Construction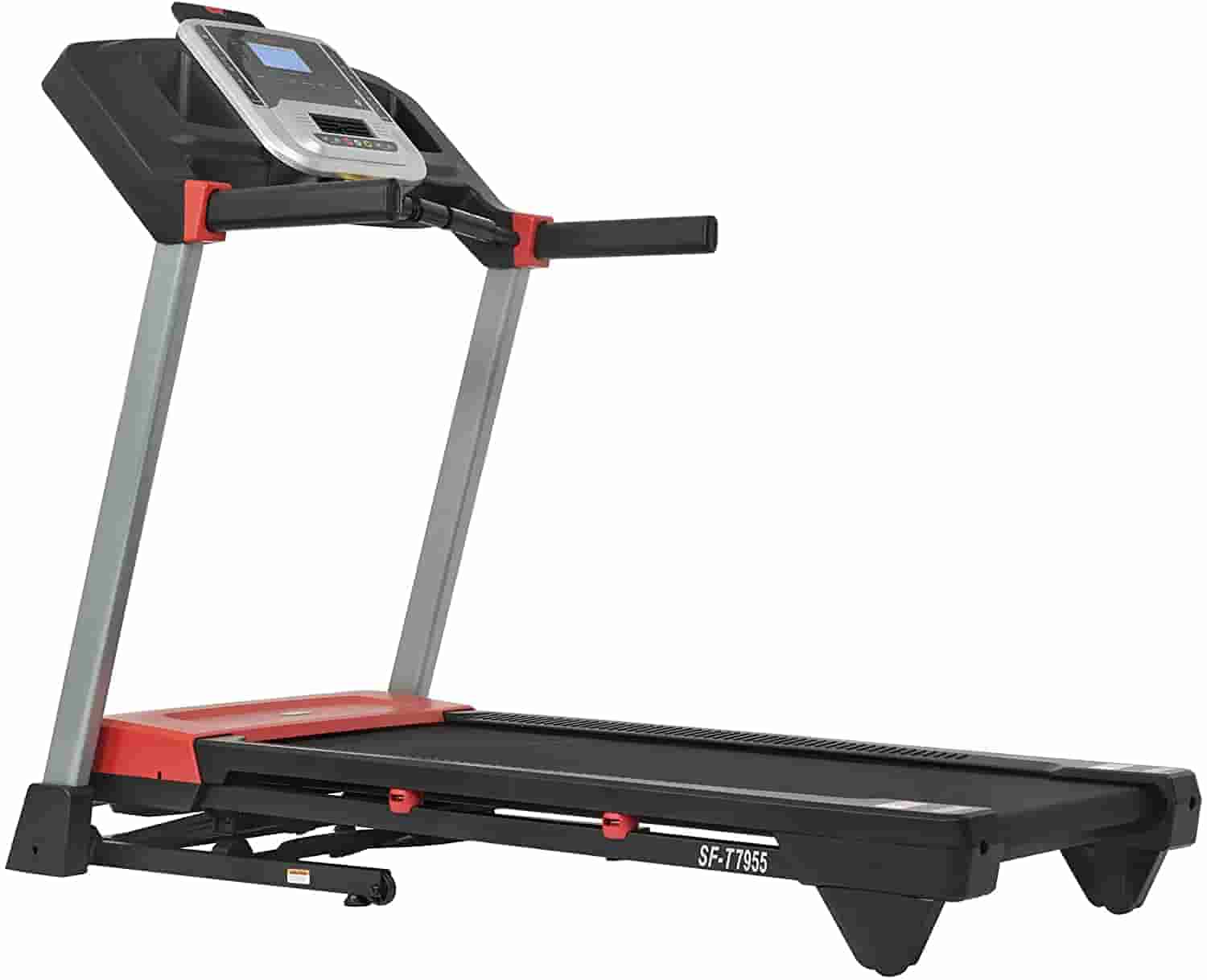 The Sunny Health & Fitness Evo-Fit SF-T7955 Treadmill is mainly made up of 2 types of materials, which are anti-corrosion coated steel for the frame and durable plastic for other parts such as the dashboard, and side rails' covers.
Its predominant color is black; however, there are also red and metallic gray colors which are evidently present on the motor cover, the shock absorbers, and the console stands.
The maximum user weight capacity it supports is 275 lbs./124.7 kg.
The base features a set of adjustable levelers at the front stabilizer for an enhanced stability that promotes traction and floor friendliness.
Also, the stability is further consolidated by the overall assembled weight of the treadmill which happens to be 166.4 lbs./75.47 kg.
Although, the use of a protective rubber mat might give it a boost as well.
Now, considering that the weight is seemingly heavy, thus, it might be a concern when it comes to relocating the treadmill from one area to another within the room. Nevertheless, there are transport wheels at the front and rear bases designed to ease the relocation process, while the integrated soft drop system helps you to easily fold and unfold it.
Having said that, the treadmill is bulky, hence, it will take up quite a bit of space.
The dimensions are 70.7'' long by 34.5'' wide by 59.5'' high. In other words, it requires a workout area with measurements of 5'89'' (179.57 cm) length by 2'87'' (87.63'') width and extra clearance of 2' on each side and 8' at the rear for ease of access and safety purposes.
The Deck of the Sunny Health & Fitness Evo-Fit SF-T7955 Treadmill
The deck is equipped with a shock-absorbing system and a textured 20'' W by 54'' L tread belt for safe and comfortable workout experiences. Users can exercise to achieve their fitness goals with a reduced impact on the joints.
Even though the running surface length is 54'', 6'2'' tall individuals can still workout without feeling restricted since the width is 20''.
The Motor
The motor capacity is 3 horsepower which is appropriate for walking, jogging, and running activities. This means it provides an adequate drive for your workouts without breaking down or overheating regardless of duration or frequency.
The motor is safely enclosed at the front base and covered with durable red plastic for safe, smooth, and quiet operation. The speed range it provides is 1.0 mph-11.5 mph and can be adjusted by an increment of 0.1 mph via the gradual Up/Down keys on the console. This gives you the flexibility to adjust your workout speed as you see fit. There are also the 2, 4, 6, 8, 10, 11-speed shortcut/quick keys that allow you to increase or decrease the speed level significantly.
As aforementioned, the operation is smooth and quiet; thus, it won't bother you or other occupants in the room.
The motor is so energy-efficient, hence, it won't significantly increase your electricity bill.
Incline System
The Sunny Health & Fitness Evo-Fit SF-T7955 Treadmill has a high-powered motorized incline system that could be adjusted from 1 to 18 levels. In other words, the ramp could go from 0.6 degrees to up to 5.7 degrees providing different levels of workout difficulties.
Since this is a motorized incline system, the adjustment is done via the buttons on the dashboard or automatically when a preset workout program is selected.
The incline adjustment buttons are located at the left side of the console and they include 3, 6, 9, 12, 15, and 18, and there are also quick Up/Down keys that enable you to gradually increase or decrease the incline by 1%.
The incline system is powered by a small motor, thus, it is operable when the treadmill is plugged into a power outlet.
Finally, due to the steep incline, the room where the treadmill is to be used must have a substantial amount of ceiling clearance. At least 20'' above your head should prevent any contact with the ceiling in case you push the incline to the highest level.
The Console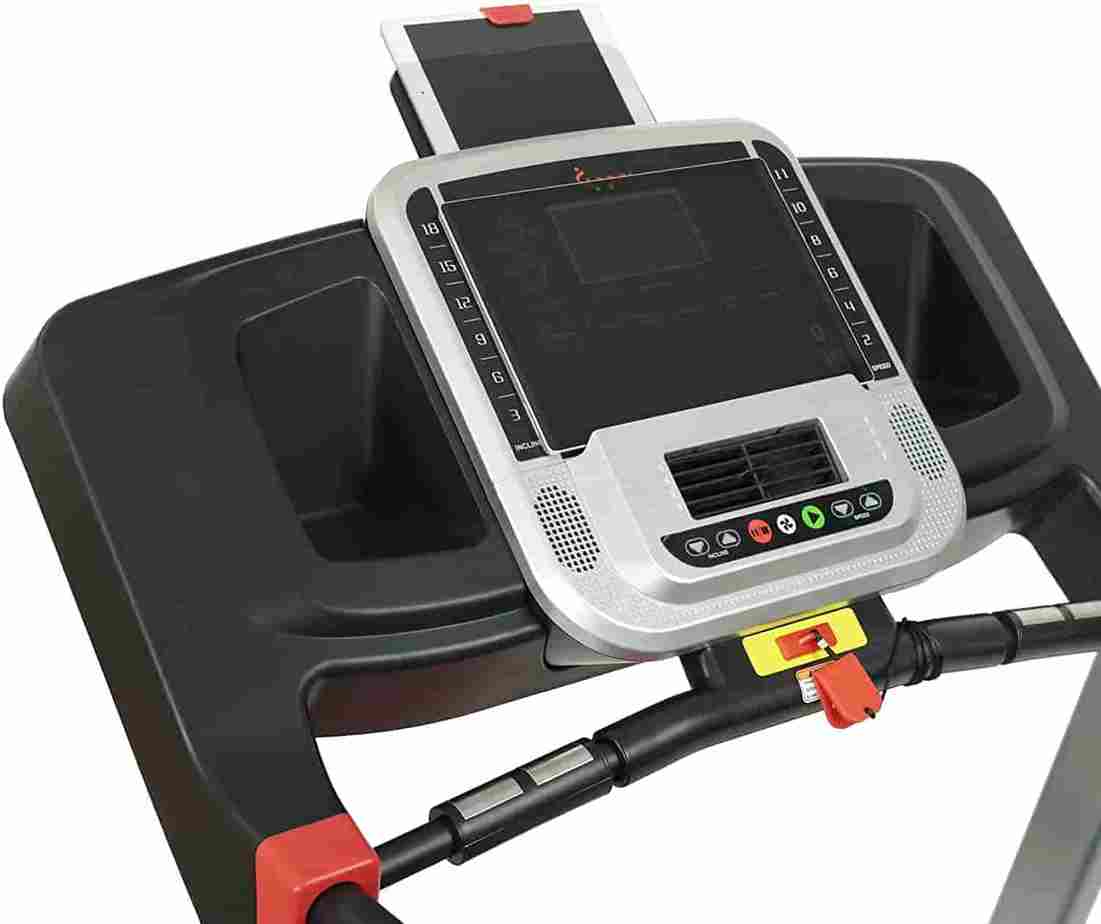 The console of this treadmill has a lot of functions designed to make your workouts convenient, enjoyable, and productive.
For starters, it features a backlit LCD monitor that tracks your workout progress. You will be able to view workout stats such as Time, Speed, Distance, Incline, Calories, and Heart Rate with good clarity.
You can set a countdown goal for Time, Distance, and Calories. In other words, if you wish to train for a certain amount of time, or cover a certain amount of distance, or burn a certain number of calories, you could set it up so that it counts down to zero while you exercise.
There are 30 preset workout programs that are divided into 2 modes. The first mode is the Weight Loss mode, which consists of P1-P15. Each of the preset programs is also divided into 10 sections; meaning that the operating time of each section will be 1/10 of the set time.
The second mode is the Interval mode, which consists of P16-P30. Each of the preset programs is also divided into 10 sections, just like the Weight Loss mode.
If one of these preset workout programs is selected, the Time, Speed, and Incline will automatically apply. However, you can adjust the time to what suits you. The default time is 30 minutes, and the setting range is 5:00-99:00.
There is a Heart Rate mode that enables you to set a target heart rate value. Once this is set up, the treadmill will regulate the speed and incline of your workout based on the comparison of your current heart rate and the target heart rate value.
In other words, if your heart rate is lower than the target heart rate, the treadmill will automatically increase the speed and incline but decreases them if your heart rate is higher.
For this to work, you must grasp the EKG contact grips. Unfortunately, the console is not telemetric (not compatible with wireless HR chest strap).
When you wish to set up your own custom program you can because there are 2 user profiles (user 1 & user 2) available for this purpose. This enables you to create a program by inserting your own time duration, speed range, and incline level.
Accessory
The console features built-in Bluetooth speakers which allow you to sync your smartphone for quality audio output. There is also the USB charging port for your phone or iPod device, a cooling fan that keeps you cool during a workout, accessory trays that could also hold water bottles for hydration purposes, and a tablet holder for device placement.
Storage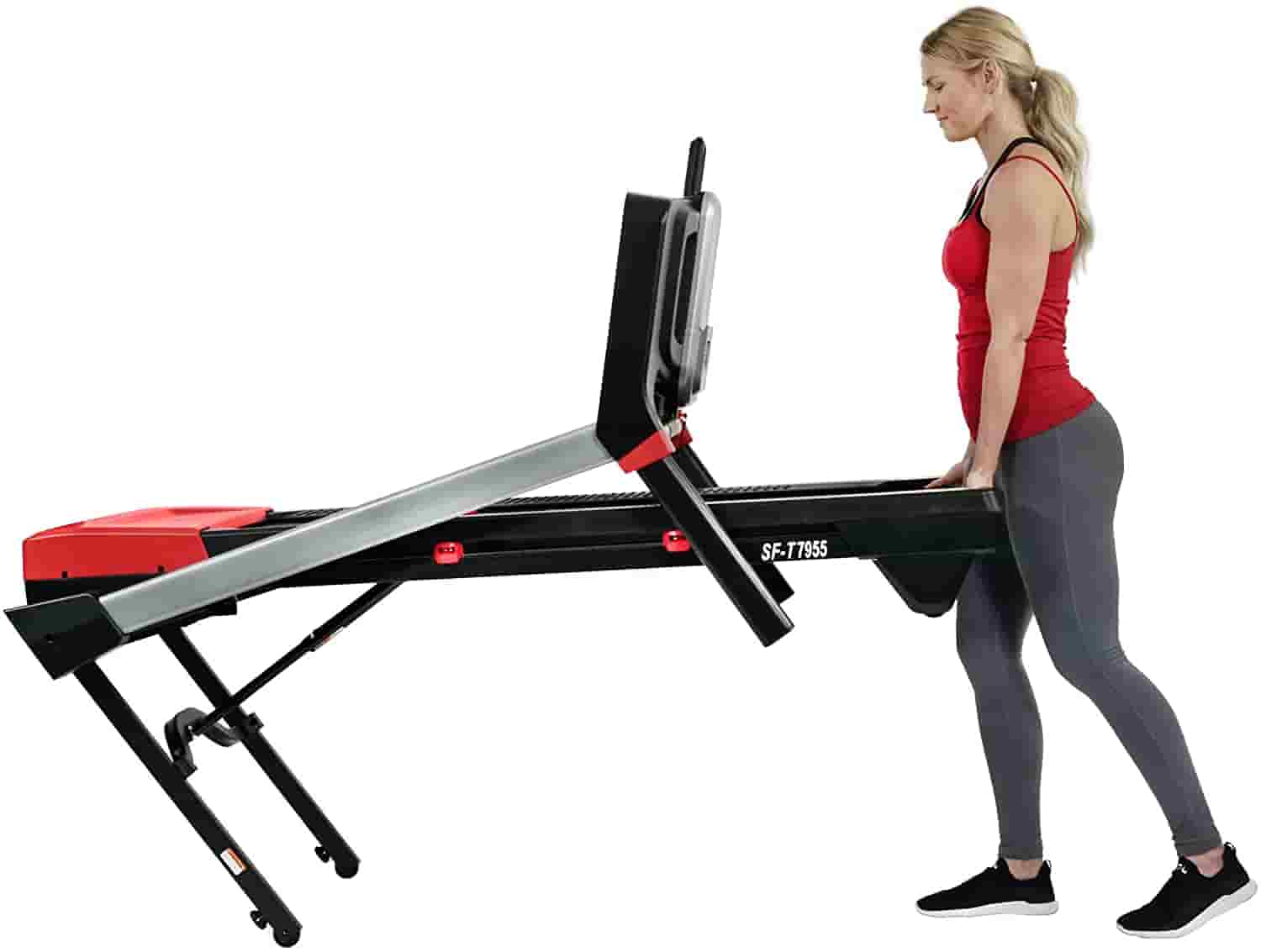 The Sunny Health & Fitness Evo-Fit SF-T7955 Treadmill is foldable, and it has transport wheels for an easy relocation process regardless of its weight (166.4 lbs./75.47 kg).
Once folded, the dimensions become 44.75'' long by 34.5'' wide by 60'' high. Hence, a storage space with measurements of 3'72'' (113.66 cm) length by 2'87'' (87.63 cm) width will suffice.
Moreover, the folding process is made easy by SoftDrop technology. This helps you to fold and unfold it safely and effortlessly.
Pros/Features Overview
Sturdy and durable (supports 275 lbs./124.7 kg)
Transport wheels included for easy relocation process
SoftDrop technology helps you to easily fold and unfold
Decent deck size (54 L x 20 W)
Contact grips for heart rate monitoring
The deck integrates shock absorbing system that alleviates pain in the joints
Floor stabilizers included to enable you balance the treadmill on a surface that is not entirely even
Steep incline with 18 adjustable levels for workout challenges
30 preset workout programs for weight loss (P1-P15) and interval workouts (P16-P30)
Heart Rate Control mode
Custom mode with 2 user profiles
Backlit LCD monitor tracks workout stats such as Time, Distance, Speed, Incline, Calories, and Heart Rate
It has a 3.0 peak horsepower motor that is energy efficient, nearly-silent and provides a speed range of 1.0 to 11.5 mph
Bluetooth speakers included
USB charging port included
Cooling fan included
Fairly easy to assemble
Assembly is not difficult
Low maintenance
Cons
The console is not telemetric
It is a bit bulky; may not be ideal for those living a small room
Not compatible with any app
Warranty
3 Years for Frame
180 Days for other Parts and Components
Product Dimensions & Specifications
Length: 70.7''
Width: 34.5''
Height: 59.5''
Folded dimensions: 44.75'' L x 34.5'' W x 60'' H
Shipping dimensions: 73'' L x 30'' W x 12.6'' H
Running Surface dimensions: 54'' L x 20'' W
Net weight: 166.4 lbs./75.47 kg
Gross weight: 189 lbs./85.72 kg
Maximum user weight capacity: 275 lbs./124.7 kg
Motor: 3.0 Peak HP
Speed range: 1.0 to 11.5 mph (1.60 to 18.50 km/h)
Incline: Automatic, 18 adjustable levels
Monitor: Backlit LCD
Programs: 30 presets, 2 Custom, 1 HRC, 3 Goals, and 1 Manual
Bluetooth Speakers: Yes
USB Charging port: Yes
Cooling fan: Yes
Transport wheels included
Shipping
The Sunny Health & Fitness Evo-Fit SF-T7955 Treadmill is nicely packaged in a box with dimensions of 73'' long by 30'' wide by 12.6'' high, and it weighs 189 lbs./85.72 kg.
Shipping and delivery take a couple of days. However, how soon it gets to you depends on your location.
Assembly
Over 70% of the assembly has been done at the factory. So, you will only have to attach the masts for the console/dashboard to the deck and then attach the console/dashboard and the handlebars.
It won't take more than an hour to completely get the machine up and ready.
Moreover, an instruction manual is included to guide you through the process, and the tools needed for the assembly also accompany the package.
Maintenance
No tedious maintenance is required of you. Simply keep the treadmill clean at all times, especially making sure that no debris or dirt gets into the tread belt or the motor.
That said, you may have to periodically lubricate the tread belt in order to keep it optimally functional.
Conclusion
The Sunny Health & Fitness Evo-Fit SF-T7955 Treadmill is designed for home use. It has the capacity to support 275 lbs./124.7 kg maximum user weight capacity.
It has a 3.0 peak horsepower motor that provides a speed range of 1 mph to 11.5 mph. The tread belt is 54'' long and 20'' wide. The integrated shock absorbing system helps to reduce the impact that is usually felt in the joints while jogging or running.
There are 30 preset workout programs, 2 user profiles, 1 heart rate control, 3 goals, 1 manual, and more.