The Sunny Folding Climbing Stepper SF-1115 is nearly the perfect tool for those that love hiking and mountain climbing because this machine allows them to perform something similar to that in the comfort of their home.
It may not be perfect but it sure has some advantages which one cannot resist such as its affordability, convenience, quality, compact design, and portability.
The machine is also great for those that love climbing but have this phobia of doing it. It enables hikers and climbers to do it indoors without the fear of bad weather or any mishap that could happen.
Moreover, it will be a smart decision to use the Sunny Folding Climbing Stepper SF-1115 if the idea is also to lose weight.
This machine is made of 95% steel and 5% plastic and it supports a maximum user weight capacity of 220 pounds/99.7 kg. It is compact, such that does not take up much space when it is in use and it has a space-saving design that allows the user to fold it up and put it away conveniently when it is no longer in use.
The machine has 2 adjustable resistance hydraulic cylinders that could be adjusted from 1-12 levels. It is quiet and smooth during operation but it does squeak a little but not loud enough to cause distraction or disturb others.
Click right here to have a peek at the price of the Sunny Folding Climbing Stepper SF-1115 on Amazon.
The Frame and Construction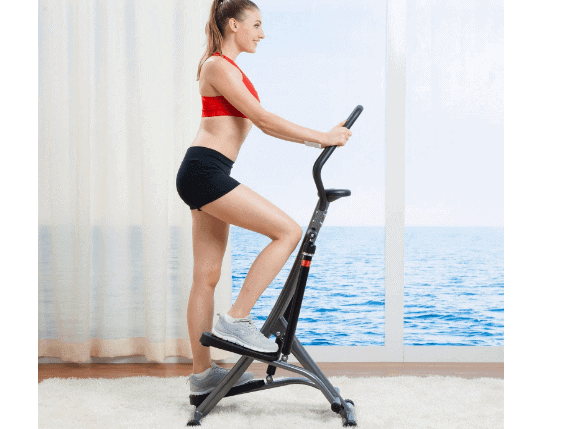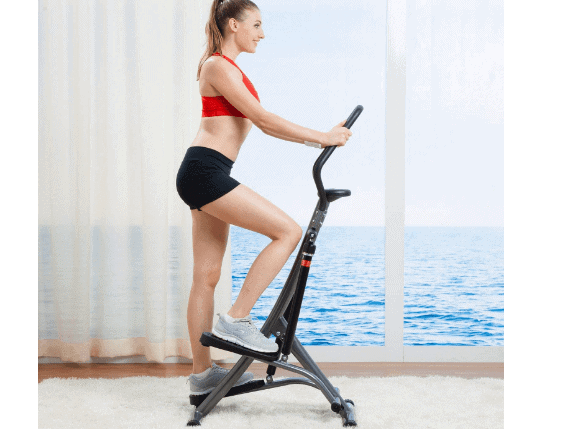 The Sunny Folding Climbing Stepper SF-1115's construction is simple and straightforward. It has a space-saving design that allows the user to fold up the machine.
It is basically made up of a handlebar that looks like a large overturned letter ''U'', it's a long vertically slanted frame, the console, the steppers/foot pads, 2 adjustable hydraulic cylinders, and the stabilizer bars.
The frame is made of heavy-duty steel that supports 220 pounds/99.7 kg maximum user weight capacity.
Its overall dimensions are 27 inches long by 17 inches wide by 54 inches tall. This means it will require a workout area of 2'25'' long by 1'4'' wide with a ceiling height of at least 7 feet. The user's height also will determine accurately the ceiling height that would be suitable for this machine. The taller the individual the more likely the ceiling height should be higher.
This unit may not require any extra clearance on each side of it but it does require at least 1-foot clearance at the rear so that you can work out with safety and convenience.
Individual's height will never be a barrier to using this stepper as long as the ceiling height is appropriate and the person's weight is within the range it supports.
Its stability is good because it features a well-structured base framework that features front and rear stabilizer bars that have a rubber cap on each end so that the base will be surface-friendly.
The use of a protective rubber mat could prevent perspiration from dropping on the floor and it could further boost the stepper's overall stability.
The Sunny Folding Climbing Stepper SF-1115 is portable not because it has any transport wheels but because it is lightweight and foldable therefore could easily be moved and maneuvered from one room to another.
This machine does not offer varieties of exercises but offers one that allows you to experience climbing that builds the gluteus maximum, hamstrings, quads, and the core muscles group and loses weight as well.
Depending on your fitness level, you can step slowly or faster with a suitable resistance.
Handlebar and the Stepper/foot Pads
The Sunny Folding Climbing Stepper SF-1115 has a non-adjustable multi-grip designed handlebar that is large and coated with a rubber foam material that provides comfort and a secure grip. The handlebar ensures that slippage and blisters in the palms do not happen.
The footpads are anti-skid designed and large to accommodate different sizes of feet. It doesn't have any straps but the feet are secure as you step on or work out with the machine.
They can accommodate barefoot or standard gym shoes.
Each foot pad is attached on a steel bar and connected to the adjustable resistance cylinder for proper simulation of mountain climbing.
The Resistance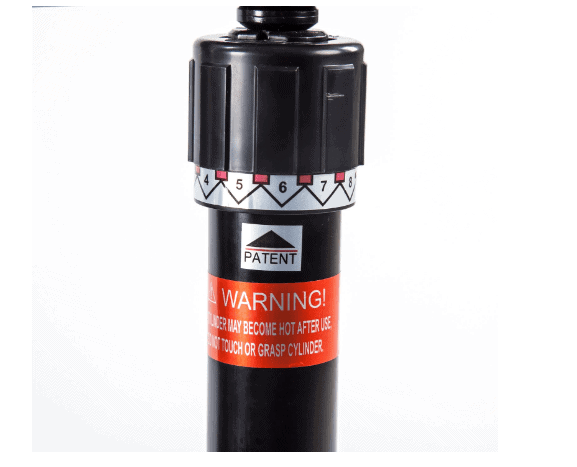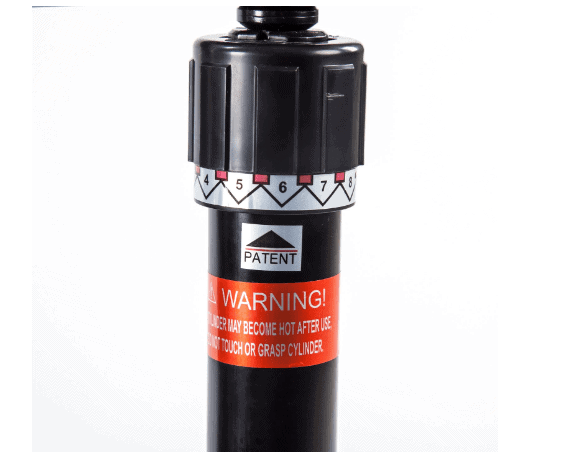 The Sunny Folding Climbing Stepper SF-1115 has an adjustable resistance piston cylinder on each side of the footpad.
Its operation is quiet and smooth except for a slight squeaky sound that does not really distract or disturb the family or the neighbors. Therefore, you can watch your favorite TV show or listen to good music while exercising.
There are 1, 2, 3, 4, 5, 6, 7, 8, 9, 10, 11, 12, resistances levels and very easy to adjust. Simply turn the knob at the top of the cylinder to increase or decrease the resistance. Each of the resistance piston cylinders could be adjusted independently.
The resistance strength is not strong even when it is adjusted to the highest level. But again, the strength of the resistance is going to be felt differently by individuals depending on their fitness level.
It is important to note that the resistance piston cylinders do not require any special maintenance in order for them to function properly.
The Console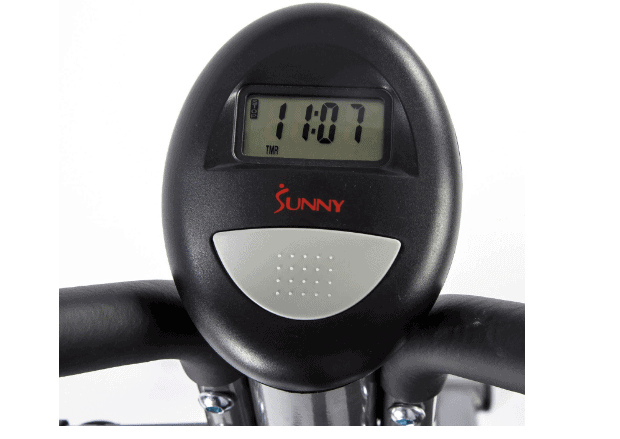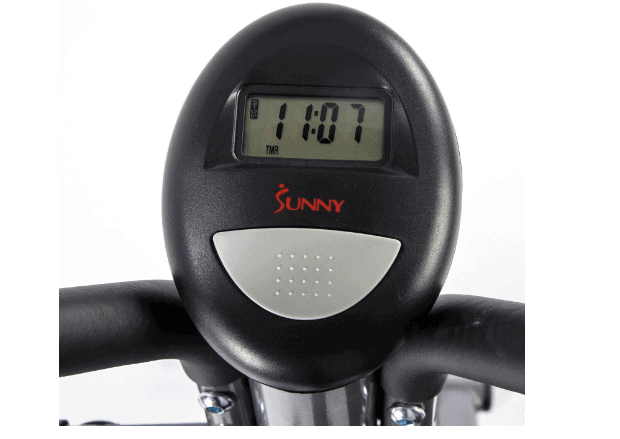 The Sunny Folding Climbing Stepper SF-1115 features a basic console that has an LCD monitor and a single MODE button for navigation.
The monitor is powered by 2 AA batteries which are also included in the package.
The monitor keeps track of time, step count, calories burned, and SCAN. This allows you to track workout progress, stay focused and motivated on achieving a fitness goal.
The monitor is positioned within a viewable distance and also displays data with good clarity, however, could be compromised if viewed in an environment that is not well-lit because it is not backlit.
Its SCAN function is the default setting that displays all workout values one at a time every few seconds and rotationally but you can as well be able to set up a static value you wish to view for a period of time or throughout the entire workout session.
The monitor can be turned ON/OFF by pressing the MODE button and could also automatically turn on when there is activity on the stepper and hibernates when there is no activity for a few minutes in order to save the battery power.
Accessory
There is no accessory on the Sunny Folding Climbing Stepper SF-1115. No water bottle holder or a tablet holder.
In order to stay hydrated, you must improvise by keeping water handy during a workout.
Storage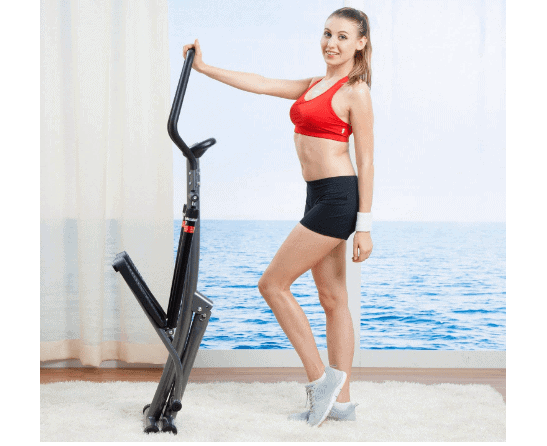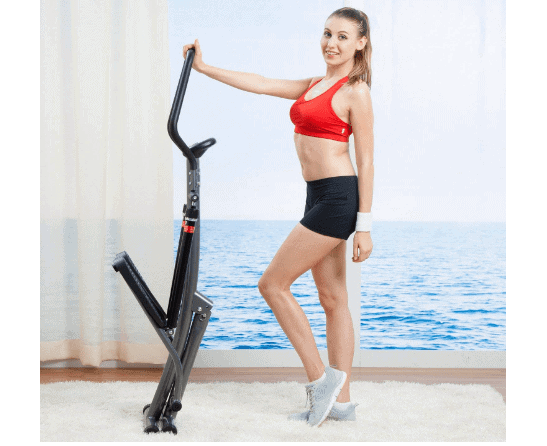 The storage of the Sunny Folding Climbing Stepper SF-1115 is simply easy and convenient.
The stepper can be folded up when not in use by simply pulling the pin lock. It folds almost flat with the exception of the footpads that stick out a little bit which prevents is from being stored under the bed otherwise it could have been possible.
Nevertheless, if your bed has enough clearance underneath it could be stored there otherwise you can always store it in the closet or just by leaning it against the wall.
Approval Rating
The approval rating of the Sunny Folding Climbing Stepper SF-1115 is positive. It shows that the stair stepper is popular and the majority of its users rather found it useful.
It has several hundreds of Amazon customers' reviews and still manages to score a very good average approval rating that suggests it is a good buy.
Pro/Features Overview
Strong and Sturdy
Supports up to 220 pounds/99.7 kg maximum user weight capacity
It features a solid base framework that ensures stability
It has 2 adjustable resistance piston cylinders that add some level of difficulty to a workout
Its LCD monitor displays values such as time, calories burned, step-count and SCAN function with clarity
It is compact and lightweight, therefore, does not take up space while in use and easy to move
It is foldable for easy storage
Easy to assemble
No maintenance required
It is very inexpensive
It has 2 large anti-skid foot pads that are comfortable, secure and accommodate different sizes of feet
Users of different heights can utilize it
Cons
The monitor is not backlit
No heart rate function
This not suitable for those that wish to experience an extremely difficult workout
The weight limit it supports (220 pounds/99.7 kg) is low
Product Dimensions and Specifications
27'' Length
17'' Width
54'' Height
Supports 220 pounds/99.7 kg maximum user weight capacity
Weight: 29 pounds/13 kg
Resistance: 2 adjustable piston cylinders with 12 levels
Foot pads: Large, anti-skid deigned
Console: Basic with an LCD monitor that tracks time, calories burned, step-count and SCAN function
Frame: Steel
Handlebar: Soft rubber foam coated
Warranty
1 Year on Frame
180 Days on Parts and Components
Shipping, Assembly, and Maintenance
Shipping
The Sunny Folding Climbing Stepper SF-1115 is shipped in a box that weighs 35.4 pounds/16 kg.
The shipping cost depends on the shipping policy of the retailer you are purchasing from; however, some vendors such as Amazon provides free shipping to United States residents and deliver within days of order.
Assembly
The stepper is not delivered fully assembled. However, it is not difficult to assemble either.
It will take just a few minutes to completely assemble the machine to a functional level.
An assembly instruction manual is also included in the package to guide you on how to easily put it together.
Maintenance
No serious maintenance is needed.
Always ensure that the stepper is clean from dirt and sweat before and after use and also examine it always for any loose or broken part that could lead to an accident or further damage to the machine.
Conclusion
If you are looking for something affordable, that could help you break a sweat, lose weight and improve your physical fitness then the Sunny Folding Climbing Stepper SF-1115 might just fit the job description.
This unit also helps to work on several muscle groups such as the gluteus maximus, hamstrings, quads, and core.
[rank_math_rich_snippet]