The SNODE S600 Bluetooth Magnetic Rowing Machine could give other rowing machines of the same price category a run for their money.
For instance, it has Bluetooth connectivity that enables users to connect to an HR chest strap and a free workout app.
It is a modern and sleek-looking rowing machine that operates smoothly and quietly due to its drive and magnetic resistance system. Moreover, the integrated console features an LCD monitor that could display all the workout data simultaneously.
Click right here to have a peek at the SNODE S600 Bluetooth Magnetic Rowing Machine on Amazon.  
Frame and Construction
The construction of the SNODE S600 Bluetooth Magnetic Rowing Machine is one that features a steel frame and ABS material. This includes a stable monorail that could support a maximum user weight capacity of 250 lbs./113.3 kg and can accommodate users with inseams of up to 43''.
It is a pretty lengthy rowing machine that requires a spacious workout area, but it is foldable, thereby saving a lot of space during storage.
Its overall assembled dimensions are 79'' long by 19'' wide by 32'' high. Thus, it requires a workout area with measurements of 6'6'' length by 1'6'' width.
Also, an additional clearance of 2' is necessary all around it to ensure that safety is maintained during workouts.
The folded dimensions are 36'' long by 19'' wide by 51'' high. Hence, a storage area with measurements of 3' length by 1'6'' width will suffice.
The front and rear steel stabilizers with adjustable levelers guarantee enduring stability even when the workout surface is not entirely even.
Users (including the elderly and those with arthritis) can easily get on and off of the rowing machine because the floor to seat height is 14".
The Seat of the SNODE S600 Bluetooth Magnetic Rowing Machine
The seat is large, padded, and contoured, and its dimensions are 10'' long by 12'' wide. It is designed to provide decent comfort that endures through a prolonged workout session.
Although, not every user agrees that this is the case; but, should you find it lacking, the use of an additional cushion could do the trick.
The Handlebar
The SNODE S600 Bluetooth Magnetic Rowing Machine has a non-slip handlebar that is covered with soft rubber foam material for secure and comfortable grips. Users can train longer and frequently without experiencing slippage or blisters in the palms.
It has a 1'' nylon pulling strap attached to it for smooth and quiet rowing.
The Footrests
The footrests are large, and textured with adjustable safety straps. This means they can accommodate different foot sizes securely and comfortably.
Your foot won't slip, neither will you feel discomfort on the ankles because the footrests slightly pivot for better movement adherence.
Drive/Resistance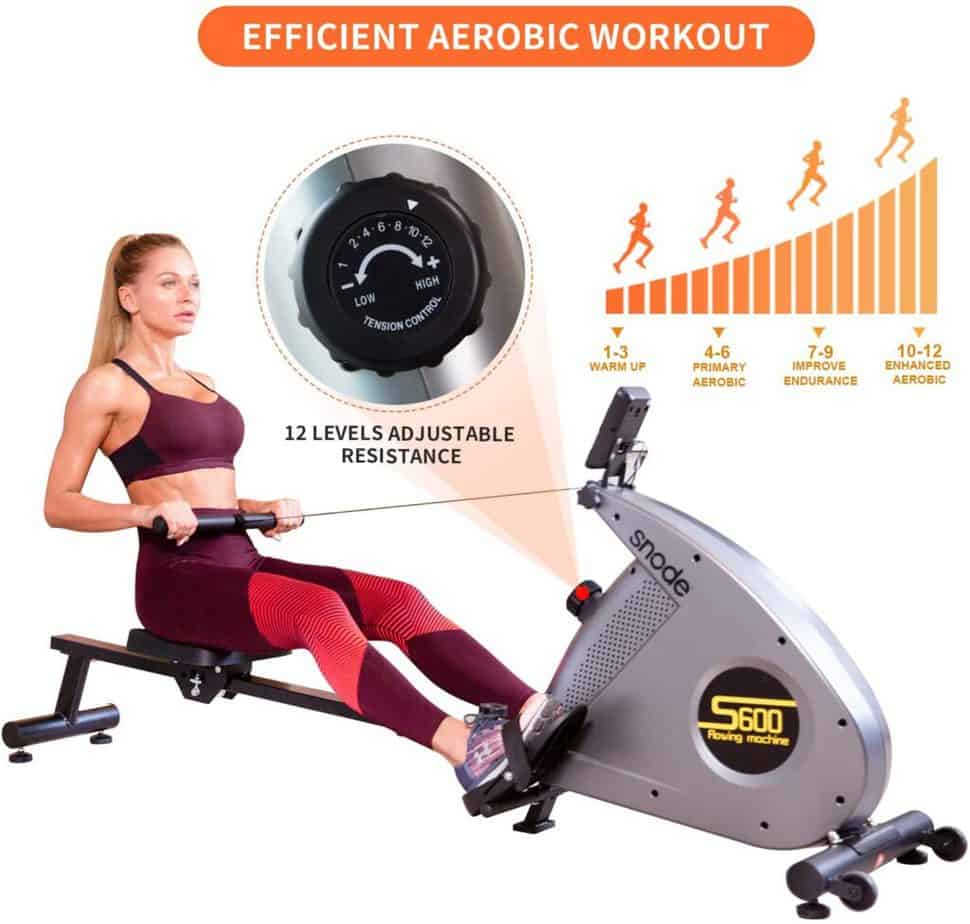 As indicated above, the SNODE S600 Bluetooth Magnetic Rowing Machine is equipped with a belt cord. This promotes smooth rowing activities, and it requires no periodic maintenance as well.
The resistance system is magnetic with 12 adjustable levels. It mainly consists of a flywheel and a magnet. As a result, no part rubs off on the other during the process of generating resistance.
Differently put, no part wears out after some time, and the operation of the rowing machine remains quiet and smooth even when the highest resistance level is applied.
Users can workout at any time of the day without disturbing people around them, and they can also listen to music or watch a movie without having to raise the volume beyond the normal range.
The resistance level can be increased or decreased by turning the tension knob clockwise or counterclockwise, respectively. This provides different workout intensities that burn tons of calories and improve overall physical fitness.
This is how the resistance levels work;
1-3 resistance levels-warm-ups
4-6 resistance levels-primary aerobic
7-9 resistance levels-improve endurance
10-12 resistance levels-improved aerobic.
The Console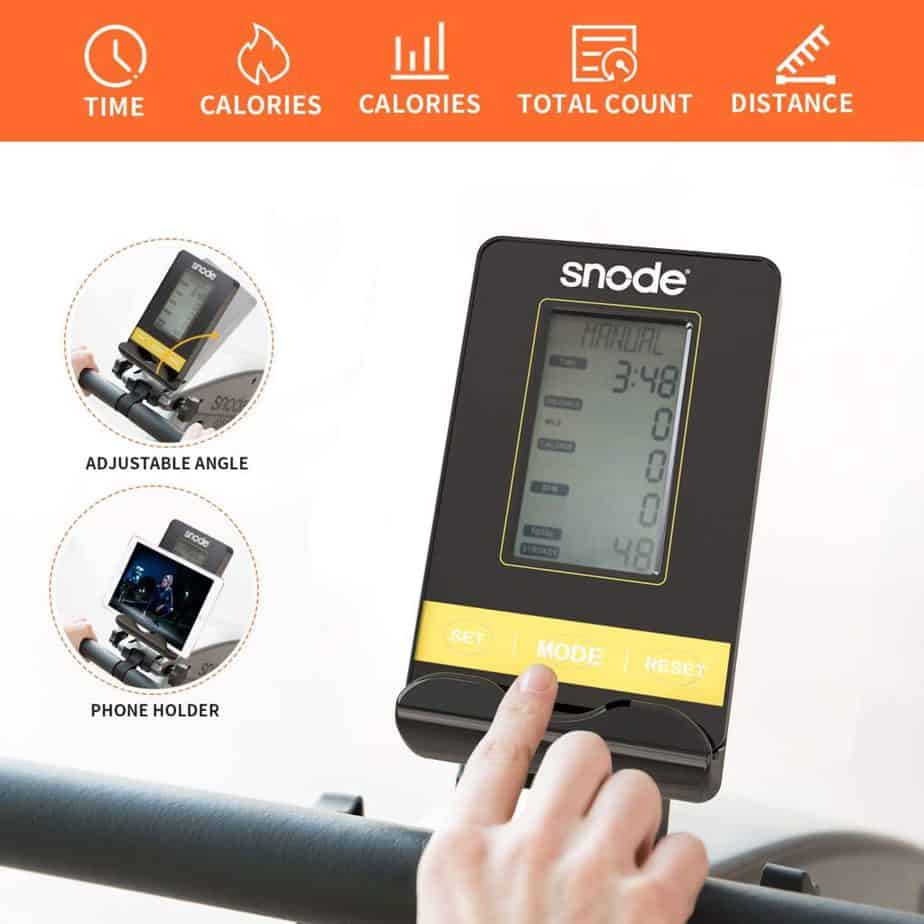 This magnetic rowing machine has a Bluetooth-enabled console and an adjustable LCD monitor that displays multiple workout stats such as Time, Distance (measures in kilometer), Count, Total Count, Calories, and Heart Rate simultaneously.
The display has good readability, but must be viewed in a well-lit room, otherwise, it will be compromised because it is not backlit. Also, the adjustable console provides the opportunity to be viewed from a better angle.
The console sync to an HR chest strap for heart rate monitoring purposes and also connects to the free iConsole & Kinomap workout app. Therefore, you can track and maintain your target heart rate zone at all times and alternatively monitor your workout progress via an iOS or Android-based smartphone.
You will be able to choose from a quick start, interval training, and Map My Route. Challenge others and compare your results through the multiplayer mode and share them online, and much more.
The monitor is battery-powered, and the resistance is manually adjustable, and so, no need to plug the unit into a power outlet for it to be usable.
Accessory
The console integrates a tablet holder that is used for a smartphone/tablet device placement.
Although, any device that is placed on it could block the view of the monitor. However, that may not be consequential since you can still monitor your workout progress through the smartphone if it is connected to the free app.
Storage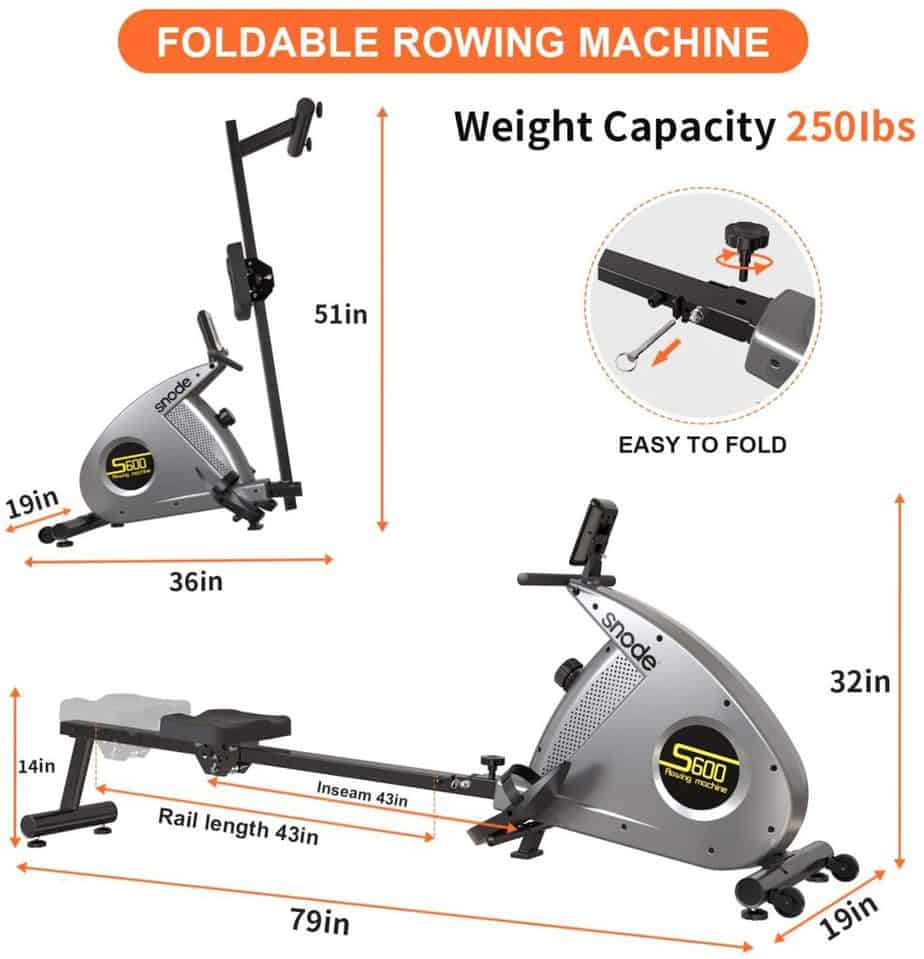 The SNODE S600 Bluetooth Magnetic Rowing Machine is foldable, portable, and lightweight. Therefore, putting it away is easy.
The monorail can be raised when the knob and the lock that are in the middle of the rowing machine are removed.
Once folded, its dimensions become 36'' long by 19'' wide by 51'' high. As a result, a storage area with measurements of 3' length by 1'6'' width can accommodate it.
The unit weighs less than 63 lbs./28.58 kg, and there are transport wheels at the front base that assist in the relocation process.
Pros/Features Overview
It is sturdily built with a steel frame
Has a modern design
It is foldable, lightweight, and portable
Supports up to 250 lbs./113.3 kg maximum user weight capacity
The base is adjustable for stability enhancement
It provides full body and low-impact workouts that target weight loss, strength and endurance improvement, and muscle groups toning
The operation is quiet and smooth due to its belt drive and magnetic resistance system
Taller individuals with inseams of 43'' or less can work out with the unit without feeling restricted
The seat is large, contoured, and padded
The handlebar is cushioned
The pedals are large and ribbed with adjustable safety straps
The LCD monitor is capable of displaying multiple workout data such as Time, Distance, Count, Total Counts, Calories, and Pulse simultaneously
Bluetooth connectivity syncs an HR chest strap and free iConsole and Kinomap apps
The machine requires little maintenance
Easy to assemble
Tablet holder included
Cons
The monitor is not backlit
No water bottle holder
Needs space for workouts
Warranty
Product Dimensions & Specifications
Length: 79''
Width: 19''
Height: 32''
Folded dimensions: 36'' L x 19'' W x 51'' H
Shipping dimensions: 49'' L x 10'' W x 26'' H
Net weight: 59.5 lbs./27 kg
Gross weight: 68 lbs./30.8 kg
Maximum user weight capacity: 250 lbs./113 kg
Supported inseam: 43''
Frame: Steel
Drive: Belt
Resistance: Manual magnetic with 12 adjustable levels
Seat: Large, contoured, and padded
Handlebar: Cushioned
Pedals: Large, ribbed with adjustable safety straps
Console/Monitor: LCD and Bluetooth-enabled
Connects to iConsole & Kinomap apps
Heart rate monitoring: Bluetooth HR chest strap
Transport wheels: Yes
Tablet holder: Yes
Shipping
The shipping of this machine is free by Amazon, and the delivery is only a few days.
It is shipped in a single box that weighs 59.5 lbs./27 kg with dimensions of 49'' long by 10'' wide by 26 high.
Assembly
The complicated parts of the SNODE S600 Bluetooth Magnetic Rowing Machine are preassembled. So, you are only required to assemble the stabilizer bars, the monorail, the seat, the pedals, and the console.
This process takes about 30 minutes, more or less to accomplish.
Moreover, an instruction manual and the tools needed for a successful assembly are included in the package.
Maintenance
No serious maintenance is needed since the unit has a belt drive and magnetic resistance system.
That said, it needs to be kept clean after every workout session, and don't expose the console to excessive cold or hot conditions.
Inspect it before every use to ascertain that every part is in good state.
Conclusion
The SNODE S600 Bluetooth Magnetic Rowing Machine is designed for home use. It offers you the opportunity to exercise the whole body in the comfort of your home with little to no impact on the joints.
It is ideal for those the wish to lose weight, improve the cardiovascular health, and tone muscle groups.