The Exerpeutic LX 3000 Indoor Cycling Exercise Bike (4210) has a magnetic resistance system with 14 adjustable predefined levels, and it connects to the MyCloudFitness app.
What this means is that you can take a ride on a virtual terrain of your choice, track and record your workout progress via your smartphone device, and you can easily know when your strength and endurance level improve as you progress.
This is not a high-end indoor cycling bike even though its features suggest just that.  
Click right here to have a peek at the Exerpeutic LX 3000 Indoor Cycling Exercise Bike (4210) on Amazon.
The Frame and Construction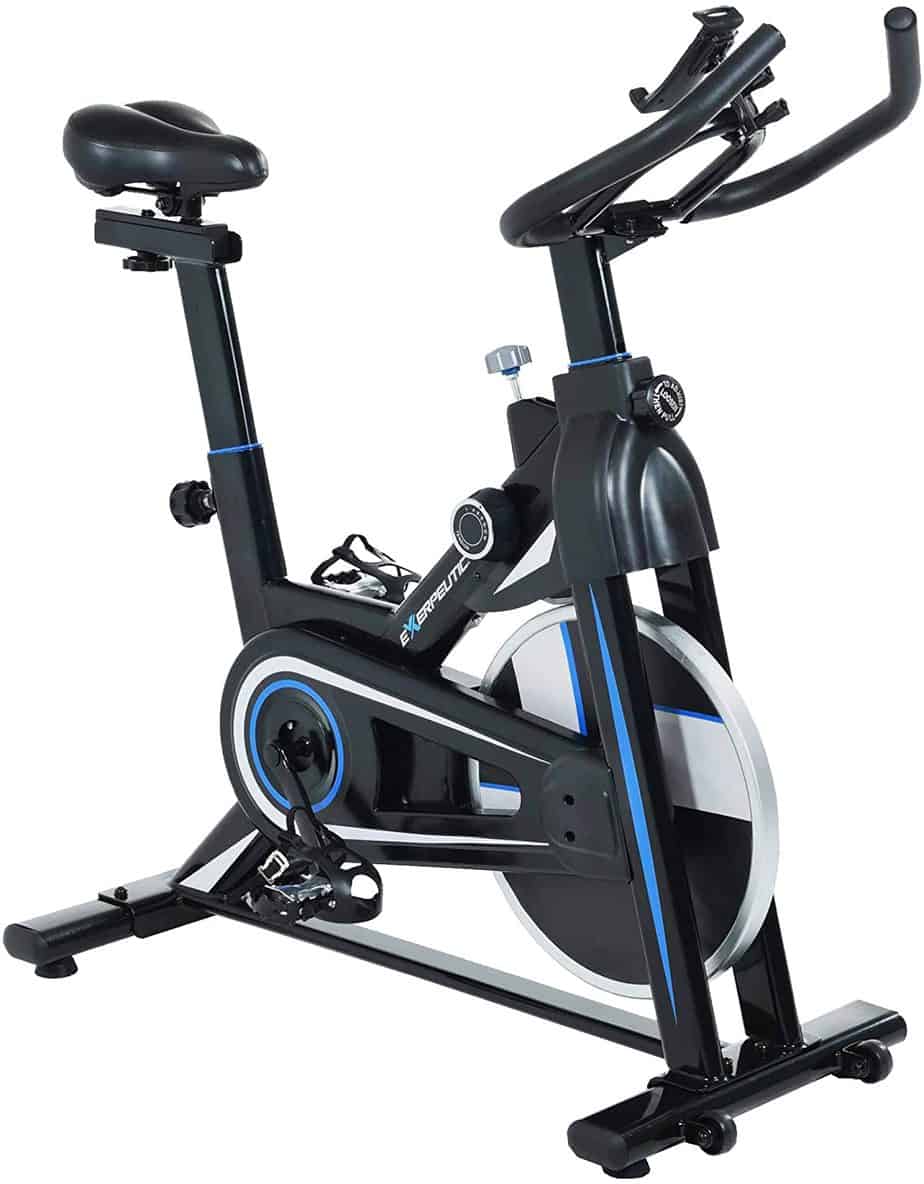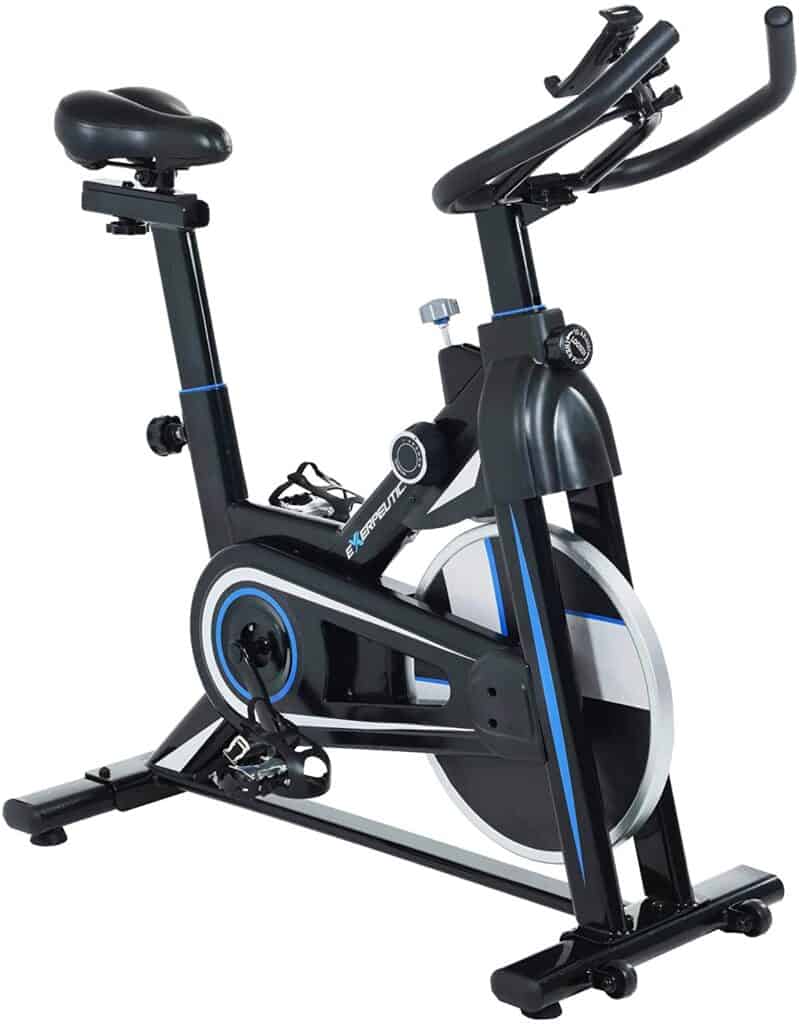 The Exerpeutic LX 3000 Indoor Cycling Exercise Bike (4210) is predominantly built of anti-corrosion coated steel and has fewer ABS parts.
Its sturdy construction supports a maximum user weight of 220 lbs./100 kg, and due to its robust base framework with adjustable levelers, users will experience optimum stability. In other words, the bike can be balanced on most workout platforms.
The bike's assembled dimensions are 43.5'' long by 18.5'' wide by 47'' high. This is to say it needs a workout area with measurements of 3'6'' length by 1'5'' width, plus additional clearance of 2' around it for safety reasons.
Even though it weighs about 89.5 lbs./41 kg, it can easily be moved from one room to another via the front-mounted transport wheels.
The Seat of the Exerpeutic LX 3000 Indoor Cycling Exercise Bike (4210)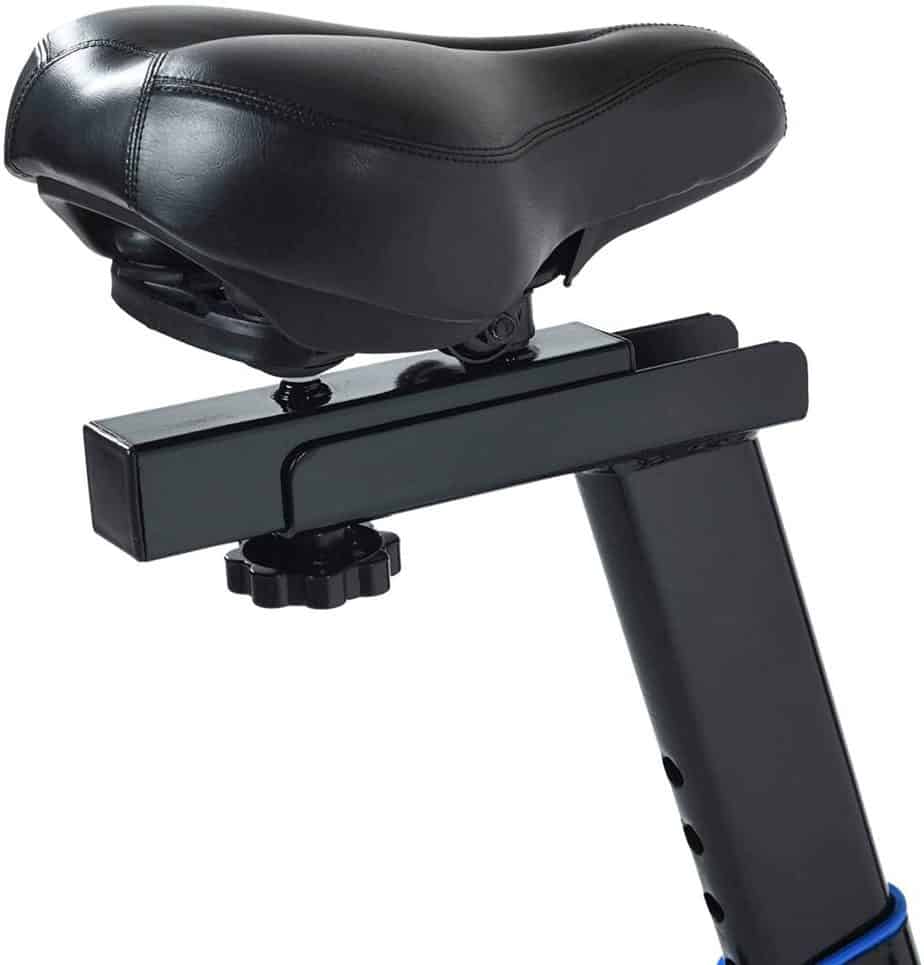 The Exerpeutic LX 3000 Indoor Cycling Bike incorporates a large and cushioned seat with a groove in the middle of it for long-lasting comfort during workouts.
That said, if you wish to make it more comfortable, you can use a gel seat cover or have it replaced with another seat of your choice.
Since the seat is 4-way adjustable (could be adjusted vertically and horizontally), users between the heights of 5'-6'1'' can be accommodated comfortably.
The Handlebar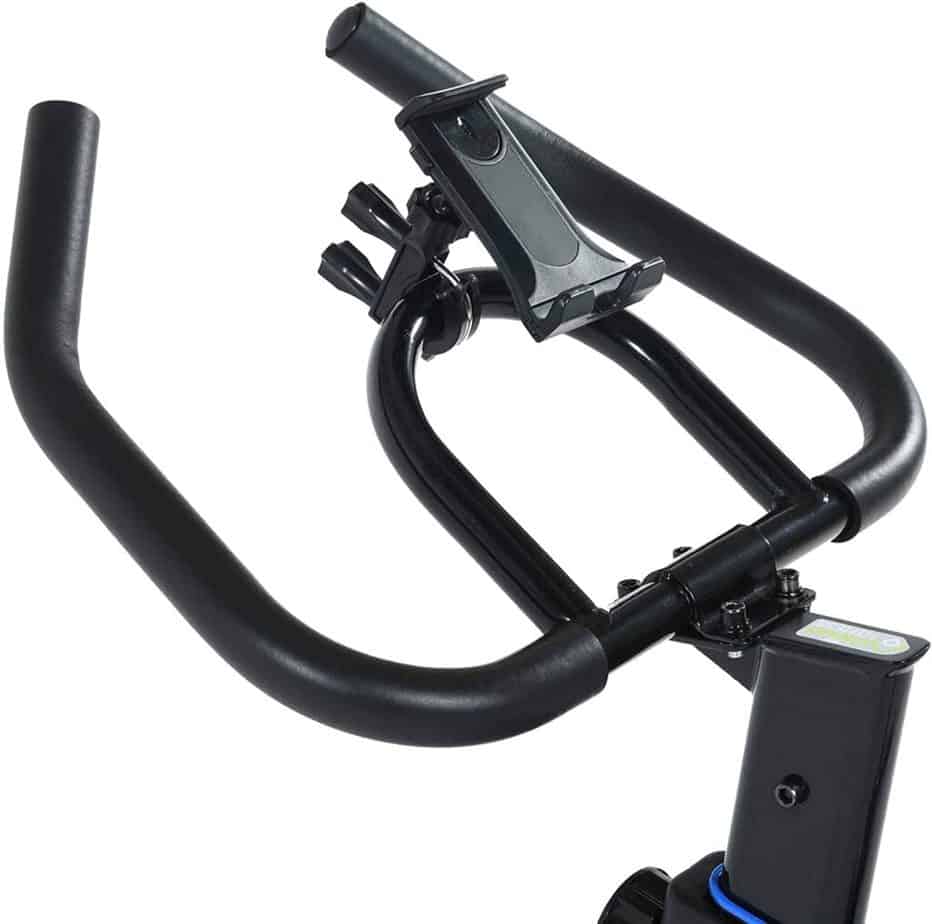 The multi-grip designed handlebar has an anti-slip foam covering. It provides different grips for a variety of workout postures.
Your grips will always remain firm and comfortable; hence, no slippage or blisters will be experienced no matter how frequent or longer you exercise.
The handlebar is 2-way adjustable; it could only be adjusted vertically (upward & downward); however, it enhances the bike's overall customizability.
The Pedals
The Exerpeutic LX 3000 Indoor Cycling Exercise Bike (4210) is equipped with toe caged pedals that are made of aluminum alloy.
They accommodate most foot sizes and provide a secure foot placement that promotes consistent fluid motion.
They are designed to be ridden with standard gym shoes only. However, they can be swapped for SPD pedals if you wish to use special clip-in shoes for workouts.
Since the pedals are attached to a 3-piece crankset and durable crank-arms, users can perform out-of-seat pedaling to simulate an uphill riding experience.
The Drive
The Exerpeutic LX 3000 Indoor Cycling Exercise Bike (4210) operates smoothly and quietly due to its belt drive system that mainly comprises a durable poly V-belt, pulleys, a 3-piece crankset, crank-arms, and a 17.6 lbs./8 kg perimeter weighted flywheel.
This allows you to exercise at any time of the day without disturbing anyone around you, and this includes your family and neighbors. You can conveniently and uninterruptedly watch workout training or movies through your smartphone device as well.
The integrated light-weighted flywheel enables you to engage in high-intensity interval training (HIIT) that burns tons of calories in a short time frame.
Moreover, no maintenance is required as opposed to a bike with a chain drive system. Therefore, no periodic lubrication or adjustment is required of you.
The belt drive system does not allow users to coast on the bike, and as a result, you can pedal in reverse if you wish to diversify your workouts and tone more muscle groups.
This also means you will have to apply the emergency brake by pushing the knob at the top of the main-frame tubing down whenever you want to stop pedaling for a quick exit.
The Resistance System
The Exerpeutic LX 3000 Indoor Cycling Exercise Bike (4210) is equipped with a magnetic resistance system that has 14 adjustable levels.
This and the belt drive system maintain the bike's smooth and quiet operation regardless if the resistance is engaged or not.
No maintenance is needed since resistance is generated by the emission of magnetic fields. This prevents friction and the deterioration of the resistance system's elements.
Unlike most entry-level indoor cycling bikes, the resistance levels of this bike are predefined. You can specifically adjust between 1-14 levels for a challenging workout, allowing you to understand your endurance and strength level progress.
To increase or decrease the resistance, simply turn the tension knob on the right side of the main-frame tubing clockwise or counterclockwise, respectively.
The smart knob technology measures resistance level and RPM to give the corresponding and accurate Watts, Calories, Distance, and Speed for your workout effort.
Users should be able to experience different workout challenges that include hill-climbing, slope, and flat terrain rides in the comfort of their homes.
The Console
There is no console on this bike, but the bike is Bluetooth-enabled and compatible with MyCloundFitness (MCF) app.
The free version of this app enables you to track and record your workout progress such as Watts, Distance, Speed, and Calories via a smartphone device, and you can also set goal (count-down) for Time, Distance, and Calories.
While the premium version (which requires a monthly subscription) provides a lot more for you.
It basically brings the spin class right to the comfort of your home because you will be able to train with professional trainers virtually in hundreds of videos (new ones are added monthly), schedule and personalize workouts, and virtually ride on different road terrains as well.
The MyCloudFitness app is downloadable and compatible with every Andriod or iOS-based smartphones.
Interestingly, the manufacturer offers a 30-day free trial of the app's premium version.
Accessory
The handlebar integrates an adjustable tablet holder with an edge to edge length of approximately 8''.
It is capable of holding any size of smartphone/tablet device securely. So, you can conveniently watch workout videos or movies on a smartphone with any screen size.
Storage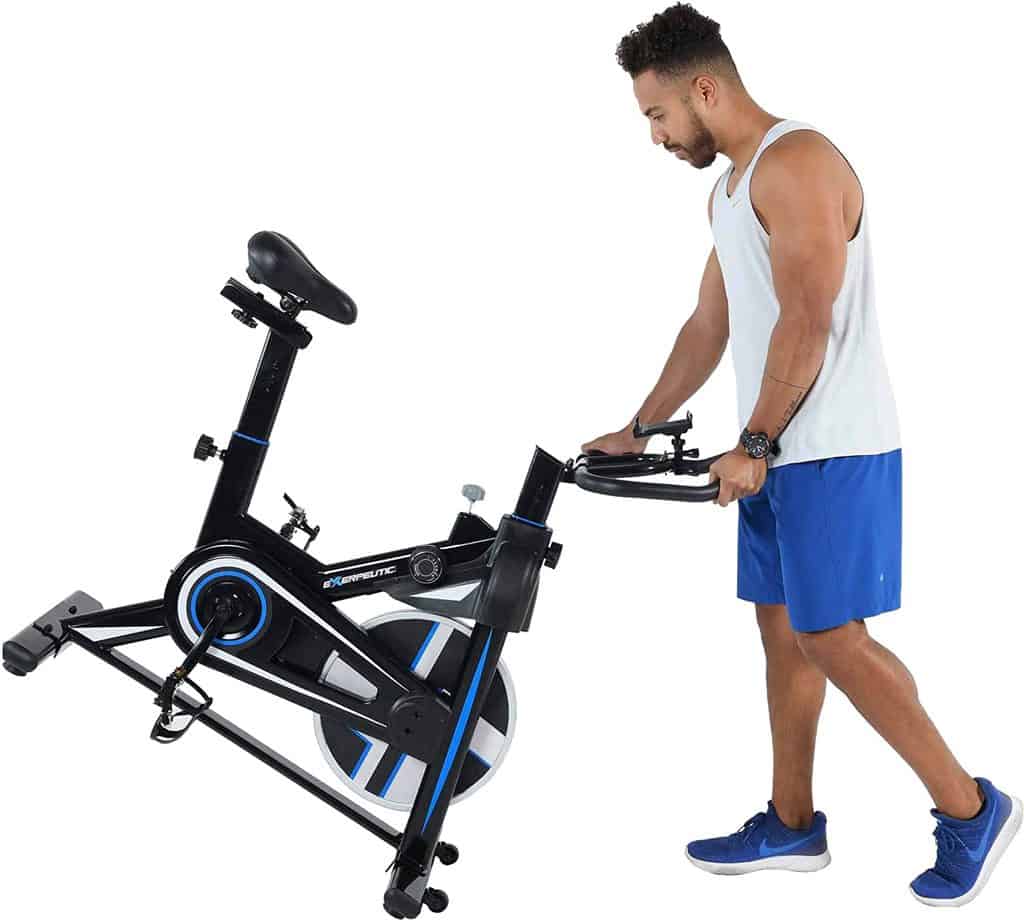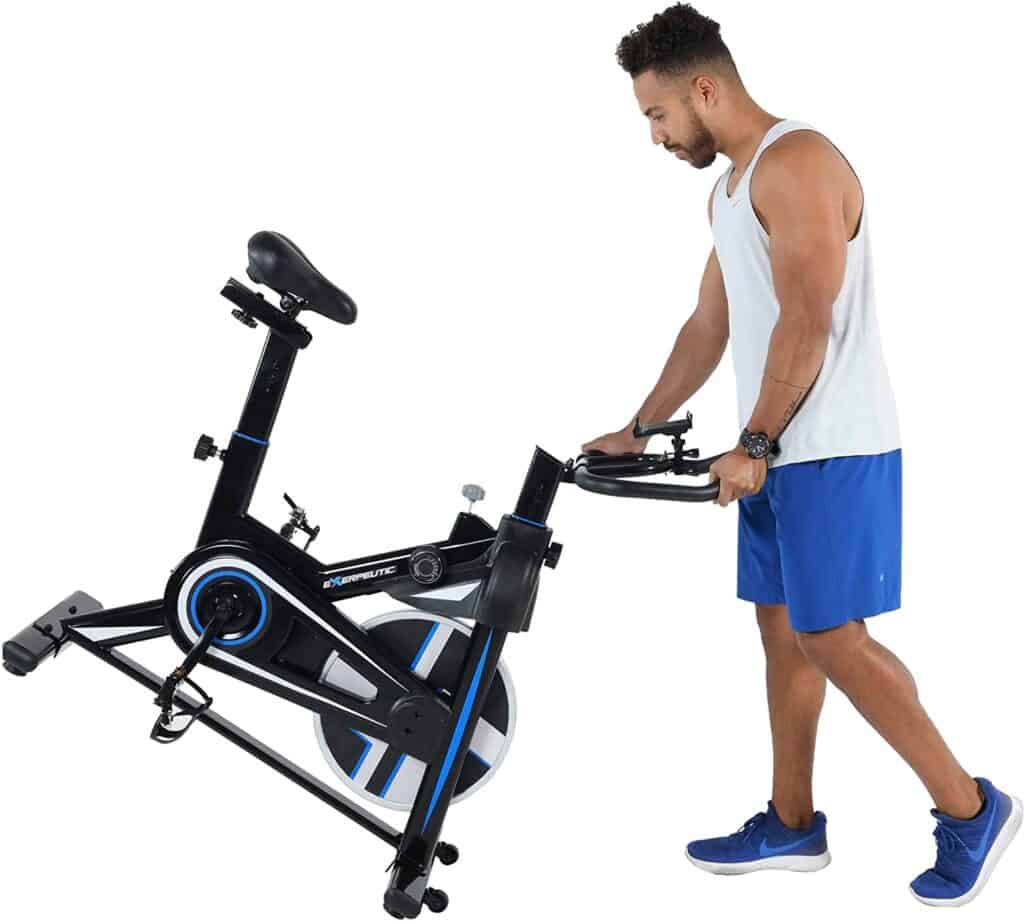 The Exerpeutic LX 3000 Indoor Cycling Exercise Bike (4210) is not foldable, but it isn't large either. On the contrary, it is compact with dimensions of 43.5'' long by 18.5'' wide by 47'' high.
A storage area with measurements of 3'7'' length by 1'6'' width can accommodate it.
Relocating it is rather easy because of the transport wheels at the front base, and it weighs about 89.5 lbs./41 kg.
Pros/Features Overview
Sturdily and durably built for home use
It is compact, and portable
Supports a maximum user weight capacity of 220 lbs./100 kg, and those that are between the heights of 5'-6'1''
It integrates a belt drive system that provides smooth and quiet operation
Its 14 levels of magnetic resistance system provide different workout challenges for weight loss, strength and endurance improvement, and toning of muscle groups
Bluetooth connectivity; connects the bike with MyCloudFitness app via a smartphone for workout progress tracking, recording, and more
30 days free trial of MyCloudFitness app premium
The 4-way adjustable large and cushioned seat provides a decent level of comfort
The anti-slip foam coated and multi-grip handlebar is ergonomically designed for a perfect fit, secure and comfortable grips, and different workout postures
The toe caged pedals accommodate different foot sizes securely and promote a consistent fluid motion
The drive system is bidirectional, hence, users can pedal in reverse
Easy to assemble
Maintenance-free
Tablet holder included
Cons
No water bottle holder
No heart rate monitoring function
Warranty
1 Year on Frame
90 Days for Parts
Product Dimensions & Specifications
Length: 43.5''
Width: 18.5''
Height: 47''
Shipping dimensions: 43'' L x 8'' W x 33'' H
Net weight: 89.5 lbs./41 kg
Gross weight: 102 lbs./46 kg
Supported maximum user weight: 220 lbs./100 kg
Supported user height: 5'-6'1''
Frame: Steel
Flywheel: 17.6 lbs./8 kg
Drive: Belt
Resistance system: Manual magnetic with 14 adjustable levels
Seat: 4-way adjustable
Handlebar: 2-way adjustable
Pedals: Toe cages with adjustable safety straps
Console/Monitor: No
Bluetooth connectivity;
MyCloudFitness app compatible
Transport wheels: Yes
Tablet holder: Yes
Shipping
The Exerpeutic LX 3000 Indoor Cycling Exercise Bike (4210) arrives in a box that weighs 102 lbs./46 kg with dimensions of 43'' long by 8'' wide by 33'' high.
It gets shipped out and delivered in a couple of days by Amazon without extra charges.
Assembly
This bike can easily be assembled by any average skilled person.
Moreover, an instruction manual and the tools needed for a successful assembly are included in the package.
It takes about an hour, more or less to completely get the bike up and running.
Maintenance
Basically, this bike is maintenance-free.
However, you need to wipe it clean after every workout session and examine it before workouts to ensure that every part is tight and in good condition.
Conclusion
The Exerpeutic LX 3000 Indoor Cycling Exercise Bike (4210) is designed for home use. Although, it could be used for spin classes as well.
Its ability to connect to the MyCloudFitness app and its 14 predefined magnetic resistance levels have been two of the strong features that endear it to many cycling enthusiasts.