The PYHIGH S7 Belt Drive Indoor Cycling Bike is the succeeding model of the PHYHIGH S2 Belt Drive Indoor Cycling Bike and obviously comes with upgraded features and is a bit more expensive.
This bike has a heavy perimeter weighted flywheel that weighs 48 pounds/21.7 kg, a super multi-grip handlebar, and a large multi-functional LCD monitor that displays all workout data simultaneously.
Its weight and the base framework ensure that bike does not wobble or move during workouts. It supports a higher user weight capacity of 330 pounds/149.6 kg and it also has a micro-adjustability that enables a user of different heights to be accommodated.
Therefore, users' weight and height will rarely be a reason not to be able to work out with this bike comfortably and conveniently.
It is simply sturdy and stable and has an appealing outlook that could even motivate a user to hop on it for a round of a workout routine.
Its operation is quiet and smooth, therefore people around won't feel disturbed while the bike is being used.
Users of all fitness levels will be satisfied with the proportions of the resistance strength it provides.
Its size will not overwhelm the space in the room because it is not very large and it could easily be relocated regardless of its weight, it has two heavy-duty transport wheels at the front base.
Click right here to have a peek at the price of the PYHIGH S7 Belt Drive Indoor Cycling Bike on Amazon.
The Frame and Construction
The PYHIGH S7 Belt Drive Indoor Cycling Bike is very sturdy due to its solid and heavy-duty steel frame with dimensions of 40x100mm (1.6 inches x 3.9 inches) and it is coated black anti-corrosion and scratch paint while the seat and handlebar posts are chrome finished.
The bike's user weight support capacity is 330 pounds/149.6 kg maximum.
The design also allows users to get on and off the bike without much effort.
The plastic parts are made of ABS material, which means they are tough and last longer.
The seat is 4-way adjustable and its vertical adjustment range is 32.2-40 inches while the bike's overall assembled dimensions are 42.5 inches long by 22.05 inches wide by 44.5 inches tall. Differently put, it's a bike that could accommodate users of different heights, yet is compact for rooms and apartments.
The bike requires a workout area of 3.5 feet long by 1.8 feet wide and a ceiling height of at least 7 feet so that the uphill ride could be performed unhindered. Extra clearance of at least 1 foot is required to be added at the rear and on each side of the bike for a safe and convenient workout experience.
The bike features well-framed bases that have front and rear stabilizers with four adjustable levelers that ensure stability on even and uneven surfaces.
The bike might be placed on a protective rubber mat in order to prevent perspiration from dropping on the floor and to further consolidate its overall stability.
Regardless of the fact that the PYHIGH S7 Belt Drive Indoor Cycling Bike weighs 79 pounds/35.8 kg which by the way boosts stability and grounds the bike and it has two heavy-duty transport wheels at the front base that make it hassle-free portable.
The PYHIGH S7 Belt Drive Indoor Cycling Bike is designed for home use and has upgraded features that ensure a user gets the spin class experience.
The Seat, the Handlebar, and the Pedals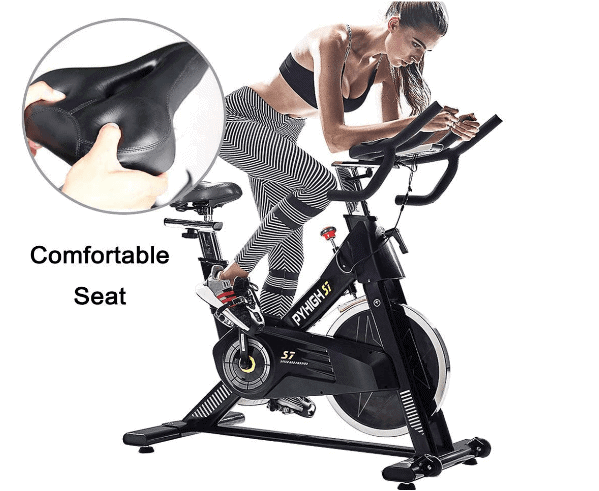 The seat of the PYHIGH S7 Belt Drive Indoor Cycling Bike is ergonomically designed and padded to convey comfort that allows a user to work out longer. Just as the model S2, the seat actually provides comfort more than the average saddle found on most spin bikes.
If you need to further improve the comfort the seat offers then you may consider using a gel seat cover. The seat can easily be replaced with another type of saddle of your choice because the connection system is simply standard.
As you already know, the seat could be adjusted horizontally (upward/downward) and vertically (fore/aft). This makes the bike flexible enough to accommodate multiple users. The seat adjustment settings are easy and do not take time to execute.
The bike's inseam adjustments are 27 inches min. to 38 inches max. This means that this bike will be suitable for users with inseam heights (the length of the inner top thigh to the ankle) range as stipulated above.
The handlebar on this bike features more workout grips than most found on other spin bikes which offer the opportunity to have fun as you exercise in different optimized postures.
It is also integrated with a tablet holder that allows the user to keep a smartphone or a tablet handy for entertainment and taking calls while working out.
The handlebar is also ergonomically designed and coated with a non-slip soft rubber foam material that provides a secure grip and comfort.
It is 2-way adjustable; it could be adjusted upward and downward to compliment the bike's overall flexibility.
Two EKG pulse sensors are embedded in the handlebar so that the user could keep track of workout progress and maintain the target heart rate zone.
The pedals are made of aluminum alloy and have an anti-slip design. They feature toe cages with adjustable safety straps that ensure the feet are secure during workouts. The pedals accommodate standard gym shoes alone and all sizes as well.
The pedals have standard thread sizes of 9/16 inches, therefore, it is possible and simple to swap them for a set of SDP clip pedals.
The Drive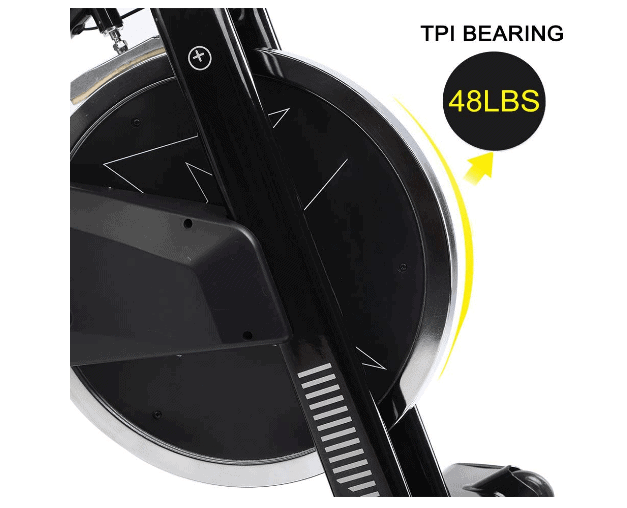 The PYHIGH S7 Belt Drive Indoor Cycling Bike has a belt drive system that consists of a heavy-duty belt, 3-piece crankset, solid crank arms, pulleys, a 48-pound perimeter weighted flywheel, and pedals.
The drive has the right elements that make it be smooth and quiet during operation.
The belt drive system is sought after by many indoor spinning bike enthusiasts because of its silent and smooth operation and of course its maintenance-free design.
Its silence and smoothness provide an outstanding and comfortable workout experience. The user can work out and focus on achieving goals without distractions or worries.
The drive is pre-lubricated by the manufacturer and there is no need for future lubrication or adjustment.
Moreover, the user also experiences consistent motion because of the heavy flywheel and this reduces the joint stress that is often felt while working out with a bike.
The bike can be pedaled in reverse in order to exercise more muscle groups and this also means that a user cannot coast on it just as anyone could on a real road bike. The flywheel and the pedals are connected together such that they spin simultaneously together.
Therefore, it is only important and safe to use the emergency brake via the tension knob (press it down) to bring the spinning of the flywheel to a halt each time you wish to stop pedaling in order to avoid an accident and a potential injury considering that the flywheel is very heavy as well.
Resistance
The PYHIGH S7 Belt Drive Indoor Cycling Bike utilizes friction to generate resistance. In other words, it uses a friction resistance system that consists of a felt brake pad and a flywheel for resistance.
The felt pad and the flywheel come in direct contact to generate resistance and could be controlled through the tension knob. To increase the resistance strength, simply turn the tension knob clockwise and to decrease it, turn counterclockwise.
The resistance generated by this bike is formidable, strong, and suitable for all users on every fitness level.
However, a squealing might be heard when the resistance is engaged and so when it happens just apply silicon-based oil on the top edge of the flywheel in order to stop or reduce the sound. Moreover, the felt pad wears out as well over time due to the friction it encounters with the flywheel and so a replacement could be necessary at some time. The lifespan of the felt pad is determined by how frequent the resistance is being used; therefore some users may have to replace it earlier or later than others.
The resistance is infinite. It does not have specified resistance levels indicated on the tension knob just as the case with ASUNA Lancer or Keiser. The implication of this is that the user may not be able to keep track of strength and endurance improvement because no way to make comparisons due to the absence of predetermined resistance levels.
The user simply twists the tension knob clock or counter-clockwise until the right and suitable resistance is felt for a workout.
The Console
The console on the PYHIGH S7 Belt Drive Indoor Cycling Bike does not have a backlit monitor but one that could track and display multiple workout data simultaneously. It has good clarity as long as it is being viewed in a well-lit environment.
The LCD monitor is large and rectangular in shape. It tracks and displays time, speed, distance, RPM, calories burned, and pulse. This simply keeps you focused and motivated on achieving the goal in mind.
There are three buttons for settings and navigation and very easy to use.
The monitor is powered by batteries and could be turned ON/OFF by pressing the MODE button. It also automatically turns ON when the user pedals the bike and hibernates when there is no activity on the bike for a few minutes in order to save battery power.
Accessory
The PYHIGH S7 Belt Drive Indoor Cycling Bike only has a tablet holder integrated into the handlebar. This tablet holder could hold a small or big tablet/phone so that you can conveniently take calls, watch a movie or listen to good music while exercising.
Entertainment is a necessary distraction that helps the user to work out longer.
A water bottle holder is equally important but unfortunately, it is not incorporated on this bike but you can always purchase a universal water bottle holder in order to stay hydrated throughout the entire workout session.
Storage
Generally, the storage of a spin bike is often not cumbersome and does not take up much space and so is the case with the PYHIGH S7 Belt Drive Indoor Cycling Bike.
It is compact and portable, hence it is easy and convenient to store.
It is compact means it doesn't require a large space in order to be stored. It could be stored in a closet, at the balcony where there is not too much heat or moisture, under the staircase, or next to the wall in the bedroom or living room.
Being portable means it is integrated with two heavy-duty transport wheels that allow the user to easily move the bike from one room to another. If it has to be moved through the staircase two persons will be needed.
Approval Rating
The approval rating of the PYHIGH S7 Belt Drive Indoor Cycling Bike is good. Users generally think it is a cost-effective spin bike for home use.
On Amazon, a user only complained of the noise that is being generated by the felt pad when the resistance is engaged and this is not a deal-breaker because it is a common occurrence with every friction resistance spin bike.
Pro/Features Overview
It is sturdy and supports a higher user weight capacity of 330 pounds/149.6 kg
It is very stable due to its base framework that features stabilizer bars with four adjustable levelers
It is quiet and smooth during operation
It provides resistance strength that is suitable for users in every fitness level
The pedals are made of aluminum alloy and feature toe cages suitable for standard gym shoes
The LCD monitor display multiple workout data such as time, speed, distance, calories burned, RPM, and pulse
The user can keep track workout progress including heart rate
It has an easy step-thru design
The tablet holder is included so that the user can be entertained
It is not too large or bulky
It is portable, relocating it from one room to another is very easy
Easy assembly
Low maintenance required
The bike can accommodate users of different heights and sizes
The seat is comfortable and could easily be replaced with another
The pedals secure the feet and provide leverage for full thrust
The pedals have standard threads of 9/16 inches, which means replacement is easy
It possesses a heavy flywheel that provides consistent momentum and also boosts the resistance difficulty
Cons
The LCD monitor is not backlit
No predetermined resistance levels
No water bottle holder
Warranty
Product Dimensions and Specifications
42'' Length
22'' Width
44'' Height
Supports 330 pounds/149.6 kg maximum user weight capacity
Weight: 97 pounds/35.8 kg
Drive: Belt
Resistance: Friction
Handlebar: Multi-grip design, EKG sensors, and coated with soft rubber foam material
Transport wheels integrated for portability
Large LCD monitor display multiple workout data such as time, speed, distance, calories burned, RPM, and pulse
Frame: 40mm x 100mm Steel
Tablet holder included
Flywheel: 48 pounds/21.7 kg perimeter weighted
Pedals: Anti-slip designed, toe cages with adjustable safety straps
Shipping, Assembly, and Maintenance
Shipping
The PYHIGH S7 Belt Drive Indoor Cycling Bike is shipped in a box that weighs 100 pounds/45 kg.
Its shipping cost depends on the retailer you are buying from; however, vendors such as Amazon provides free shipping to United States residents and deliver within days of order.
Assembly
The assembly of this unit is not complicated. It is very easy and straightforward to assemble.
It comes with the major components preassembled. You are only required to attach the stabilizer bars (front & rear), the seat and the handlebar posts, the seat, the handlebar, the pedals, and the console to the frame.
It takes about 30 minutes, more or less, to completely assemble the bike to a functional level. It doesn't require anyone with special skills to be able to assemble it.
Included in the package are the assembly instruction manual and the tools required for the job.
Nevertheless, if you still do not wish to assemble the bike by yourself you can opt for ''expert assemble'' on Amazon but that incurs an extra charge.
Maintenance
No serious maintenance is required.
However, there comes a time when the felt pad will require a replacement.
Aside from that, it is important that you always examine the bike before use for any loose or broken parts; and also ensure to always keep it clean before and after use.
Conclusion
The PYHIGH S7 Belt Drive Indoor Cycling Bike is that decent indoor stationary bike that brings that spin class into the comfort of your home. No need to visit the gym and pay that reoccurring membership fee, or have to face the challenge of bad weather simply because you wish to workout.
PYHIGH S7 Belt Drive Indoor Cycling Bike Review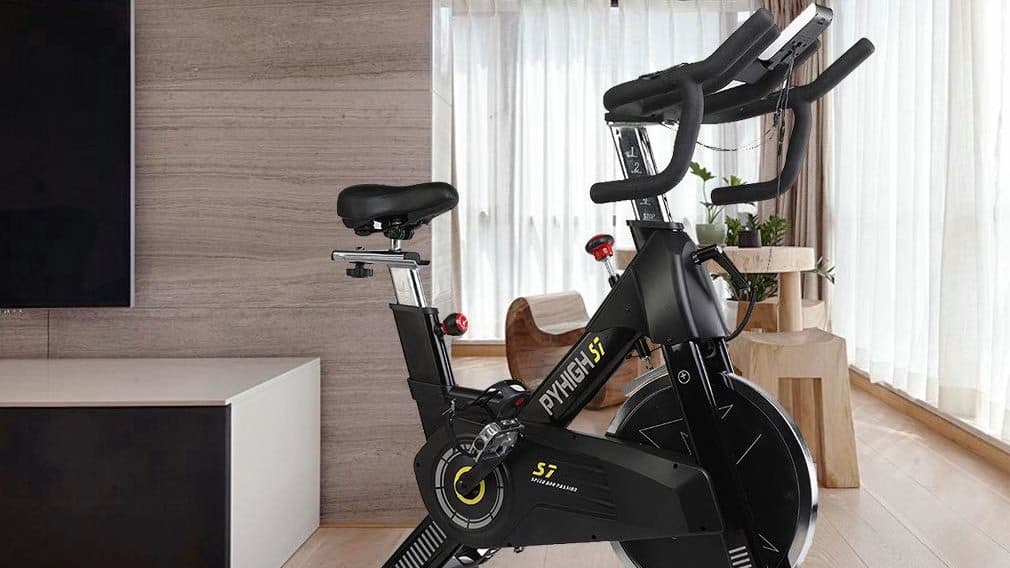 The PYHIGH S7 Belt Drive Indoor Cycling Bike is very sturdy due to its solid and heavy-duty steel frame with dimensions of 40x100mm (1.6 inches x 3.9 inches
Product Brand: Pyhigh
Product In-Stock: InStock