The acquisition of the BARWING Folding Treadmill presents you with the opportunity to walk, jog, and perform light running in the comfort of your home or office. It's suitable for anyone that wishes to lose weight, improve cardiovascular health, and the overall state of physical health.
It is integrated with basic and useful features such as the 12 built-in programs, backlit LCD monitor that tracks workout stat, manual 4 level incline system, sound system, and more.
It could be considered a portable treadmill due to the fact it's not bulky and has a space-saving design and transport wheels.
The powerful, silent, energy-efficient 2.0 horsepower motor provides up to 10 mph speed range, while the treadmill supports 300 pounds/136 kg maximum user weight capacity.
The treadmill possesses reasonable features considering its price.
Click right here to have a peek at the price of the BARWING Folding Treadmill on Amazon.
The Frame and Construction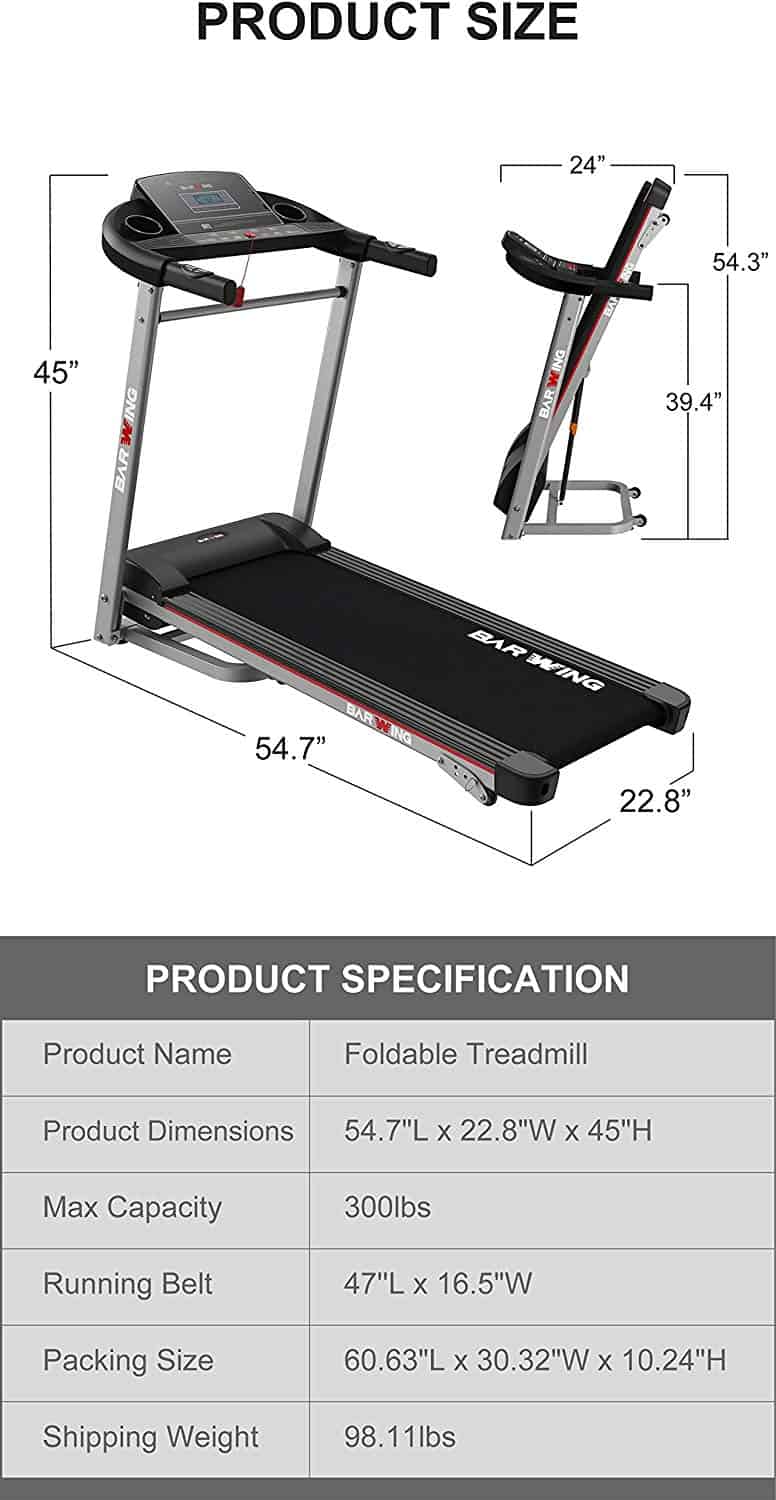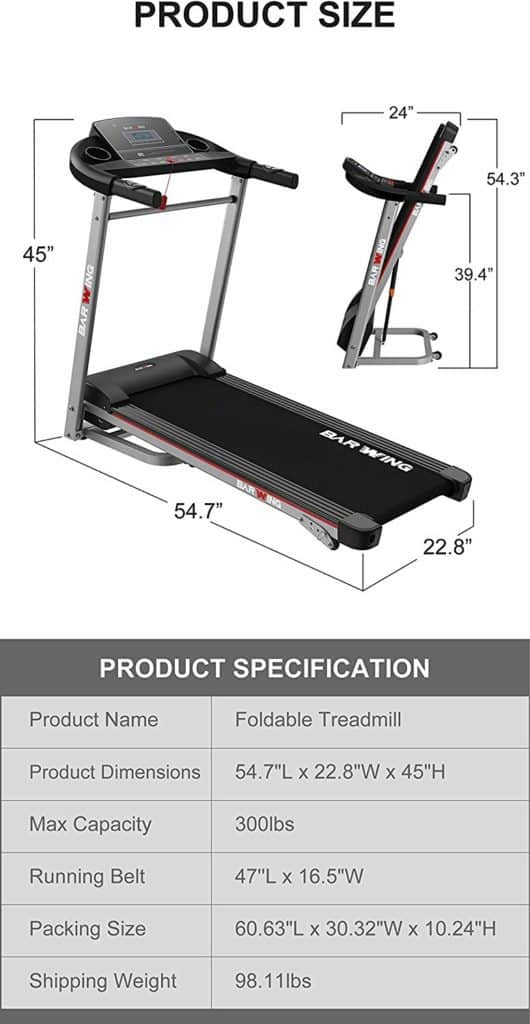 The construction of the BARWING Folding Treadmill features a heavy-duty steel frame and ABS plastic material that was mainly used for safety and cosmetic reasons. For instance, the console dashboard, the motor compartment and the side rail covers are made of the ABS.
Its base framework is well built to support the stipulated maximum weight without wobbling.
The treadmill has a space-saving design that features a hydraulic cylinder that helps the user to effortlessly fold and unfold for storage.
The anti-slip running surface dimensions are 47'' long by 16.5'' wide, enough to accommodate most users conveniently while they walk or jog on the treadmill.
It won't overwhelm your space as some other treadmills could. its overall assembled dimensions are 54.7'' long by 22.8'' wide by 45'' high. Differently put, the treadmill will need a workout space with a perimeter of 4'6'' length by 1'9'' width.
Although, additional extra clearance of 3' at the rear and 2' on each side of the treadmill will be needed so that you may train with convenience and safety. This especially imperative if it's going to be used in a packed or confined area.
Fortunately, the treadmill's size reduces significantly when folded up to be stored away. The folded dimension 24'' length by 22.8'' width by 54.3'' height.
You can easily move the treadmill from one room to another (once it is folded up) given the fact it's lightweight and has transport wheels as well.
Finally, the treadmill is not manual but motorized just as the name implies, simply plug it into a 110V power outlet and you are good to go.
The motor of Barwing Folding Treadmill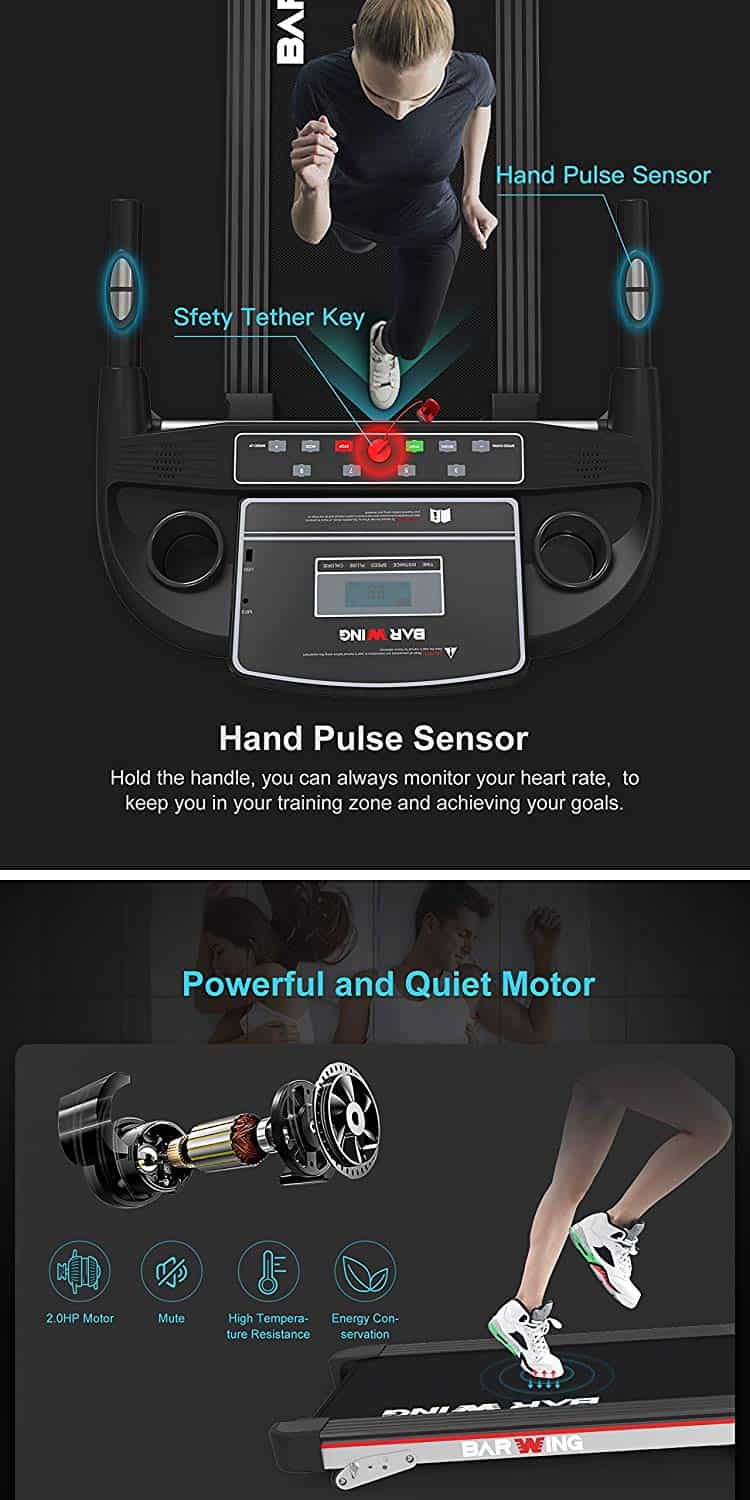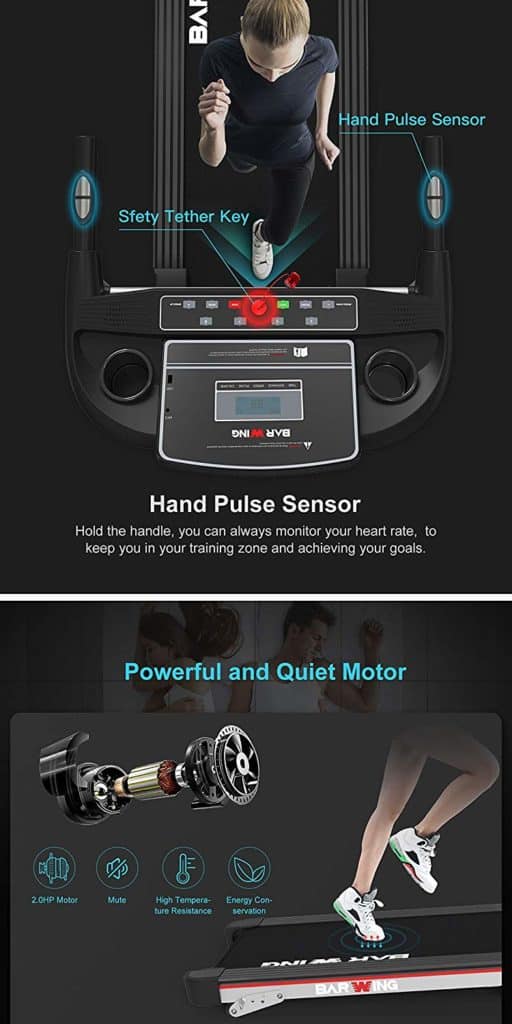 This treadmill is equipped with a powerful, quiet, energy efficiency, and heat resistant 2.0 horsepower. What this means is that the motor is quiet during operation and powerful enough to support walking, jogging, and light running without overheating or breaking down and it doesn't consume too much energy or power as well.
Due to the silent operation of the treadmill people around you won't feel disturbed by your workout activities. You can watch your favorite TV show or listen to good music without the need to raise the volume beyond the normal level.
As revealed earlier, the motor is situated at the front base of the treadmill and concealed by an ABS plastic cover. It has a small flywheel that reduces vibration and ensures a smooth run of the running belt.
The motor provides a speed range of 1-10 mph. It is possible to adjust the speed by 0.1 mph so that you may find a suitable tailor-made speed range that is good for you. There are also quick speed buttons for 3 mph, 5 mph, 7 mph, and 9 mph.
Incline
The BARWING Folding Treadmill is integrated with a manual incline system. The incline system is so cleverly done to be adjusted up to 4 levels.
This diversifies and provides you with a better and productive user experience.
Take note, being a manual incline means that you have to manually adjust it before getting on top of the treadmill for an exercise as opposed to an automatic incline system that provides you with the opportunity to adjust on the fly (while actively working out on the treadmill).
The Console of Barwing Folding Treadmill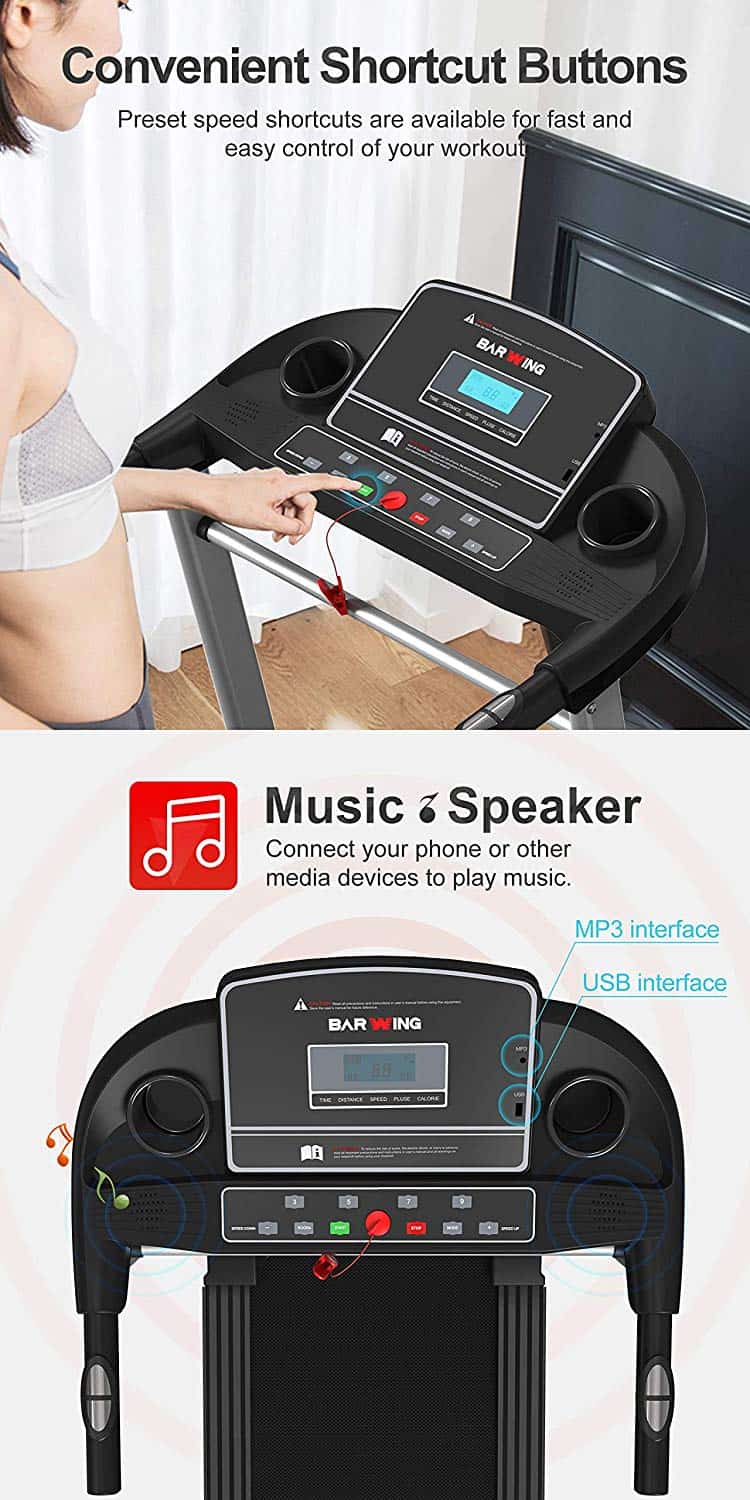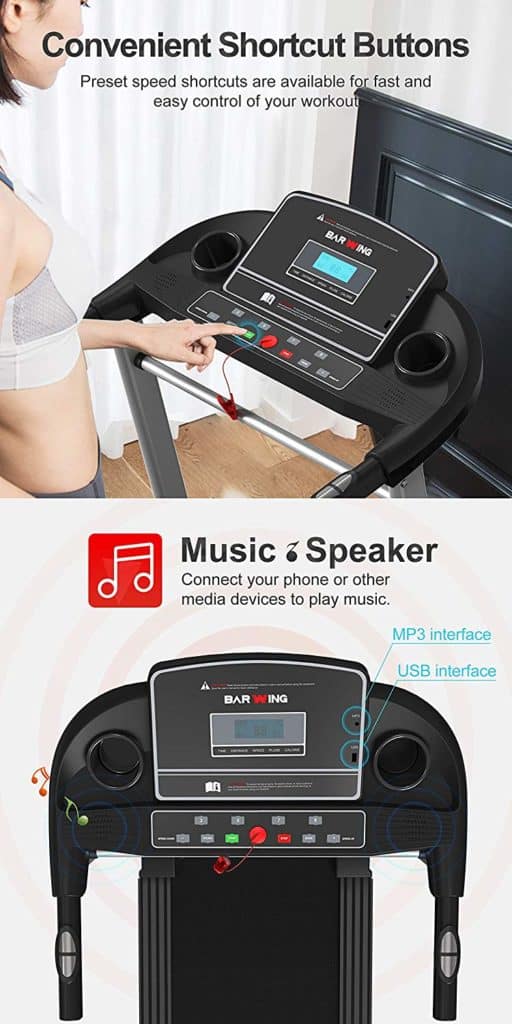 The BARWING Folding Treadmill comes with a mid-range console that features several control buttons that include the ON/OFF buttons, Program button, Gradual speed buttons, Quick speed (3 mph, 5 mph, 7 mph, and 9 mph) buttons, and safety key.
There are 12 workout programs available that consist of preset programs designed to help you achieve weight loss, cardiovascular health, strength, and endurance improvement. Custom programs are also included as well.
Whenever any of the preset programs are selected, a speed range is automatically assigned while the custom programs allow you to create your own program.
The console also has a backlit LCD monitor that tracks your workout progress. It tracks Time, Distance, Speed, Pulse, and Calories.
The pulse rate only functions when you grip the EKG sensors on each side of the handlebar/handrail while exercising. The console is not telemetric-enabled, meaning it cannot be synced with an HR wireless chest strap.
There are extras such as water bottle holders, a USB port, an MP3 port, and built-in speakers available on the dashboard.
Storage of the BARWING Folding Treadmill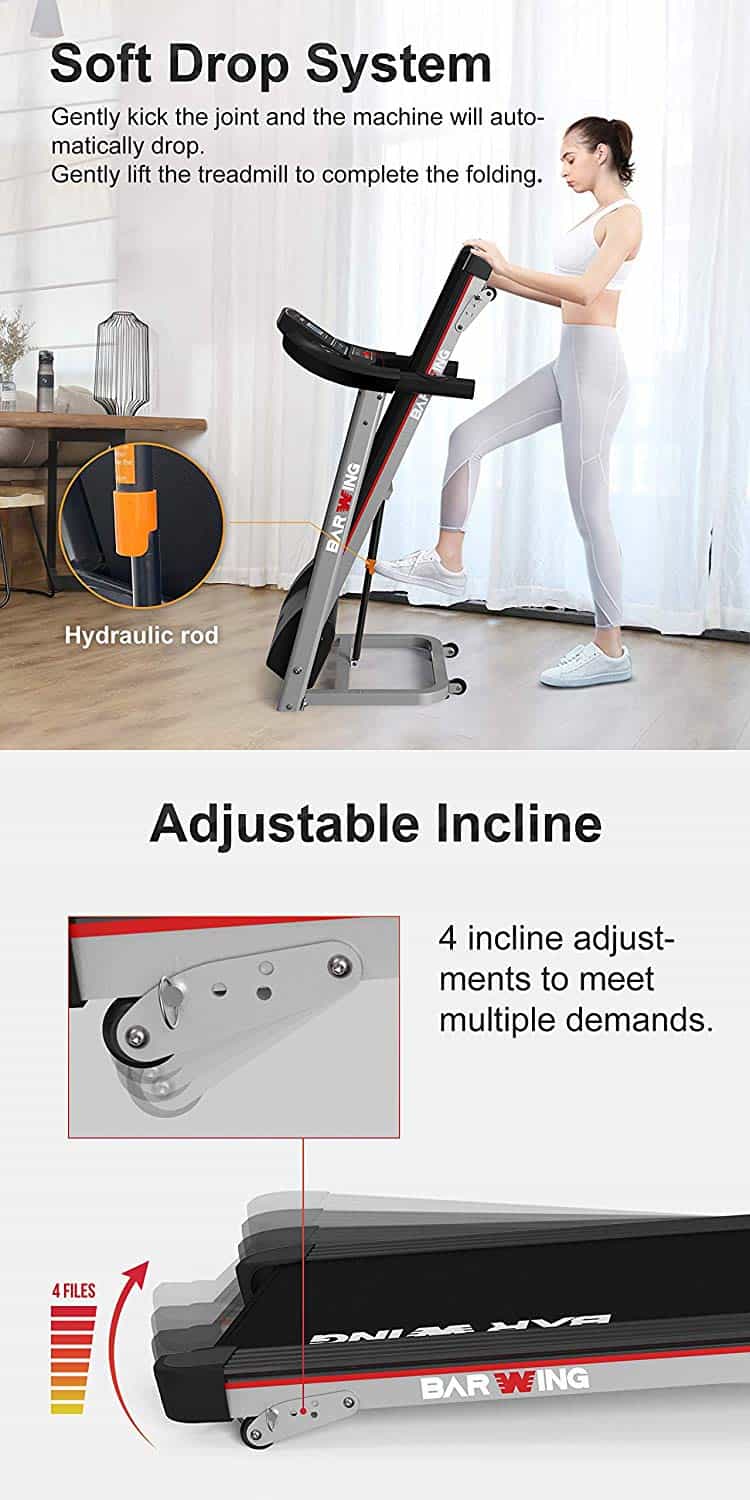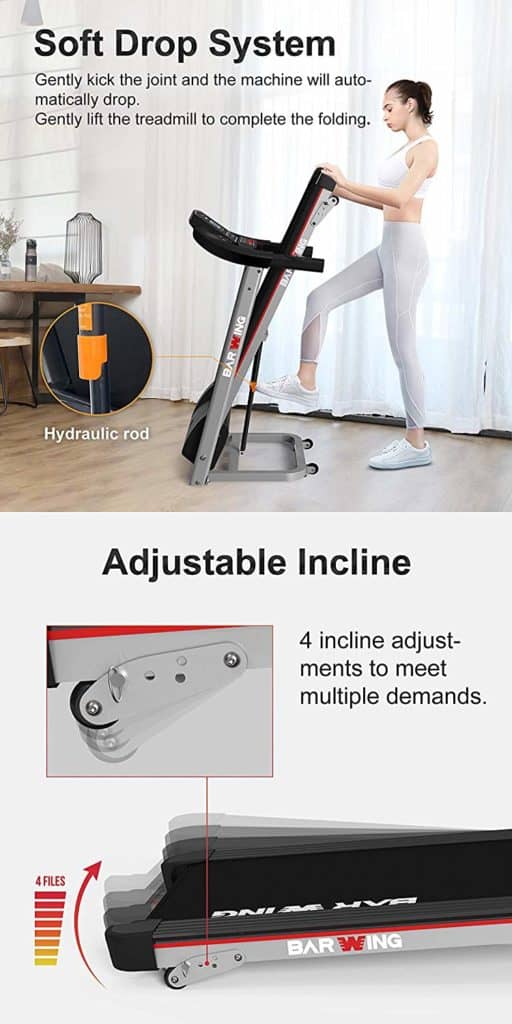 This treadmill is lightweight, portable, and foldable. So, essentially, it's pretty easy to store it away once it's folded up.
Folding and unfolding the treadmill is neither difficult nor complicated. To fold it, simply raise it up from the rear (deck) until the hydraulic cylinder keys in and gently kick the hydraulic cylinder with your foot at the middle to unfold gently unassisted.
It may be stored in a garage or better still be left on the workout area if you can afford it.
Accessory
The BARWING Electric Folding Treadmill has a sound system that includes built-in speakers, an MP3 and USB ports. These features allow you to connect your music device into the treadmill and have it played via the built-in speakers. You can also charge your smartphone as well on the treadmill.
There are also accessory/cup holders that could be used for keeping water handy and other stuff such as a remote control, keys, and more.
Pros/Features Overview
Sturdy and stable
Supports a high maximum user weight capacity of 300 pounds/136 kg
Space-saving design
Folding mechanism and a soft drop system allow you to fold and unfold effortlessly
Anti-slip tread belt runs smoothly
Running surface has a decent dimension (47'' length by 16.5'' width)
The 2.0 horsepower motor is energy-efficient, quiet, and powerful
LCD monitor tracks Time, Distance, Speed, Pulse, and Calories
12 workout programs available
EKG contact sensors
Usable at home or in the office
Textured side rails for an emergency exit without switching OFF the treadmill
Offers walking, jogging and light running exercises
Accessory/water bottle holders included
Built-in speakers
Transport wheels for an easy relocation process
USB and MP3 ports for playing music and charging a smartphone
Maintenance-friendly
Great warranty
Easy to assemble
Cons
No cooling fan
The console doesn't connect to an HR wireless chest strap
Doesn't connect to an online app
It's not for professional athletes
Warranty
Lifetime for Frame
5 Years on Motor
1 Year on Parts
1 Year for Labor
Product Dimensions and Specifications
Length 54.7''
Width 22.8''
Height 45''
Folded dimensions: 24'' L x 22.8'' W x 54.3'' H
Tread belt dimensions: 47'' L x 16.5'' W
Maximum user weight capacity: 300 pounds/136 kg
Weight: 96.5 pounds/43.7 kg
Shipping weight: 98.11 pounds/44.5 kg
Shipping dimensions: 60.63'' L X 30.32'' W x 10.24'' H
Motor: 2.0 horsepower
Speed range: 1-10 mph
Incline: Manual, 4 levels
Programs: 12
Easy folding and soft drop system; Yes
Rated voltage: 110V
Water bottle holders: Yes
Built-in speakers: Yes
USB and MP3 ports
Frame: Steel
EKG sensors: Yes
HR chest strap connectivity: No
Shipping
The BARWING Folding Treadmill is a lightweight unit that is neatly packaged for shipping. Amazon provides standard free shipping and makes delivery within a couple of days.
Assembly
This treadmill does not need an expert to put it together. It is delivered almost preassembled except for the console masts, and the console that needs to be attached.
The package is accompanied by an instruction manual that walks you through the assembly process and the tools needed are also included.
Therefore, it takes less than an hour to fully put it together.
Maintenance
Just like every normal treadmill, the BARWING Electric Folding Treadmill needs to be kept clean at all times, especially the tread belt. Ensure that debris doesn't get into it and keep lubricated periodically as well.
Conclusion
If you are looking for a budget treadmill that could offer you the opportunity to engage in aerobic exercises then the BARWING Folding Treadmill might just be it.
You can walk, job, or perform a light running exercise in the comfort of your home, or office. Its operation doesn't' interfere with other things you may want to engage with or people around you.