It is important to highlight the fact that the Maxi Climber is the #1 bestseller in the step fitness machine category. It has thousands of positive Amazon customers' reviews with an impressive average approval ratings.
That said, let's get into the nitty-gritty of the Maxi Climber to understand its pros and cons.
This machine unarguably provides overall body cardio that is capable of amplifying the heart rate and breaking a sweat within a short period of time.
It is basically a manual machine without any sort of advanced technology but has got the innovation that allows you to mimic rock climbing at different speeds and in the comfort of your home.
The unit engages major muscle groups while exercising and burns calories multiple times over, improving strength and endurance level.
It has great stability and is very sturdy because it supports 240 pounds/109 kg maximum user weight capacity. It could be adjusted vertically to accommodate users of different heights conveniently.
This Climber is cheap yet delivers so much that outweighs the cost.
You will also have the opportunity to use the BONUS companion Fitness App that is downloadable for free on Google Play or App Store and compatible with Android and iPhone. This is a 21-day challenge App that walks you through the interval training (HIIT) program, provides a complete meal plan with over 80 recipes, allows you to track your progress, and can connect with family and friends by sharing your results.
The downside is that if you don't know how to properly get on the Maxi Climber then you may have a roller damage problem within days of usage. We have seen some Amazon customers that really appreciated the overall performance of the machine but gave a thumb down because the rollers didn't last.
They have every right to be pissed, but then, it was not entirely an issue of quality but also an issue of how to use the unit. Therefore, try to read the manual carefully and understand how to get on the machine correctly in order to avoid roller damage especially if you are 170 pounds and above.
If you are too tall, let's say 6'4'' and above you may not be able to have full arm stretch/extension and could be worse and unstable for you if you are also 200 pounds and above.
Click right here to have a peek at the price of the Maxi Climber on Amazon.
Below is a video tutorial on how to get the best out of the Maxi Climber.
The Frame and Construction
The Maxi Climber has an edge over other similar indoor mounting climbing equipment such as the Sunny Folding Climbing Stepper SF-1115 and the Incline Plank Standing Bike SF-B0419 because it provides upper and lower body workouts. However, the Climbing Stepper and the Incline Planks Standing Bike also have reasons why they should be added to the home gym.
That said the Maxi Climber's frame is made of heavy-duty steel and coated with anti-corrosion and scratch paint that maintains its quality. It supports 240 pounds/109 kg maximum user weight capacity. It is vertically adjustable and has movable anti-slip footpads, a set of static handles, and another set of movable handles padded with soft rubber foam for a secure and comfortable grip.
It is compact, lightweight with great base support that ensures stability during workouts. The base features two curved steel bars with a rubber cap on each end to prevent the equipment from slipping while exercising. However, you may place the Climber on a protective rubber mat to prevent perspiration from spilling to the floor and to further boosts its overall stability.
An area of 4' long by 2' wide and a ceiling height of at least 7 feet high will be sufficient for the climber's actual workout area and the clearance required for safety and convenience during workouts. It doesn't take up much space and could even be invincible when folded up to be stored away.
The general operation of this machine is smooth and quiet but does make a sound that is not loud enough to be a nuisance. You can work out and still be able to watch your favorite TV show without having to turn up the volume so high. The family or the neighbors will neither be disturbed by your activity.
The Handles and the Footpad
There are two sets of handles, one set is static and the other is movable. The user could use the static handle when he/she wishes to exercise only the lower body or in an attempt to warm up, while the movable handles allow the user to work out both the upper and the lower body.
The handles are ergonomically designed to provide secure and comfortable grips because they are isometric non-stick grips.
The footpads are anti-slip designed and they are movable. They are connected with the movable handles via cables and plastic pulleys so that the user can use both arms and legs to any stride length possible.
Resistance
The Maxi Climber does not come with any resistance band. The user's body weight serves as resistance.
However, if you need leg resistance, you may add some ankle weights to the handles, it works great.
Console
The Climber comes with a very basic console that features an LCD monitor that yet helps you to track workout progress.
The monitor keeps track of time, step count, and calorie burn. Make sure to reset the monitor before starting a workout by pushing the only red button down for at least 3 seconds until it displays zero on the screen.
Once done with the reset and when you start working out the monitor will automatically start timing, adding the steps and the calories burned.
To switch between the workout values press the red button once, twice, thrice, or four times in order to start the Step Counting (CNT), Time-Keeping (TMR), Cumulative Result of all workout sessions (TOT CNT), or Total Calories burned (CAL) respectively.
This really motivates and helps to keep you focused on achieving your workout goals.
It is powered by 1 battery type LR44 (DC 1.5V) which is also included in the package.
However, the position of the monitor will make it difficult for the user to view it while exercising. The user has to get off the machine in order to view the monitor.
Accessory
No accessory is available on the Maxi Climber.
Storage
The Maxi Climber is foldable and fits into a standard closet, under the bed or even just lean it on the wall.
Once the safety lock pin that is on one end of the steel bar that is connecting the front and the rear stabilizer bars is removed the legs fold up.
It does not have transport wheels but being a lightweight (33 pound/15 kg) design makes it a lot easier to move.
Approval Rating
The Maxi Climber has been around for a while and has been well received by users.
It has over two thousand five hundred Amazon customer reviews and still manages to have a positive average approval rating. This simply suggests that the product is cost-effective.
Moreover, it is rated the #1 best seller in the step fitness machine category on Amazon.
Pro/Features Overview
It is sturdy and stable
It supports 240 pounds/109 kg maximum user weight capacity
It is compact and lightweight, therefore, doesn't take up space and easy to move around
It is foldable thus could be stored even under the bed or in a standard closet
It provides full-body workouts
It burns calories twice more than any treadmill could
It turns the core muscles, the legs, arms, and the thighs
It breaks a sweat in no time and raises the heart rate
It is suitable for everyone at any fitness level
Its operation is smooth and almost quiet
The handles have isometric non-stick grips
It is adjustable so that users of different height may use it
It is versatile and easy to use climber that works for everyone
It comes 90% assembled
It is a low impact machine that is easy on the knees and ankles
A BONUS companion Fitness App is available for free on App Store or Google Play
Cons
It utilizes bodyweight resistance thus it cannot be increased
The monitor is basic, ill-positioned that the user cannot view the display while working out
The rollers could be damaged in no time if the user is too heavy (170 pounds and above) and if he/she does not get on the machine the proper way
Very tall individuals (6'4'' and above) may not be able to exercise with full arm extension
Specifications
Compact
Lightweight (33 pounds)
Supports 240 pounds/109 kg maximum user weight capacity
Frame: Steel and adjustable
Console: Basic, tracks time, calories burned and step count
Handles: A set of static and movables,
Anti-skid foot pads
Companion Fitness App
Resistance: Bodyweight
Warranty
1-year unlimited warranty (only to US residents)
Shipping, Assembly, and Maintenance
Shipping
The Maxi Climber is shipped in a box that weighs 33.8 pounds/15 kg.
The shipping cost depends on the retailer you are purchasing from; however, some retailers such as Amazon provide free shipping and always deliver in time.
Assembly
The Climber comes 90% pre-assembled. This means there isn't much left to be done by you.
That said, you are required to attach the stabilizer bars and the cables to the frame. An instruction manual with graphics is included in the package to help you assemble the machine.
The assembly could be done by one person in 15 minutes.
Maintenance
No major maintenance is required.
Always make sure to keep it clean from dirt and sweat before and after use.
You should properly get on the climber in order to avoid the rollers from damaging.
Conclusion
It is agreed by all users that the Maxi Climber is a very effective machine that provides good cardio workouts that burn fat and tone the muscles within just minutes.
It is no doubt a recommendable climber especially for those that wish to lose weight and are on a budget.
Maxi Climber Review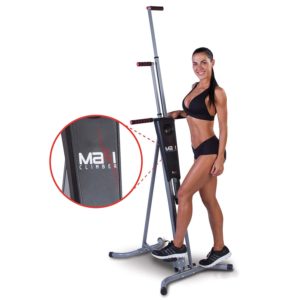 It is important to highlight the fact that the Maxi Climber is #1 bestseller in step fitness machine category. It has thousands of positive Amazon customers'
Product Brand: Maxi Climber
Product In-Stock: InStock