The Magne Trainer-ER Mini Exercise Bike Arm and Leg Exerciser is overall body workout equipment just as the title suggests. This unit is kind of unique and different from many other under desk fitness equipment that mainly allows you to be actively sitting by moving your legs.
Even the best under-desk equipment has come short when compared with the Magne Trainer because of its ability to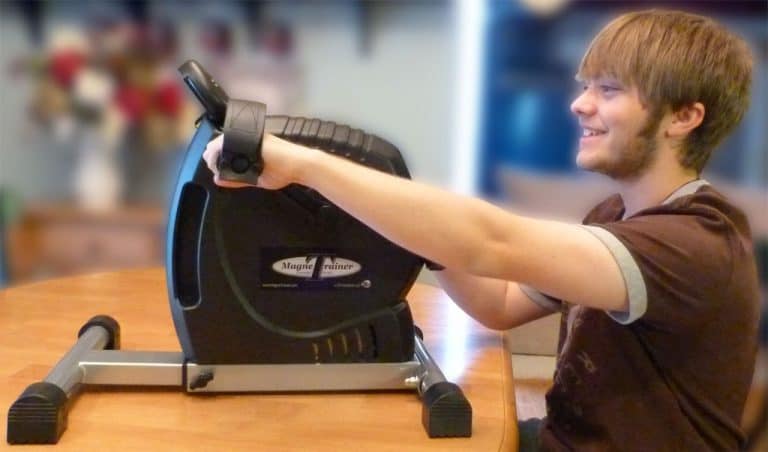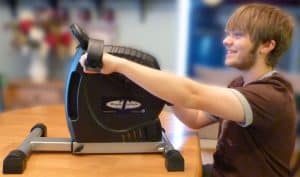 provide upper and lower body workouts. It has ergonomically designed handles for upper body workouts, although these handles are optional as they don't come with the original package. However, you can still perform the arm exercises with the pedals.
The thing is that, unlike most overall body workout equipment that provides the opportunity to simultaneously work the upper and the lower body, the Magne Trainer-ER Mini Exercise Bike only allows you to work the upper or the lower body at a time. When you wish to strengthen the arm and shoulders, simply place the machine on top of a table and do your thing.
The pedals are bidirectional as well, which means you can pedal forward and backward to work on more muscle groups.
However, some reviewers have argued that this unit is very difficult to be used beneath the desk while you type, that it is more suitable for patients that are undergoing physiotherapy treatment than office users. Reason being that the height is so high that not every desk can conveniently allow you to workout with the unit under it.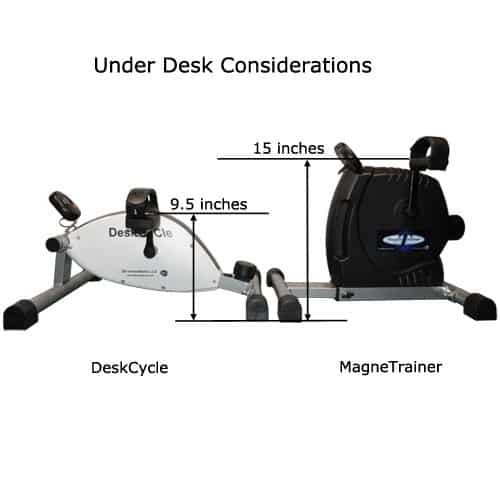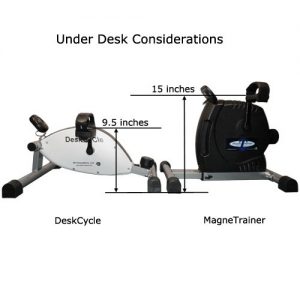 This is somewhat true because it is 5 inches higher than the DeskCycle Desk Exercise Bike Pedal Exerciser that is typically made for under desk purposes of working and cycling. But we do think that the height also made it possible for it to be used as an upper-body exerciser because it provides the necessary clearance required for a comfortable arm workout.
That being said, even though it is not very suitable for under desk usage, it can still be used comfortably if your desk is adjustable and is up to 34 to 36 inches tall, otherwise, your knees will be prone to hit the desk from below when you pedal. And of course, your height counts when considering using it under a desk as well.
If you wish to have a peek at the price of the Magne Trainer-ER Mini Exercise Bike Arm and Leg Exerciser click right here.
Overall Built and Construction
One fact that cannot be denied about the Magne Trainer-ER Mini Exercise Bike is the fact that it is a versatile machine. How so, You may ask? because you can use it as a recumbent bike (when used with a chair with backrest), you can use it as an upright bike (when used with a tall chair), you can use it as an under-desk (of course, with a table that is adjustable), and you can use it to work your upper body by placing it on top of a table.
The Magne Trainer is made of solid steel that makes it one of the sturdiest under desk units.  It has a belt-driven mechanism that makes it even smooth and quiet during operation and does not require any maintenance. It is integrated with 4V long-lasting belts with a dual pulley.
It is incorporated with high quality 3 piece crank with a machined flywheel. It has 7 heavy-duty precision sealed bearings that could last almost forever.
This machine is built to last with all the listed elements as evidence.
It is a compact machine but somewhat larger than most ideal under desk units with dimensions of 20 inches long by 18 inches wide by 18 inches tall. The pedal height from the floor is 15 inches tall which is the culprit in under desk pedaling problem.
However, as aforementioned, it can still be used for under desk purposes but to conveniently do that, it is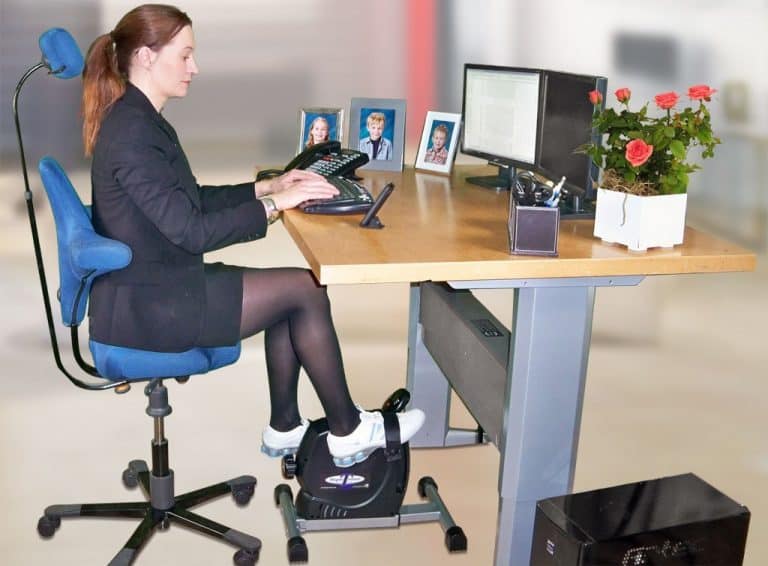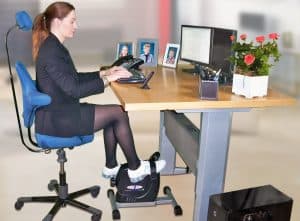 recommended that your desk be at least 34 inches in height which kind of suggests the acquisition of adjustable desk.
It has a solid steel base with dimensions of 15.5 inches to 20 inches and has 15 inches stabilizer bars situated at the bases for outstanding stability even though it is a lightweight machine that weighs 23 pounds/10.4 kg.
The pedals' dimension is 5 inches and they are made of high-quality plastic just like the DeskCycle. They are integrated with adjustable Velcro straps that ensure that your feet or hands stay secure while pedaling.  It is bi-directional which means you can pedal either direction for optimal muscle toning.
Your thighs, calves, arms, and shoulder muscle groups can be toned and worked on adequately with this unit.
The flywheel is about 3 pounds in weight but spins 13 times faster than you pedal making it provide 39 pounds flywheel effect of the smooth and consistent operation. This also helps to reduce the stress that is usually been felt on the joints when pedaling.
It is important to mention that this unit is not designed to be stood on while pedaling because it does not support that. Although the manufacturer does not indicate the maximum weight it supports but then again the weight on your legs cannot overwhelm the unit no matter your size because most of your weight is on the seat.
Resistance and Drive
The Magne Trainer-ER Mini Exercise Bike Arm and Leg Exerciser features a unique and patented resistance system. It features a manual magnetic resistance that is more than twice the resistance range of the other magnetic pedal exercisers.
It is also smooth and quiet during operation and provides high resistance that many believe it is best used in clinics. Of course, it is for recovering individuals and the elderly as well.
Simply place it in front of the couch and pedal while you enjoy your favorite TV show or use underneath the ideal desk and pedal while you work.
The resistance system does have a tension control that is used for increasing or decreasing the resistance effect but does not have the levels indicated on it, unlike the ones that have 1 to 8 resistance levels. Rather, it takes 5 full revolutions of the adjustment dial to go from the minimum to the maximum level of resistance.
This machine appears to be integrated with the elements that improve the overall performance because it features a belt drive system and a dual pulley that is known for its quiet operation and non-maintenance.
The distance between the two pedals from the inside, otherwise known as the Q Factor is 6 inches, narrow enough to provide your legs with the natural positioning that will make you experience a comfortable workout.
The Console
The Magne Trainer-ER Mini Exercise Bike Arm and Leg Exerciser comes with a small electronic monitor that displays speed, distance, time, and calories burned. It is powered by a single AA battery that is also included.
Unfortunately, unlike the DeskCycle, the monitor cannot be removed and stationed remotely on the desk because it does not have a stand and a long cable.
The displayed metrics can be read clearly but not when used in a poorly lit room because it is not backlit.
It automatically turns on when the unit is being used and also turns off automatically when you are done using it.
Approval Rating
The approval rating of the Magne Trainer-ER Mini Exercise Bike Arm and Leg Exerciser is overwhelmingly positive. Almost every user on Amazon that has reviewed the product says he will recommend the machine.
Very few users complained of the unit sliding while working out which is a no-deal breaker in our opinion because they eventually say they are satisfied with it.
Click right here to read more Amazon customer reviews.
Options
Some accessories do not come with the Magne Trainer-ER Mini Exercise Bike Arm and Leg Exerciser which is optional. This means, if you wish to have them you have to purchase separately.
Adjustable Stand
This is an adjustable stand; it could be used with a chair or a narrow wheelchair so that you can perform the arm and leg exercises comfortably.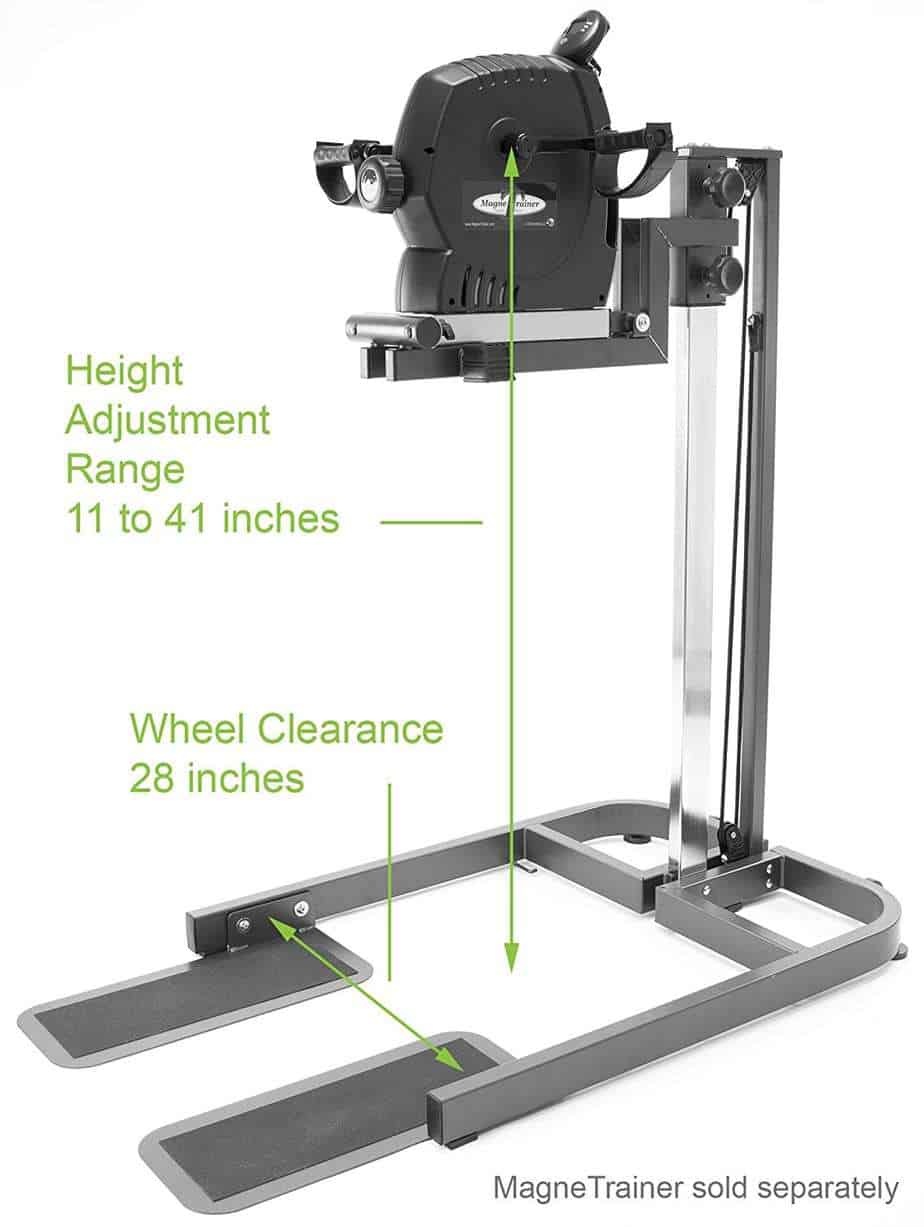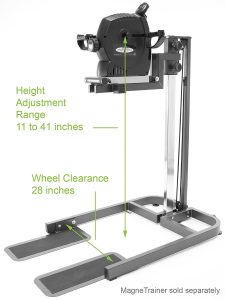 Quick Connects
These allow you to quickly switch between 2 sets of pedals/handles in seconds. It also eliminates thread damage caused by regular pedal changes.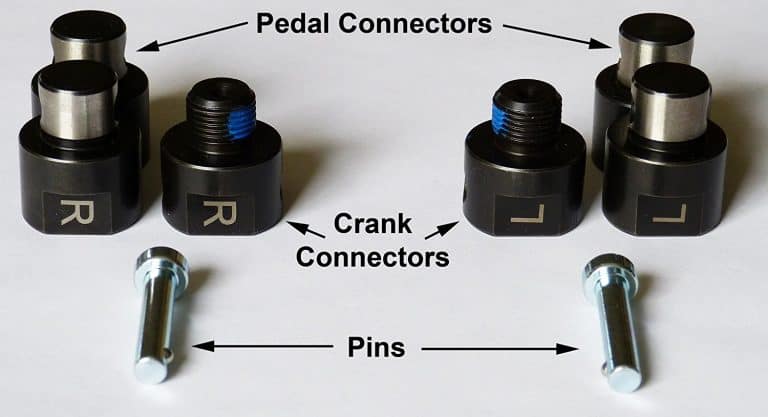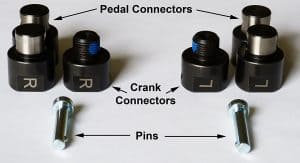 Large Display
You can replace the display that comes with the machine with the large display unit that provides higher readability.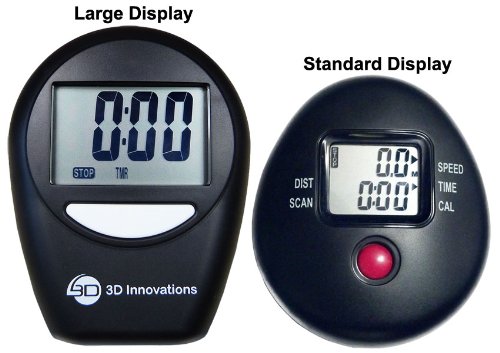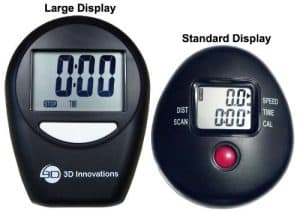 22 Inches Stabilizer Bar
If you wish to improve the stability of the machine you can opt for the 22 inches stabilizer bar especially great for patients who have difficulty pedal.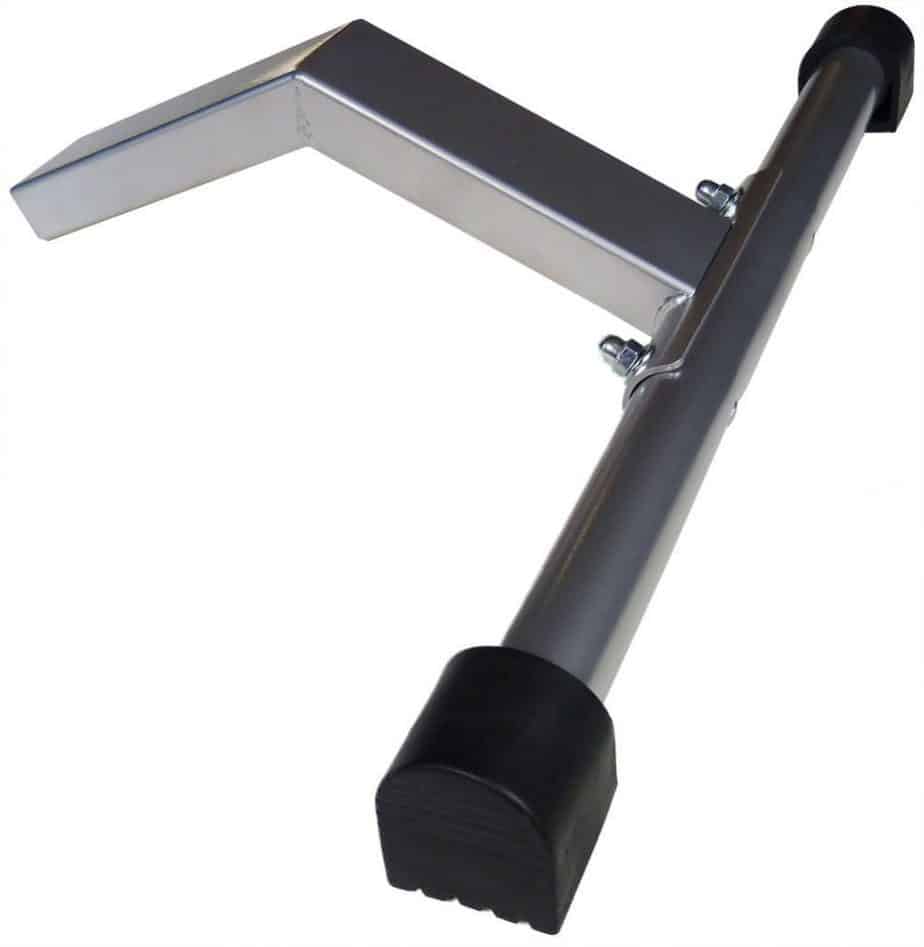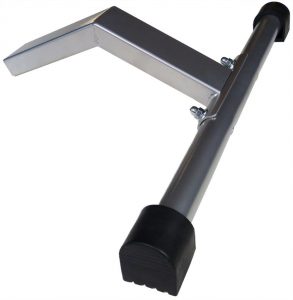 Large Pedals
The Magne Trainer comes with smaller pedals and you can replace them with the large ones that have larger bases for easy pedaling. They come with adjustable Velcro straps that are wide and soft to maximize comfort and support.


Ergonomically Handles
These handles turn your Magne Trainer into an arm bike because they place your arms in a more natural position while pedaling.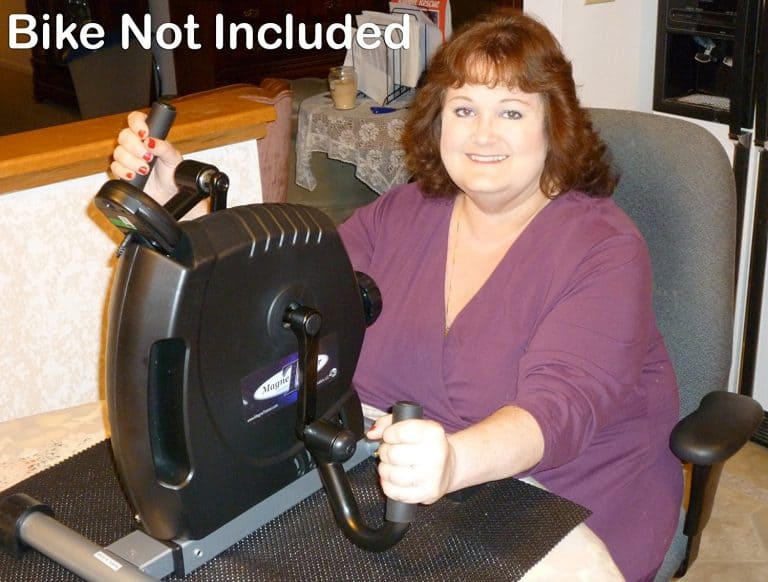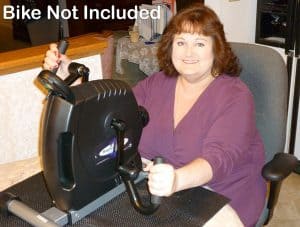 Pros/Features Overview
Solidly built with commercial grade
It is a versatile machine that could be used in different ways
Lightweight and compact with dimensions of 20 inches long by 18 inches width by 18 inches tall and weighs 23 pounds/10.4 kg; therefore, can easily be used in small rooms/apartment
Digital monitor displays time, distance, speed, and calories burned
The 3-pound flywheel spins 13 times faster
Belt drive system with dual pulley
It is smooth, quiet and consistent during a workout
Outstanding and patented manual magnetic resistance
Can work both upper and lower body
Great for clinical therapy and the elderly
Could be used as under desk for working and pedaling
Easy assembly
Affordable
Cons
Some complaints about the machine slipping or moving away during workouts
The monitor display may not be highly visible because it is not backlit and does not display large metrics
Product Dimensions and Specifications
20'' Length
18'' Width
18'' Height
Weighs 23 pounds/10.4 kg
Bi-directional pedals
Manual Magnetic Resistance System
Belt drive with dual pulley
3-piece crank
Warranty
1 Year Warranty that includes all parts, labors, and shipping
Shipping, Assembly, and Maintenance
Shipping
The cost of shipping the Magne Trainer depends on the retailer you are purchasing from; nevertheless, some vendors such as Amazon provides free shipping.
Assembly
The assembly of this machine is very minimal as you only required attaching the stabilizer bars to the front and back bases, and the pedals. The tools required for the assembly are also included and will only take a few minutes to fully put together.
Maintenance
No maintenance required.
Just make sure you always examine the Magne Trainer for any loose, worn, or broken part and fix accordingly if there is any.
Always keep clean from dirt and moisture by wiping it down.
Conclusion
The Magne Trainer-ER Mini Exercise Bike Arm and Leg Exerciser is home fitness equipment that could be used to get an excellent leg workout while sitting in a comfortable chair. You could watch TV, read a book or be on a phone call while you are at it.
Many individuals use it to exercise at work, while some use it at home on a couch, while others use it to recover from injury.
It is well built to withstand any hard use and for it to last for a very long time.
Considering the price of this unit and the value you are going to get in return, it's money well invested.
However, if you are looking for a typical under desk equipment that will allow you to work comfortably on your desk and don't mind doing the arm exercises then you may want to consider the DeskCycle Desk Exercise Bike Pedal Exerciser.
Magne Trainer-ER Mini Exercise Bike Arm and Leg Exerciser Review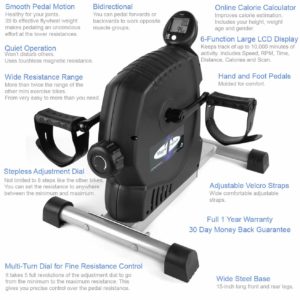 One fact that cannot be denied about the Magne Trainer-ER Mini Exercise Bike is the fact that it is a versatile machine. How so, You may ask?
Product Brand: MagnetTrainer
Product In-Stock: InStock