The LABGREY L1 Indoor Cycling Bike is a piece of typical indoor exercise equipment that is designed to provide cardiovascular exercises for overall physical fitness improvement.
It also helps to tone muscle groups such as the upper arms, abdomen, thighs, back, and legs.
This entry-level unit features a solid frame, adjustable seat and handlebar, toe caged pedals, and a basic LCD monitor. It is belt-driven and has a friction resistance system that ensures smooth and challenging workout experiences.
Even though it is not foldable, it is compact and portable. Therefore, accommodating and moving it around the apartment won't really be a problem.
Click right here to have a peek at the price of the LABGREY Indoor Cycling Bike.  
The Frame and Construction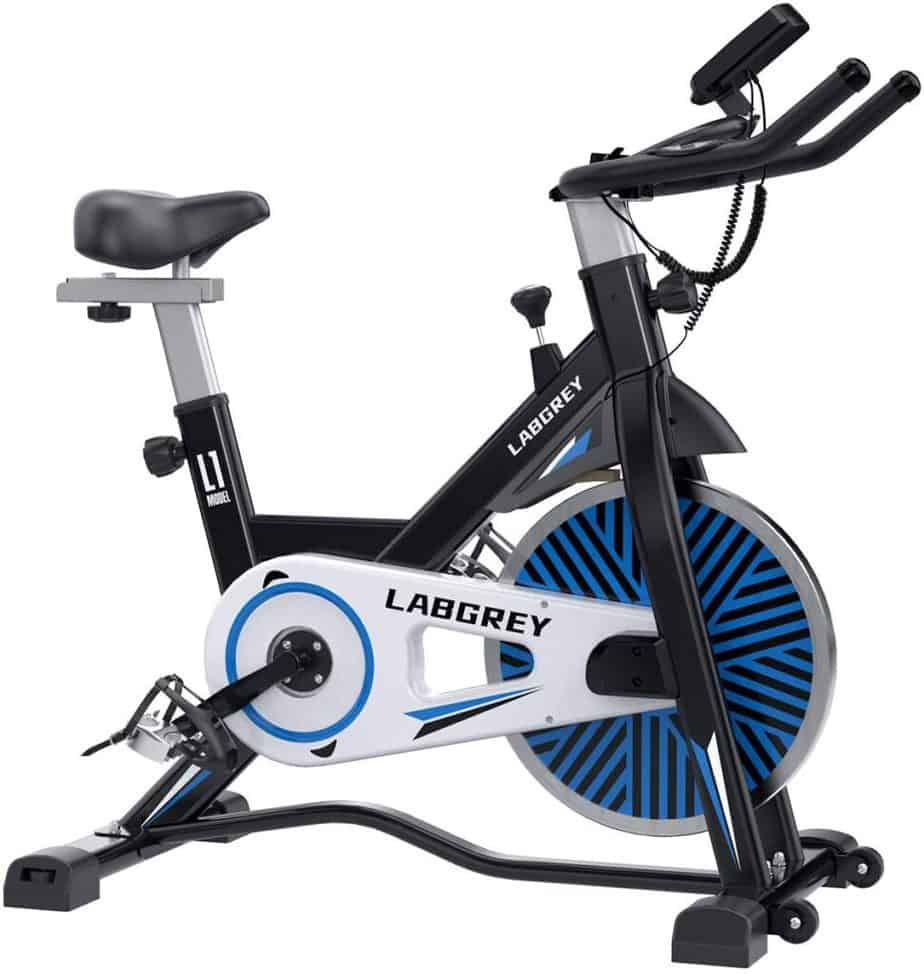 The LABGREY Indoor Cycling Bike has a triangular structured steel frame that is finished with anti-corrosion paint. This means it is not only sturdy but durable as well.
Other parts such as the drive train cover, the LCD monitor covering, and the wool felt brake pad cover are made of plastic.
It supports a maximum user weight capacity of 330 lbs./150 kg or less.
The base features rectangular steel stabilizers and an adjoining crooked steel bar. This ensures that optimum stability is achieved, while the adjustable levelers at the rear stabilizer bar enable you to balance the bike on a surface that is not entirely flat.
As aforementioned, the bike is compact and should be ideal for those without much space in their room.
The assembled dimensions are 40'' long by 20.8'' wide by 40'' high. To put it differently, a workout area with perimeters of 3'4'' length by 1'8'' width can accommodate the bike. However, for safety and easy access, an additional 2' around the bike should be considered.
There are transport wheels at the front base which allow you to easily move the bike around, after all, it only weighs 60 lbs./27.2 kg.
The Seat of the LABGREY L1 Indoor Cycling Bike
The seat is one of the crucial parts of any indoor spin bike because it makes or breaks your workout experience. You can work out longer comfortably or easily get bored due to discomfort.
Having said that, the LABGREY Indoor Cycling Bike appears to have a better and decent seat, as opposed to the one on the DERACY Indoor Cycling Bike.
The large and cushioned seat provides consistent comfort during a prolonged workout, and it can easily be replaced with another seat if you have to.
Moreover, it is 4-way adjustable, meaning it could be adjusted vertically and horizontally.
The vertical adjustment spans from a 27'' minimum to a 35'' maximum. Thus, the bike will be suitable for anyone with an inseam (the length of your inner thigh to the ankle) between 27'' to 38''. 
The Handlebar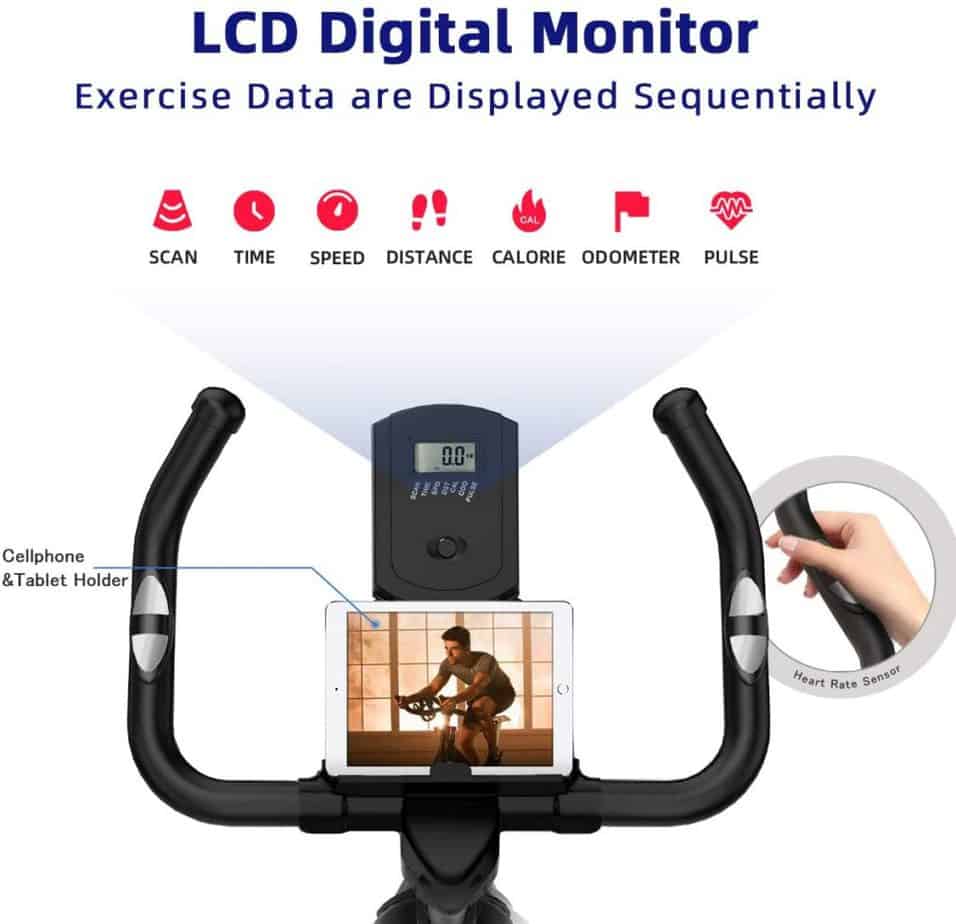 The handlebar is 2-way adjustable. In other words, it can be adjusted vertically (upward/downward).
This and the seat's adjustability allow you to make all the necessary adjustments for a perfect fit.
And due to its multiple hand positions, you can exercise in at least 3 different workout postures that include mountain-climb ride, slope terrain ride, and flat terrain ride.
The handlebar is anti-slip coated to ensure that your grips are firm and comfortable. You won't experience slippage or blisters in the palms; hence, the use of hand gloves is not necessary.
A tablet holder and an LCD monitor are attached to it, even as HR sensors are integrated as well.
The Pedals
The LABGREY L1 Indoor Cycling Bike is designed with toe caged pedals that are made of metallic alloy. They have adjustable safety straps that securely keep the feet in place during workouts.
They accommodate different foot sizes as well.
However, you can't ride the bike with special spin shoes unless you replace them with SPD.
Riding while standing is completely supported since the pedals are attached to a durable 3-piece crankset and crank arms.
The Drive
This is a belt-driven bike that consists of a heavy-duty belt, 3-piece crankset, durable crank-arms, pedals, and a flywheel. Together, these components provide an operation that is smooth and quiet.
The 35 lbs./15.8 kg high inertia flywheel also provides consistent momentum that allows you to experience outdoor riding. This ultimately enables you to work out longer.
Since its operation is noise-free, you can exercise with the bike in any part of your home without being a nuisance to family members or neighbors.
Moreover, you will have the opportunity to schedule a workout timetable that is suitable and convenient for you. It is also entirely possible to watch your favorite TV show/movie/workout video or listen to music while exercising.
Considering that the drive system is fixed (the flywheel is fixed to the pedals), you cannot coast on the bike as you could on a road bicycle.
Therefore, you may want to be careful whenever you wish to stop pedaling to prevent a potential injury.
Better still, use the emergency brake (push the tension knob down) to end your spinning activity before a quick exit from the bike.
Nevertheless, the positive side of this is that you will be able to pedal in reverse if you wish to diversify your workout and tone more muscle groups.
The Resistance System
The LABGREY L1 Indoor Cycling Bike has a friction resistance system. This generates resistance by a friction effect that occurs when the wool felt pad gets in contact with the chromed surface of the flywheel.
The resistance system has infinite adjustable levels that are suitable for all users. In other words, beginners and advanced athletes alike will be able to push themselves to the limits.
However, since the resistance levels are not predefined, it may be difficult to keep track of your strength and endurance improvement as you progress to using higher resistance levels.
Also, a squealing sound may occur when the resistance is engaged due to the friction between the wool felt pad and the flywheel.
But this problem is usually resolved when the wool felt pad is saturated with silicon oil which also reduces the rate at which it (wool felt pad) wears out.
To increase or decrease the resistance level, simply turn the tension knob clockwise or anti-clockwise, respectively.
The Console
As expected, the console on this bike is basic, so there is nothing special to see here. It is like any other console on most entry-level indoor cycling bikes. But it at least offers the opportunity to keep track of basic workout info.
It features an LCD monitor that tracks workout stats such as Time, Distance Speed, Odometer, Calories, and Heart Rate. These metrics are displayed one at a time after a few seconds by the SCAN function, and you can override it if you want a single metric to display constantly.
Some of the workout data output such as the calories burned and pulse may not be completely accurate but they do provide some compass as to where you are headed in terms of improving your physical fitness.
Distance and Speed metrics are set to display in km/h and km, respectively, and cannot be changed to mph, and miles.  
To be able to view your heart rate data on the monitor you must hold the HR sensors on the handlebar during a workout.
You can set a workout goal (count-down) for Time, Distance, or Calories.
The monitor is battery-powered; hence, no electricity is required to operate the bike. It can be turned ON by pushing the single button on it or when you start pedaling.
It also automatically turns OFF when you stop exercising for a few minutes to save the batteries' power.
Finally, the monitor displays workout data clearly but could be compromised if viewed in a poorly-lit room since it (monitor) is not backlit.
Accessory
The LABGREY L1 Indoor Cycling Bike has a tablet holder that is strategically positioned not to block the monitor when a device is placed on it.
Therefore, you can monitor your workout stats and still be able to view a workout video via a smartphone/tablet device.
A water bottle holder is not present, but you can always attach one or improvise to keep proper hydration during a workout session.
Storage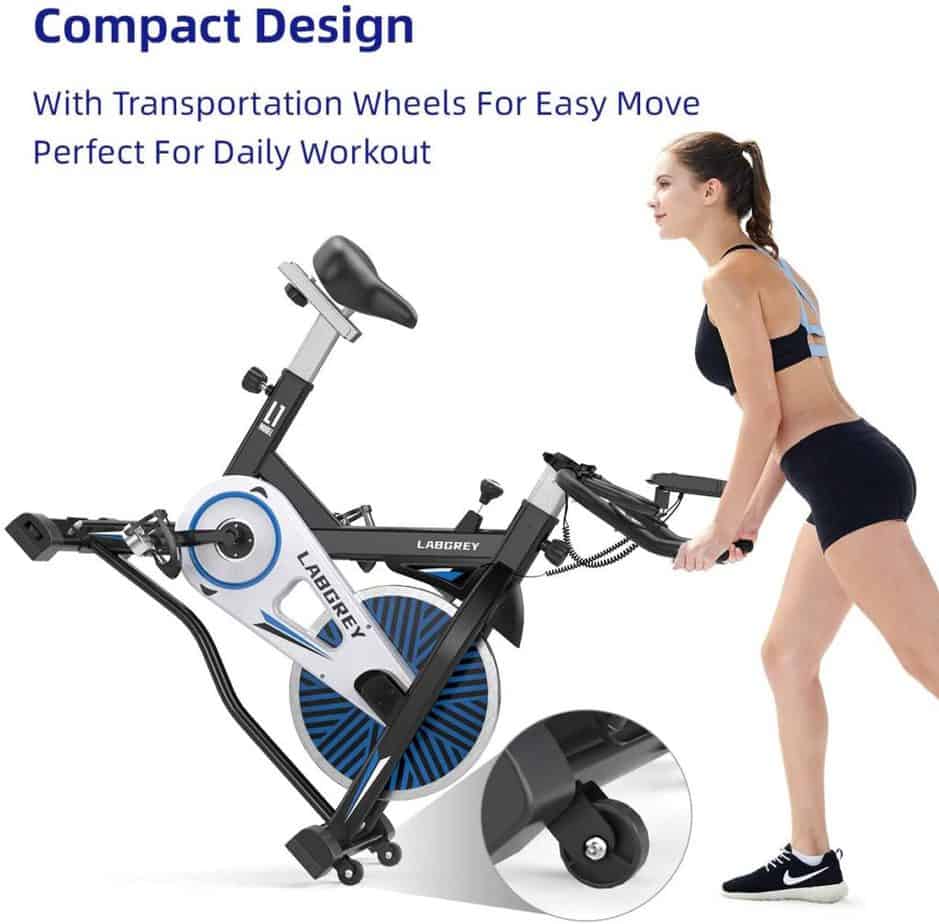 The upside of this bike when it comes to storage is that it is compact and portable.
This means it doesn't require too much space for storage and can easily be moved from one room to another with the help of the front-mounted transport wheels.
A storage area with perimeters of 3'4'' length by 1'8'' width will be enough for the bike.
Pros/Features Overview
Sturdy and durable
Compact and portable
Supports 330 lbs./150 kg maximum user weight capacity
The seat is adjustable and comfortable
The handlebar is multi-grip designed and it is coated with anti-slip soft rubber foam for secure and comfortable grips
The-caged pedals with adjustable safety straps suit different foot sizes and prevent slippage that may occur during aggressive pedaling
The base frame-work (with adjustable levelers) is such that provides optimum stability
Its belt drive system provides quiet and smooth transmission that allows you to train whenever, wherever, and however you want
The friction resistance system provides easy to tougher workout challenges suitable for everyone
The acquisition of this bike puts you in the position to lose weight, improve heart and lungs' health, and tone muscle group in the comfort of your home
The integrated LCD monitor tracks workout data such as Time, Distance, Speed, Odometer, Calories, and Pulse
It is not complicated to assemble
Maintenance requirement is low
Tablet holder included
Cons
The resistance levels are not predefined
The monitor is not backlit
No water bottle holder
Warranty
1 Year free replacement of every part
Product Dimensions and Specifications
Length: 40''
Width: 20.8''
Height: 40''
Shipping dimensions: 39.9'' L x 33.2'' W x 7.4'' H
Net weight: 60 lbs./27.2 kg
Gross weight: 69.4 lbs./31.4 kg
Maximum user weight capacity: 330 lbs./150 kg
Supported inseam heights: 27''-38''
Frame: Steel
Flywheel: 35 lbs./15.8 kg
Drive: Belt
Resistance: Friction with unlimited adjustable level
Seat: 4-way adjustable
Handlebar: 2-way adjustable
Pedals: Toe cages with safety straps
Transport wheels: Yes
HR monitoring: Contact grip
Console/Monitor: Basic & nonbacklit LCD monitor
Tablet holder: Yes
Water bottle holder: N/A
Transport wheels: Yes
Shipping
The LABGREY L1 Indoor Cycling Bike is shipped in a single box that weighs 69.4 lbs./31.4 kg with dimensions of 39.9'' long by 33.2'' wide by 7.4'' high.
Delivery takes a couple of days, more or less, depending on which part of the world you reside in.
Assembly
Many users regard the assembly of this bike as a walk in the park due to how easy it is to perform.
The only parts to be attached upon arrival are the stabilizer bars, the seat + post, the handlebar + post, the pedals, and the console.
It takes anywhere from 20-30 minutes to completely assemble the bike.
Maintenance
No major maintenance is required.
Simply wipe the bike clean of any sweat and dirt after every workout session. Store it in a cool, dry, and clean place.
Lubricate the wool felt pad when necessary (if there is a squealing sound when the resistance is engaged).
Finally, inspect the bike before use to be sure that all its parts are tight and in good condition.
Conclusion
The LABGREY L1 Indoor Cycling Bike is a fitness equipment designed for home use.  
It provides cardiovascular workouts that burn tones of calories and trigger metabolisms that improve strength, endurance, and overall physical fitness.