The Joroto X45 Bluetooth Exercise Bike was released in 2022 and has got some interesting additional features that are not integrated into the older models such as the JOROTO X2 Indoor Cycling Bike.
For instance, the X4S Cycling Bike has Bluetooth connectivity and can sync to third-party workout apps such as Kinomap (subscription required), and iConsole, and its LCD monitor has a backlight for improved readability. Moreover, it supports a higher user weight capacity than X2 Indoor Cycling Bike.
It has similar features to the MobiFitness TURBO Exercise Bike and the Schwinn IC4 Indoor Cycling Bike. However, the IC4 Exercise Bike is more expensive.
Click right here to have a peek at the best price of the Joroto X4S Bluetooth Exercise Bike.
The Frame & Construction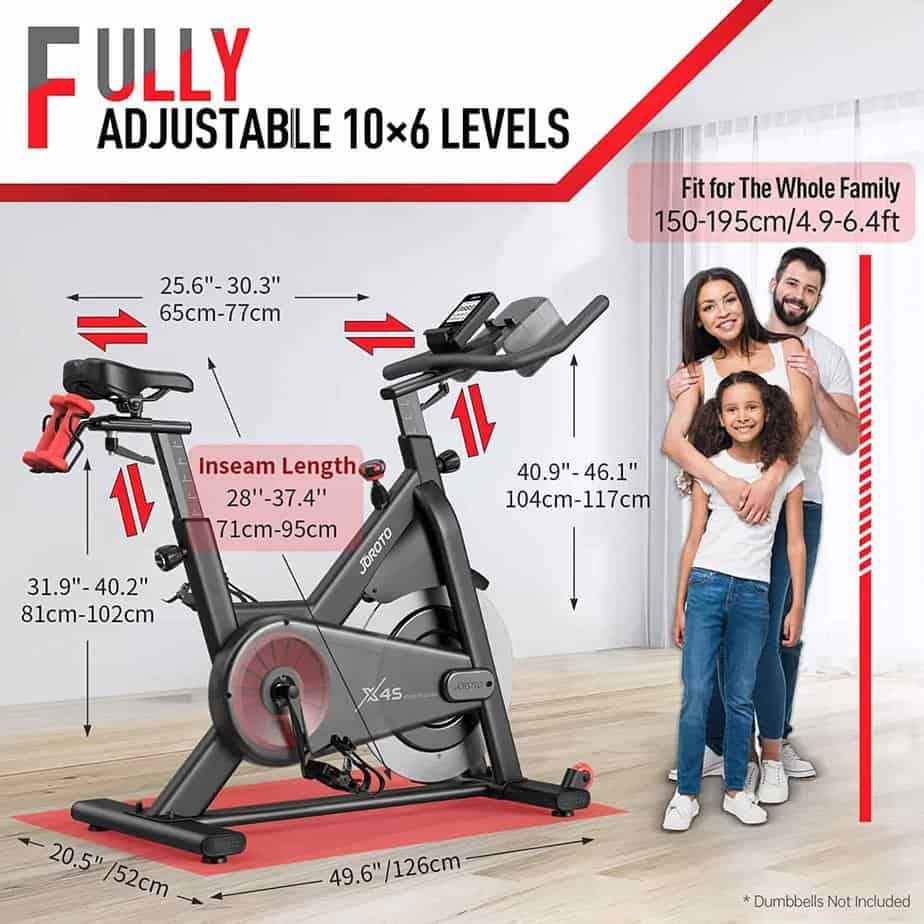 The Joroto X4S Bluetooth Exercise Bike is sturdily constructed with commercial-grade material.
It features a 2mm (about 0.08 in) thick solid multi-triangular structured steel frame that is powder coated with anti-corrosion paint. The drivetrain cover, the stabilizer end caps, the console casing, and the tablet & water bottle holders are made of durable plastic.
Users that are up to 330 lbs./150 kg in weight are supported.
The widened steel stabilizers with adjustable levelers guarantee stability that can't be compromised by the user's weight or workout style. Although, users usually purchase the bike with a protective rubber mat to prevent sweat spillage over the floor and vibration and noise that may occur between the bike and the floor.
The overall assembled dimensions of the X4S Cycling Bike are 49.6'' long by 20.5'' wide by 46.1'' high. Consequently, to be able to use the bike for workouts you will need an area with measurements of 4'1'' (126 cm) in length by 1'7'' (52 cm) in width, and additional safety and ease of access clearance of at least 2' on each side and 3' at the rear part of it.
The net weight is 97 lbs./44 kg, and there are transport wheels at the front base that enable an individual to easily move the bike around the room regardless of its weight.
The Seat of the Joroto X4S Bluetooth Exercise Bike
The unit features a breathable (with median groove) race seat that is padded and covered with vinyl material for maximum comfort. However, a gel seat cover or cycling shorts could be used to improve comfort for a prolonged workout.
It is also possible to swap it with another saddle of your choice if necessary because the connection system is standard. Thus, there are alternatives online or at local bicycle shops.
The seat is 4-way adjustable; this means it can be adjusted vertically (up/down) and horizontally (fore/aft). The vertical adjustment has 10 adjustable levels and 7cm of adjustment space.
Hence, the bike supports inseam lengths of 28'' to 37.4'', which means users that are between 4'9'' to 6'4'' tall will be able to fit in without feeling cramped or too small.
That said, it will be wise to ascertain if the bike is suitable for you by measuring your inseam (length from the inner thigh to the heel/ankle) because some people of the same height might have longer or shorter legs than others.
The Handlebar
The handlebar is coated with anti-slip soft rubber foam for comfort and firm grips. It does not integrate heart rate sensors or any control buttons. Thus, the only way to monitor your heart rate is to sync an HR band or HR wristwatch to the bike via Bluetooth connectivity.
The handlebar is 4-way adjustable just like the seat. It can be adjusted upward/downward and fore/aft to enable you to customize it for a perfect fit. There are 6 adjustment levels and 7cm space adjustments when adjusted from the lowest to the highest level and vice versa.
Its multi-grip and ergonomic design enable users to exercise in different positions.
The Pedals
The Joroto X4S Bluetooth Exercise Bike is equipped with a pair of toe-caged pedals with adjustable safety straps. They are made of alloy steel and plastic.
The pedals accommodate foot sizes securely and comfortably. This means users will be able to train without experiencing their feet slipping off.
However, they can only be ridden with regular gym shoes/sneakers. But if you wish to use special spin shoes you can easily have the pedals swapped for SPD type since the thread size is 9/16''.
The Drive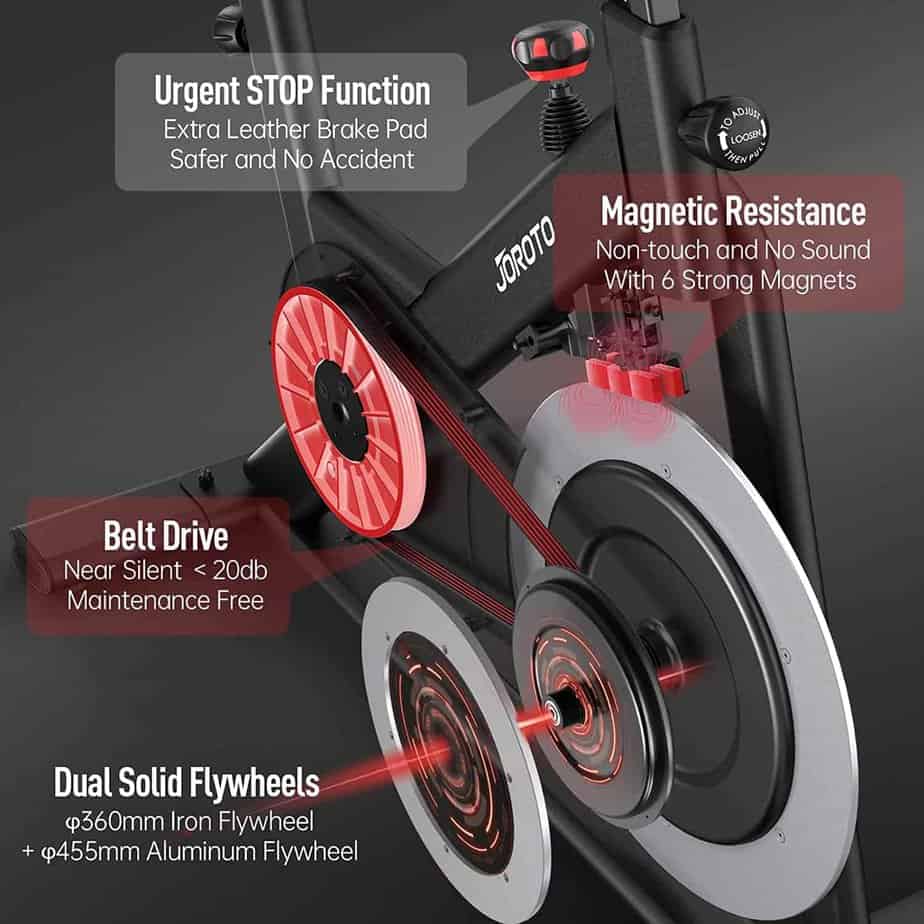 This unit is belt-driven. In other words, the drive system comprises an anti-stretch poly v belt, a pulley, and the 35 lbs./15.87 kg dual (dia. 360 mm iron & 455 mm aluminum) perimeter weighted flywheel.
Thus, the operation of the bike is smooth, quiet, and vibration-free, and its noise level during operation is estimated to be <20 dB. This means training with the bike around family members or neighbors living in close proximity won't be a problem.
The flywheel also provides consistent momentum, simulating the feel of riding a real road bicycle.
As opposed to a chain drive system, this doesn't require maintenance such as periodic adjustment or lubrication.
The drive system enables you to pedal in reverse in order to tone more muscle groups and diversify your workout.
However, this also means that you must push the safety emergency stop knob down to halt the flywheel from spinning whenever you wish to stop pedaling to prevent a potential accident that may cause injury to the ankle or the knee.
The Resistance
The JOROTO X4S Exercise Bike has a magnetic resistance system with micro-adjustable levels. The system consists of 6 magnetic brake pads and the flywheel.
Three magnetic brake pads are positioned on either side of the flywheel so that whenever they are close enough (when adjusted via the tension knob) to the flywheel, they emit magnetic fields that ultimately cause resistance without any part contact or friction.
So, the bike's operation remains smooth, quiet, and uncompromised. Also, no part will be required to be replaced since no friction occurs during the process of generating resistance.
There are micro-adjustable resistance levels that provide easy to challenging workout experiences for users of different fitness levels who wish to improve their overall physical fitness. Although the resistance levels are not predefined, but the monitor reads and displays the resistance level between 1% to 100%.
Changing or transitioning from one resistance level to another is easy. Simply turn the tension control knob clockwise or counterclockwise to increase or decrease the resistance level.
Finally, 2 dumbbell holders (dumbbells not included) that could hold 2.2 lbs./1 kg apiece are attached to the seat slider at the back for light upper-body exercises.
The Console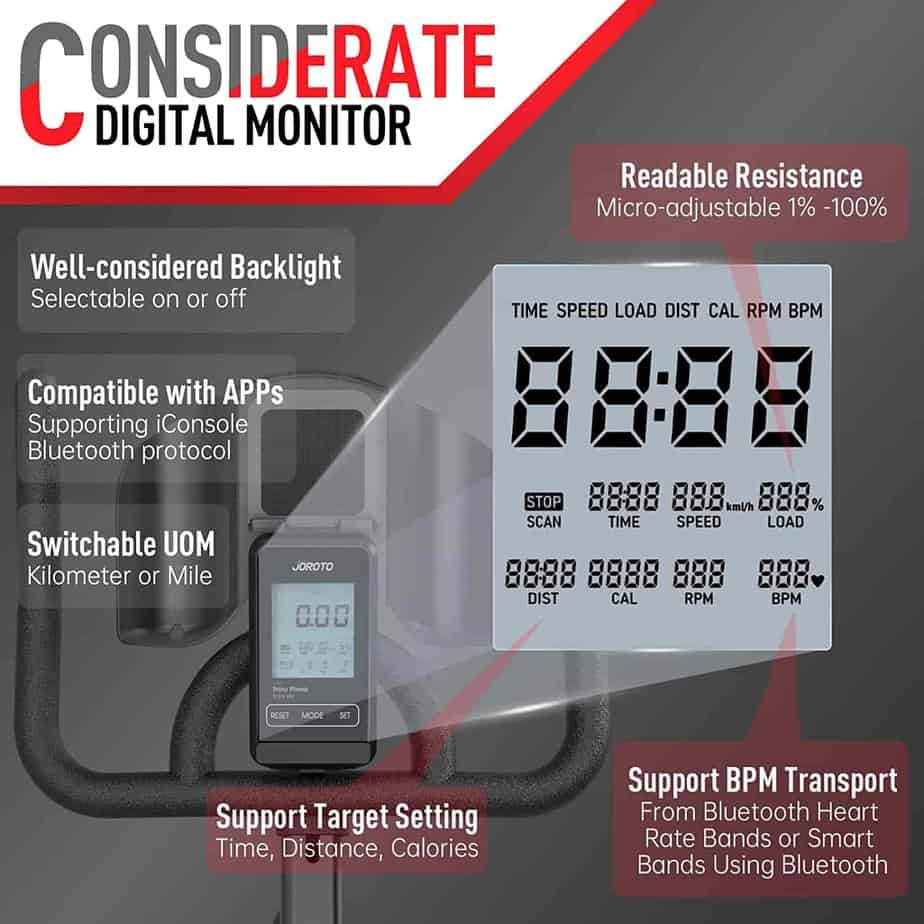 The Joroto X4S Bluetooth Exercise Bike integrates a console that is Bluetooth enabled and compatible with third-party workout apps such as Kinomap and iConsole.
It also features an LCD backlit monitor that tracks your workout progress by displaying Time, Distance, Speed, Calories, RPM, Load (Resistance Level by 1% to 100%, and BPM if connected to an HR band.
The display is readable even in an environment that is not well-lit because of its backlight.
As aforementioned, the console can be synced with an HR band or HR wristwatch in order to track heart rate during a workout. However, the HR device is not included in the package, it must be purchased separately.
The Speed and Distance measurement units are in MPH and Miles respectively. They can also be toggled to display in km/h and Km if you so wish.
Time, Distance, or Calories target countdown setting is also possible. This enables you to challenge yourself with a certain task that you must complete.
The third-party workout apps, especially Kinomap, provide extra fun and features to your workout experience. With the app you will be able to track your workout progress online, cycle on virtual terrains around the world, access multiple pre-recorded workout videos, engage in live workout sessions, and more.
But the catch is that it is not free. There is a monthly subscription required. However, you might get a 14-day trial that gives you the opportunity to test what the app has to offer before going for the subscription if you so desire.
The console/monitor is powered by batteries (included), and the navigation buttons such as the Reset, Mode, and Set are easy to use.
Accessory
The cycling bike has a tablet holder and two other accessory holders for a water bottle and a smartphone.
They are strategically positioned for easy reach and won't block the view of the monitor either.
Thus, you can keep water handy for proper hydration, and a tablet/smartphone for watching videos or listening to music while exercising.
Storage
The Joroto X4S Bluetooth Exercise Bike doesn't take up too much storage space. An area with measurements of 4'1'' (126 cm) in length by 1'7'' (52 cm) in width will suffice for storage.
Moreover, the front-mounted transport wheels enable an easy relocation process even though the bike weighs 97 lbs./44 kg.
Pros/Features Overview
Built with a 2mm thickened steel frame
Supports 330 lbs./150 kg maximum user weight capacity
The widened steel stabilizers with adjustable levelers guarantee stability
Supports inseam length of 28'' to 37.4'' (fits users between 4'9''-6'4'' tall)
The seat is cushioned, and has a median groove for breathability; it is also 4-way adjustable
The handlebar is ergonomically, and multi-grip designed: it is 4-way adjustable
The Pedals are toe-caged with adjustable safety straps
The belt drive system provides smooth and quiet operation
The magnetic resistance system with micro-adjustability offers different workout challenges for weight loss, improvement of cardiovascular health, and muscle group toning
The dual heavy perimeter weighted flywheel provides consistent momentum for vibration-free operation
Dumbbell holders included
The backlit LCD monitor tracks Time, Distance, Speed, RPM, LOAD (resistance level by 1% to 100%), and BPM (heart rate)
Bluetooth connectivity
Compatible with Kinomap & iConsole workout apps
Console/monitor supports goal setting for Time, Distance, and Calories
Transport wheels included
Water bottle holders included
A tablet holder included
Assembly is easy
Heavy maintenance is not required
Cons
The workout app is not free, a subscription is required
Pedals are not dual sided
Warranty
FREE Part replacement: 1 Year
Product Dimensions & Specifications
Length: 49.6''
Width: 20.5''
Height: 46.1''
Shipping dimensions: 42'' L x 33.5'' W x 9.5'' H
Gross weight: 109 lbs./49 kg
Net weight: 97 lbs./44 kg
Maximum user weight capacity: 330 lbs./150 kg
Support inseam lengths: 28''-37.5'' (4'9''-6'4'' tall users)
Frame: 2mm thickened steel frame
Flywheel: Dual (dia. 360 mm iron & 455 mm aluminum) weight: 35 lbs./15.87 kg
Drive: Belt
Resistance: Magnetic, micro-adjustable
Seat: 4-way adjustable
Handlebar: 4-way adjustable
Pedals: Toe cages with adjustable safety straps
Console/monitor: Backlit LCD monitor, Bluetooth connectivity, Compatible with third-party workout apps, telemetric
Tablet holder: Yes
Water bottle holders: Yes
Transport wheels: Yes
Dumbbell holders: Yes
Shipping
The Joroto X4S Bluetooth Exercise Bike ships in a box with dimensions of 42'' long by 33.5'' wide by 9.5'' high and weighs 109 lbs./49 kg.
Major vendors such as Amazon provide free shipping and the delivery of the product takes days to weeks.
Assembly
The unit takes about 30 minutes to completely assemble because most of the components are preassembled.
The parts that are to be assembled by you include the stabilizer bars, the seat/post, the handlebar/post, the pedals, and the console.
An instruction manual and tools accompany the bike for guidance and an easy assembly process.
Maintenance
The cycling bike doesn't need to be lubricated or parts to be taken apart for any reason. It is to be kept clean and stored in a cool and dry area.
It is recommended to always examine the bike before use to ensure that the parts are in good condition.
Conclusion
The Joroto X4S Bluetooth Exercise Bike has decent features that provide a fun and productive workout experience.
It is durable and stable and can support up to 330 lbs./150 kg maximum user weight capacity. The console is Bluetooth-enabled and compatible with Kinomap and iConsole workout apps. Its LCD monitor is backlit and can display multiple workout data simultaneously. The seat and the handlebar are 4-way adjustable, thus, users can conveniently customize it for a perfect fit.
Joroto X4S Bluetooth Exercise Bike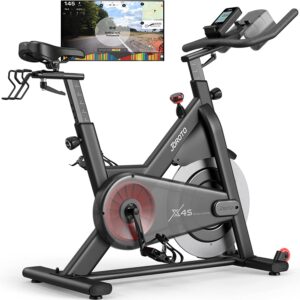 Click right here to have a peek at the best price of the Joroto X4S Bluetooth Exercise Bike.
Product Brand: JOROTO
Product In-Stock: InStock