The JOROTO IW9-PRO Folding Treadmill is compact and foldable exercise equipment that is designed for home or office use. It is installation-free; in other words, it does not require any sort of assembly, simply unbox and use.
It is pretty much like the Sunny Health & Fitness SF-T7718 Treadmill in terms of construction and features. However, it does have an automatic incline system while the latter doesn't.
The IW9-PRO Treadmill is available in two different colors, namely red/black & silver/blue. They are both one and the same except for the color.
Click right here for a quick peek at the best price of the JOROTO IW9-PRO Folding Treadmill.
Frame & Construction
The JOROTO IW9-PRO Folding Treadmill is constructed on a steel frame that is double-coated with anti-corrosion paint. It also incorporates quality plastic-made parts such as the motor cover, the side rail covers, the console casing, and the water & tablet holders.
It is sturdy enough to support 118 kg (about 260 lbs.) maximum user weight capacity.
Underneath the front and rear bases is a ribbed anti-skid thick rubber pad on each side of the four corners designed to keep the treadmill stable by preventing slippage. The stability is further improved by its assembled weight of 134.5 lbs./61 kg.
Therefore, chances are you will be able to train the entire session without experiencing disruption or distractions from wobbling.
As stated earlier, this treadmill is not bulky, and its assembled dimensions are 65'' long by 30.7'' wide by 47.6'' high. In other words, a workout area with measurements of 5'4 (165 cm) in length by 2'55'' (78 cm) in width should be fine. Although, it is recommended that clearance of at least 2' and 3' should be allowed on each side and the rear part of it, respectively, for safety and easy access purposes.
The treadmill has a space-saving design that enables users to easily fold it up for storage. Once folded, the height becomes only 8.7''. Hence, it could be stored under a bed/couch that has more than 8.7'' clearance, or better still it could be propped up against the wall.
There are transport wheels at the front base and a lifting handle at the rear that assist in the relocation process even though it is considerably heavy.
The Deck of the JOROTO IW9-PRO Folding Treadmill
The deck has a multi-layered commercial-grade tread belt that includes a wear-resistant layer, an anti-skid layer, and a noise reduction layer. It also integrates dual shock-absorbing layers that keep the joints from getting stressed or hurt as a result of jogging or running impact.
As expected, the size of the running surface is not large because it is a common phenomenon with compact treadmills. The dimensions are 50'' L by 20'' W and it will be suitable for most people to exercise on it without having issues with full stride range.  
However, those that are 6'1'' tall and above may experience some challenges regarding their ability to fully stretch their strides when running on it.
Incline System
This treadmill is equipped with an automatic incline system. This allows you to increase or decrease your workout intensity. The incline system comprises elements such as a small motor and a lift that elevates or lowers the front base of the treadmill.
As a result, the treadmill needs to be plugged into a power source for the incline system to work. The adjustment is done via the console, and there are 0 to 10 adjustable levels, and can only be adjusted 1 level at a time, no quick incline adjustment buttons are available.
Because of the incline, users should use the treadmill in a room that is 15'' higher than their height to avoid having a challenge with the ceiling height.
The Motor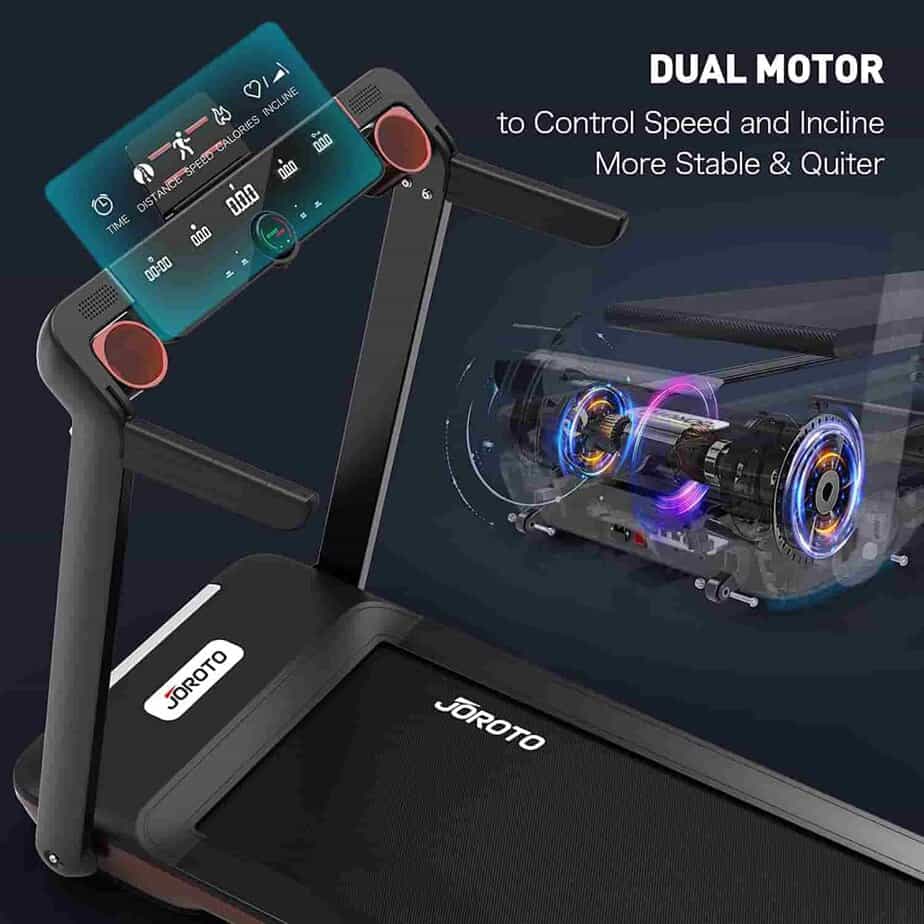 The JOROTO IW9-PRO Folding Treadmill features a 1.5 horsepower motor (3 HP maximum horsepower). The motor is fairly powerful and energy efficient and could provide the drive needed for prolonged workout activities without breaking down.
Nevertheless, it is always recommended not to use the treadmill consistently, back-to-back for more than 2 hours. Give it a break for a few minutes before resuming your workout in order to prolong the motor lifespan.
The treadmill comes with a power cable that is required to be plugged into a 110v power source. The ON/OFF switch and the cable connector are both at the front base.
The motor provides a speed range of 0.6 mph to 9 mph. and could be increased or decreased by 0.1 mph and no quick speed buttons are available. This means you can only gradually adjust the speed level by an increment of 0.1 mph through the knob on the console.
It is easy to adjust; simply press and turn the control knob clockwise or counterclockwise to increase or decrease the speed level.
As for the noise level of the motor, it will suffice to say it is not intrusive. In other words, it is not noisy to the level of being problematic to the user or the people living around. On the contrary, your cadence might even be noisier than the motor's operation.
The Console
The console built into this treadmill features an LED monitor that tracks workout stats such as Time, Speed, Distance, Calories, and Incline degree. The numbers on the display are bold and clear, and thus can easily be read.
The Distance and Speed are measured in miles and mph.
As for heart rate function, does it have one? The straight answer would be no because there are speculations that the treadmill doesn't work well with other wireless HR chest straps other than the one provided by JOROTO.
Again, no one has verified using JOROTO wireless HR chest strap successfully. Therefore, if this is something you are interested in you may very well use an external heart rate device that could independently be used.
Moreover, the console is not Bluetooth or Wi-Fi enabled; then how does it connect to a wireless HR chest strap?
There are 12 preset workout programs integrated to help you achieve your fitness goals. As always, when any of the preset workout programs is selected a certain speed and incline levels that are predetermined for that program apply automatically to your workout.
You will be able to set a countdown target for Time, Distance, or Calories. In this case, the incline and the speed will have to be manually adjusted.
There are 4 mode buttons for speed, incline, program, and countdown, and a multi-functional knob that is used for starting and pausing the treadmill. It is also used for adjusting the speed, the incline, the program, and for setting up Countdown.
Accessory
The JOROTO IW9-PRO Folding Treadmill features a detachable tablet and water bottle holders. They are designed to enable you to keep a smartphone device and water within reach for the purpose of entertainment and proper hydration.
Storage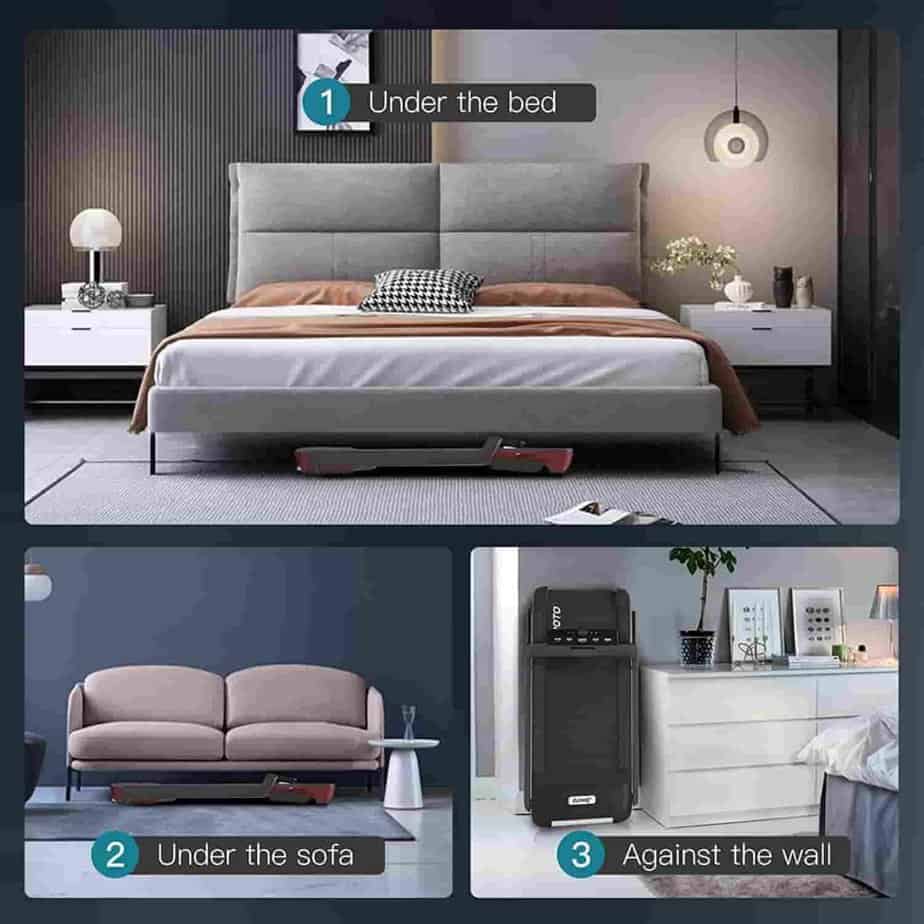 This treadmill is storage-friendly because it is foldable, compact, and transportable. Once folded, it fits under a bed or a couch, or you can have it leaned vertically against the wall.
It weighs 134.5 lbs./61 kg, yet, it can be rolled away to a storage area by one person via the front-mounted transport wheels.
Pros/Features Overview
Overall construction is decent
Supports maximum user weight of 260 lbs./118 kg
It is stable
The water bottle and tablet holders are detachable
The handrails/handlebars are foldable
The space-saving design allows it to be stored under a bed/couch or vertically against the wall
The deck integrates shock absorbing system
LED monitor tracks workout data such as Time, Distance, Speed, Calories, and Incline
There are 12 preset workout programs
Countdown target for Time, Distance, and Calories
The Silent 1.5 horsepower (3 hp maximum horsepower) motor provides a speed range of 0.6 mph to 9 mph
The speed is gradually adjusted by 0.1 mph
Transport wheels and a lifting handle are incorporated for an easy relocation process
The treadmill is installation-free
Minimal maintenance is required
Automatic incline with 0-10 adjustable levels integrated
Cons
No heart rate function
Not compatible with any workout app
No sound system
Warranty
Specifications
Length: 65''
Width: 30.7''
Height: 47.6''
Folded dimensions: 65'' L x 30.7'' W x 8.7'' H
Shipping dimensions: 67'' L x 33'' W x 9.25'' H
Tread belt dimensions: 50'' L x 20'' W
Net weight: 134.5 lbs./61 kg
Gross weight: 146 lbs./66 kg
Maximum user weight capacity: 260 lbs./118 kg
Frame: Steel
Motor: 1.5 horsepower (peak 3 horsepower)
0.6 mph-9 mph speed range
Monitor: LED
12 preset workout programs
Goal setting for Time, Distance, or Calories
Automatic incline with 0-10 adjustable levels
Water bottle holder
Tablet holder
Shipping
The JOROTO IW9-PRO Folding Treadmill is transported in a box that weighs 146 lbs./66 kg with dimensions of 67'' long by 33'' wide by 9.25'' high.
The shipping charge is often free, especially when it is purchased from a major vendor such as Amazon. Although there are premium shipping options you may choose from for expedited delivery.
Assembly
This treadmill does not require assembly. It is 99% preassembled. You only have to raise the console posts and tighten them up with the included Allen tool, and then attach the tablet and water bottle holders.
All of that takes only a minute or two to complete.
Maintenance
The unit comes with a lubricant oil that is meant to be used for the periodic lubrication of the tread belt. The included manual provides more details on how and when to use it.
Other than that, always keep the unit clean and store it in a dry, cool, and clean area.
Conclusion
The JOROTO IW9-PRO Folding Treadmill is a home and office exercise machine. Its operation is quiet and smooth, thanks to the 1.5 horsepower (3 maximum horsepower) motor that provides a 0.6 mph-9 mph speed range. It supports a maximum user weight capacity of 260 lbs./118 kg.
The console features 12 preset workout programs and countdown goals for Time, Distance, and Calories.