HRM Reviews are focused on the best heart rate monitor watches that could be handy when you are working out. Especially if you are an outdoor kind of person that loves to exercise by jogging/running, this is a perfect device for you. This will help you to monitor your heart rate effortlessly…I guess you already know that.
Who wouldn't monitor his/her heart rate while exercising? Working out in your target heart rate level will help you get the most out of your workouts. Therefore, if you aren't using cardio equipment that usually comes with a heart rate monitor, then it is necessary and imperative that you get one of these best heart rate monitor watches.
What Makes These Watches Handy
HRM reviews provide you with the best heart rate monitor watches because of their simplicity and easy to use nature. You don't have to struggle with a device while working out because that could be distracting, but using any of these watches will make your workout and monitoring your heart rate so easy, even as you get to gain better results.
The heart rate monitor watch is handy because you simply tie the chest trap which serves as a transmitter on your chest and a watch on your wrist that connects to the chest strap wirelessly. By so doing, the wristwatch will collect data from the chest strap about your speed, distance, and location, even as it displays your heart rate too.
However, some models have options where you are required to enter your weight and height to better customize your information, isn't that great? There is also the need for interested persons to look for models that have a good memory capacity, ability to measure a different variety of heart ranges and that have long battery life.
Maximum Heart Rate While Exercising
I deem it necessary to chip in the recommended maximum heart rate while exercising. And using a heart rate monitor such as this will help you know when you have reached your level. Doctors have recommended that one should exercise at 60 to 80 percent of his/her maximum heart rate. To reduce the risk of cardiovascular issues or musculoskeletal injuries. It has become imperative that you observe the level of your heart rate while exercising.
Speaking of musculoskeletal injuries, I suggest you check out the best shoes for men and women, because if you aren't exercising with the right shoes that could impede your exercise goals and could cause unnecessary injuries too.
Now you may be wondering how to determine or calculate your maximum heart rate, right? It is simple; this is the formula. Subtract your age from 220 which would be equal to your maximum heart rate.
With so many varieties of heart rate monitor watches in the market, deciding on which one to buy could be very difficult and confusing, especially if you don't have prior knowledge of them. But HRM reviews article is about to give you pointers on the best heart rate monitor watches.
The Suunto Quest is regarded as one the best when it comes to the heart rate monitor watch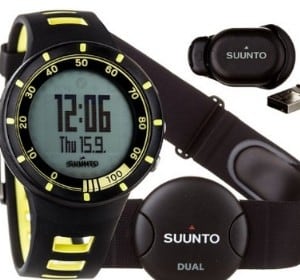 device. It has heart rate accuracy and extras compared to many others. One of its unique features is that it enables the user to set up an online exercise tracking account on Movescount.
It does not only monitor your heart rate but also gives you feedback on calories burned, distance, and duration of workout too. And you can easily upload all this information to the account you set up on Movescount.
However, you have to buy the GPS pods for distant tracking separately upon buying this device. Suunto Quest has an amazing memory size that can store up to 1000 laps.
Features
It has a large face and an impressive design that the reviewers rated it the 4 stars. It has 4 optional backlight colors to select from (black, orange, blue, and yellow). Also, it is worth mentioning that it is easy to set up the Movescount.
Support
Their website support is awesome too, which includes manuals, tutorials, FAQs. There is a helpline available to U.S customers 24/7. Device bought from the manufacturer comes with a two-year warranty
Cons
One downside about the Suunto Quest is that it does not alert you when you have entered your target heart rate level.
Next to our first in the list is the Polar RS300X heart rate monitor watch. The company has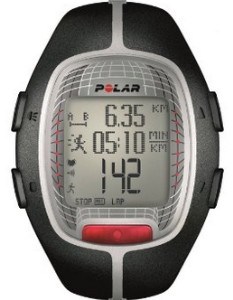 other models such as the Polar RS100 which was rated #1 out of the top ten back in 2013. And now, they have produced yet another that has got the recommendation of users, because it can alert you when you enter your target heart rate zone. Something that is not possible with the Suunto Quest. You will also get an alert when the battery is at a low level.
Features
It has a battery lifespan that is expected to last for two years which is also longer than most heart rate monitor watch devices. It has a beautiful and lightweight design that would appeal to most athletes. Nevertheless, just like the Suunto Quest, it requires additional accessories to be able to transfer data to another device. If you don't get these accessories, then your data will remain on the watch. It can store up to 99 laps of data at a time.
Support
The company has email and telephone support available to its customers, while manuals and FAQs are also accessible on their website.
Cons
The only downside is that its battery has to be inconveniently replaced at a service center.
Garmin Forerunner 15
#3 on our list is Garmin Forerunner 15 which has an inclusive GPS in the package when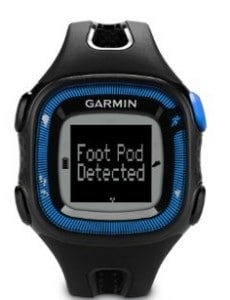 purchased because many other devices require additional accessories to be purchased separately to track location, distance, and pace but not with the Garmin Forerunner 15. It comes with a USB cable that will enable you to transfer data for later reference and you can also recharge the device via the USB cable.
Features
The GSP feature can be turned off when not needed to save battery life. Whereas it has a beautiful, bold, and simple display that exhibits calories burned estimator and personalized heart rate zones.
Support
Garmin has manual, FAQs supports, and contacts for technical support. And they usually sell their watches with a one year warranty.
Cons
It has limited storage that keeps data from only 7 laps.
Conclusion
Being an athlete myself and who has a thing for physical fitness and well-built body I recommend anyone that is not using equipment that has heart rate monitor device on it, to consider any of these outlined heart rate monitor wristwatches because they will be a boost to your workout objectives and for safety purposes.
I hope I have been able to give you some pointers as to which device to buy.
Do not hesitate to leave your comment, contribution, or question in the comment box below.