The HARSION B5 Upright Magnetic Bike is the 2.0 of the B7 or vice versa. The reason is that they both share a lot in common in terms of features, except for the fact that the B7 has more resistance levels than the B5, but the latter's handlebar is adjustable, and the former's is not.
There is a comparison table below for more clarification regarding the features of the two models.
The HARISON B5 is designed for home use and it has a maximum user weight capacity of 300 lbs./136 kg.
Its operation is quiet and smooth due to the belt drive and the magnetic resistance system. It is suitable for beginners and intermediary fitness level users, whose goal is to improve or maintain their overall physical fitness.
Click right here to have a peek at the price and of the HARISON B5 Upright Magnetic Bike on Amazon.
Table of Comparison
| | | |
| --- | --- | --- |
| | B5 | B7 |
| Drive | Belt | Belt |
| Resistance | Manual Magnetic, 8 Levels | Manual Magnetic, 14 Levels |
| Weight Capacity | 300 lbs./136 kg | 300 lbs./136 kg |
| Inseam Capacity | 23.6"-36.7" | 23.6"-36.7" |
| Seat | 4-way adjustable | 4-way adjustable |
| Handlebar | Multi-grip, adjustable | Multi-grip, nonadjustable |
| Pedals | Anti-slip with adjustable strap | Anti-slip with adjustable strap |
The Frame and Construction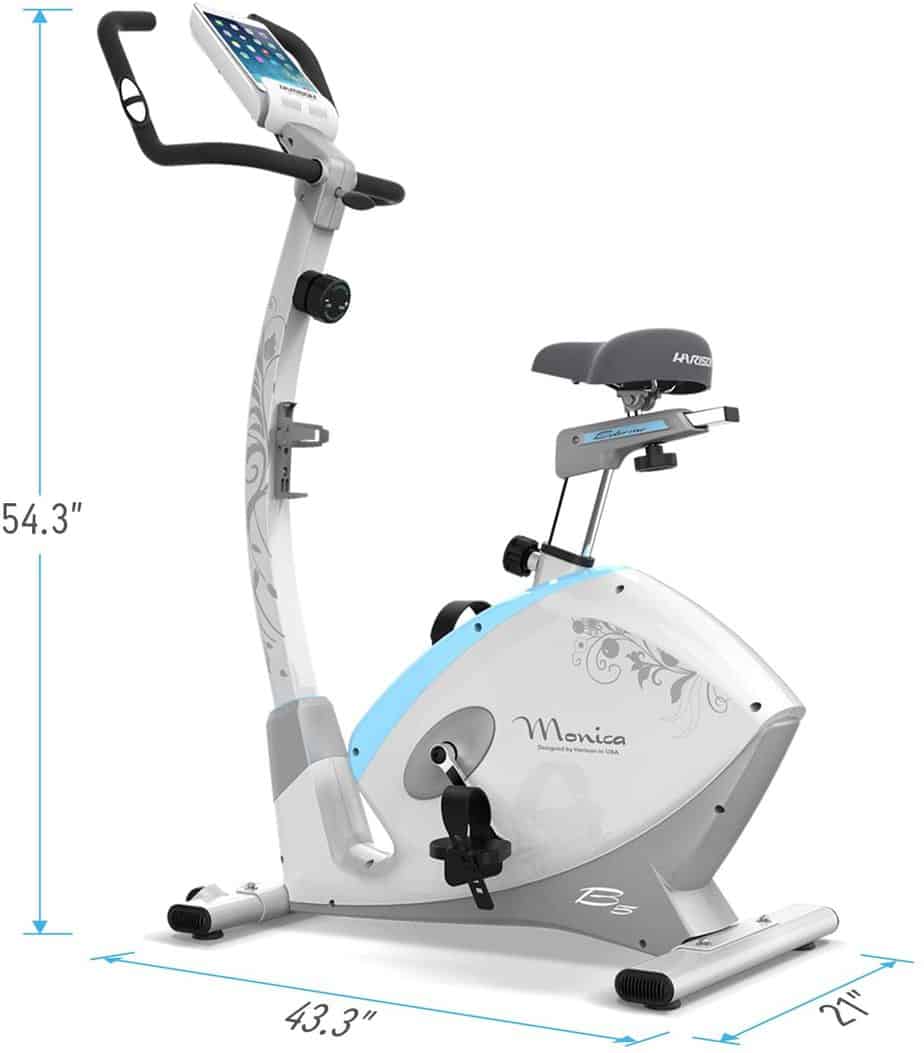 The HARISON B5 Upright Magnetic Bike's construction is made up of steel and ABS material. The frame is made of heavy-duty steel while other parts such as the drive/resistance system casing, the console covers, and the external part of the pedals are made of solid plastic.
Of course, the seat post is chrome-plated.
All the steel parts are finished with anti-corrosive/scratch paint to preserve them from unfavorable environmental effects.
Thus, its quality is backed by Standard Global Services (SGS) certification and safety assurance.
Most upright bikes are space-friendly, meaning they usually have a small footprint, and the HARISON B5 Upright Magnetic Bike Monica is no different. Its overall assembled dimensions are 43.3'' long by 21'' wide, by 54.3'' high when it's fully adjusted, while its footprint dimensions are 38'' L x 21'' W x 52'' H.
So, it is going to need a workout area with perimeters of 3'6'' length by 1'8'' width, plus extra clearance of 1-2′ at the rear and on each side of it for a safe and convenient workout experience.
Basically, it won't really overwhelm your space even though it's not foldable and it is integrated with transport wheels at the front base for an easy relocation process.
The base features front and rear steel stabilizer bars that have rubberized adjustable levelers underneath. Hence, the bike's stability is well established even on a crooked surface.
Moreover, the bike's assembled weight of 73 lbs./33 kg (while is not very heavy) further boosts its overall stability.
Its step-thru design may positively influence the elderly prospective users and those with an injury to consider purchasing the unit because they can easily mount and dismount it without any hassle.
This upright bike enables you to lose weight, tone muscle groups, improve cardio and lungs health right in the comfort of your home.
The Seat of the HARISON B5 Upright Magnetic Bike
The seat on the HARISON B5 Upright Magnetic Bike is wide, padded, with leather covering. It provides a decent comfort that gets you across the workout session finish line.
It is 4-way adjustable; meaning it could be adjusted vertically (upward/downward) and horizontally (fore/aft). In other words, it could be adjusted for height and proximity to the handlebar so that it will be suitable for users of different heights.
Due to the seat's adjustability, the bike accommodates users with inseams of 23.6''-36.7''. Simply put, it's likely that 4'7'' – 6'3'' tall users can find it suitable.
If you ever wish to improve the seat's comfort level, you might use a gel seat cover or even replace it entirely with another saddle that can be found online or in your local bicycle shop.
The Handlebar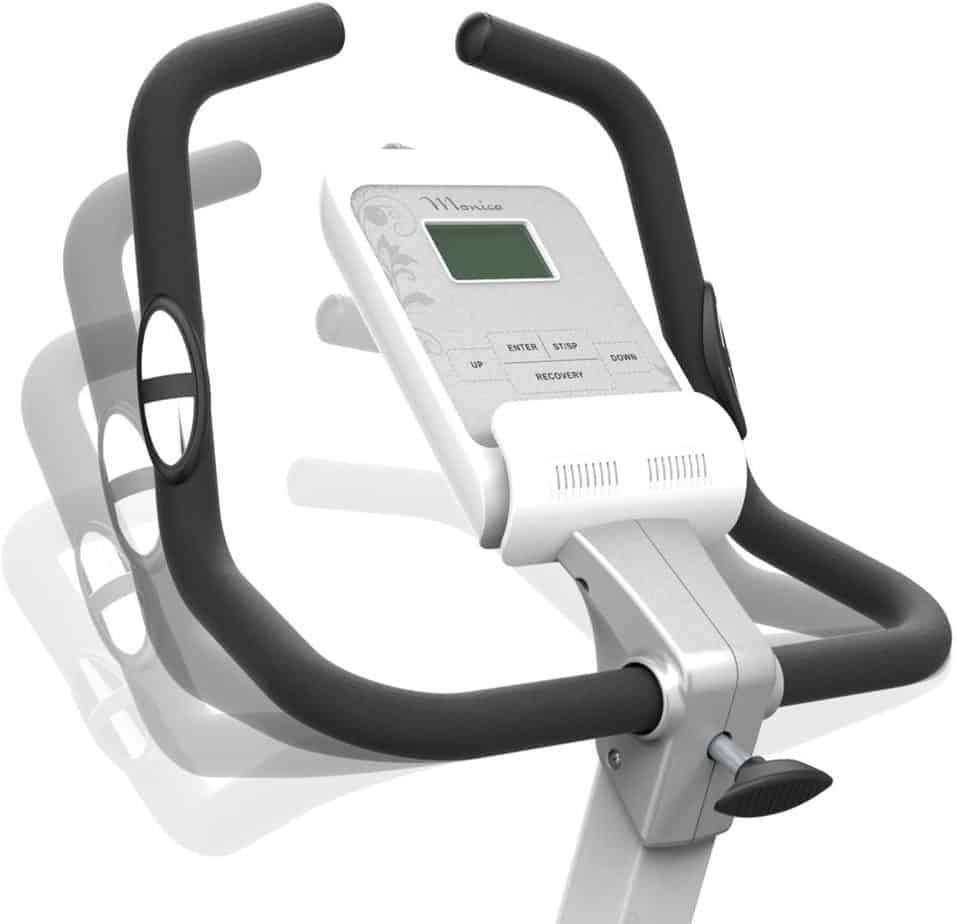 The Monica HARISON B5 Upright Magnetic Bike is integrated with a handlebar that could be adjusted 360 degrees. This enables you to adjust for an optimal riding position.
It is also coated with anti-slip soft rubber foam that provides comfortable and secure grips. Therefore, you can work out longer without experiencing slippage or soreness in the palms.
The ergonomically designed handlebar offers multiple grip positions for different workout postures.
The EKG HR sensors are also incorporated into it so that when held during a workout the heart rate will be read and be transmitted to the display screen.
The Pedals
The upright bike has standard and simple pedals with adjustable safety straps that secure the feet comfortably.
They are made of durable plastic with a metallic core, designed to be used with a pair of standard gym shoes.
The balance-weighted pedals support out-of-seat pedaling; however, it's recommended not to do that because the internal parts may be damaged.
The Drive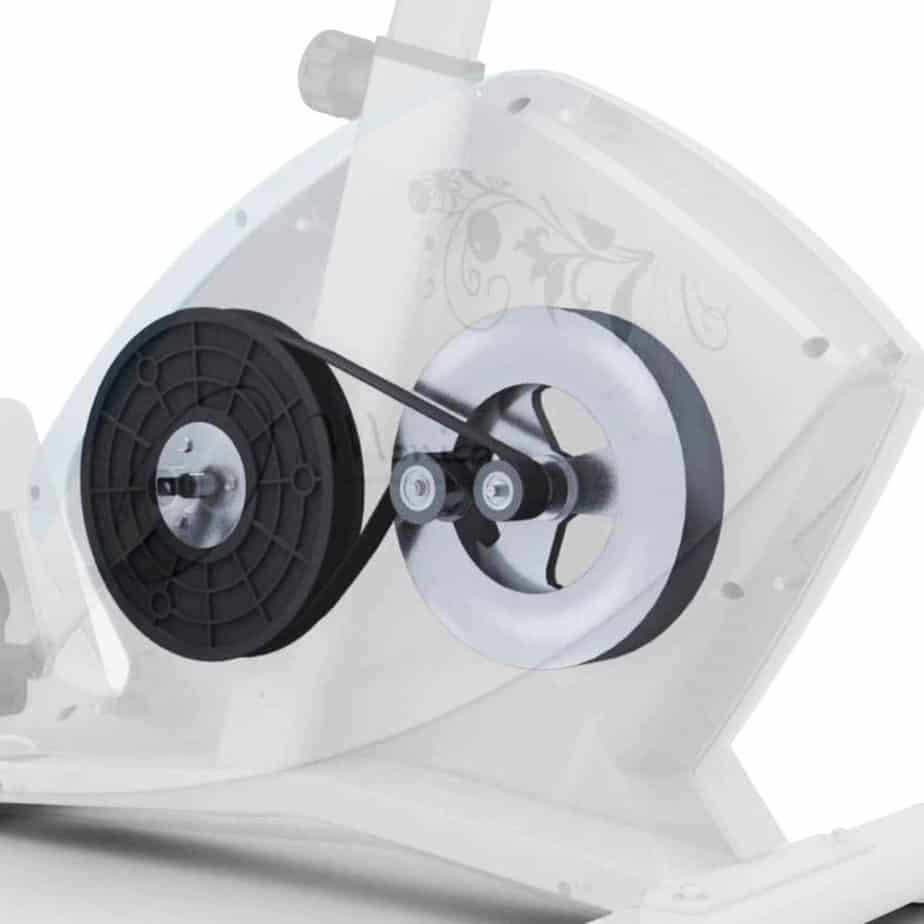 The HARISON B5 Upright Magnetic Bike has a belt drive system that consists of a durable poly-v belt, pulleys, the 13 lbs./6 kg flywheel, 3-piece crankset, solid crank-arms, and pedals.
Together, these elements provide a smooth and quiet operation that enables the user to workout at any time of the day without disturbing the family or the neighbors.
Moreover, the user can also watch a TV show or listen to music during a workout and won't warrant the volume to be raised beyond the normal range.
Another advantage of the belt drive system is the fact that it's maintenance-free, it doesn't require periodic maintenance such as lubrication or adjustment.
The Resistance
This upright bike is equipped with a manual magnetic resistance system with 8 adjustable levels that offer the possibilities to exercise your heart and lungs, to engage in advanced aerobic exercise that burns calories (lose weight), and high-intensity resistance exercise that tone the leg muscles.
The resistance system is frictionless, thus, none of its mechanisms comes in direct contact whilst generating resistance.
In other words, resistance is generated when the magnetic brake pad emits a magnetic field around the flywheel. The closer the magnetic brake pad gets to the flywheel the harder the resistance becomes and vice visa.
The tension knob which is designated on the mast within arm's reach is used to control the resistance intensity. It also bears the resistance levels – 1, 2, 3, 4, 5, 6, 7, 8 + on it; increase and decrease the resistance level by turning it clockwise or counterclockwise respectively.
The beauty of a manual magnetic resistance system is the fact that no part wears out, no maintenance is required, and no vibration is experienced when it is applied during a workout.
The Console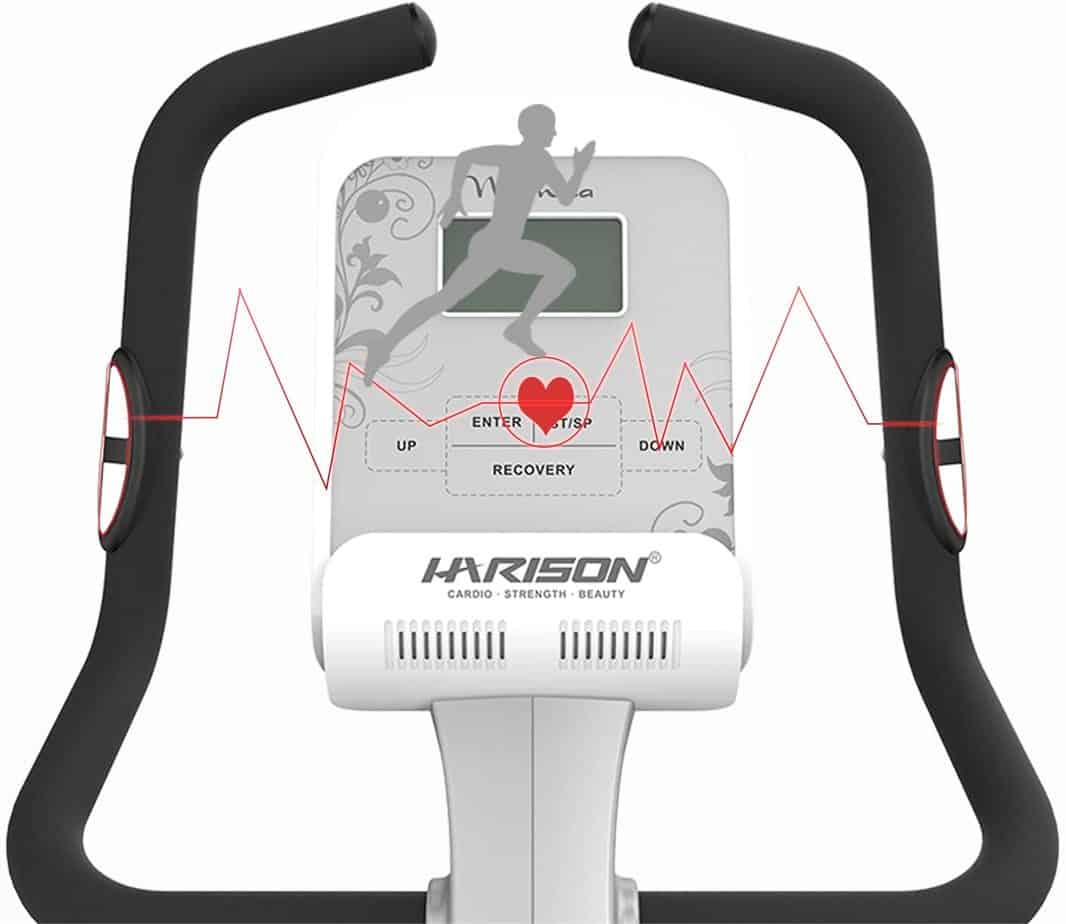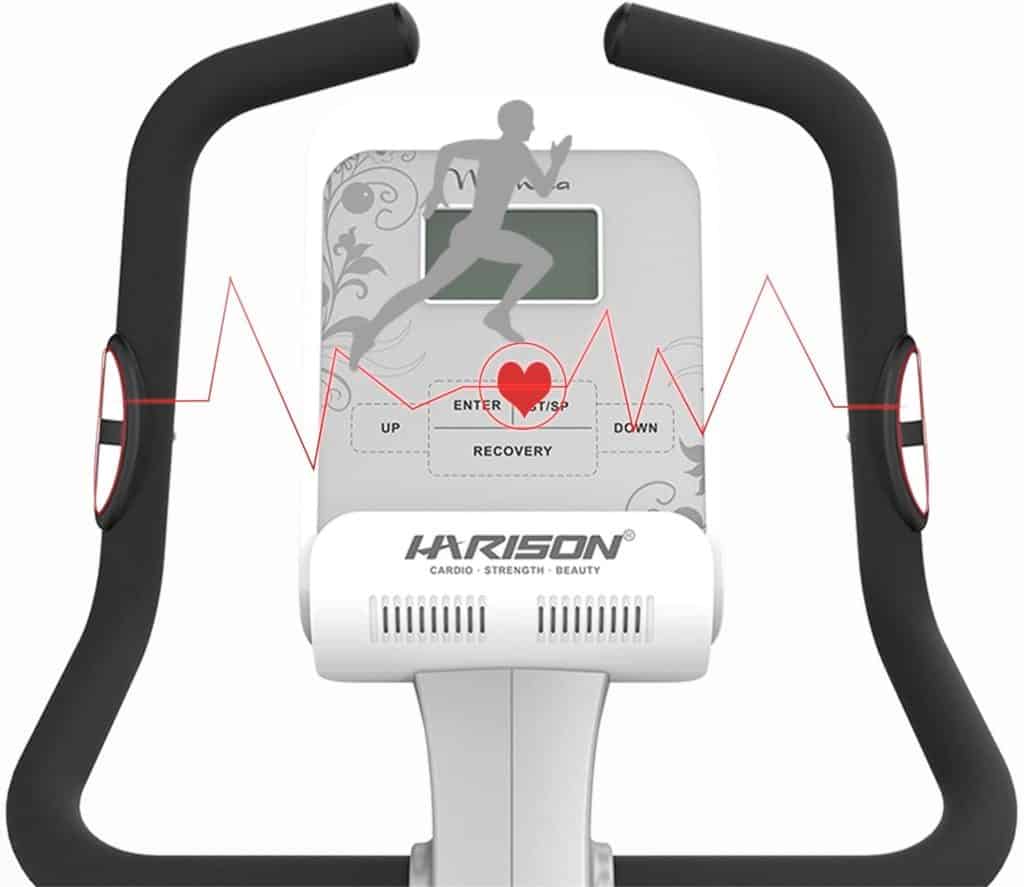 The Console on the HARISON B5 Upright Magnetic Bike is nonbacklit but easy-to-read as long as it's being viewed in a well-lit environment. It tracks and displays workout stats such as Time, Speed, Distance, Calories, RPM, Odometer, and Heart Rate.
It has a SCAN function that displays the workout stats rotationally one at a time after every few seconds because the monitor is not capable of displaying them simultaneously. So, this enables you to have a view of all the statistics regardless.
The console also offers Goal Setting for Time, Distance, and Calories, and a Recovery Function that uses the user's pulse at the end of the workout to determine the fitness rating and provides a result that is usually between F1 (excellent), and F6 (Poor).
There are a couple of navigational buttons that include Enter, ST/SP, Up, Down, and Recovery. These are relatively easy to use and they enable you to navigate through the functions of the monitor.
Now, these are what the console is not.
It's not telemetry enabled, meaning it can't connect to a wireless HR chest strap; although, it has HR contact grips for heart rate monitoring. There are no workout programs and it cannot connect to any fitness app.
The monitor is battery-powered, and in an attempt to reduce the power usage, the monitor automatically shuts down when there is no pedaling activity for a few minutes. It also automatically turns ON when the activity resumes.
Turning it ON/OFF manually via the console is possible as well.
Accessory
The Harison Monica Upright Bike has a tablet and water bottle holders.
These are relevant and essential to having an enjoyable and productive workout.
You can keep water within reach for proper hydration and also be able to entertain yourself using a smartphone or a tablet device during a workout.
However, a smartphone/tablet device that is placed on the holder may block the view of the monitor.
Storage
The unit is not foldable but it's not large either.
It is lightweight, compact, and portable.
A storage space with perimeters of 3'6'' length by 1'8'' width will suffice.
Pros/Features
It's sleek and durable
Sturdy enough to support 300 lbs./136 kg maximum user weight capacity
Robust base with adjustable rubberized levelers for outstanding stability
The multi-grip handlebar is 360 degrees adjustable
The seat is wide, padded, and covered with a breathable leather; it's 4-way adjustable
It is equipped with a drive system that provides smooth and quiet operation
The manual magnetic resistance system with 8 adjustable levels offer different range of workout intensities that improve the heart and lungs health, lose weight, and tone muscles
The unit supports users with inseams of 23.6''-36.7''
It doesn't need electricity to function, it's battery-powered
Its monitor tracks workout progress
Goal setting for Time, Distance, and Calories
Recovery function that estimates the health of your heart
The counter-weighted pedals with adjustable safety straps secure and accommodate different sizes of feet
Hand-grip heart rate monitor
Maintenance-free
Easy to assemble
A tablet holder is included
A water bottle holder is included
It doesn't occupy too much space
Cons
The monitor is not backlit
No cooling-fan
No sound system
Warranty
12 Months replacement warranty
Product Dimensions and Specifications
Length 43.3''
Width 21''
Height 54.3''
Shipping dimensions: 38'' x 11.7'' x 23.91''
Maximum user weight capacity: 300 lbs./136 kg
Net weight: 73 lbs./33 kg
Gross weight: 86 lbs./39 kg
Drive: Belt
Resistance: Manual magnetic, 8 resistance levels
Seat: 4-way adjustable
Handlebar: 360 degrees adjustable
Pedals: Anti-skid with adjustable safety strap
Suitable inseams: 23.6''- 36.7''
Heart rate monitoring: EKG contact grip
Console/Monitor: Easy-to-read nonbacklit display, tracks Time, Speed, Distance, Calories, RPM, Odometer, and Heart Rate
Recovery function
Goal setting for Time, Distance, and Calories
Frame: Steel
Flywheel: 13 lbs./6 kg
Transport wheels: Yes
Water bottle holder: Yes
Tablet holder: Yes
Shipping
The HARISON B5 Upright Magnetic Bike is shipped in a box that weighs 86 lbs./39 kg with dimensions of 38'' x 11.7'' x 23.91''.
Amazon ships it out free of charge upon purchase and get it delivered to you in a couple of days.
Assembly
The upright bike is delivered with the major components already assembled by the manufacturer.
You only need to attach other parts such as the console mast, the seat post, the front, and the rear stabilizer bars, the levelers, the seat, the handlebar, the pedals, and the console to the main unit.
The tools needed for the assembly and a manual guide are included in the package.
It takes less than an hour, to completely assemble the bike.
Maintenance
The Harison B5 doesn't require any serious maintenance task except to keep it clean at all times. Also examine it for any loose or broken parts before use.
Do not allow liquid into the console.
Conclusion
The HARISON B5 Upright Magnetic Bike is designed for home use. Designed with the necessary features to help users achieve their fitness goals.
It's compact and portable for easy storage.