If you are having a problem going to the gym or even prevented from walking or jogging outdoor because of bad weather, the Fitnessclub 500w Folding Electric Motorized Treadmill has got you covered. You can have this machine at a very affordable price along with great features that accompany it which also make your workout experience an exceptional one.
No doubt that this machine presents a good opportunity of owning one if you are really in need of a  treadmill to stay fit or lose weight and build that body, and if you are already contemplating getting one here are the reasons why you should buy the Fitnessclub 500w Folding Electric Motorized Treadmill.
Click right here to have a peek at the price of the Fitnessclub 500w Folding Electric Motorized Treadmill Amazon.
Features
Easy to read LED Display that displays time, distance, speed, calories.
Compact- It is a very compact machine that can fit even in a small apartment. If space is a problem for you then you don't have to worry about that with this equipment.
Good Deck Cushion- As with every treadmill, we all know that some do get an impact effect on their joints especially the ankles, knees, and hips but the deck of the FitnessClub 500w Folding Electronic Motorized Treadmill is well cushioned to help you recover from the workout on time.
Low Noise- It has a 500w motor with extremely low noise; therefore there is no waking up or disturbing the family or the neighbor while working out.
Foldable- It is foldable and so you can put it away for storage after workout under the bed or propped up on the wall.
Transport Wheels- For easy transport or moving around the transport wheels can be of great use.
It has got handrails that are covered with foam for comfort, safety, and balance during a workout.
It supports 250 pounds maximum user weight
Runway Dimension-75'' X 75'' X 13.5''
Overall Dimension– 47'' L X 24'' W X 46.5'' H
Package content- 1xTreadmill, 1x Twist Plate, 1x Instruction, 1x Accessory Bag.
Note- The color of the twist plate is randomly distributed in delivery, therefore it could be blue or black.
Shipping and Assembly
The shipping cost all depends on where you are buying the equipment from. Should you decide to buy from Amazon, the shipping is usually free, although it only applies to US residents only.
As for assembly, it is pretty easy to assemble together as it comes with an instruction manual that would help the user to assemble, even though the FitnessClub 500w Folding Electric Motorized Treadmill is delivered pre-assembled.
Pros
The price is what we like the most because it provides the opportunity to those that would like own one but could not because of the budget. And it is a pretty good machine for walking and light jogging, which is what it was specifically designed for. Another good thing that is worth mentioning is the product's ability to fold for storage and it is also compact. So, for those that have a space issue, that won't be a problem if they are getting the FitnessClub 500w Folding Electric Motorized Treadmill.
Cons
Some users think that the FitnessClub 500W Folding Electric Motorized Treadmill has a small runway. That's correct because it is designed for walking and light jogging. Therefore, if you are having in mind to run on this treadmill, then it won't be the best choice for you.
Conclusion
Overall rating would be 4 out of 5, and this has been the overall rating given to Fitnessclub 500w Folding Electric Motorized Treadmill by users that reviewed it on Amazon. This treadmill is worth the price but if you are looking forward to running on it then you will have to spend a little more money on another treadmill that would allow you to run.
Fitnessclub 500w Folding Electric Motorized Treadmill Review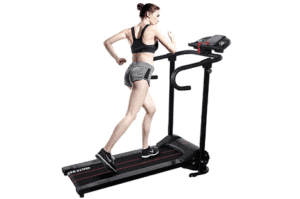 If you are having a problem going to the gym or even prevented from walking or jogging outdoor because of bad weather, the Fitnessclub 500w Folding Electric
Product Brand: FitnessClub
Product In-Stock: InStock