The Estleys 2-in-1 Under-Desk Treadmill integrates 12 preset workout programs, something most of the other similar treadmills don't have. However, it only supports 220 lbs./100 kg maximum user weight capacity as opposed to UREVO 2-in-1 Under-Desk that holds up to 265 lbs./120 kg.
Other than that, this treadmill has a structural design and features as others, many of which we have reviewed on this site.
Click right here to have a peek at the best price of the Estleys 2-in-1 Under-Desk Treadmill on Amazon
Frame and Construction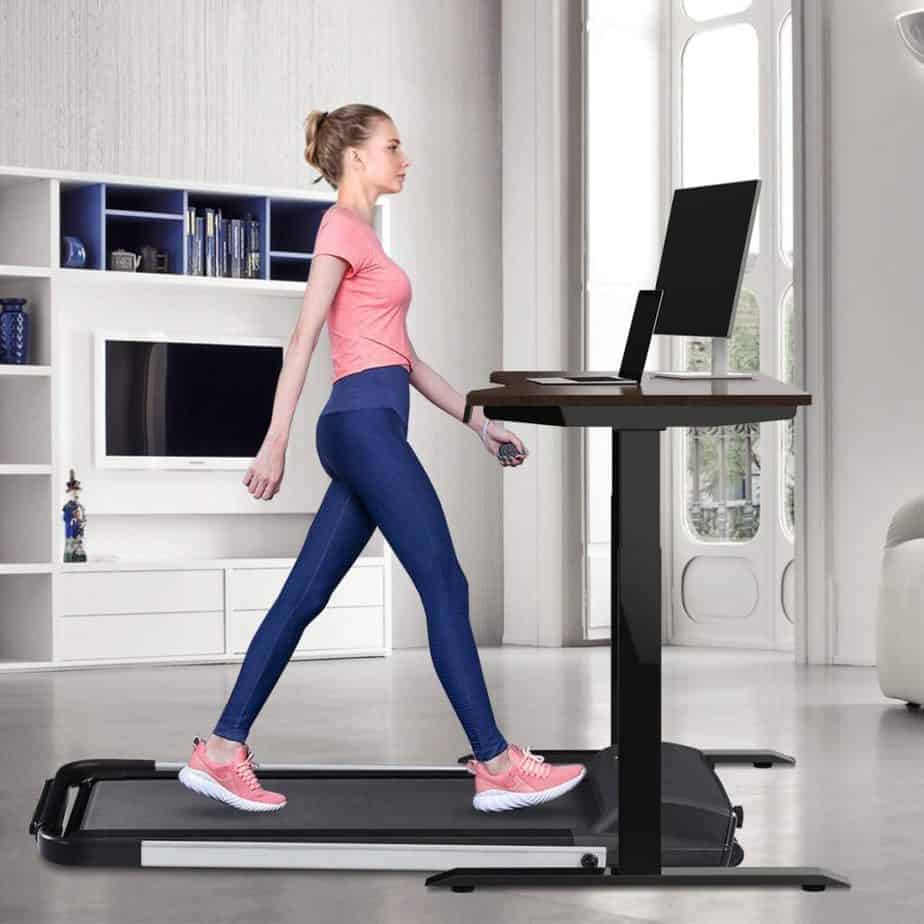 The Estleys 2-in-1 Under-Desk Treadmill is meant to be used at home and office due to its versatile, compact, portable, and space-saving design.
It could be used as a walking treadmill under a desk (when folded), and as a running treadmill (when the masts are up).
Its overall assembled dimensions are 50'' long by 27'' wide by 45'' high. As a result, it requires a workout area with perimeters of 4'16'' length by 2'25'' width, plus additional clearance of 2' around it for safety reasons.
The folded dimensions are 52'' long by 27'' wide by 6'' high. Therefore, not only can it be used for workouts when folded, but it could also be stored out of sight under the bed/couch.
Its sturdy construction comprises aluminum steel frame and other parts that are made of ABS material.
The base has anti-slip pads underneath it for maximum stability. Moreover, its (treadmill) overall weight of 62 lbs./28 kg further helps to stabilize it.
However, it requires to be placed on a platform that is even, or better still, one that has a rubberized mat to prevent any instability issue.
The transport wheels at the front base assist in the relocation process around the room or apartment a breeze.
The Deck of the Estleys 2-in-1 Under-Desk Treadmill
The deck features a 5-layer anti-slip and shock-absorbing tread belt that ensures maximum traction while working out and it reduces stress on the back, knees, ankles, and feet.
The dimensions are 15.5'' width by 40'' length, and it is pre-lubricated. However, a bottle of lubricant is included in the package for future lubrication.
The Motor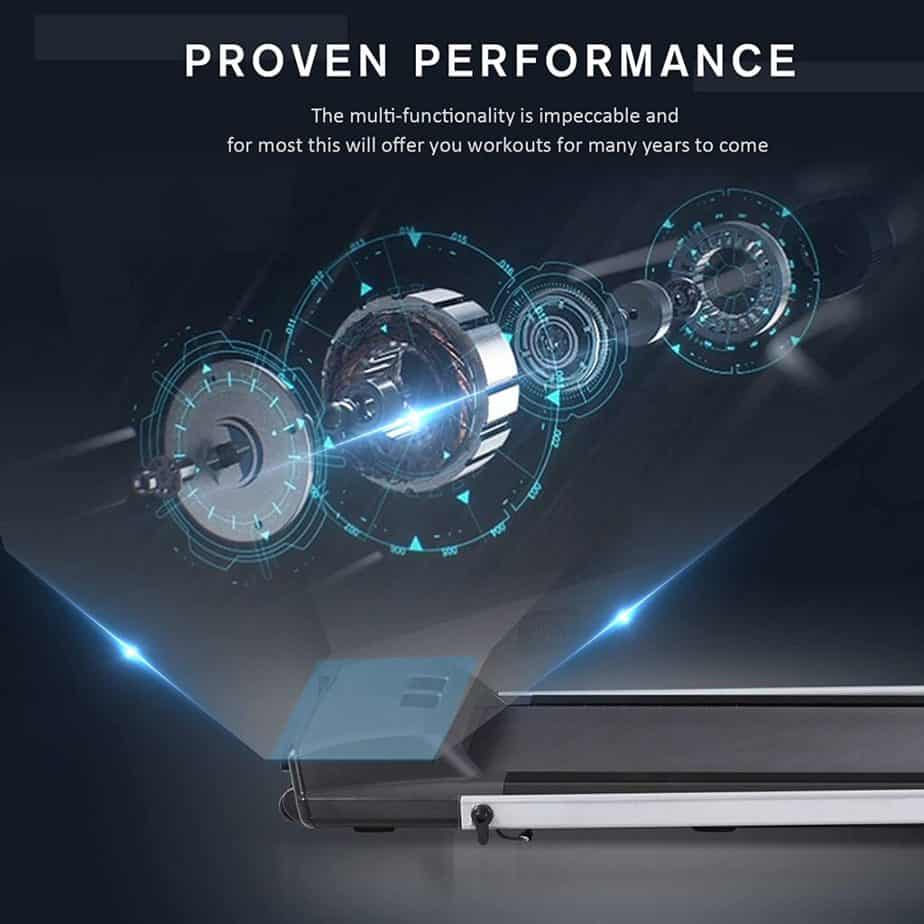 Unfortunately, at the time of this review, the motor capacity is not disclosed. But we intend to update once it is known.
Having said that, the motor's operation is smooth and quiet. Quiet enough to be used around a sleeping baby or an office full of colleagues without a problem.
It provides a speed range of 0.6-7.5 mph, but it offers 0.6-4 mph when the treadmill is in a walking mode (folded), and it can't exceed that even if you want to.
The speed can be adjusted via the 3 & 6 quick speed buttons, and the +/- gradual buttons on the console, or through the +/- buttons on the remote controller.
However, when any of the 12 preset workout programs is selected, the speed automatically adjusts to a pre-assigned speed level.
The motor is energy-efficient, and it requires to be plugged into a power outlet to be functional.
As aforementioned, the noise level is environmentally-friendly because it is quiet than the user's footfall during a workout.
Incline
No incline system.
The Console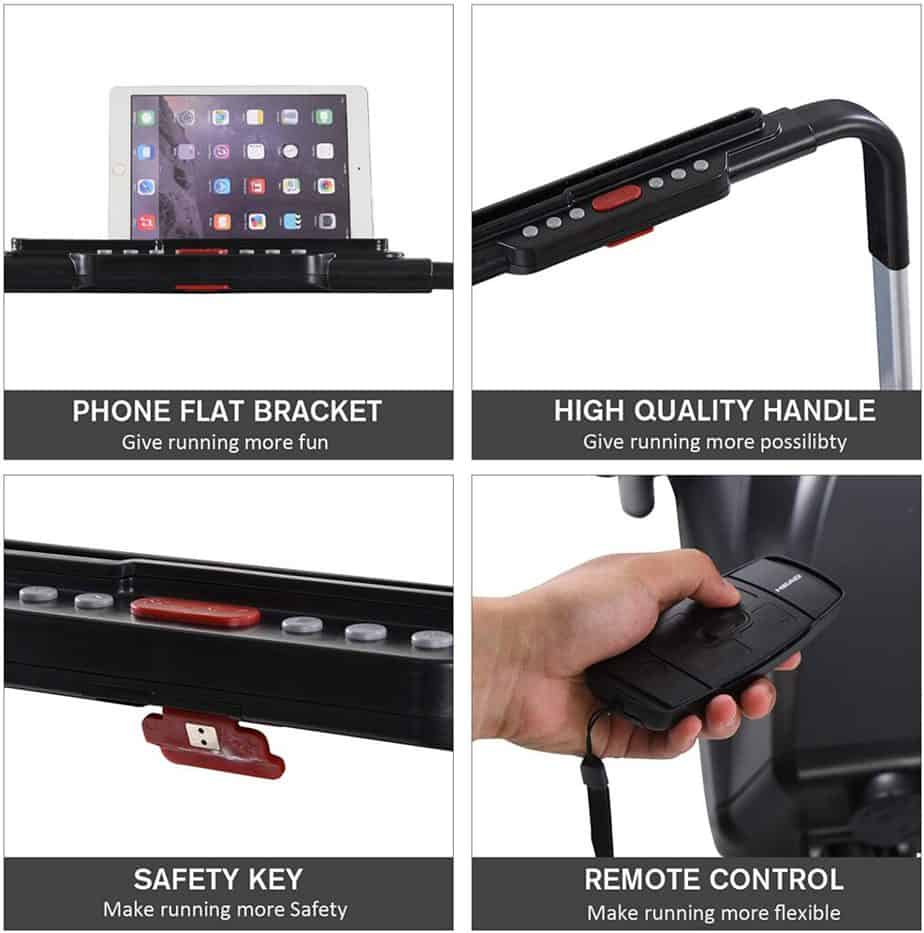 The Estleys 2-in-1 Under-Desk Treadmill has a small console that accommodate speed, program, and start/stop buttons, and an emergency key.
There are 12 workouts programs that were designed to help you to lose weight and improve overall physical fitness.
The red LED monitor is down on the front base, and it displays workout stats such as Time, Distance, Speed, Step, and Calories with good clarity regardless of its distance from the user. These data are displayed simultaneously as well.
There is nothing else that is integrated into the console other than the aforementioned.
Although, there is a tablet holder for the placement of your smartphone device. This enables you to entertain yourself and take calls as you exercise with the treadmill.
Storage
The Estleys 2-in-1 Under-Desk Treadmill has a space-saving design that allows you to easily put it away conveniently.
Once it is folded, even those with limited space won't run out of space for storage because it can be stored under the sofa, bed, or simply lean it against the wall.
The front-mounted transport wheels facilitate the relocation process around the room or apartment.
The folding and unfolding process is simple, easy, and takes no time.
Pros/Features Overview
Elegant and sturdy
Multi-purpose design: It could be used under a desk, and also be used as a conventional treadmill
It is portable, compact, and foldable: meaning it is easy to move around and it doesn't require too much space for workouts or storage
Supports a maximum user weight capacity of 220 lbs./100 kg
Its operation is smooth and quiet; suitable for home and office environment
The motor provides a speed range of 0.6-7.5 mph, and 0.6-4 mph when the treadmill is folded
The deck has about 5 layers that include wear resistance surface, sound insulation, high strength support, shock-absorbing, and compression; hence, no slipping or tripping during workouts, and your joints are protected from stress
12 preset workout programs
LED display tracks Time, Distance, Speed, Calories, and Steps
Installation-free, no assembly is needed
Maintenance requirement is very low
A tablet holder is included for entertainment purposes and taking calls
Cons
No incline system
No water bottle holder
No sound system
No heart rate monitoring
Product Dimensions & Specifications
Length: 50''
Width: 27''
Height: 45''
Folded dimensions: 52'' L x 27'' W x 6'' H
Shipping dimensions: 55.5'' L x 28.5'' W x 7'' H
Net weight: 62 lbs./28 kg
Gross weight: 75 lbs./34 kg
Frame: Aluminum steel
Maximum user weight capacity: 220 lbs./100 kg
Motor capacity: N/A
Speed range: 0.6-7.5 mph
Sped range (walking mode): 0.6-4 mph
LED monitor
Preset workout program: P1-P12
Transport wheels included
Tablet holder included
A bottle of lubricant oil included
Shipping
The Estleys 2-in-1 Under-Desk Treadmill is shipped out in a box that weighs 75 lbs./34 kg with dimensions of 55.5'' long by 28.5'' wide by 7'' high.
Assembly
The unit arrives preassembled. This means it could be used out-of-the-box without any installation required.
Simply unfold and plug it into a power outlet, and you are good to go.
Maintenance
The treadmill needs to be kept clean at all times, especially the tread belt to avoid dirt getting stuck in it.
It (tread belt) requires periodic lubrication as well to keep it in good functioning condition.
Finally, ensure to store it in a dry, cool, and clean area
Conclusion
The Estleys 2-in-1 Under-Desk Treadmill enables you to exercise for physical health improvement, especially if you work a lot behind a desk and hardly have time out for the gym.
Its operation is smooth and quiet, and it has this LED monitor that keeps you inspired and focused on achieving your fitness goals. Plus, the bonus 12 preset workout programs help you to exercise better.