The ElliptiGO arc 8 will definitely attract your attention if you are looking for a means of transportation for errands that could as well help you exercise. It is simply an outdoor exercise bike with the low impact that could help you burn tons of calories.
Professional and recreational riders will find this bike suitable.
Although, it is not entirely a full-body workout bike with moveable arms, however, it engages the core and it will surely turn you inside out by the time you are done riding it.
The bike offers an adventurous riding opportunity that is quite different from the experience you get when riding a road bicycle. It is basically fun to exercise with even as you lose weight and get around with it.
It is a two-wheeler elliptical bike that weighs about 37 pounds/16.7 kg; obviously, it is lightweight.
The frame is made up of sturdy aluminum and can support 250 pounds/113 kg maximum user weight capacity.
It is integrated with Shimano 8-speed derailleur hub that allows you to ride at 20+ mph sprinting speed on flat terrain. The wheelbase is about 52.6 inches while its total length is 72 inches. The telescoping steering column is adjustable for user's suitability or easy transportation.
The pedals are also adjustable and have protective side curves and toe cages that ensure that foot placement is comfortable and secure. However, the toe cages are not included in the package; they have to be purchased separately.
Click right here to have a peek at the price of the ElliptiGO arc 8 on Amazon.
The Frame and Construction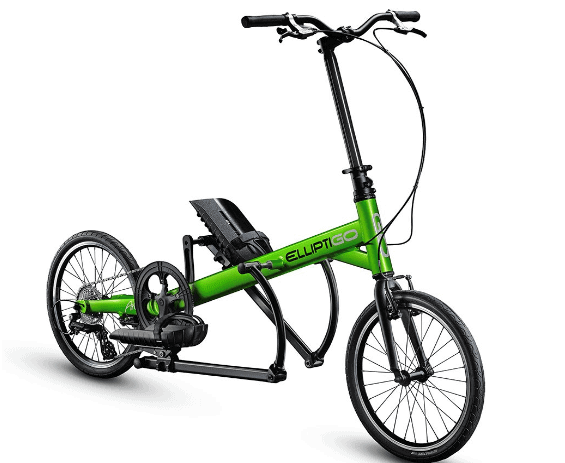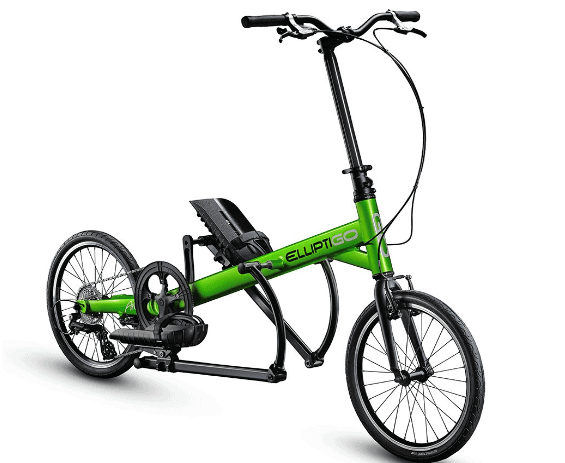 The ElliptiGO arc 8 is available in two different colors of black and green. The sleek frame is made up of heavy-duty aluminum that supports 250 pounds/113 kg maximum user weight capacity.
The bike is designed to provide a comfortable natural stand up riding position that alleviates pains on the back and the neck. It provides a comfortable low impact riding experience that makes your outdoor activities fun-filled.
As aforementioned, it is a two-wheeler elliptical bike that can still compete comfortably with 26ers mountain road bikes in terms of speed even though its wheels are 20 inches in size. It is best ridden on the paths that you walk, jog, run or bike.
Its construction provides a high riding position that makes it easier for you to see ahead of you clearly and to be seen as well.
The pedals and the steering are adjustable and these give you the opportunity to customize so that suitability will be achieved.
The ElliptiGO arc 8 is a compact and lightweight bike that is very handy and easy to transport around.
It has a total length of 72 inches and a wheelbase of 52.6 inches and weighs about 37 pounds/16.7 kg.
The Handlebars and the Pedals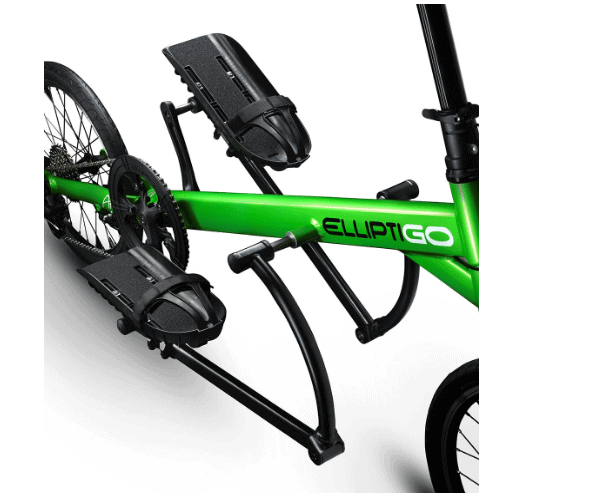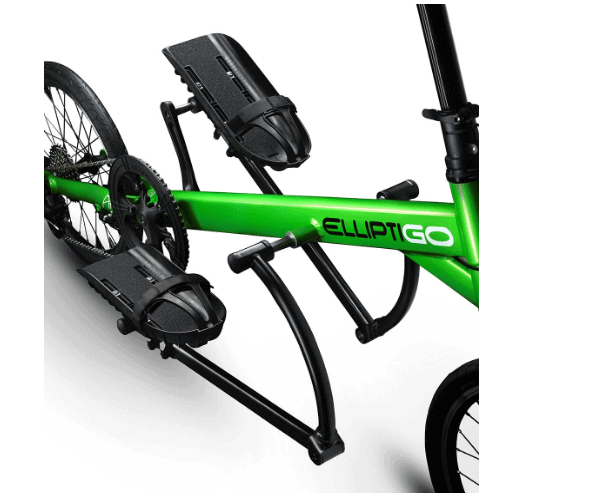 The handlebars are ergonomically designed to provide optimal comfortable and secure grips.
The telescoping steering column features a simple quick-release lever that allows you to adjust the height to a suitable position fast and easy. This means that riders of different heights (4'10''-6'10'') will be conveniently accommodated.
The pedals, also known as the foot platform pivot and are adjustable. Each of the pedals pivots independently and can be adjusted backward and forward between 9.4''-11.8''. Therefore, you can easily adjust to customize the height of your pedaling stride that is best for you.
The pedals have about 13.8 inches stride length; even though it is compact it still provides a fast and effective cycling experience.
The foot platform is also curvy in design providing protective borders that secure the foot for optimum safety. There are toe cages as well that further secure the feet and allow the rider to enjoy a comfortable ride. However, these toe cages are not included in the package, they must be purchase separately.
The Drive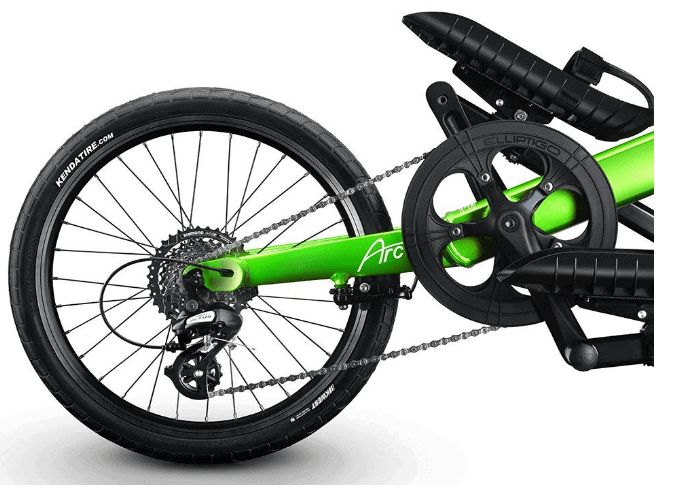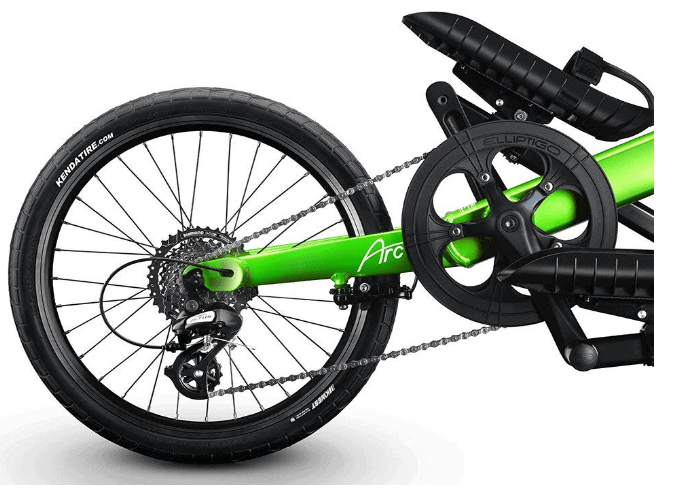 Being an outdoor elliptical bike, the ElliptiGO arc 8 features a chain drive system that consists of the chain, the sprockets, the crankset, the crank-arms, and the pedals.
This provides a road bicycle feel except that its riding effect is low-impact with little or no stress on the knees and the ankles.
However, it is going to require periodic maintenance in order to keep it functioning well. Part of the maintenance would be the lubrication of the chain and perhaps adjustment as well. A maintenance chart is included in the Owner's Manual for complete guidance.
One more thing, the ElliptiGO arc 8's drive system is just like the regular bicycle therefore, you can coast on it, stand and look around and perhaps smile back at people.
Resistance
The ElliptiGO arc 8 is equipped with a Shimano 8-speed derailleur hub that in other words provides 8 gears that offer 8 resistance levels suitable for professional and recreational riders.
The bike offers a cruising speed of up to 12 mph and up to 20 mph sprinting speed. The 8-speed gear makes the ElliptiGO arc 8 to be able to climb steep hills up to 20-30%. grade.
The 8-speed simply helps you to navigate through hilly, sloppy and flat terrains even as your heart rate is raised and tons of calories burned.
Console
There is no console or monitor integrated into the ElliptiGO arc 8. To be able to keep an eye on your heart rate you may purchase an external pulse monitoring device and there are a lot of good ones out there.
Accessory
The ElliptiGO arc 8 doesn't have any accessory on it. The accessory such as the water bottle holder is a must-have because that allows you to keep water handy in order to stay hydrated.
You may also purchase other accessories alongside the water bottle holder such as storage bag for phone, keys, etc, and repair kit bag. Compatible ones can be found on Amazon.
Storage
The ElliptiGO arc 8 is a lightweight (37 pounds/16.7 kg) bike with a total length of 72 inches/6'. It can easily be carried to the storage location.
The steering column and the front wheel can also be removed for easy storage.
Best places to store would be in the garage or under the staircase.
Approval Rating
The ElliptiGO arc 8 has several Amazon customers' reviews that are positive. There are also quite a number of positive reviews of it on their website which suggests that the users are not disappointed with their purchase and investment.
As a matter of fact, at the time of this review, the ElliptiGO arc 8 has a very impressive approval rating on Amazon.
Pros/Features Overview
It has a sturdy build that supports 250 pounds/113 kg maximum user weight capacity
The Telescoping Steering Column is adjustable to accommodate different sizes of riders and to also make transporting it in a vehicle easy
The drive provides a smooth ride and allows you to coast
The bike is equipped with 8-speed Shimano derailleur for easy and challenging resistance levels
It can climb steep hills up to 20-30% grade
The speed provides up to 12 mph for cruising and up to 20+ mph sprinting speed on a flat terrain
The pedals can be adjusted forward and backward and can also pivot
It has a high design that increases visibility
It does not only exercise the lower body but also engages the core
It burns more calories than a regular road bike
Easy to assemble
Low maintenance
Cons
It doesn't exercise the arms and the back like an elliptical bike with moveable arms does
No basic accessory such as a water bottle holder
Toe cages are not included in the package
The stride length is shorter at 13.8''
Only for outdoor use
Product Dimensions and Specifications
72'' Length
52'' Wheelbase
Weight: 37 pounds/16.7 kg
Supports 250 pounds/113 kg maximum user weight capacity
Resistance/Speed: 8-speed/resistance levels
Drive: Chain
Climbing activity: Climb steep hills up to 20-30% grade
Adjustable Telescoping Steering Column
2-wheel platform
Shipping, Assembly, and Maintenance
Shipping
The ElliptiGO arc 8 is shipping in a box that weighs about 50 pounds/22.6 kg, with dimensions of 63 inches by 27 inches by 19 inches.
The shipping cost is added to the product's price.
Assembly
The ElliptiGO arc 8 is pretty easy and could be done without the use of any tool, but of course, you are going to need a bike pump.
An instruction manual on how to get it done is included and there is also an assembly video that could walk you through the process of assembly nice and easy.
The total assembly time might be around 30 minutes, more or less.
Maintenance
Just like the regular road bike, the ElliptiGO arc 8's chain will need to be lubricated periodically and perhaps possible adjustment as well.
The manufacturer has made it all easy as they include in the Owner's Manual a maintenance chart that will guide you on what to do.
Conclusion
The ElliptiGO arc 8 is described as a full-body workout bike; well, that is to an extent because it doesn't engage the entire upper body muscle groups as it does the lower body muscle groups.
That said, it is still a very good outdoor elliptical bike that provides transportation even as it helps you to improve your overall well being.
It has got a couple of features that make it stand out and it has got popularity as well.