The BCAN Folding Exercise Bike is a modern bike with a unique design that features a high-quality steel frame. It is a semi-recumbent folding upright bike that supports a maximum user weight capacity of 330 pounds/149.6 kg.
It is not only affordable but also compact and portable with a space-saving design that ultimately allows the user to easily move from one location to another and also save a lot of space. In other words, handy will be appropriate for describing how possible it can be moved from home to the office space.
Its infinite magnetic resistance system provides a variety of workout intensities that are suitable for users of different fitness levels who wish to attain fitness goals such as losing weight, muscle toning, improving cardiovascular health and strength.
The folding upright bike is awesomely accommodating. Officially, it's stated that it can accommodate users between 4'8''- 6'2'', but a 6'4" user claims to utilize it comfortably.
It is integrated with an LCD monitor that keeps the user motivated and focused by keeping track of the workout progress which includes the heart rate as well.
Overall, the unit is popular among its users and they appear too enthusiastic about it.
Click right here to have a peek at the price of the BCAN Folding Exercise Bike on Amazon.
The Frame and Construction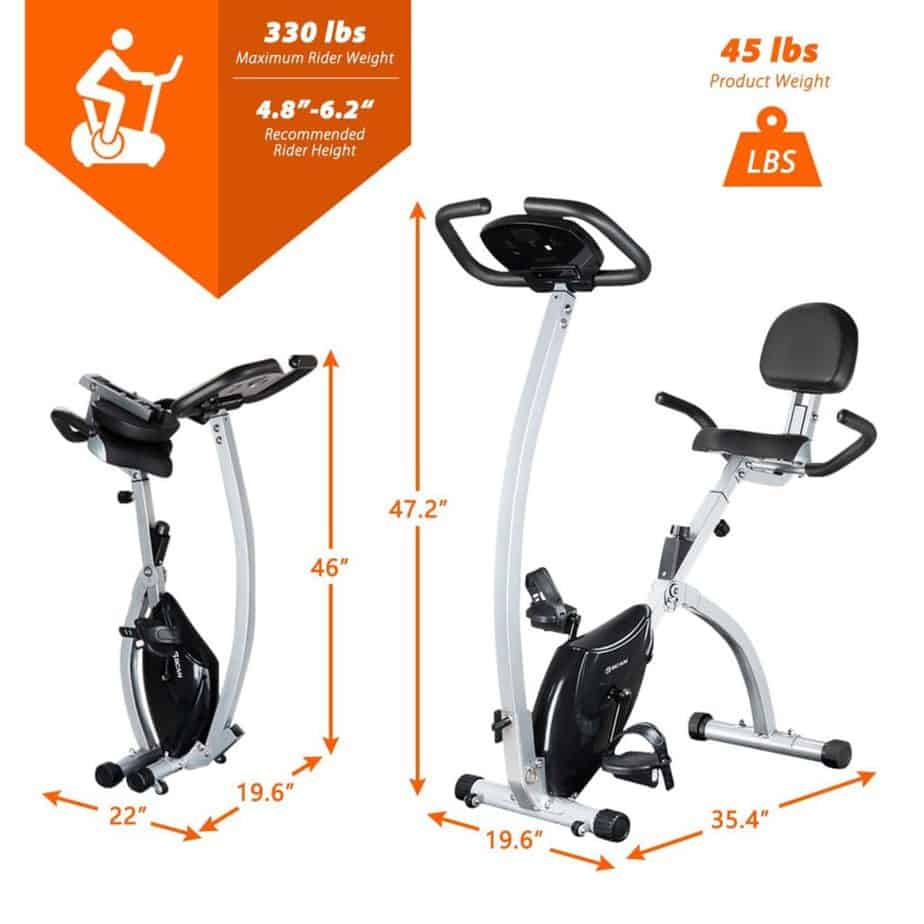 The BCAN Folding Exercise Bike with model number BC-EB001-FBA has a high-quality structure that features a 2mm thick steel frame. The bike also has an arc-shaped design that makes it look unique and different from the regular folding upright bikes.
The drive shroud is made of ABS material.
The bike also has an easy step-thru design which will be highly appreciated especially by those with injuries, joint pains, and the elderly. Anyone can easily mount and dismount the bike without a hassle.
Yet another prominent feature would be the compactness and its foldability. The bike does not take up much space due to its compact design and it even takes lesser space when folded for storage.
The overall assembled dimensions of the bike are 35.4'' long by 19.6'' wide by 47.2''. Differently put, the workout area perimeter required would be 3' long by 1'7'' wide. However, it might be necessary to consider adding extra clearance of 1-2′ around the bike for a safety and comfortable workout experience.
The bike's dimensions when folded are 22'' long by 19.6'' wide by 46'' high. It's pretty easy to fold it up and move it to storage using the integrated transport wheels at the front base.
The unit has an amazing stability despite the fact it's compact. The base framework is partly responsible for this, which features rounded front and rear steel stabilizer bars with a rubber cap on each end.
The lightweight bike weighs 45 pounds/20.4 kg which may be insignificant but nevertheless boosts its overall stability.
The Seat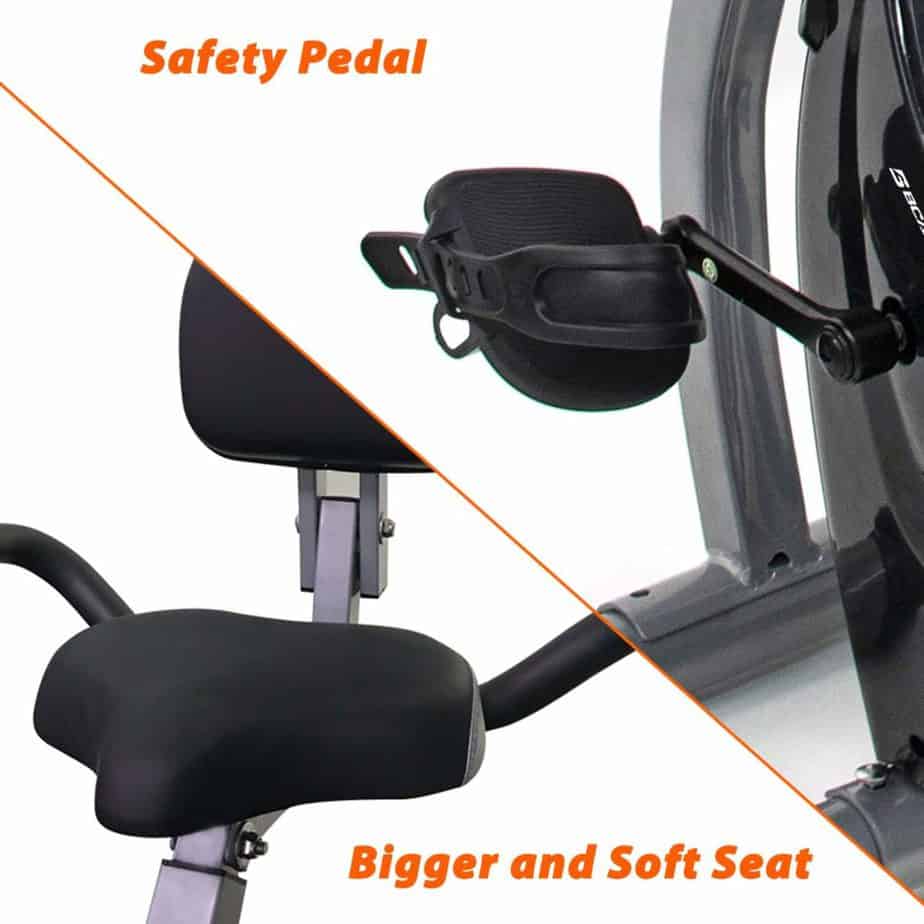 As aforementioned, the BCAN Folding Exercise Bike is equipped with a seat and a backrest that is adequately padded. Hence, they provide comfort and back support that enable the user to work out longer and pedal aggressively.
The foam-covered handlebar on each side of the seat also provides support when performing the sit-back pedaling, complementing the backrest for more aggressive thrust.
That said, the backrest is short and not as long as the one on the WORKFIT 1000 Desk Semi-Recumbent Bike and so, it supports only the lower back as against the entire back.
The seat is 2-way adjustable (upward/downward). Although, the seat also goes closer or farther away from the handlebar as it's being adjusted upward/downward due to the position of the seat's post. In a nutshell, the seat horizontally adjusts when it's being adjusted vertically.
Contact the seller for a replacement if the seat gets bad.
The Handlebar
The handlebar has a rectangular multi-grip-shaped design that offers a variety of handle positions for different workout postures. It is also padded with a soft foam that provides comfortable and secure grips that prevent blisters and slippage.
The handlebar is non-adjustable but it's optimally positioned to be suitable for users of different heights and sizes.
The EKG heart rate sensors are embedded into the hand handlebar for the transmission of the pulse rate data when held during a workout. This enables the user to monitor and maintain the target heart rate zone.
The Pedals
The BCAN Folding Exercise Bike is equipped with the standard anti-skid pedals with adjustable straps. These pedals are commonly found on the folding bikes, upright bikes, and the recumbents bikes.
They allow the user to securely and comfortably pedal barefoot or with a pair of standard gym shoes. The BCAN Folding Bike is not a spin-bike and therefore it is not appropriate to have or expect clip-in pedals on it.
The Drive
The BCAN Bike operates smoothly and quietly due to the integrated belt drive system that consists of elements such as the 3.3 pounds/1.5 kg precision-balanced flywheel, a durable belt, solid crankset, crank-arms, pulleys, and pedals.
Using the bike while watching TV or listening to music is completely doable and there won't be the need to raise the volume beyond the normal range.
Moreover, you can work out without the apprehension that the family or the neighbors could be disturbed or bothered by your workout activities.
No post maintenance such as lubrication or adjustment is needed.
The drive is bidirectional, therefore you can pedal in reverse if you wish to.
The Resistance
The manual magnetic resistance system incorporated into this bike also boosts the bike's overall performance.
For instance, when the resistance is engaged no noise or vibration is experienced.
Just as with the drive system, no maintenance is required as well. The reason is that the magnetic brake pad emits a magnetic field around the flywheel in order to generate resistance without the two elements making direct contact.
So, at the end of the day, no wearing part as well.
The tension knob is used to increase or decrease the resistance intensity by twisting it clockwise or counterclockwise, respectively.
The resistance level is infinite. Unlike other folding upright bikes, it doesn't have predefined resistance levels of 8, or of 10, or of 16. Simply keep on twisting either way until you find a suitable resistance intensity for your workout.
This might actually provide a level of intensity others may not provide. But that said, this doesn't offer the extremely difficult workout some advanced athletes may seek.
The Console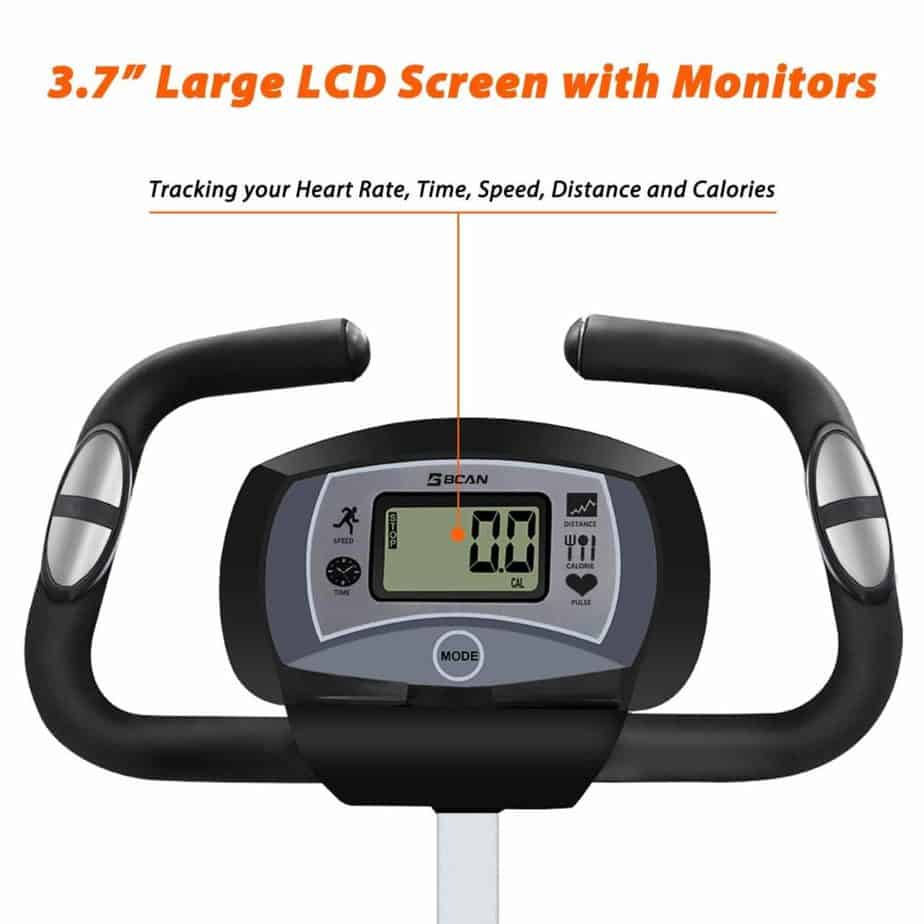 The BCAN Folding Exercise Bike has a console that features a 3.7'' LCD display screen. This tracks workout stats such as time, distance, speed, calories burned and heart rate data. Its SCAN function display data rotationally one at a time after a few seconds. The idea is to help you keep track of progress in order to make progress.
It is also possible to set a certain value of your choice to display constantly without changing.
The monitor is powered by the included 2 AA batteries, and in order to save the battery power, the display automatically turns OFF after a few minutes of no riding activity and it automatically turns ON when activity resumes.
The MODE navigational button can be used to manually turn ON/OFF the monitor as well.
Its readability is great as long as it's being viewed in a well-lit room.
Accessory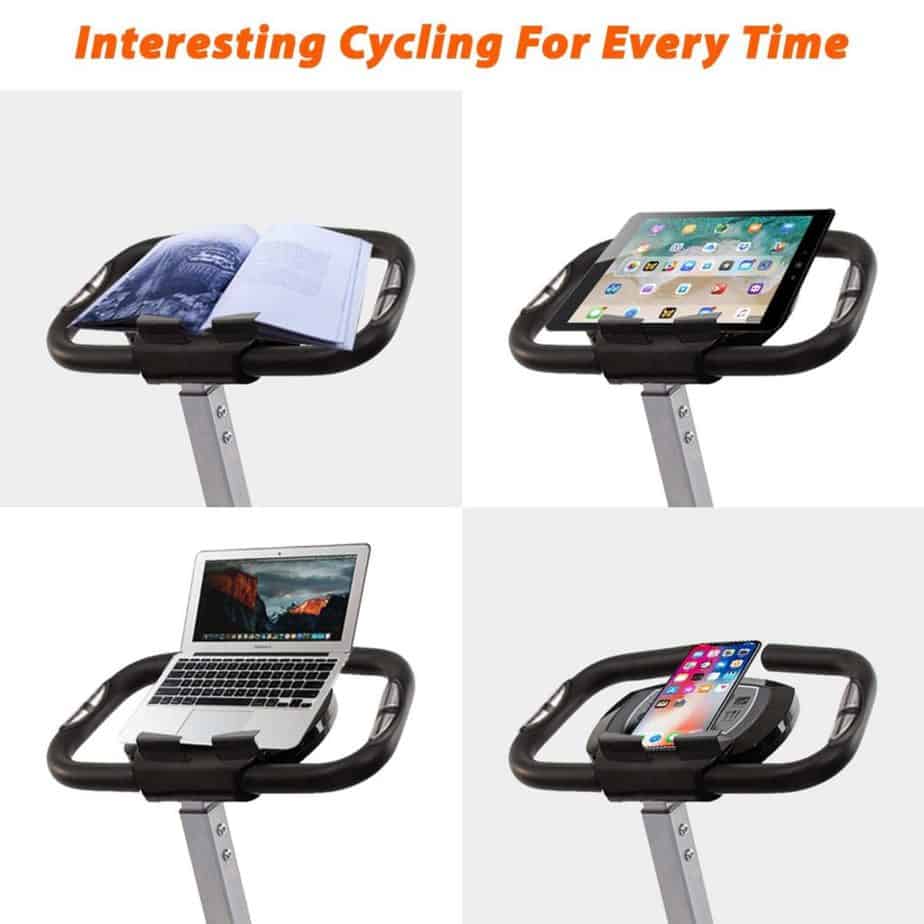 The bike only has a tablet holder designed for keeping a smartphone/tablet device handy for taking calls and for entertainment during a workout.
No water bottle holder included. Therefore, you must purchase that separately or improvise to keep water for hydration.
Storage
The BCAN Folding Exercise Bike has transport wheels, it's light, compact, and foldable. Simply put, anyone can easily fold it up and move it to storage effortlessly.
It could be stored even in a standard closet but won't fit under the bed, just in case you are wondering about the idea.
Approval Rating
The BCAN Folding Exercise Bike has favorable Amazon customers' reviews. Thus, its approval rating is pretty good at the time of this review.
Pros/Features Overview
Unique arc-shaped design
It features 2mm thick high-quality steel frame
Supports a higher user weight capacity of 330 pounds/149.6 kg
The seat semi-recumbent seat with backrest and side handles is 2-way adjustable and it supports the legs for aggressive thrust
The multi-grip handlebar is well padded and provides different handle positions
It is easy to step ON and OFF of it
The operation is quiet and smooth
The manual magnetic resistance system provides infinite resistance levels suitable for attaining fitness goals
Compact and doesn't take up space
Space-saving design makes storage easy
Transport wheels included
Tablet holder included
The pedals are strong and they secure the feet from slipping during a workout
Low-maintenance
Easy to assemble
The LCD monitor tracks workout stats that include the heart rate
Cons
No water bottle holder
The LCD monitor is basic without a backlit
The display screen gets blocked when a device is placed on the tablet holder
Warranty
12 months on Parts
30-day return without condition
Product Dimensions and Specifications
Length 35.4''
Width 19.6''
Height 47.2''
Folding: 22 L x 19.6'' W x 46 H
Supports maximum user weight: 330 pounds/149.6 kg
Handlebar: Multi-grip, non-adjustable
EKG sensors: Yes
Seat: 2-way adjustable, semi-recumbent
Resistance: Manual magnetic, Infinite
Drive: Belt
Transport wheels: Yes
Tablet holder: Yes
Frame: 2mm steel
Console: Basic non-backlit LCD monitor tracks time, speed, distance, calories burned, and pulse
Shipping
The BCAN Folding Exercise Bike is shipped in a box with dimensions of 40.7 x 17.9 x 9.5 inches and weighs 46.6 pounds.
Amazon usually provides free shipping.
Assembly
The assembly is much easier than you think.
An instructional guide is included to guide you through the process of assembly and the needed tools are also in the package.
It takes about 30 minutes, more or less to completely assemble the bike.
Maintenance
No maintenance is expected of you.
The BCAN Folding Exercise Bike is equipped with a magnetic and belt drive system.
However, you need to keep it clean before and after use. Check it carefully for any loose or broken parts before use to avoid an accident or further deterioration of the bike.
Conclusion
If you are looking forward to purchasing an affordable folding upright bike for weight loss and cardiovascular exercises, then the BCAN Folding Exercise Bike should be added to your list.
It has got the features and the quality that could enable you to realize your fitness goals.
BCAN Folding Exercise Bike Review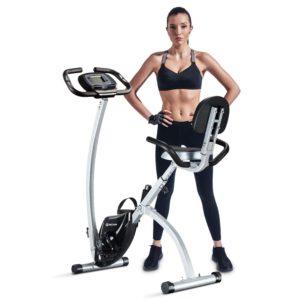 The BCAN Folding Exercise Bike is a modern bike with a unique design that features a high-quality steel frame, and 330 lbs. users can use it.
Product Brand: BCAN
Product In-Stock: InStock