The Reebok Jet 100 Treadmill is designed for home use. It enables you to walk, jog, and perform a light running exercise in the comfort of your home.
It doesn't take up too much space for workouts and its space-saving design saves more space when it has to be put away for storage.
The treadmill integrates a powerful, energy-efficient 2.0 horsepower motor that provides a speed range of 10 mph/16 km/h. Its operation is not distractive and doesn't constitute a nuisance when working out with it.

Click right here to have a peek at the price of the Reebok Jet 100 Treadmill on Amazon.
Features/Pros Overview
Sturdy, stable, and durable
It supports a maximum user weight capacity of 240 lbs./109 kg kg
It has 24 preset programs that offer a range of workout difficulty and challenge for achieving your fitness goals
Its hydraulic soft-drop mechanism saves space and makes it easy to unfold and fold for storage
It has a 2.0 motor that operates smoothly and quietly; it can speed up to 10 mph/16 km/h
It has 12 levels of electronic incline for additional workout challenges that help you to burn more calories, tone muscle groups, and improve overall physical fitness
It has a suspension cushioning surface that would be gentle on your ankles, knees, hip, and back
It has got handlebars with heart rate sensors on them, which enable you to track your heart rate at all times
It has got 2 water bottle holders for keeping water handy for the maintenance of proper hydration during a workout
The treadmill has got floor level adjustments that enable you to balance it on a surface that is not even
It has got transport wheels for easy movement around the apartment
The console features quick and gradual keys for speed and incline adjustments, program buttons, and more
It has got a crystal clear 3.5'' LCD monitor that displays the workout data such as the speed, time, distance, calories burned, pulse, incline, and heart rate
It has a device holder designed to conveniently hold your smartphone/tablet for entertainment device during a workout
It has got a cooling fan that will keep you cool through your workout session.
It has a media hub with a USB port; MP3 connectivity with speakers.
It has a running surface of 51'' x 17''
Cons
The console is not telemetry-enabled
Not suitable for serious runners
Warranty
Lifetime on frame
10 years on motor
2 years on parts and labor
Dimensions When Folded
44'' Length
35'' Width
58'' Height
Unfolded
67'' Length
35'' Width
55'' Height
It weighs about 168 pounds
Supports 240 pounds maximum user weight
Shipping and Assembly
The shipping cost of the Reebok Jet 100 Treadmill all depends on where you are buying the unit from. If you are buying from Amazon, then there is no charge for shipping because is it completely free.
However, that may not be the case when you are buying from other retailers. Moreover, delivery is made in a couple of days.
As for assembly, that is an easy part because about 90% of the parts are pre-assembled. So it won't take long before you will set up your unit and be running.
In addition to that, it comes with an instruction manual that walks you through the process of assembly, and the needed tools required are also included in the package.
Conclusion
The Reebok Jet 100 Treadmill is designed primarily to enable users to improve their physical fitness. It is also equipped with the necessary features that ensure the realization of this goal.
Reebok Jet 100 Treadmill Review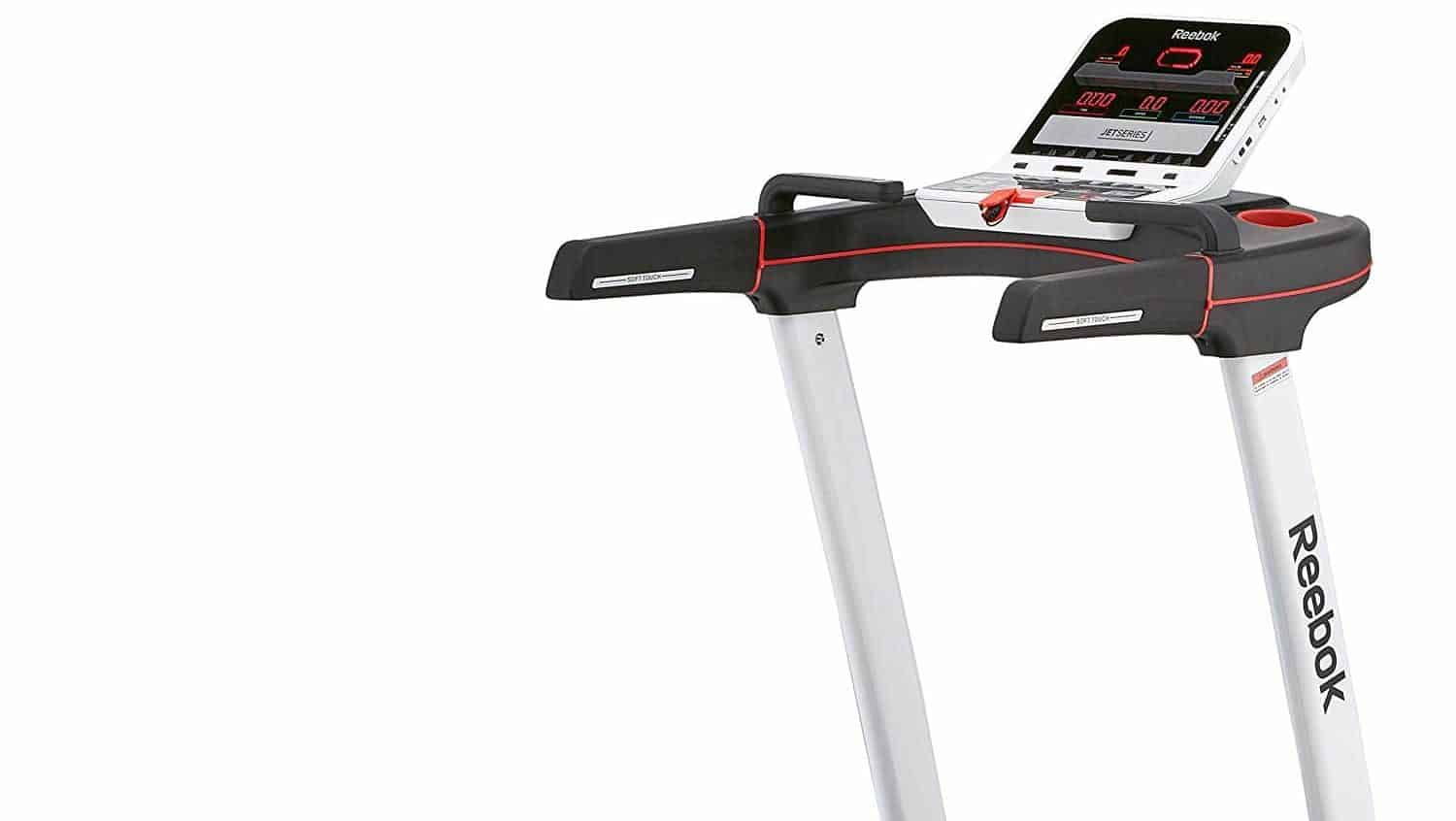 The Reebok Jet 100 Treadmill is designed for home use. It enables you to walk, jog, and perform a light running exercise in the comfort of your home.
Product Brand: Reebok
Product In-Stock: InStock