The Redliro JK1608L Walking Treadmill for Seniors and Recovery represents one of the advantages of working out indoors as against working out outdoors, especially for the elderly.
This treadmill is not your regular treadmill because it has features that help seniors to work out safely and gain balance and strength. Such features include the long side rails and multiple other handrails around the console area.
In other words, it will suffice to say that this is an affordable therapeutic exercise treadmill.
This Unit has a lot in common with the Exerpeutic TF2000 Recovery Treadmill.
If you wish to have a peek at the best price of the Redliro JK1608L Walking Treadmill for Seniors and Recovery, click here.
This machine has a user-friendly design, special features, and the ability to provide a secure and efficient workout that makes it an excellent choice for individuals in need of strengthening their muscles, building up their cardiovascular endurance, or simply enjoying a gentle exercise routine.
This review will explore the numerous benefits and features of the Redliro Walking Treadmill and why it is the perfect solution for seniors and those recovering from an injury or surgery.
Of course, we shall look at the disadvantages as well.
The Frame and Construction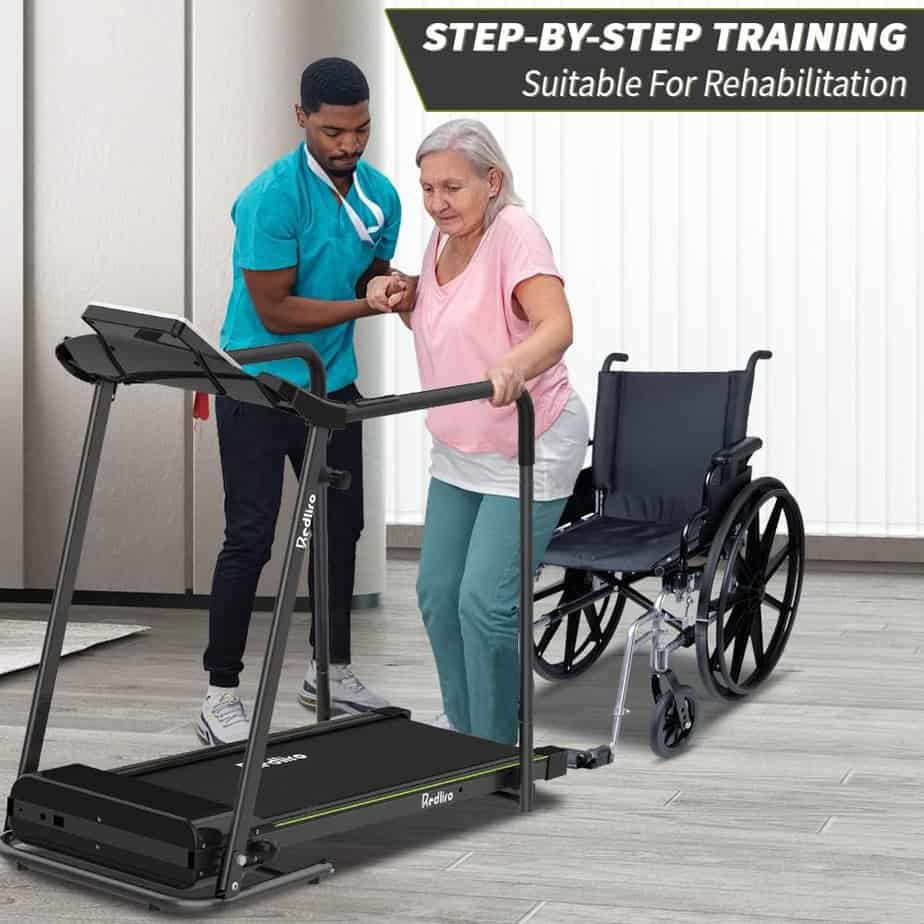 Designed with seniors and those recuperating from injuries or surgeries in mind, the Redliro Walking Treadmill is an ideal choice for a tailored exercise experience. Its sturdy and durable frame provides stability and safety, giving users the assurance that they are exercising safely.
The sturdy alloy steel frame of the treadmill ensures maximum support and stability, making it resilient enough for frequent use without diminishing its structural soundness.
The solidity of the frame also allows users that are up to 300 lbs./136 kg to exercise with the treadmill.
The machine includes 35'' high (from the deck) handrails on either side, providing additional support and steadiness. This is especially useful for seniors or those in rehabilitation, as it helps them keep their balance while walking.
You can fold the treadmill when it's not in use. However, unlike most treadmills, the folding process is different because it requires you to detach the handrails on either side first before you can have it folded.
Once folded, it can be rolled away via the transport wheels and stored vertically, and the folded dimensions are 24'' long by 25'' wide by 48'' high.
On the other hand, the full assembled dimensions are 51'' long by 26'' wide by 46'' high. Hence, it will need a workout area with measurements of 4'3" (129.54 cm) in length by 2'16 (66 cm) in width.
Moreover, additional clearance of 2' will be required on either side and the rear parts of the treadmill for easy access and safety purposes.
The Deck of the Redliro JK1608L Walking Treadmill for Seniors and Recovery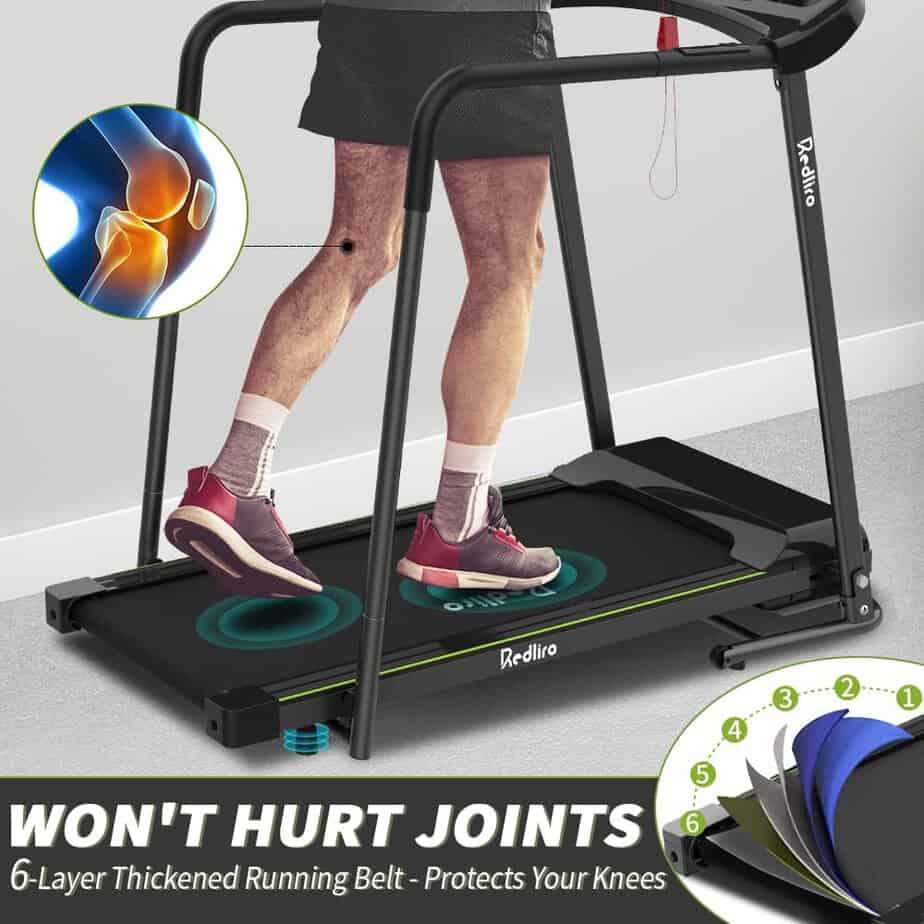 The deck of the Redliro Walking JK1608L Treadmill for Seniors and Recovery is flat and equipped with an impressive shock absorption system featuring multiple layers of cushioning.
This helps to reduce the stress on joints like the knees, hips, and ankles, making it especially beneficial for seniors suffering from arthritis and joint pain.
By reducing the impact on the joints, users can exercise without worrying about getting injured.
The top of the deck features a non-slip surface that ensures a firm grip, preventing any accidental slips or falls during workouts.
The tread belt/walking surface dimensions are 41'' long by 16'' wide which is reasonably wide for walking activities. However, you can do a light jog on it if you want. there might be some limitations to how far your strides can go.
The Motor
Featuring a 2.25 horsepower motor, the Redliro Walking Treadmill for Seniors and Recovery was created with the needs of seniors and those recovering from injury or illness in mind. The powerful motor allows for a safe and controlled walking experience.
The reliable power output of the 2.25 horsepower motor produces a consistent speed, eliminating any sudden jerks or jolts that could cause discomfort or harm. Its steady performance makes it possible for users to walk at their desired pace without any unexpected changes.
In addition, the motor runs quietly, which is especially advantageous for seniors and those recovering from an injury, as it reduces any potential noise that could disrupt their focus or tranquility. This can make their workout or rehabilitation session more productive and pleasant.
The speed range of the motor is 0.5 mph to 5.5 mph. It can be increased or decreased incrementally by 0.1 mph via the buttons on the console or those on the right-hand side of the handrail. The micro-adjustability of the speed allows users to better manage and tailor the speed level to their fitness level.
Moreover, the speed can automatically adjust if any of the preset workout programs is selected.
Lastly, the 2.25 horsepower motor is not only designed to be environmentally friendly, but it also has economic benefits. It is energy-efficient, which reduces power consumption and operating costs. Thus, benefiting users in the long term.
Incline System
The Redliro JK1608L Walking Treadmill for Seniors and Recovery does not have an incline system built into it.
The Console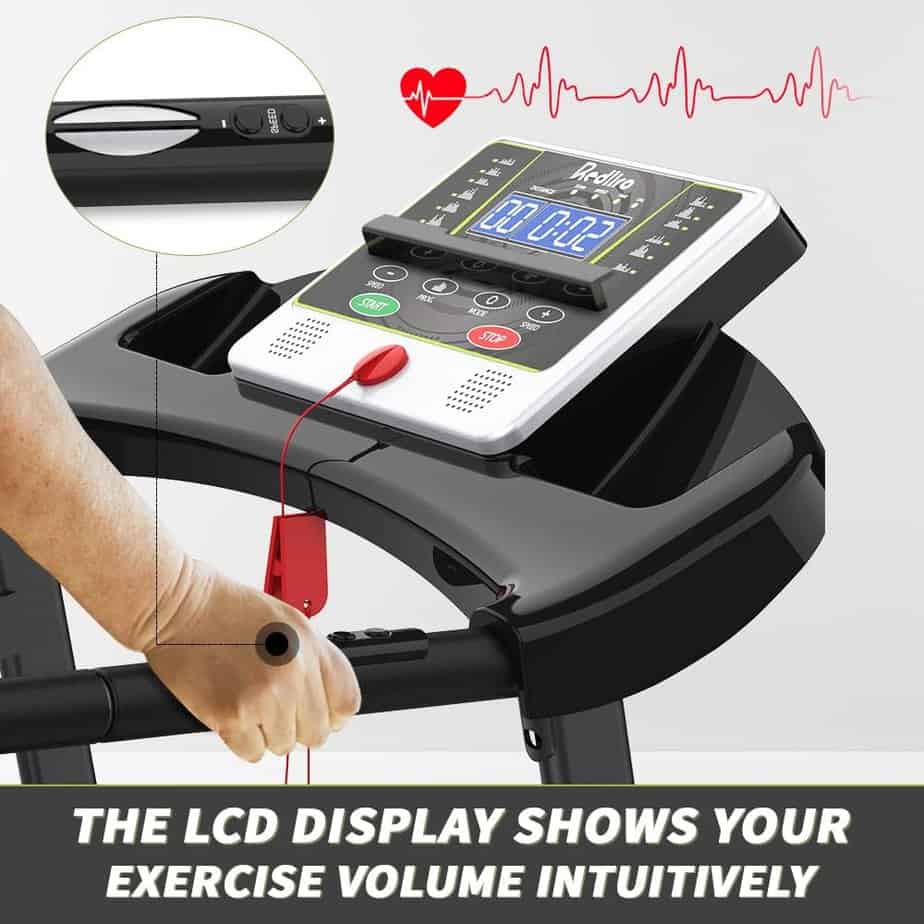 The Redliro 2.25 JK1608L Walking Treadmill for Seniors and Recovery is equipped with a user-friendly and intuitive console to meet the specific needs of seniors and those in recovery.
This console is great for elderly people with vision issues, as its backlit LCD display makes it easy to read even in dim lighting. With this console, you can keep track of essential workout data, such as speed, distance, time, calories burned, and heart rate, all displayed on the blue backlit screen.
The user-friendly interface console makes it easy to navigate through its various functions and settings.
The large, well-spaced, and highly responsive buttons allow users to easily make the necessary adjustments during a workout.
As aforementioned, the speed adjustment buttons are both on the console and on the right-hand of the handrail.
The Redliro2.25 JK1608L features a heart rate monitoring system that includes built-in sensors (situated on either side of the handrails) for measuring heart rate during exercise. This is a useful feature for those recovering from an injury or for senior citizens, as it enables them to keep an eye on their heart rate and exercise safely. It also offers real-time feedback on users' cardiovascular health, so they can track their progress.
Furthermore, the console offers 12 workout programs that are designed to help users improve their fitness levels. These include fat-burning, cardiovascular exercise, interval training, and more.
A user can choose a program and the treadmill will adjust the speed automatically.
For safety during workouts, an emergency stop button is included on the console to stop the treadmill from running in the event a user trips while working out. This feature provides peace of mind to both users and their caregivers in case of any unexpected issues.
Accessory
The unit does not have any special accessories such as a sound system, cooling fan, and so on. However, it features water bottle holders and a tablet holder for the purpose of entertainment and maintenance of proper hydration.
Storage
The Redliro2.25 JK1608L Walking Treadmill was designed with convenience and space-saving in mind, specifically for seniors and those in the recovery phase of their fitness journey. Its features make it the ideal choice, as it provides a user-friendly and compact storage solution that allows it to be easily put away when not in use.
Although, the handrails must be detached before folding the treadmill. This doesn't not take time nor is it complicated to do.
Once folded, it can easily be rolled away to a storage area without hassles, and it occupies minimal space.
Pros/Features Overview
It is compact, lightweight, and portable
Sturdy and durable
Cost-effective
Supports 300 lbs./136 kg maximum user weight capacity
It features a space-saving design (foldable)
There are transport wheels integrated for easy relocation purposes
It offers health benefits, especially to seniors and those recovering from an injury
Provides low-impact cardiovascular workouts
Its operation is smooth and quiet, thanks to the 2.25 horsepower motor
Speed range is 0.5-5.5 mph
There are 12 preset workout programs that provide a variety of workout intensities and challenges
Features contact grips heart rate monitoring system
Integrates a backlit LCD monitor that tracks workout stats such as Time, Distance, Speed, Calories Burned, and Pulse Rate
It has a safety emergency key; as safety is s top priority for every user, especially seniors and those recovering from an injury
Easy to assemble
It features a tablet holder and water bottle holders
35'' supportive and protective handrails on either side
Maintenance requirement minimal
Cons
No sound system
No USB charger
No cooling fan 
Warranty
Product Dimensions & Specifications
Length: 51''
Width: 26''
Height: 46''
Folded Dimensions: 24'' L x 25'' W x 48'' H
Shipping Dimensions: 54'' L x 27'' W x 8.5'' H
Maximum User Weight Capacity: 300 lbs./136 kg
Frame: Steel
Net Weight: 63.3 lbs./27.71 kg
Gross weight: 76 lbs./34.47 kg
Running Surface Dimensions: 41.5'' L x 16'' W
HR Monitoring System: Contact grips
Monitor: Backlit LCD
Motor: 2.25 horsepower
Speed Range: 0.5-5.5 mph
Programs: 12
Transport Wheels: Yes
Tablet and Water Bottle holders: Yes
Shipping
The Redliro JK1608L Walking Treadmill for Seniors and Recovery comes in a box that weighs 76 lbs./34.47 kg with dimensions of 54'' long by 27'' wide by 8.5'' high.
Amazon provides free shipping and delivers within a couple of days or weeks depending on the destination.
Assembly
The assembling process of this treadmill is not complicated or difficult since most of the parts are preassembled.
The parts to be assembled include the console, the console upright stand, and the side rails.
An instruction manual with clear instructions is included in the package and there is also an assembling video as well, just in case you are visually inclined.
Tools needed for assembling are also included in the package.
Maintenance
The maintenance required is to always keep the unit clean. Lubricate the tread belt when necessary or as directed in the instruction manual.
Also, endeavor to examine the parts to ensure they are in good condition, with no broken or loosened parts.
Conclusion
The Redliro2.25 JK1608L Walking Treadmill is a good choice for seniors and those undergoing rehabilitation as it is compact, lightweight, and has a low-speed range.
It is constructed with durable material and has enhanced safety features such as an emergency stop button and handrails, ensuring its users can remain safe from injury. This treadmill is ideal for increasing strength and stamina in a gradual manner.
Redliro JK1608L Walking Treadmill for Seniors and Recovery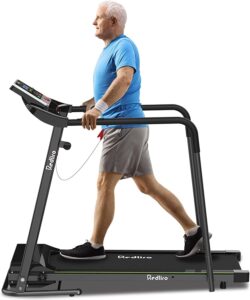 If you wish to have a peek at the best price of the Redliro JK1608L Walking Treadmill for Seniors and Recovery, click here.
Product Brand: Redliro
Product In-Stock: InStock