The ProGear HCXL 4000 Walking and Jogging Treadmill is simple and sturdily designed with the intent to support walking and slow jogging activities and users up to 400 pounds/181.4 kg in weight. It is not common to find a treadmill of this price tag or category that supports higher user weight, no, not even the Sole F63 2019 Folding Treadmill supports that weight capacity.
It has a simple design that does not include bells and whistles but the basic features that allow the user to realize fitness goals. However, it does have longer handrails than what is obtainable from most treadmills. These give you protective support during a workout, thus, great for seniors and folks undergoing physical therapy or recovering from an injury.
The ProGear HCXL 4000 Walking and Jogging Treadmill is a sharp contrast to the XTERRA Fitness TR150 Treadmill that has almost the same price tag as the former. Although, the XTERRA Fitness TR150 has some decent features but lacks support for higher user weight than the ProGear HCXL 4000 Treadmill.
Going forward, preference over the other depends on what you need and wish to achieve with a treadmill. The ProGear HCXL 4000 Treadmill is basically good for those that are on the big side and wish to perform walking and jogging exercises in order to burn some calories and of course, seniors and the injured that are required to under physical therapy.
The tread belt quality and the width size are impressive considering the treadmill is for walking and jogging activates. But we get it, it's expected to be used by large-sized people, hence, 20 inches width by 44 inches length size tread belt is incorporated. The tread belt length it's rather short but doesn't really impede your ability to work out on the treadmill because you are not going to run.
Click right here to have a peek at the price of the ProGear HCXL 4000 Walking and Jogging Treadmill on Amazon.
The Frame and Construction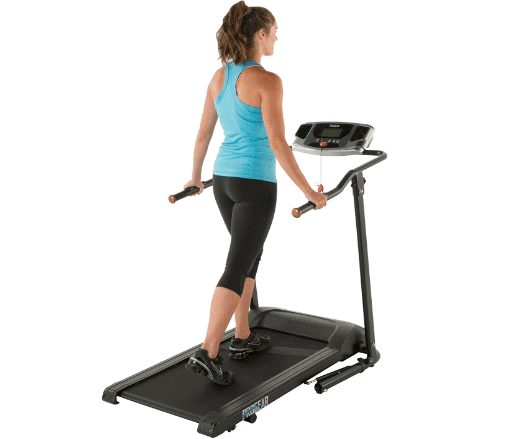 The ProGear HCXL 4000 Walking and Jogging Treadmill has a sturdy and durable frame that is made of quality steel. Its overall construction withstands hard use. The metal parts are coated with anti-corrosive and scratch paint that preserves its rusts and scratches.
The treadmill supports 400 pounds/181.4 kg maximum user weight capacity.
It is a compact and portable treadmill that has overall assembled dimensions of 51.2 inches long by 32 inches wide by 63 inches tall and weighs about 120 pounds/54.4 kg. It could also be folded up when you don't have the need to use it. This helps to save space and conveniently move to a storage area. Although, it folds up to a vertical position with the handrails and the base stabilizer bars sticking out, therefore, it cannot fit under the bed.
As for the workout area space dimensions required for the treadmill would be 4'3'' long by 2'7'' wide and a ceiling height of at least 7' high.
The Motor
The 1.5 HP motor that is integrated into the ProGear HCXL 4000 Walking and Jogging Treadmill is responsible for the machine's smooth and quiet operation.
The motor capacity outweighs the demands of intensive or vigorous workouts that may be performed on the treadmill. Hence, it has a 5-year warranty. This shows that the motor runs smoothly without overheating or breakdown.
Exercising on the treadmill while you watch a TV show or listen to good music without raising the volume above normal is possible. The family or neighbors will neither complain about your activities. Therefore, this also enables you to train in the comfort of your home whenever and however.
The motor provides a speed range of 0.4-4 mph. This is pretty typical for walking and slow jogging workouts. The speed can be adjusted via the console or the handrails.
The console has a FAST and a SLOW speed button that increases or decreases the speed significantly when pressed, while the speed control buttons on the handrails increase and decrease speed by 0.1 mph increment.
The ProGear HCXL 4000 Treadmill is an electric treadmill.
The Console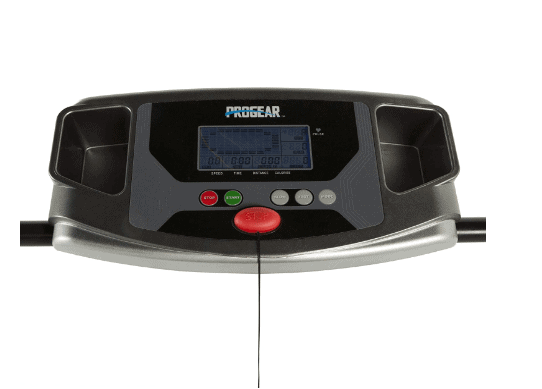 The console on the ProGear HCXL 4000 Treadmill is apparently basic with fewer features. It features an LCD monitor that tracks and displays workout progress with good clarity.
The user should be able to view time, distance, speed, calories burned and heart rate data while working out. The heart rate data appears when you grip the contact pulse sensors on the handrails during an exercise, enabling you to observe and maintain your target heart rate zone at all times.
Also, the console features navigational buttons for FAST and SLOW speed, for MODE, START, STOP and a SAFETY KEY that automatically stops the treadmill's operation in the event the user accidentally trips or falls during a workout session. The SAFETY KEY must be clipped to the lower edge of the cloth you are wearing for safety.
The console also possesses two cups/accessory holders that allow you to keep a water bottle holder within reach for hydration and other items such as a smartphone for taking calls or listening to music while exercising.
Incline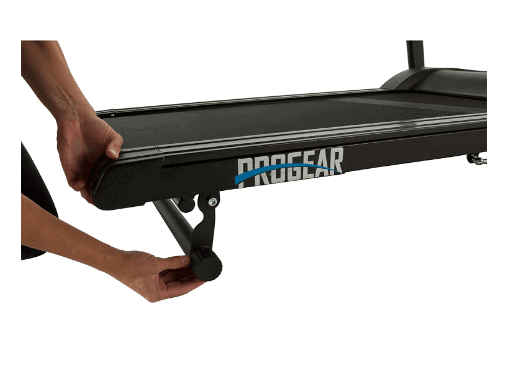 The ProGear Treadmill has a manual incline system that is adjustable to 2 levels.
Storage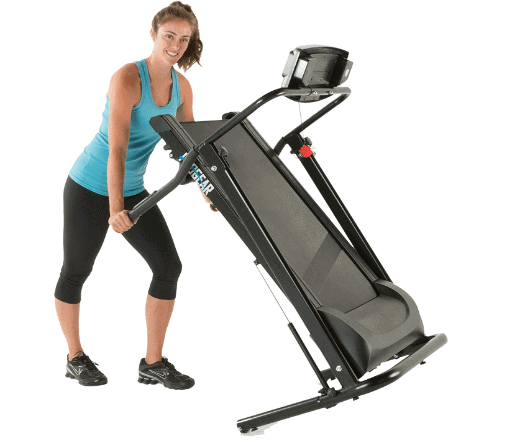 The storage of the ProGear HCXL 4000 Walking and Jogging Treadmill will be easy if you don't have to move it through doors. This is because even when folded the base bars and the handrails stick out.
Therefore, it will be easy to move next to a wall within the room that is being used for workouts. The integrated transport wheels also make it a lot easier to roll it away.
Unfortunately, the folded dimensions are not specified.
Accessory
As aforementioned, the only accessory on the treadmill is the cup/accessory holders which accommodate a water bottle and a smartphone.
These allow you to train and stay hydrated and to also be entertained.
However, there is no tablet holder for a tablet device.
Approval Rating
There are both positive and negative users reviews on Amazon but the positive reviews are in the majority. In other words, the treadmill has a positive approval rating at the time of this review.
Pros/Features Overview
Very sturdy frame and construction
Supports higher user weight capacity of 400 pounds/181.4 kg
Powerful 1.5 HP motor that adequately supports walking and jogging activities
The operation is smooth and quiet
Long protective handrails for safety and balance
Tracks workout progress including pulse
Compact and foldable
Wider tread belt that is roomy for almost anyone
It is portable with transport wheels
2 incline settings for a variety of workout intensity
5-year warranty for the motor
Low maintenance
Easy to assemble
Accessory holders for a water bottle and a smartphone
Cons
There are complaints about poor customer service; we hope Paradigm Health has sorted that out
The deck doesn't have a cushioning system that reduces stress in the joints
No Bluetooth or online connectivity
Warranty
Product Dimensions and Specifications
Length 51.2''
Width 32''
Height 63''
Tread belt: 20'' W x 44'' L
Frame: Durable steel
Supports 400 pounds/181.4 kg maximum user weight capacity
Weight: 120 pounds/54.4 kg
Motor: 1.5 HP
Speed: 0.4-4 mph
Transport wheels: Yes
Compact: Yes
Foldable: Yes
Water bottle/Accessory holder: Yes
Shipping, Assembly, and Maintenance
Shipping
The ProGear HCXL 4000 Treadmill is shipped and delivered in a single well-packaged box. The shipping cost depends on the retailer you are purchasing from; however, Amazon provides free shipping and makes delivery within days of order.
Assembly
The assembling of the ProGear HCXL 4000 is not difficult and also doesn't take time. This is because it arrives almost completely assembled. However, you need to attach the console stands and the console to the main core unit.
Aside from unpacking the treadmill from the package, it takes about 30 minutes, more or less to completely assemble.
It comes with an instruction manual that could walk you through the process of assembly.
Maintenance
Usually, every standard treadmill requires periodic lubrication of the tread belt for smooth operation and the ProGear HCXL 4000 Walking and Jogging Treadmill is no different.
Moreover, ensure to keep it clean from dirt and foreign body at all times.
Conclusion
The ProGear HCXL 4000 Walking and Jogging Electric Treadmill is specifically designed for walking and slow jogging activities. It provides cardio workouts that ultimately lose weight and keep the heart in shape.
It is not expensive, yet supports 400 pounds/181.4 kg maximum user weight capacity.
ProGear HCXL 4000 Walking and Jogging Treadmill Review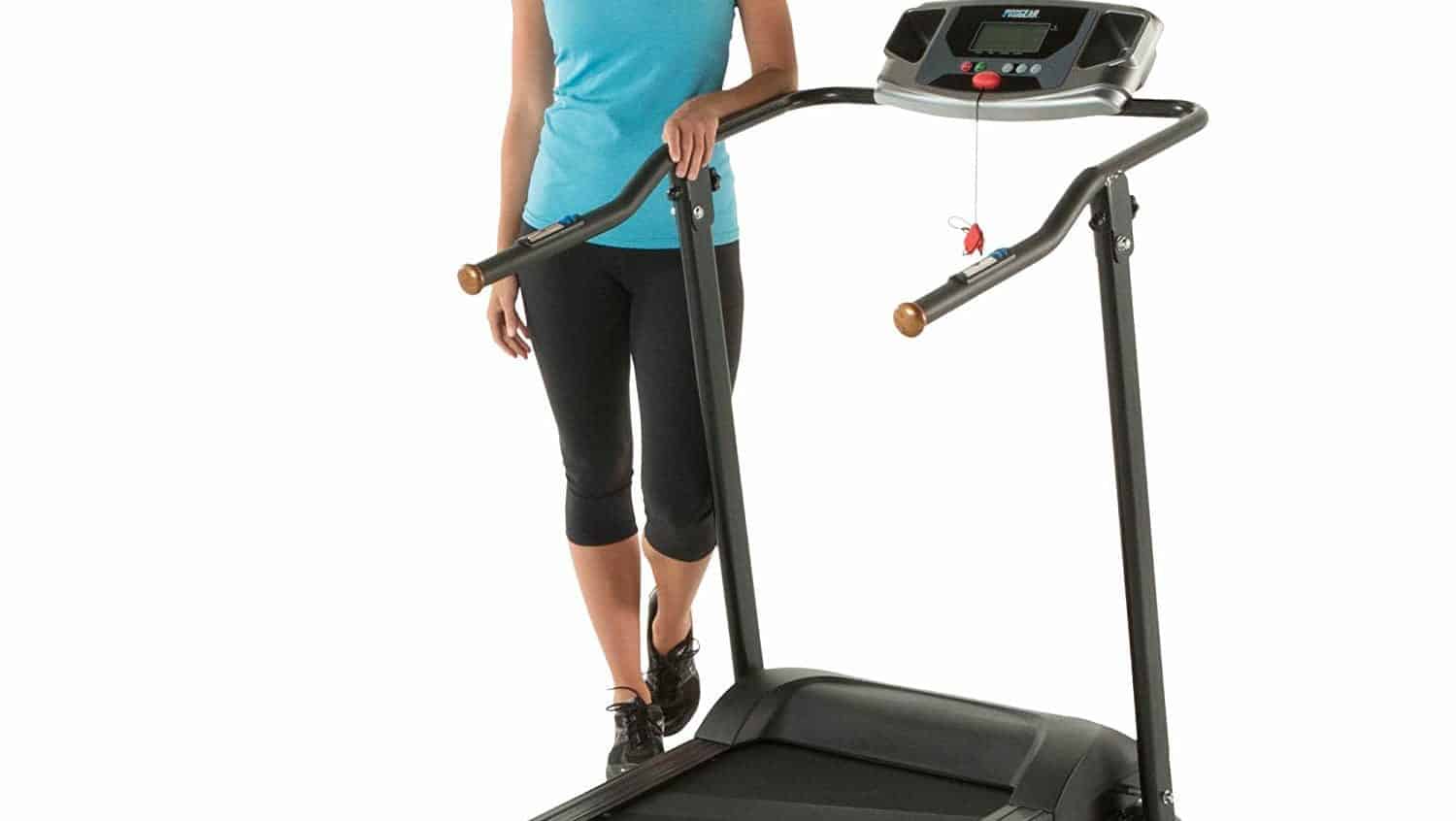 The ProGear HCXL 4000 Walking and Jogging Treadmill has a sturdy and durable frame that is made of quality steel. Its overall construction withstands hard
Product Brand: ProGear
Product In-Stock: InStock