The ProGear 100S Exercise Bike is one of the best exercise/spin bikes available for those that are considering purchasing a low-budget bike for their home gym. Just so you know, this machine is in our best exercise and spins bikes list.
It has good approvals rating by Amazon customers and very popular among its users.
The ProGear 100S Exercise Bike is a solid bike that can deliver outstanding indoor training including interval workouts because you can pedal while in a seated or standing position.
Click right here to have a peek at the best price of the ProGear 100S Exercise Bike. 
The Frame
The ProGear 100S Exercise Bike is no doubt a lightweight solid machine that is made of steel and weighs about 60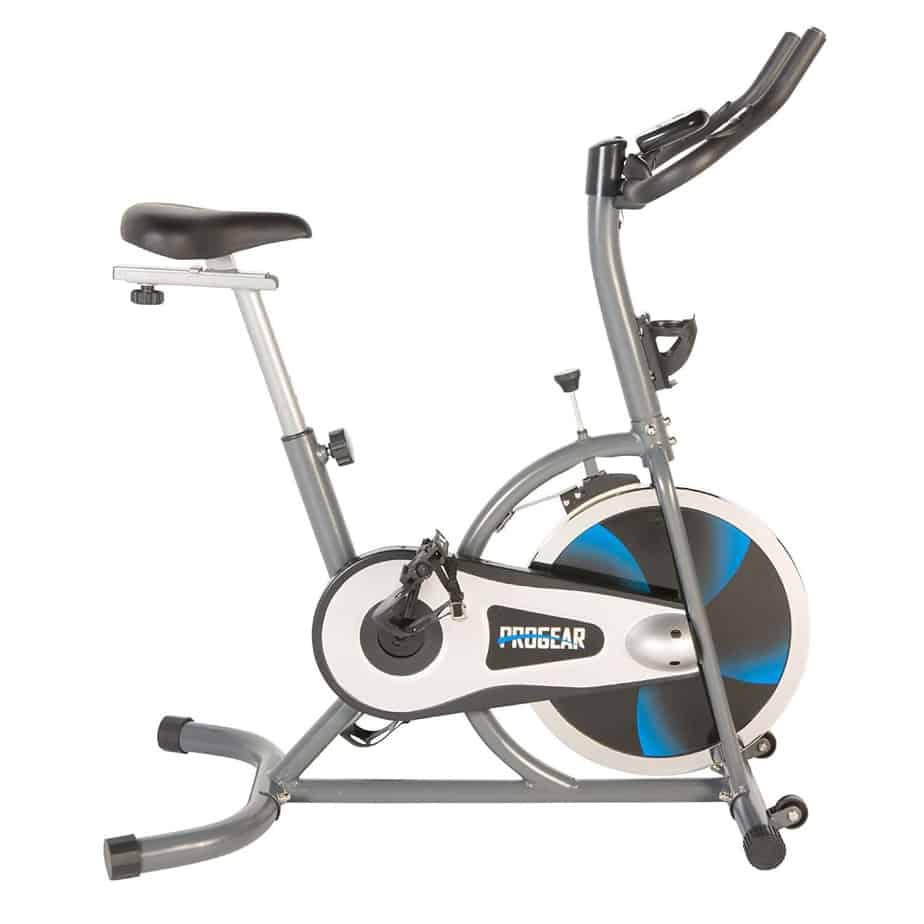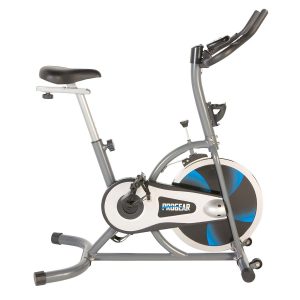 pounds. It could be referred to as a compact bike with 40'' L x 22'' W in size (footprint) that is especially a good choice for individuals with the space problem.
That being said, it still offers stable workout experience due to its steel frame and the stabilizer bars that are designed to prevent wobbling during workouts.
Moreover, it is important to not exceed the maximum weight capacity of 250 pounds. The rear stabilizers also feature end caps that are meant to be turned to achieve balance on an uneven floor.
Although, generally, a rubber mat is always advised to be used to take care of an uneven floor and to also protect the floor from being scratched or dented by the footprint of the machine.
At the front base of the machine, it has transport wheels integrated to help with relocation and storage, the steel frame and other steel parts are powder coated with gray paint.
The Seat and the Handlebar
The seat on this machine is the standard seat that is mostly found on most spin bikes. The seat is fully adjustable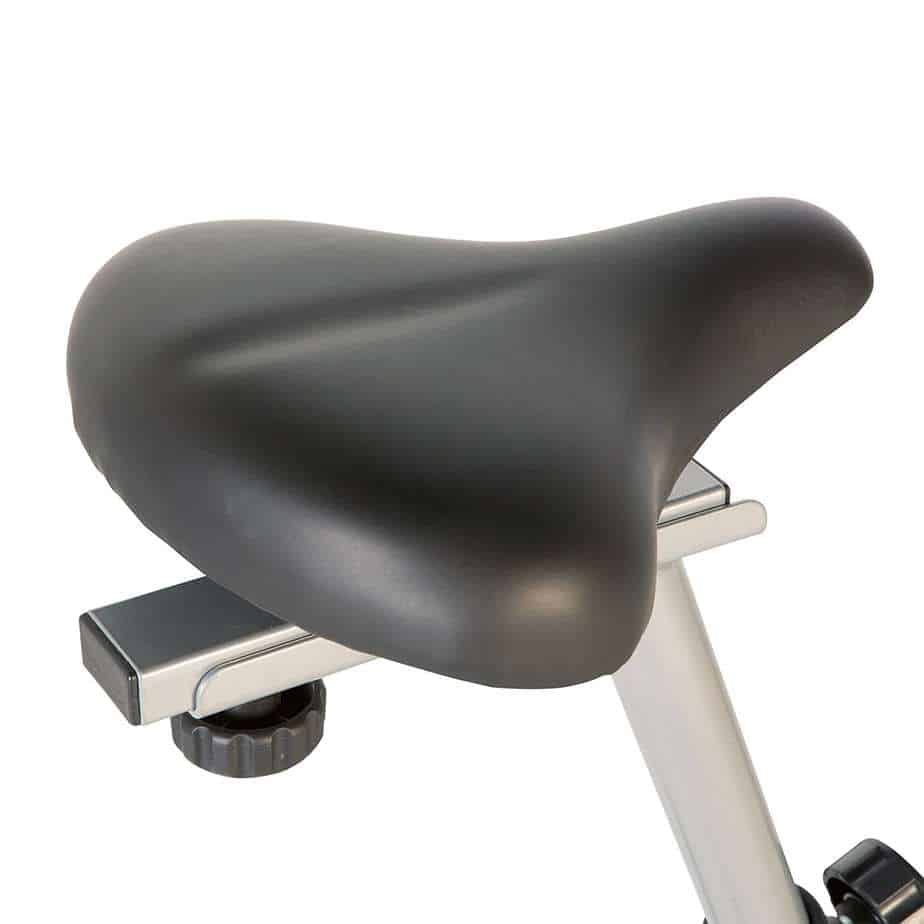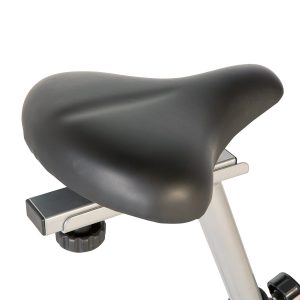 up/down and forward/backward.
Nevertheless, unlike some of the cycling bikes, the handlebar is the fixed type which means it is non-adjustable.
For this reason, you may enjoy less flexibility in terms of different workout positions because of seat and handlebar adjustability help in terms of suitability for various individual sizes. Its official height recommendation is 5 feet 1inch to 6 feet 2 inches.
You can easily adjust the seat without much hassle by simply loosening the adjustment knob and reinserting to one of the already available holes to set the seat to your desired level and position. This method is applied to both the up/down and back/forward adjustments.
More than one user can use the bike without experiencing difficulty and a waste of time when it comes to adjusting to a suitable seat position. However, if the machine is used by multiple users then there will be the need to mark the seat setting for each individual to avoid trying it again to find a suitable position after another user might have used and altered the seat position.
The Drive
This bike has a chain drive mechanism that simulates the road exercise bike. It does have slight noise that is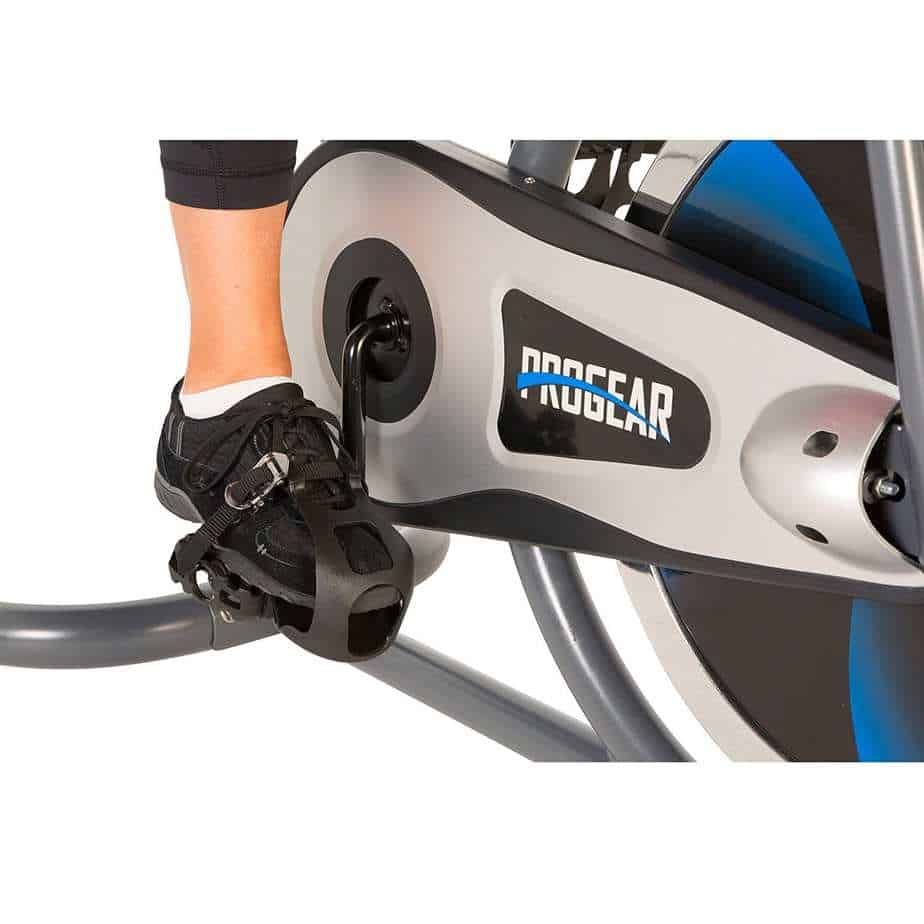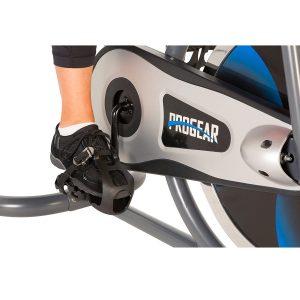 associated with chain drive but not annoying or disturbing but it rather offers the feeling of riding an outdoor bike.
It is also integrated with a 22 pounds flywheel that provides smooth and consistent pedaling.
Although the flywheel does not provide that much-needed momentum that will produce a very smooth workout experience because of its size, heavier flywheels do provide greater momentum and smoother workout experience.
It does also have double direction pedaling which means you can work out and pedal in either direction to provide maximum toning of the leg muscle groups.
The pedals do not have spin shoe clips but do have toe cages designed to provide that safety and stability needed during intense forward leg thrust.
The Resistance
The resistance system is a direct `friction kind of resistance that is simple but very effective as well. This resistance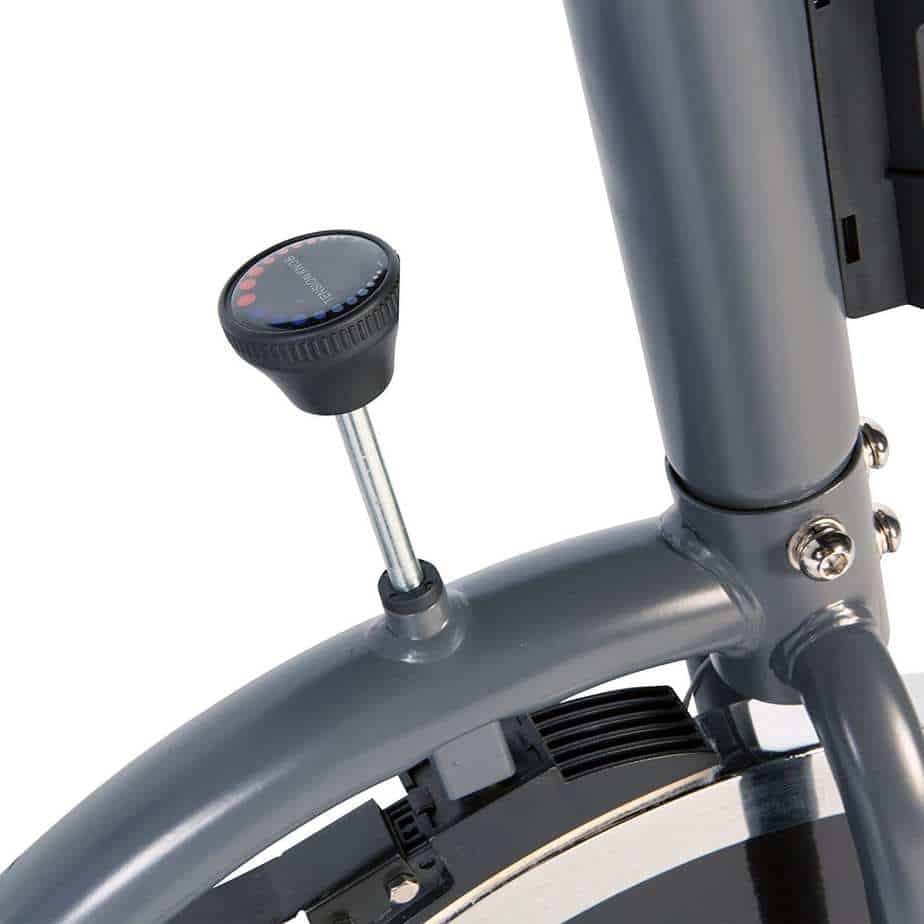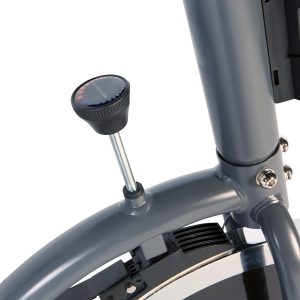 system is made up of a felt pad that works with the flywheel when the two come in contact.
The pad and the resistance knob are attached on top of the frame tube; when the knob is turned you will be able to adjust to increase or decrease the resistance effect.
Again, you will be able to pedal in both directions with the level of resistance you wish to apply or work out with. However, you will not be able to coast and this is usual with cycling bikes of this price range.
The machine offers the opportunity to work out and pedal while seated or standing. The adjustment of the resistance is also pretty easy to do without disrupting your workout progress.
Although, the resistance knob does not have any levels indicated on it which means you have to adjust and decide on the resistance level. This could be a little bit awkward and be getting used to for some people and therefore will take a little while to understand it.
The resistance can be increased incrementally and continually until it gets to where you want it to be.
The Console
The ProGear Indoor Cycle Bike features a very basic console that does not provide any preset program apps but only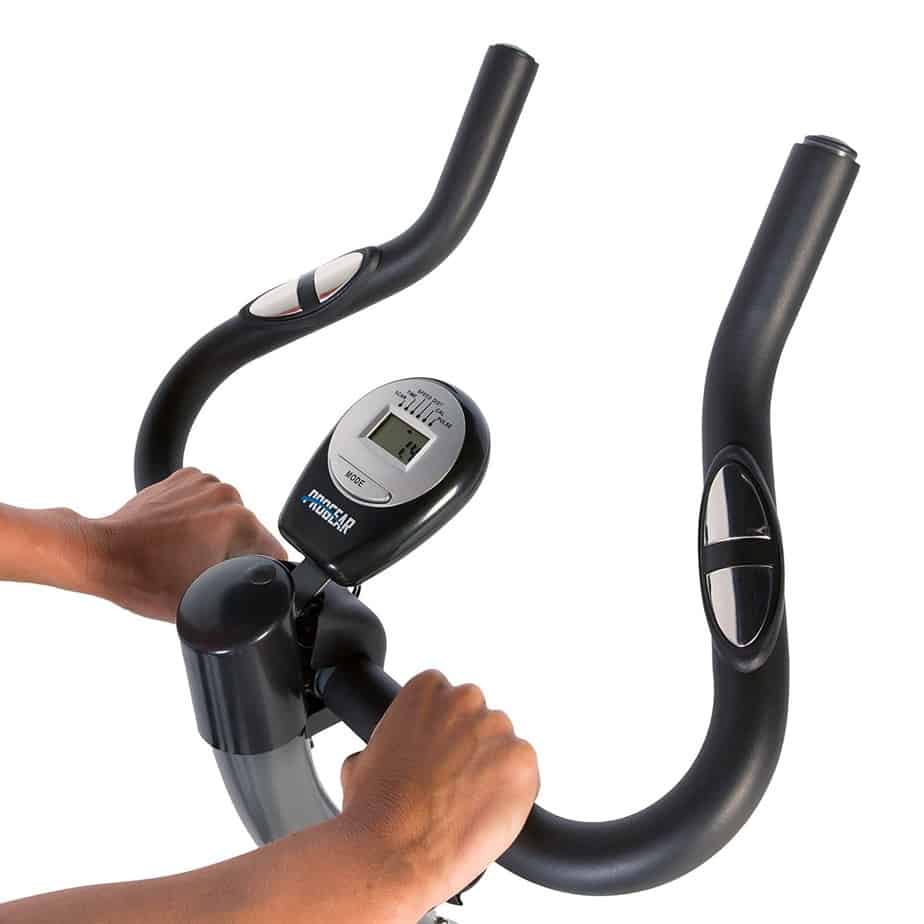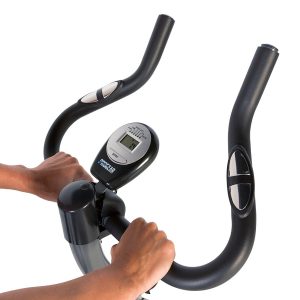 displays the workout data such as the speed, time, distance, calories burned and pulse which allows a user to track progress in workouts.
It is powered by AAA batteries which are also included upon purchase of the machine.
The console is very easy to operate via the only available button on it. The button serves as the ON button and also used to scan through the workout data.
The unit automatically turns ON the moment you start pedaling as well. So, you can either turn it ON by using the only button on it or just get on and start pedaling to turn it on.
When you press the button it turns ON but when pressed multiple times it will display the workout data such as aforementioned.
You can scan through and choose to view a particular data steadily or choose the SCAN function that will essentially display all the data one at a time in a continuous pattern.
The readability of the values on the console is good so long there is light in the room you are using it because it is not a backlit type of monitor.
For the pulse data to be displayed you have to grip the handlebars with the pulse sensors on them for it to transmit the heart rate to the monitor. This will also allow you to monitor and maintain your target heart rate zone at all times.
Although, there are claims that these types of handgrip pulse sensors hardly provide accurate heart rate data when compared with the HR chest strap. Therefore, you may consider getting a separate heart rate chest strap for this job if you are serious about getting your heart rate right.
No, this problem is not only associated with the ProGear Indoor Cycling Bike but with all other bikes using grip sensors.
Moreover, using the grip sensors mean that you will constantly hold them all the time which puts you in the same workout position at all times.
Comfortability
The level of comfort a bike offers is determined by the seat type, handlebar, and even the pedals' ability to adjust to provide the maximum comfort to a user. In the case of the ProGear 100S Indoor Cycling Bike, the seat has a basic design just as mentioned above.
But it can be adjusted up/down and forward/backward. This is very important because it will accommodate most users and provide them with much-needed comfort.
However, the seat may need a little padding to boost the comfort it offers to the butt. You can simply do so by getting a gel seat cover or using padded bike shorts that all depends on your preference.
The handlebars are designed in a way to provide comfort to the hands but unfortunately, that is all there is to it because it cannot be adjusted.  But as a consolation, you have the privilege to use the different handlebar grips for your workout though.
The machine is also fairly quiet because the only sound you hear from it is the one that is produced by the chain drive which is a little noise that does not bother you, family, or neighbors. You can still watch and enjoy your favorite TV shows or listen to music while working out.
The belt drive mechanism is always better than the chain drive system when it comes to quietness and low maintenance.
Storage
The ProGear 100S Indoor Cycle Bike is typically a compact unit that can fit in small apartments or rooms. It has a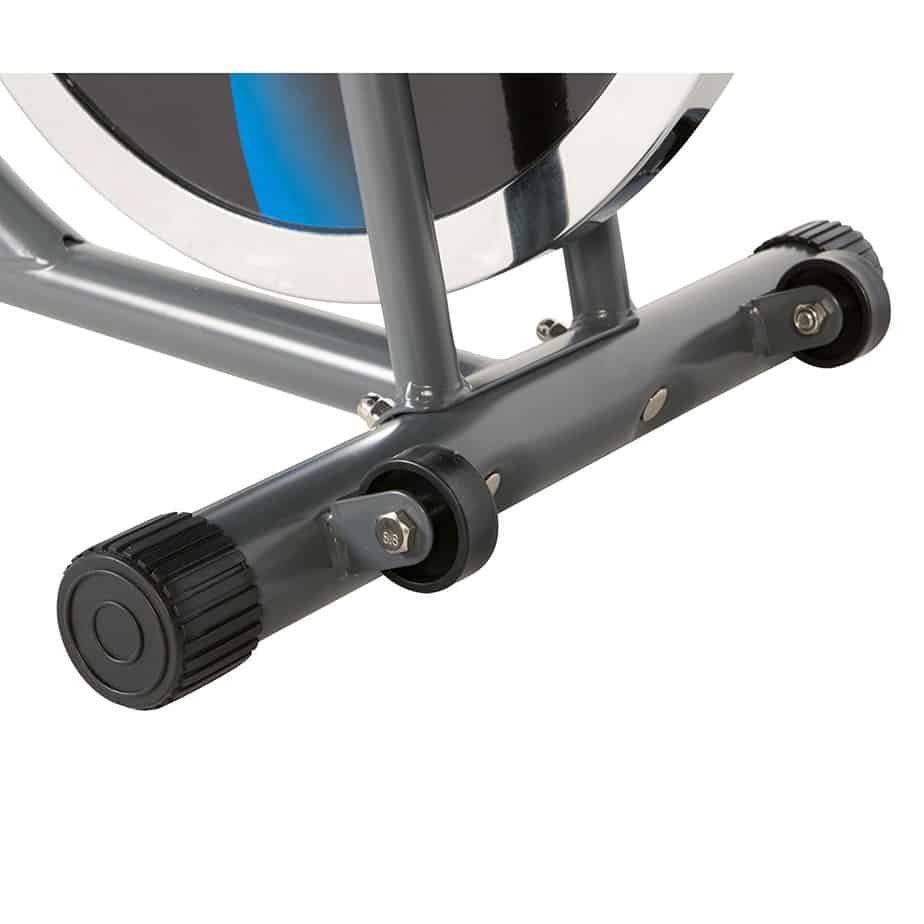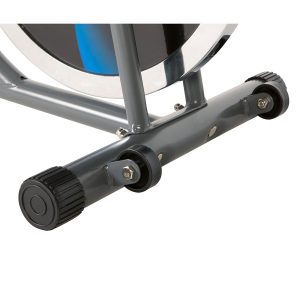 40'' x  22'' in length and width and has also got transport wheels to help relocation in case you have to move the unit to another location for storage.
You can simply put it against the wall or in a closet for storage. It may even add some beautiful color if you have to store it somewhere around the room.
Speaking of storing it around the room, this can even motivate you to work out a lot more frequently for being at conspicuous as opposed to putting it away somewhere you may not be seeing it all the time.
Also, you don't have to worry about the hassle of relocating it if you have to because it is a lightweight unit that weighs approximately 60 pounds. Moreover, the transport wheels are designated at the front base so that you can simply tip the machine and easily move to where you want it to be.
However, you may have difficulty using the transport wheels if the bike is on a soft hairy carpet otherwise it can be used on most floors smoothly without a problem.
You also have to be careful when using the transport wheels on certain kinds of floors, especially wooden floors because they may leave a dent. Therefore apply caution when trying to use the transport wheels for relocation so that you don't scratch the floor.
Shipping, Assembly, and Maintenance
Shipping
The shipping cost of this machine depends on the retailer you are purchasing from. However, a retailer like Amazon usually ships this product for free.
Assembly
Assembling this unit is relatively easy because it is shipped and delivered with the major components preassembled.
You are required to fix parts such as the seat, handlebars, stabilizers, console, and pedals to the main body/frame.
The assembly of the ProGear 100S is a one person's job but will be an added advantage if there is a helping hand.
Maintenance
This unit certainly requires some level of maintenance due to its type of drive mechanism. Unlike the belt drive mechanism that does not need any maintenance the chain drive requires some cleaning and oiling to keep the chain lubricated and flexible.
However, this maintenance is not a major task but will require periodic oiling of the chain drive. The machine itself will need cleaning at the end of every workout session because of sweat that might have settled on it from your body. And will also require cleaning when stored and collecting dust.
Accessories
The one and the only accessory this unit has is the water bottle holder. It does not feature any other like media device shelf; therefore, you have to improvise if you have to use a media device.
The water bottle holder is essential though because as you may already know, hydration during and after workouts is highly necessary.
The position of the water bottle holder is kind of awkward because it is placed at the front of the bike where it may not be all that convenient to pick up the water bottle during a workout without having to halt your exercise.  But the ultimate goal is achieved which is to help you keep water handy during workout sessions.
Pros
It is affordable
Has monitor that display workout data
Has the capability to read your heart rate
Can be assembled easily
Has got effective resistance system
Has stabilizers that help to prevent the unit from wobbling, especially on the uneven floor
Has two-direction pedaling
It is sturdy
It is compact
Cons
The handlebars cannot be adjusted
Does not have preset program apps
The resistance levels are not indicated
Has a relatively lightweight flywheel of 22 pounds
Product Features
Supports up to 250 pounds maximum user weight
The seat has a 4-way adjustment
Monitor for workout data display
Effective resistance
Toe Cages
Double direction pedaling
22 pounds flywheel
Grip heart rate sensors
Chain drive
Transport wheels
1 Year limited warranty
Product Dimensions
40'' Length
22'' Width
46'' Height
Weighs 59.7 pounds
Conclusion
The ProGear 100S Indoor Cycling Bike is no doubt a basic bike that is great for those that wish to exercise with semi-challenging workouts. It is also true that it is affordable and compact, great for those that are on a budget and small apartments.
It has the features to satisfy all of those individuals in the categories stated above and it has good approvals ratings to back that up. It currently has about 111 Amazon customer reviews with an approval rating of 4.3 out of 5 is a great deal.
If you are on a budget, consider buying this machine but if you can afford to add extra dollars we would suggest you look up the Exerpeutic LX7 Indoor Cycle Bike Trainer reasons being that it has better features than the ProGear 100S Cycle Bike.
These features include heavier flywheel of 40 pounds, supports up to 300 pounds maximum weight capacity, multi-grip handlebars with the ability to adjust 4 ways, and 3 piece crank system as oppose to 1 piece crank system of the ProGear.
Better still you can look up our spin bike reviews where you can still see other bikes that may interest you and make the purchasing decision easier.
In overall, this machine is a basic and durable cycling bike that can still help users to work out and achieve their fitness goal, but make your decision based on what you can afford and what you need in a bike.
ProGear 100S Exercise Bike Review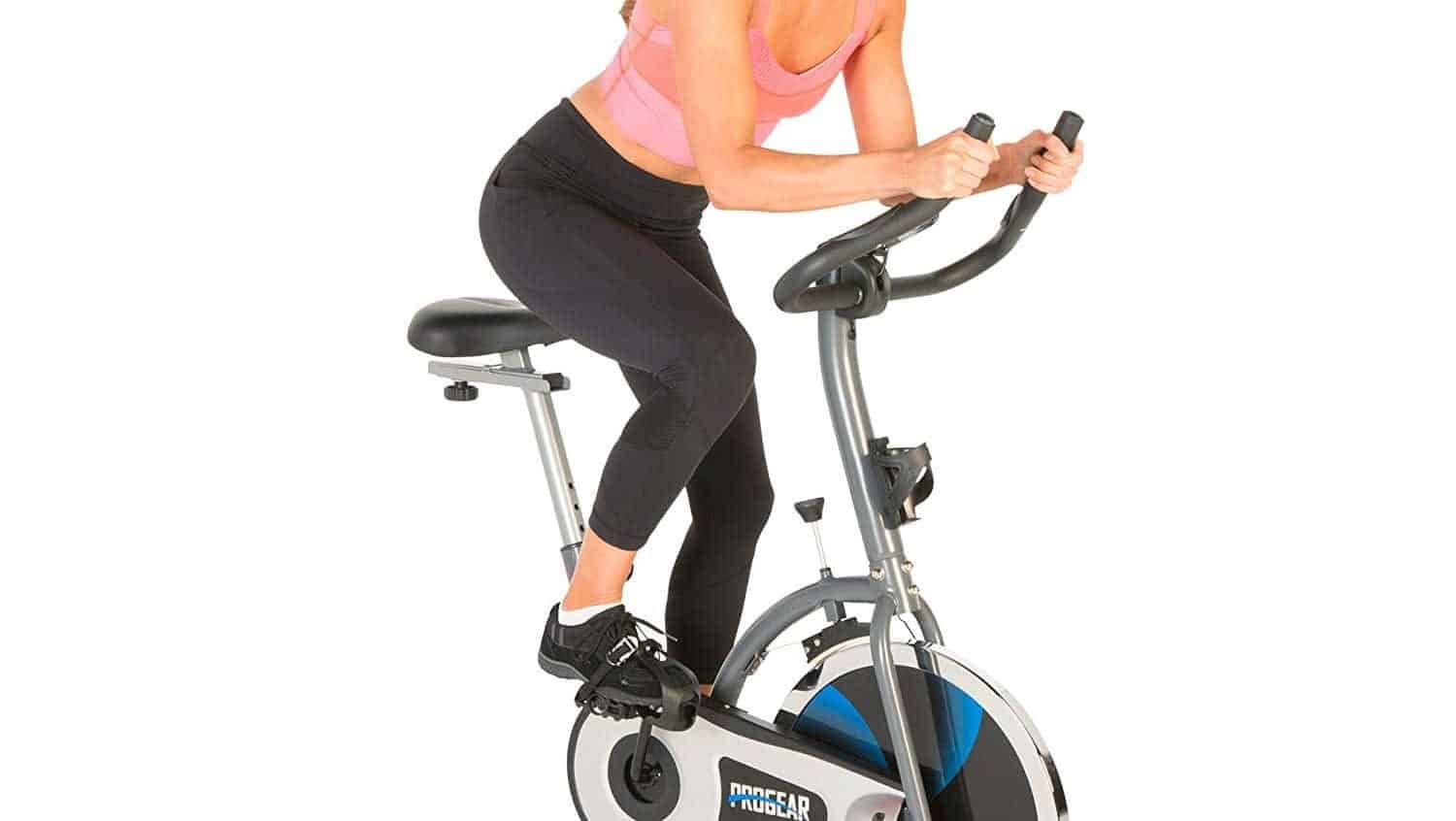 The ProGear 100S Exercise Bike is no doubt a lightweight solid machine that is made of steel and weighs about 60 pounds. It could be referred to as a
Product Brand: ProGear
Product In-Stock: InStock