The Innova XB450 Folding Upright Bike is an affordable portable bike with a backrest and iPad/Andriod tablet holder. This makes a lot of difference considering the fact that the bike is a low budget bike that allows the user to work out with so much ease and convenience.
In other words, the Innova XBR450 is a semi-recumbent folding bike with an adjustable seat that has armrests/handlebars. There is another set of handlebars at the front integrated into them with heart rate sensors that allow the transmission of the pulse data to the monitor.
At the time of this review, it is a very popular unit that is considered as one of the best folding upright bikes available, largely because of its affordability, and the fact that it provides decent low impact cardio in the comfort of your home.  This means being able to work out at the comfort of your home during bad weather and saving a lot of money that would have been paid for the gym membership fees and of course the inconvenience of having to drive there as well.
Aside from its affordability, it is also compact and portable; therefore, those with space problems should be able to acquire the Innova XBR450 Folding Upright Bike and have no issue whatsoever that is related to space inadequacy for workout area or storage.
These advantages and more made this unit the choice of many and fortunately, most were not disappointed with the decision made.
Click right here to have a peek at the price of the Innova XBR450 Folding Upright Bike on Amazon.
The Frame/Sturdiness
Apparently the Innova XBR450 Folding Upright Bike is an inexpensive and lightweight indoor folding bike. It has a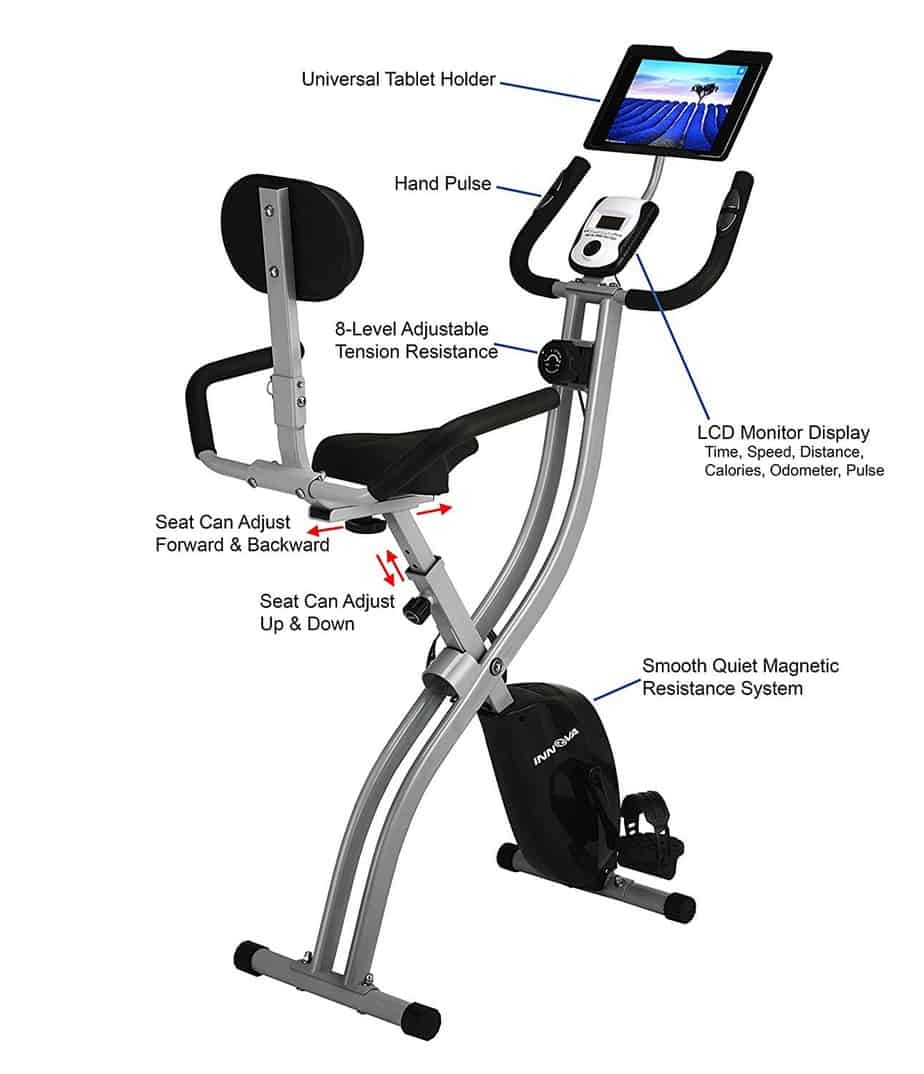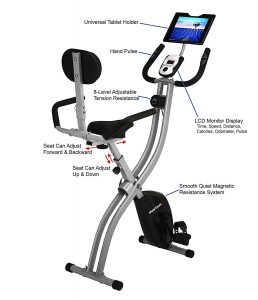 quality steel frame that could support up to 250 pounds/113.3 kg maximum user weight capacity. Evidently, this unit is built to be sturdy with great stability. The metal parts are finished with anti-corrosion and scratch paint that preserves them from rusts and scratches that could deform the unit's appearance.
The Innova XBR450 has a small footprint which is advantageously great for individuals that live in a small room or apartment but that could adversely affect its overall stability. However, that is not the case because it has a good framework that is made up of the front and the rear stabilizer bars with rubber caps that make it stable and floor-friendly on each end.  The bike weighs about 44 pounds/15 kg, which is not as heavy as the Exerpeutic GOLD 500 XLS and could be a concern but adds to its overall stability.
Just as aforementioned, the folding bike has a recumbent style seat with armrests. There is a set of multi-grip handlebars that are integrated with HR sensors into them.
Speaking of its compact nature, the Innova XBR450 overall assembled dimensions are 34.2 inches long by 21.6 inches wide by 48 inches tall. Evidently, these show that the unit can fit in a room without much space. However, it is recommended to leave a clearance of at least 2 feet on both sides of the bike and the rear for safe and convenient workout experience.
It is also foldable which means it can be folded up for storage. The storage space even requires less space, but unfortunately, the folded dimensions were not stated, but the bike is usually half its original size when folded.
Due to its overall and semi-recumbent design, most people will find it appealing and useful especially for seniors and those recovering from an injury.
The Innova XBR450 Folding Exercise Bike has a decent quality that outweighs its cost.
The Seat, Handlebar, and the Pedals
These are the three elements that could guarantee comfort if they are designed correctly.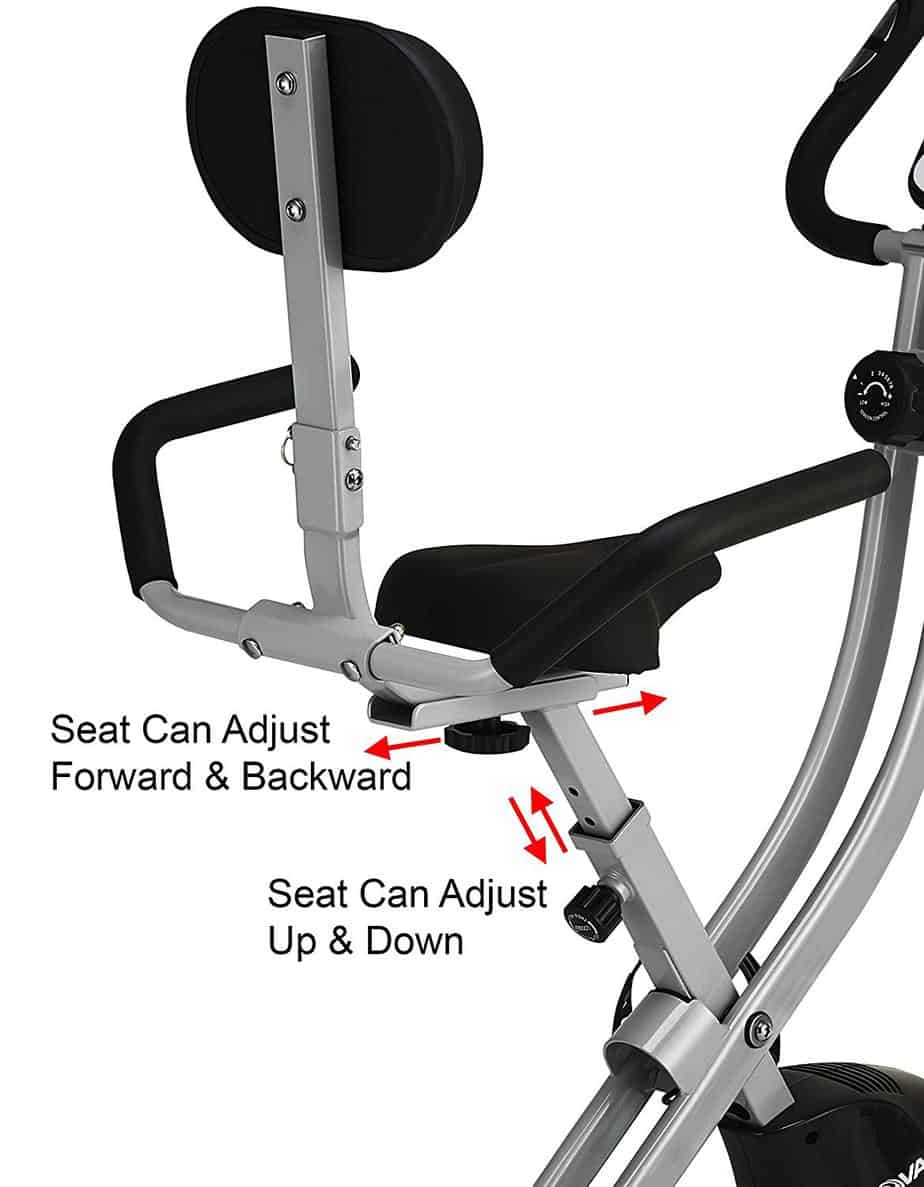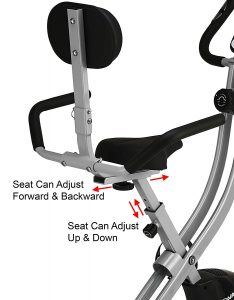 Fortunately, the seat on the Innova XBR450 Folding Upright Bike is fully adjustable. This is a big deal because it provides the flexibility a user needs. The seat is 4-way adjustable which is not the case with many other expensive folding bikes. Mostly, folding bikes' seats could only be adjusted vertically (upward/downward), but this unit allows the user to adjust the seat vertically and horizontally as well. However, the backrest cannot be adjusted to recline.
This promotes comfort and suitability that allow the user to work out longer without getting bored or uncomfortable.
The seat and the backrest are contoured and padded adequately to convey the much-needed comfort.
The seat's adjustability also makes it possible for users to easily find adjustments comfortable for a workout.
Users between 5 feet 1 inch to 5 feet 10 inches have expressed that they were comfortable on the bike. However, 4 feet 11 inches tall individuals could also use the bike but that means adjusting the seat all the way to end of the forward adjustment which could make mounting and dismount from bike to be difficult because of the handlebars on the seat. If you are within this height range and still wish to use the bike you must remove the seat's handlebars.
The main handlebar on the Innova XBR450 is not adjustable which is normal with any folding upright exercise bikes. The seat adjustability has complimented the non-adjustable handlebar thereby significantly reducing the negative impact it could have caused.
The handlebar features a multi-grip design that allows the user to alternate grips during a workout. It is also covered with a foam material that is designed to provide firm and comfortable grips. This means that slippage as a result of sweaty hands and blisters will be prevented.
The handlebar has the HR pulse sensors embedded in them which transmit pulse data to the monitor when gripped during a workout.
The pedals have an anti-slip design with adjustable safety straps that could secure the feet from slippage during a vigorous workout. The pedals are standard and could be replaced with another preferred set.
The Drive System
The Innova XBR450 Folding Upright Bike features a belt drive system that consists of precision dual flywheels, belts, and durable crank arms. This type of drive system is known for its smooth and quiet motion that appeals to everyone.
For this reason, the bike is a good choice for those living in close proximity to neighbors. Family members will not feel disturbed either when working out on the bike.
It is also worth mentioning that upright bikes with belt drive system usually don't need any type of maintenance.
The Resistance System
The Innova XBR450 Folding Upright Bike has a manual magnetic resistance system. This resistance system consists of the magnetic brake pads that are designated around the flywheel which generate resistance as a result of the magnetic field.
In other words, the magnetic resistance system generates resistance without the magnetic brake pads making direct contact with the flywheel as the case with friction resistance system and so does not require any maintenance or replacement of any parts.
There are 8 resistance levels available and it is very easy to adjust. The resistance can be increased by twisting the tension knob clockwise and to decrease it turn anti-clockwise.
The resistance level effect is good for beginners and probably for intermediaries. People that are also recovering from injury could also find it suitable.
The bike provides proportionate resistance that engages the abdomen, and the lower body muscle groups.
The Console
The Innova XBR450 Folding Upright Bike comes with a rather basic console which far better than not having one at all. This allows the user to keep track of workout progress.
The monitor displays workout data such as time, distance, speed, calories burned, and pulse when the sensors on the handlebar are gripped.
It features only one button that could be used to manipulate settings. Basically, a user can choose to have a certain preferred value displayed constantly on the screen or have the entire values display one at a time for few seconds rotationally, which is also referred to as the SCAN function.
Even though the monitor's screen is small it displays a value with clarity, however, it might be compromised when used in a poorly lit room or the environment because it is not backlit.
The console is designated in a position that will be best viewed without unnecessarily leaning forward.
Again, in order to read the heart rate data, the sensors need to be gripped and this will help the user to maintain the target heart rate zone at all times.
Although, there are complaints about how unreliable the handgrip sensors could be. This is a general problem not only with the Innova XBR450 Folding Upright Bike. You can try it out and see how it works for you but if you don't find it satisfying then you may want to consider using an external HR chest strap and monitor instead.
The calories burned data is also not accurate as it does not translate to the actual weight loss but it could be great for comparison purposes.
The console comes alive automatically when there is activity on the bike (when the pedals spin) and goes off when it is in an idle moment for a couple of minutes. This helps to save power because the console is not powered by electricity but by 2 AAA batteries that are also included.
Accessory
The Innova XBR450 Folding Upright Bike has a unique accessory that is referred to as the patent universal tablet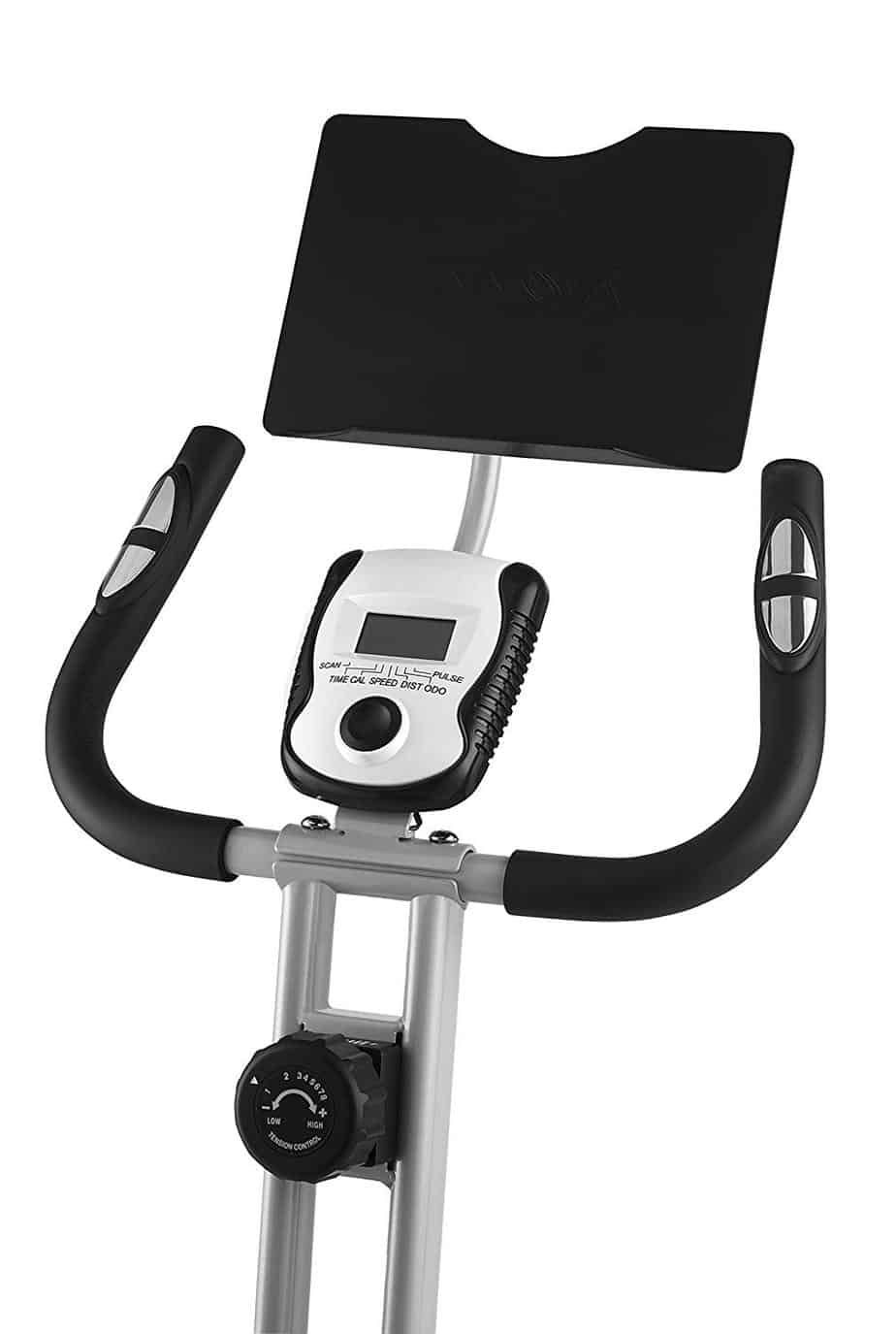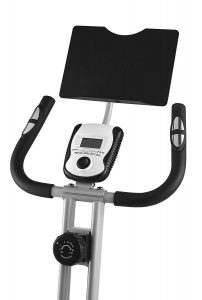 holder that is capable of holding any size of a tablet.
This essentially makes it possible for the user to be entertained while working without the usual problem of having to deal with the monitor's screen being blocked because the tablet holder is positioned above the console.
The tablet holder makes it easier and convenient for viewing.  Place an iPad, Galaxy, Kindle, and enjoy your favorite movies, news, social media, etc.  Interestingly, the tablet holder can be adjusted for a better viewing position.
Just as aforementioned, the bike is quiet during operation, therefore, a user will enjoy viewing without noise interference.
It is possible not to include the tablet holder during assembling or it can be removed later if you think it is no longer needed especially if you wish to watch the Television.
That said, there is no other accessory such as a water bottle holder. But you can always improvise by using a table or a stool beside the bike to keep a bottle of water for hydration during a workout.
Storage
The Innova XBR450 Folding Upright Bike is storage-friendly because it is compact and foldable at the same time.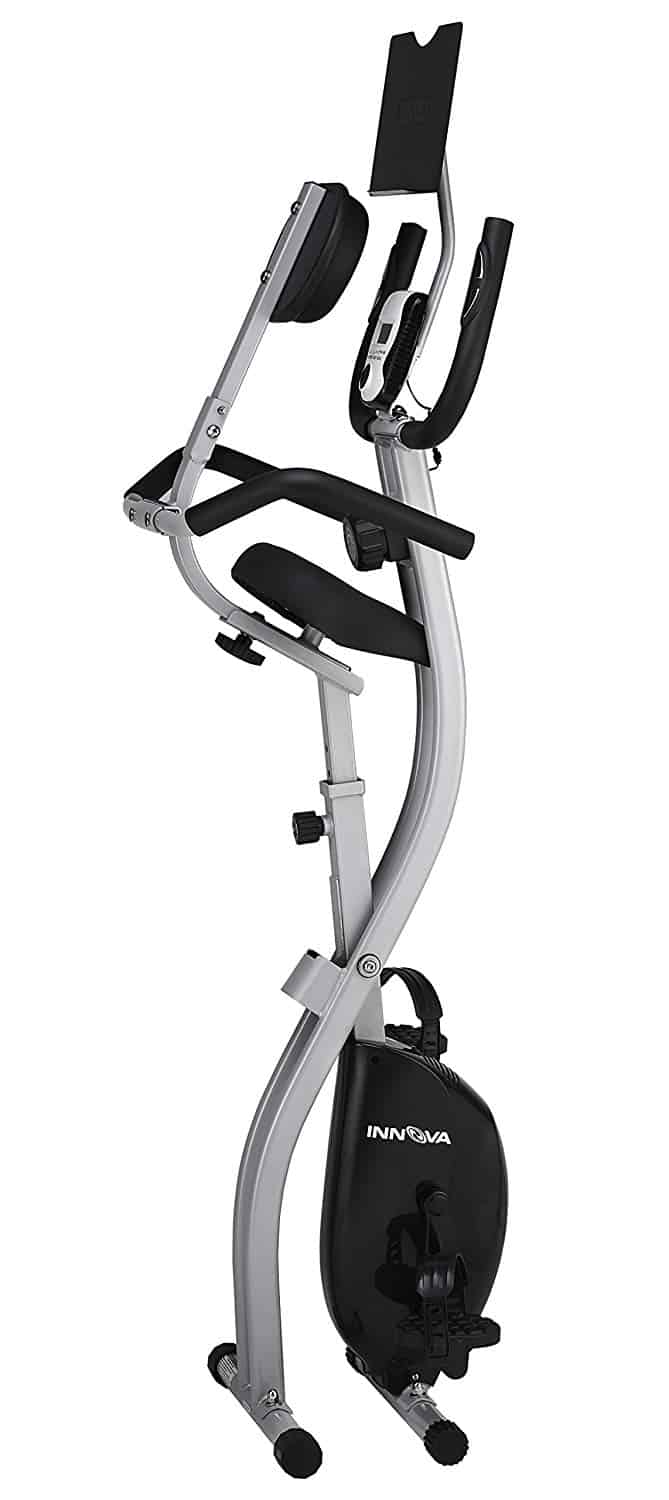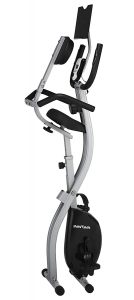 Basically, you store the bike in a standard closet or under the stairs. It can be very unnoticeable even if it is leaned against the wall in the room.
Relocating it to a storage area is not difficult either because it is a lightweight upright folding bike that weighs 44 pounds/20 kg. Although, it does not have transport wheels which means you have to drag or carry it to the storage area.
Approval Rating
The approval rating of the Innova XBR450 Folding Upright Bike is pretty good because the majority of the users have expressed satisfaction.
The Amazon approval rating for this product at the time of this review is positive with only very few disgruntled users.
The common complaint is that the resistance does not provide a challenging workout which is to be expected, by the way, this is an inexpensive upright folding bike.
Some also have an issue with overall stability. Again, this is to be expected because the bike is very compact and lightweight.
The good news is that many users are satisfied and could not be happier.
Pros/Features overview
It has a space-saving design
Built to support up to 250 pounds/113.3 kg maximum user weight capacity
It is a considerably stable bike due to the front and rear stabilizers
The seat is 4 way adjustable
The seat is comfortable because it is well padded and contoured with backrest and side armrest
Can accommodate users between the height of 5 feet 1 inch to 5 feet 10 inches
Features a belt drive system that provides smooth, quiet and consistent motion
Features manual magnetic resistance system with 8 levels
Low maintenance required
A user should be able to track workout progress due to the LCD monitor that displays data such as distance, speed, calories burned, time, and pulse
Features patent universal tablet holder
It is an affordable/inexpensive bike
Cons
Not great for advanced users or people that simply wish to experience a challenging workout
Not extremely stable
No transport wheels
Product Dimensions and Specifications
34'' Length
22'' Width
48'' Height
Folded dimensions not indicated
Weight: 44 pounds/20 kg
Supports up to 250 pounds/113.3 kg maximum user weight capacity
Belt drive system
Resistance: Magnetic resistance system, 8 levels
LCD monitor
4-way adjustable seat with backrest and side armrest
Warranty
Shipping, Assembly, and Maintenance
Shipping
The shipping weight of the Innova XBR450 Folding Upright Bike is about 47.9 pounds/21.7 k and the shipping cost depends on the retailer you are purchasing from; although, there are some vendors such as Amazon that provides free shipping.
Assembly
The assembly of the Innova XBR450 is pretty easy.  It will probably take about 30 minutes, more or less to completely assemble the bike.
Usually, it comes with the major components preassembled; therefore, you only need to attach parts such as the stabilizer bars, the pedals, the handlebar, and the seat to the frame, then the console and the tablet holder to the handlebar.
Moreover, the instruction manual and the required tool are included.
Maintenance
This bike does not need any special maintenance just as aforementioned. The reason being that it is a belt-driven bike with a magnetic resistance system both of which do not need any maintenance.
All that is required is to always examine the bike for any loose, worn, or broken part. Do fix accordingly if there is any problem. Other than that, keep it clean from dirt and sweat at all times.
Conclusion
The Innova XBR450 Folding Upright Bike is recommendable for home use and even for office use as well. Great for those that wish to maintain physical fitness and those that are recovering from injury.
It is affordable and space-saving but with its downsides as well because it does not provide an extremely challenging workout and not very stable but enough to allow anyone to carry on with a decent workout.
Innova XBR450 Folding Upright Bike Review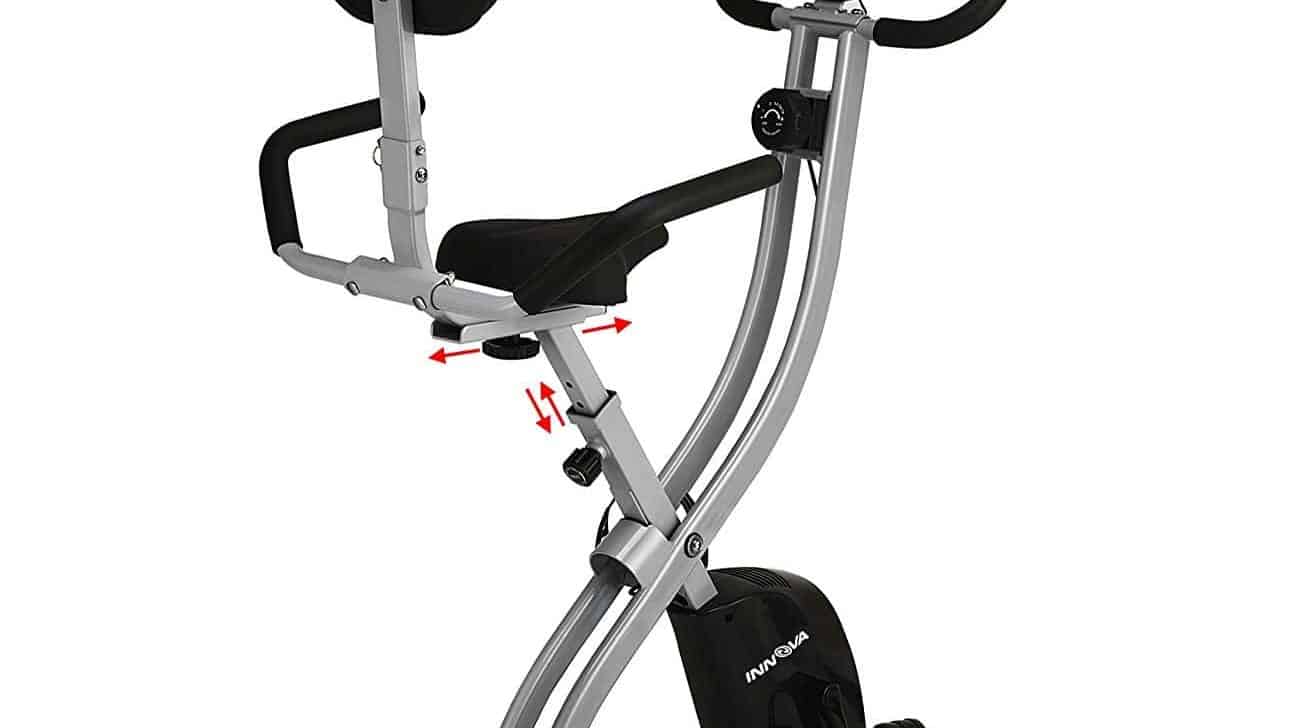 Apperantly the Innova XBR450 Folding Upright Bike is an inexpensive and lightweight indoor folding bike. It has a quality steel frame that could support up
Product Brand: Innova
Product In-Stock: InStock