The Bowflex C7 IC Indoor Exercise Bike is the least in the Bowflex IC series; Its structural design is distinctively different from the Bowflex IC16 Indoor Exercise Bike. However, it is more advanced than average indoor cycling bikes.
The difference between this bike and the upgraded models, aside from the structural design is that it has a smaller console. Other than that, everything else is pretty the same.
It has a 7'' HD touchscreen smart console that is Bowflex JRNY app compatible. This grants you access to several workout video resources that could help you achieve your fitness goals faster even as you have fun doing so.
Speaking of fun, streaming entertainment apps such as Netflix, Hulu, Disney+, and Amazon Prime Videos are also available. Although, these and the Bowflex JRNY app require a monthly subscription.
Click right here to have a peek at the best price of the Bowflex C7 IC Indoor Exercise.
The Frame & Construction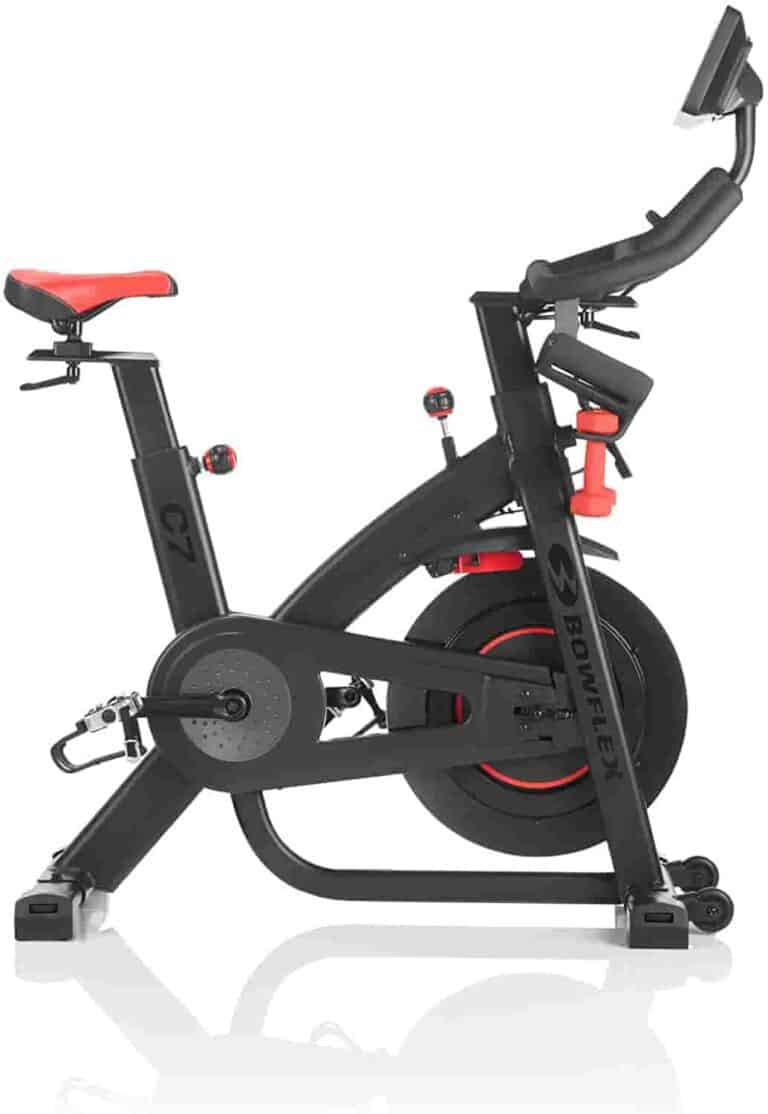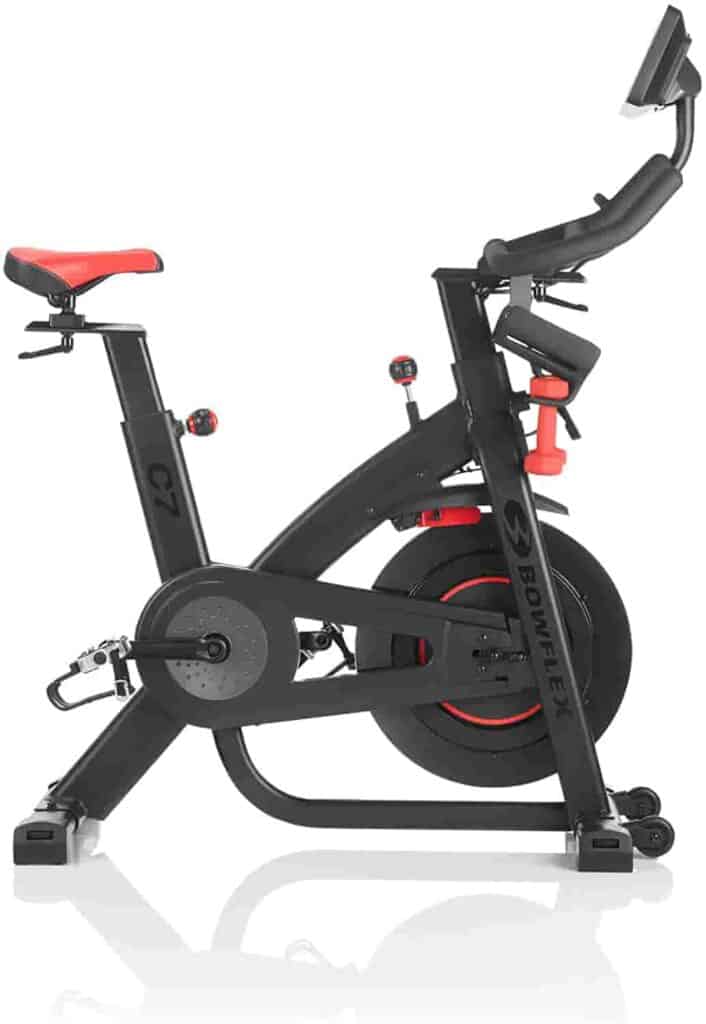 The Bowflex C7 IC Indoor Exercise Bike has a design that places its flywheel at the front part. It has a durable, solid, and nicely welded YC-shaped steel frame that closely looks like that of the Sunny Health & Fitness Aepro SF-B1711 Exercise Bike.
The frame is coated with anti-corrosion paint that is designed to prevent rust and deterioration that comes with time.
Of course, the bike also integrates an ABS-made drive-train and magnetic brake pad covers, stabilizer end-caps, and more.
Users that are up to 330 lbs./149.6 kg can exercise with the bike.
The front and rear steel stabilizers have adjustable levelers that enable you to balance the bike on a platform when necessary. This indeed enhances the bike's overall stability. Thus, you can focus on getting results while working out and not worry about stability problems.
That said, placing the bike on a solid and even surface is still the best practice of achieving optimum stability, and placing it on a protective rubber mat is proactive.
The bike weighs 117.1 lbs./53.11 kg, which is also an advantage to stability. However, it might be an impediment during the process of relocating the bike. But, there are transport wheels at the front base that help during the relocation process.
The assembled dimensions of the bike are 48.1'' long by 21.3'' wide by 57.5'' high. Thus, the bike will require a workout area with measurements of 4' (122.17 cm) by 1'77'' (54.1 cm), and additional clearance of 2' on each side to ensure safety and a convenient workout experience.
The Seat of the Bowflex C7 IC Indoor Exercise Bike
The seat is 4-way adjustable; it could be adjusted up/down and fore/aft. This allows users of different heights and sizes to adjust the seat as they see fit for comfortable accommodation. In other words, users up to 6'5'' tall can comfortably fit in.
Although, the seat itself is not comfortable as expected for most users, and as a result, they opted to use a gel seat cover to enhance it, while some have completely replaced it with another. Thankfully, the seat's attachment system is the collar-type, thus, alternatives are widely available.
The Handlebar
The handlebar is multi-grip designed, offering multiple grips that include racing grips, closed grips, hill-climbing grips, standard grips, and aero grips.
It is generously coated with soft rubber foam for comfortable and secure grips that enable users to train longer without the need for gloves.
Interestingly, unlike the upgraded versions, the handlebar is 4- way adjustable which enhances the overall customizability of the bike.
It is possible to adjust it vertically (up/down) and horizontally (fore/aft) between several positions.
Both the seat and the handlebar have adjustment levers that make it easy for quick adjustment within seconds.
There are no EKG HR sensors; however, the included Bluetooth HR armband can always transmit your pulse data for observation.
Pedals
The Bowflex C7 IC Indoor Exercise Bike integrates dual-sided pedals that accommodate standard gym shoes (toe cages) on one side and special spin shoes (SPD) on the other.
Both sides are secure and comfortable. So, regardless of which side you wish to use for workouts, you don't have to worry about your foot slipping off, especially during aggressive pedaling.
The pedals are designed to support the stipulated maximum user's weight, including bearing the total weight of the user when performing out-of-seat pedaling (standing).
The Drive
This is a belt-driven bike with a front positioned flywheel.
It mainly comprises an anti-stretch Poly-v belt, pulleys, a 3-piece crankset, solid crank-arms, and a perimeter weighted flywheel.
The flywheel's weight is not disclosed, but it is lighter than the one on IC16 & IC22. Its weight should be anywhere between 10-15 lbs./4.5-6.8 kg.
The belt drive system makes the bike's operation to be smooth and quiet, and it also means no maintenance is required as opposed to a chain-drive system.
So, usage in a populated area won't constitute a nuisance.
Moreover, the drive system is bidirectional. This makes it possible to pedal in reverse if you so wish. But, you must carefully slow down whenever you intend to stop pedaling in order to prevent a potential accident that could affect the leg, especially the ankle.
The Resistance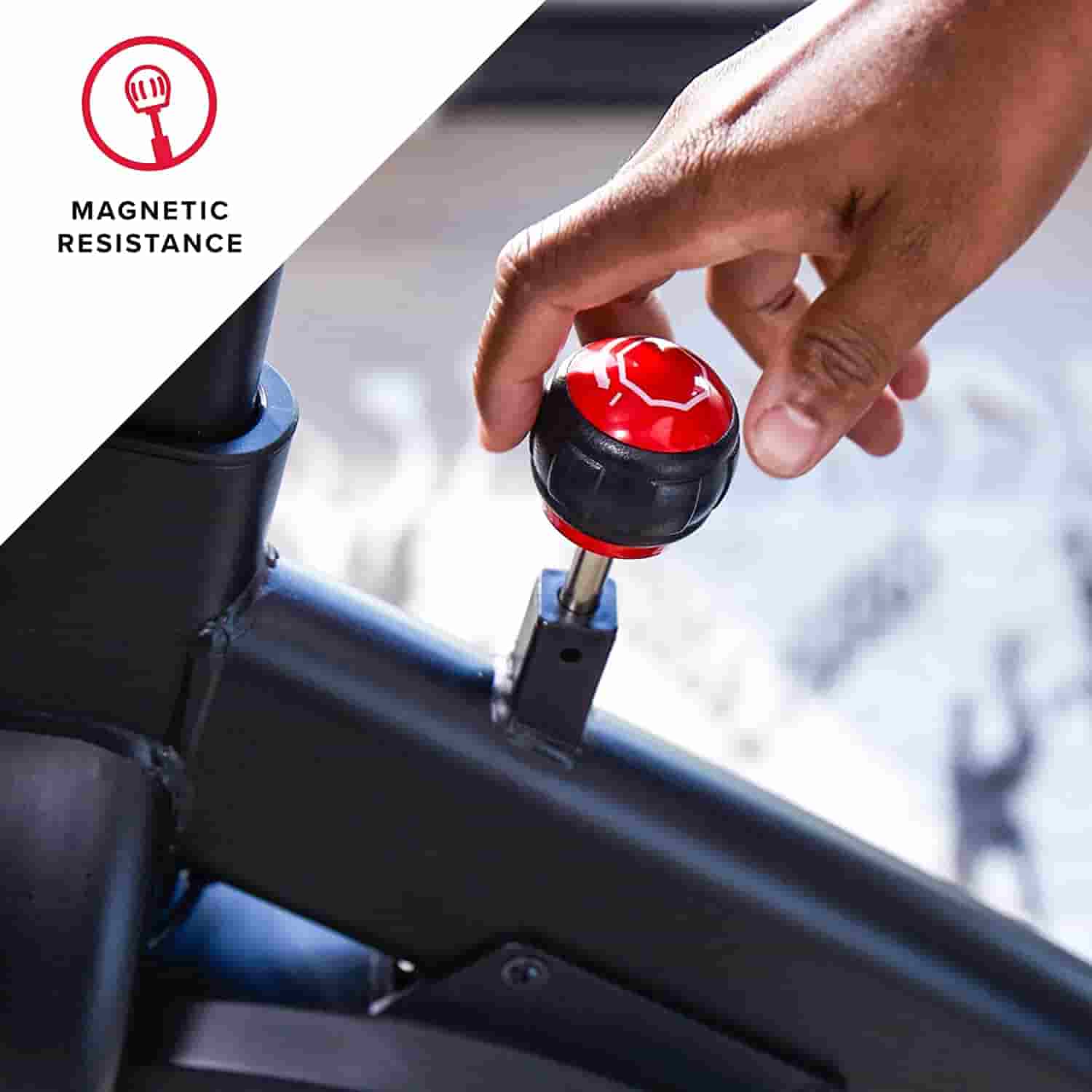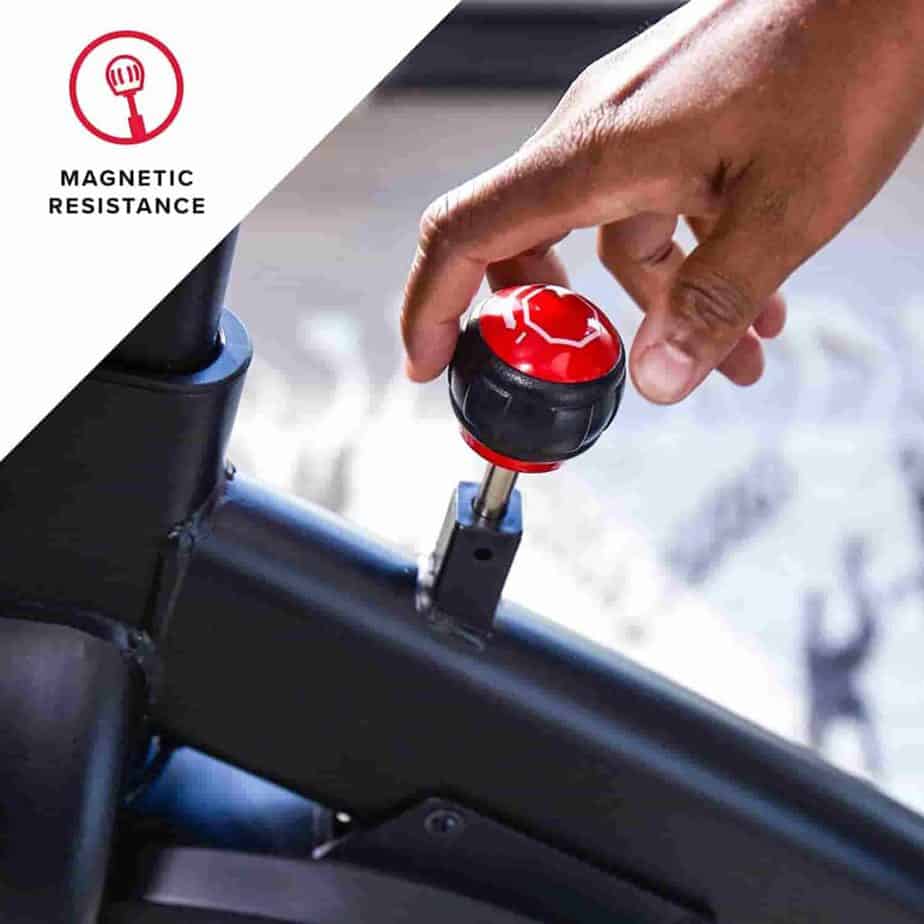 The Bowflex C7 IC Indoor Exercise Bike has a manual magnetic resistance system that consists of a magnetic brake pad which is attached below the front main frame tubing. It faces down toward the chromed top surface of the flywheel so that when the tension knob is adjusted, it shifts close to the flywheel (without contact) and emits magnetic fields that will consequently create resistance.
The resistance level it creates depends on the proximity of the magnetic brake pad and the flywheel.
There are 100 micro-adjustable resistance levels available. So, it doesn't matter if you are a beginner, an advanced athlete, or in between, you will be able to find resistance levels suitable for achieving your physical fitness goals.
You can easily and simply increase or decrease the resistance level by turning the tension knob clockwise or counterclockwise, respectively.
Since the resistance system functions without friction, the smooth and quiet operation of the bike remains unaffected.
Also, it is maintenance-free.
The Console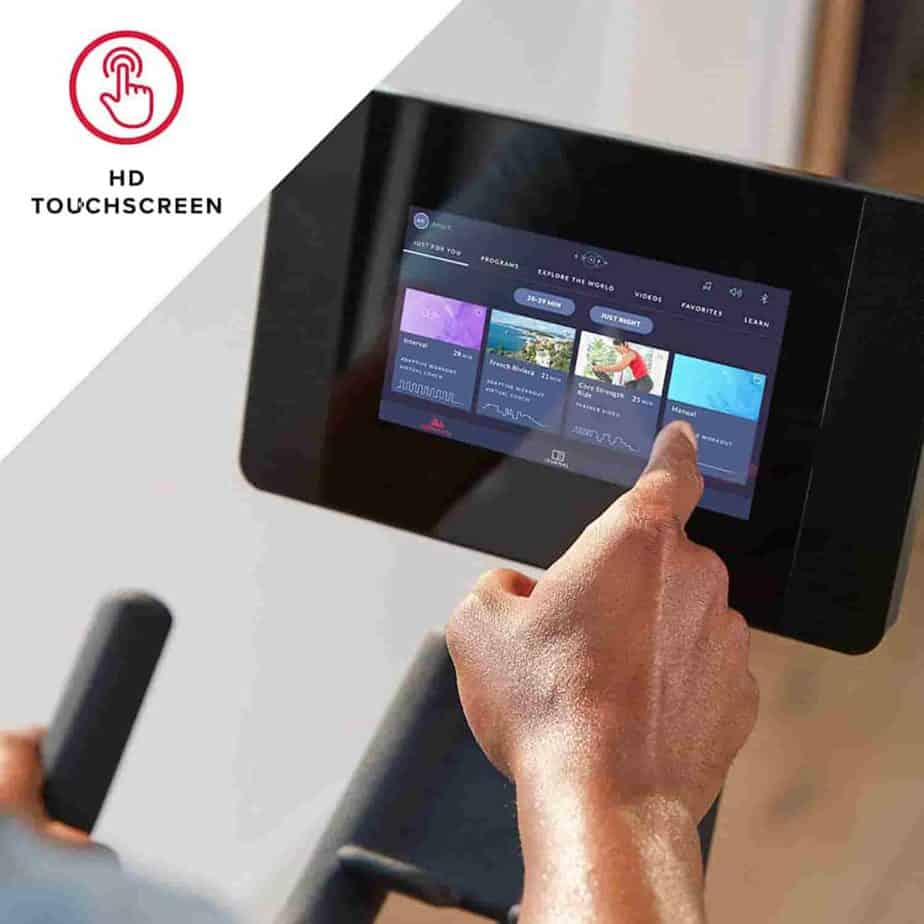 The console embodies some interesting features that include a 7'' HD touchscreen smart display that is compatible with the Bowflex JRNY app. This is similar to the upgraded models, except the screen is much smaller.
It is also compatible with other apps such as Hulu, Netflix, Amazon Prime Video, and Disney+. These are entertainment apps that avail online movies and music streaming.
On the other hand, the Bowflex JRNY app gives you access to several workout resources such as Private coaching videos, spin classes, visual terrain trails, and much more. However, the content on the app is so much that it could be overwhelming to figure out what to use.
Fortunately, based on your workout history, the app provides curated 2 to 4 workout programs tailored just for you. This narrows your options down to fewer programs that could immensely impact your workout experience.
As aforementioned, these apps require a monthly subscription for access.
Nevertheless, the console has its standard programs you could use without subscriptions. This includes preset interval programs, calorie-burning programs, heart rate programs, and scenery videos.
In addition to that, the console tracks your workout progress by displaying stats such as Time, Speed (mph/km/h), Distance (miles/km), Calories, Burn Rate (Calories Per Minute), Heart Rate, Cadence, Resistance, and more.
It is also possible to set a countdown goal for Time, Distance, or Calories.
If you have a Zwift or peloton subscription, you can use it to connect to the console via a smartphone/tablet.
A power adapter is included for powering the console.
Accessory
The Bowflex C7 IC Indoor Exercise Bike has a couple of extras. These include a USB charging port for phones, a set of 3 lbs./1.36 kg dumbbells and their holders, a set of water bottle holders, and a tablet holder.
The bike is equipped to offer you the convenience and entertainment you need to stay focused for success.
Storage
This bike doesn't take up too much space. A storage area with measurements of 4' (122.17 cm) by 1'77'' (54.1 cm) can accommodate it.
It can easily be moved around the room even though it weighs 117.1 lbs./53.11 kg. The reason is that there are transport wheels at the front base that help in that process.
Pros/Features Overview
Sturdily and solidly built to support up to 330 lbs./149.6 kg
The base features robust framework with adjustable levelers for optimum stability
Belt drive and magnetic resistance systems ensure smooth and quiet operation
It is micro-adjustable to accommodate users that are up to 6'5'' tall
The anti-slip foam coated handlebar offers multiple grips for different cycling styles
The pedals are dual-sided, offering the opportunity to work out comfortably and safely with a pair of standard gym shoes or a pair of special spin shoes
The manual magnetic resistance system provides 100 resistance levels
The console is compatible with Bowflex JRNY app and third-party apps such as Zwift and Peloton; these provide access to private coaching videos, spin class videos, scenic videos, and more
The smart 7'' HD touchscreen display tracks Time, Speed (mph/km/h), Distance (miles/km), Calories, Burn Rate (Calories Per Minute), Heart Rate, Cadence, Resistance, and more
The console is telemetry-enabled, and Bluetooth HR armband is included
There are preset Interval programs, Calorie burning programs, heart rate programs, and goal countdown setting for Time, Distance, and calories
The console also has pre-installed entertainment apps such a Hulu, Disney+, Netflix, and Amazon Prime Videos
A set of 3 lbs./1.36 kg dumbbells included
A set of water bottle holders included
A tablet holder is included
A USB charging port is integrated
Easy to assemble
Transport wheels are included for easy relocation process
Low maintenance
A power adapter is included
Cons
Monthly subscription is required for each of the app
Warranty
3 Years for the Frame
3 Years for the Parts
1 Year for the Electronic Parts
1 Year for Labor
Product Dimensions & Specifications
Length: 48.1''
Width: 21.3''
Height: 57.5''
Shipping dimensions: 41.5'' L x 10.25'' W X 33.75'' H
Net weight: 117.1 lbs./53.11 kg
Gross weight: 133 lbs./60.32 kg
Maximum user weight capacity: 330 lbs./149.6 kg
Frame: Steel
Seat: 4-way adjustable
Handlebar: 4-way adjustable
Pedals: Dual-sided (toe cages & SPD)
Drive: Belt
Resistance: Manual magnetic, 100 resistance levels
Console: 7'' HD smart touchscreen
Bluetooth armband included
Transport wheels: Yes
3 lbs./1.36 kg dumbbells and holders included
Power adapter included
Water bottle holder: Yes
Tablet holder: Yes
USB charging port: Yes
Shipping
The Bowflex C7 IC Indoor Exercise Bike arrives in a box that weighs 133 lbs./60.32 kg with dimensions of 41.5'' long by 10.25'' wide by 33.75'' high.
Its delivery takes a couple of days and usually, shipping is free.
Assembly
The assembly process is easy and straightforward since the complicated components have already been installed by the manufacturer.
You only have to attach the front and rear stabilizers, the seat/post, the handlebar/post, the pedals, and the console. This might take about an hour, more or less.
Maintenance
The maintenance of the bike does not require any special skills but something everyone can do.
It needs to be kept clean before and after every workout session. Examine the bike to ensure that all the parts are good and tight. Finally, store it in an area that is clean, dry, and cool.
Conclusion
The Bowflex C7 IC Indoor Exercise Bike is a good alternative to IC16 or IC22 because it is cheaper and has almost the same features as they do except for the console that is smaller and the structural design that does not include the leaning mode.
The bike still offers a productive and fun-filled workout experience. Thus, adding it to your home gym will indeed impact your journey to fitness.