The Stamina Elite Total Body Recumbent Exercise Bike is one of the few recumbent bikes that can offer overall body workout. One cannot be wrong to say that this recumbent bike is an outstanding and unique machine that could do a lot to your entire body muscle groups. Both beginner and advanced users will appreciate this machine.
It has a design that designated moving arms at the front of the bike that a user could use to pedal with the hands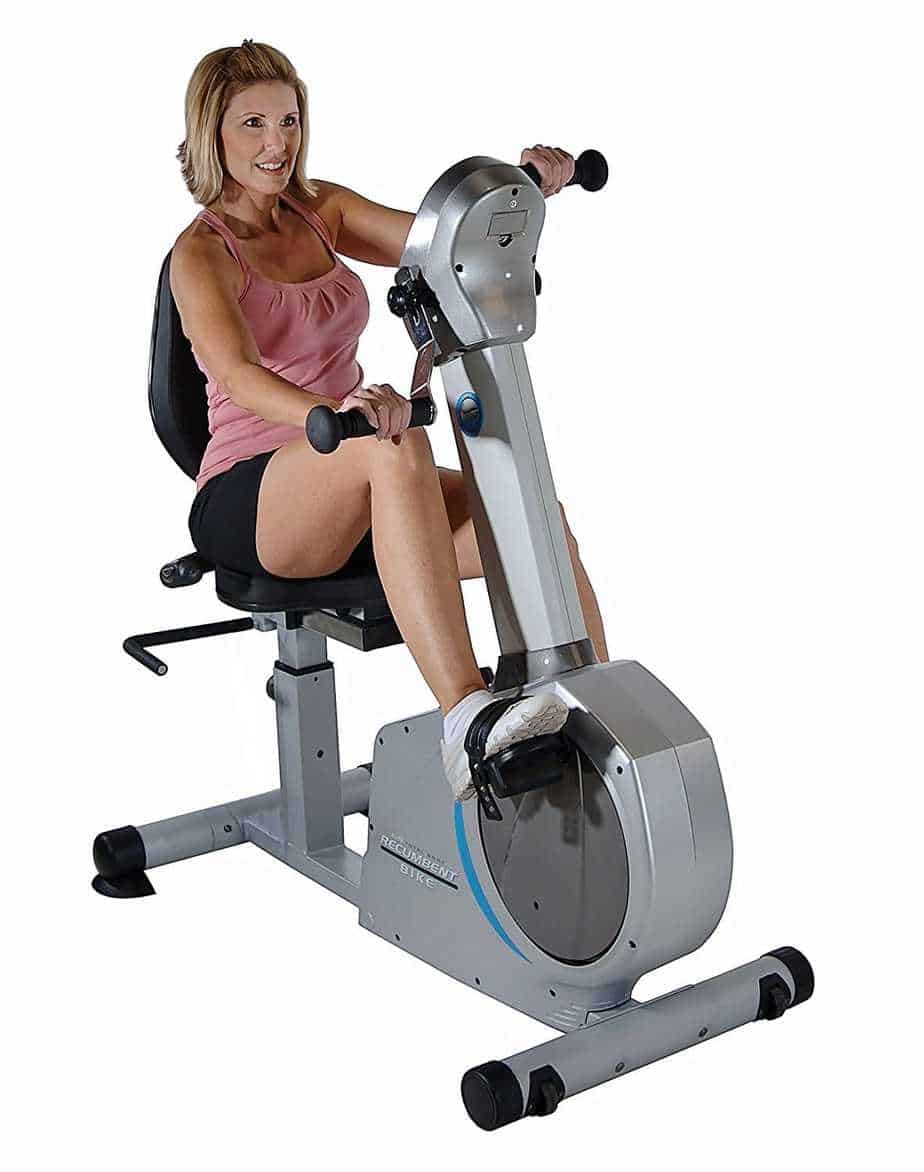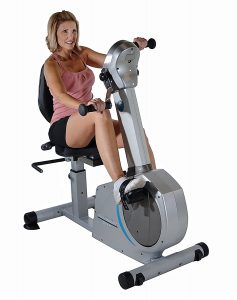 which in return work on the upper body. This is the major reason why it is unique from the traditional recumbent bikes.
Moreover, it has received a lot of positive reviews from real users which indicate that the machine is popular and much loved by most of its users. Currently, it has over one hundred Amazon customer reviews with an approval rating of 4.3 out of 5.
Most users expressed their satisfaction with how quiet and smooth the machine runs. One particular verified Amazon customer revealed that both she and the husband had knee replacement surgery and this machine is helping them to recover as they use it daily.
Traditional recumbent bikes are known for being less stressful to the joints while they offer tremendous cardiovascular workouts that end up allowing the user to burn out a lot of calories but only a few like the Stamina Elite Total Body Recumbent Exercise Bike provide a full-body workout. It also has an ergonomically designed seat that provides exceptional comfort during workouts.   There are 8 levels of magnetic resistance that provide the user with an easy and challenging workout as well.
Remember that this machine is smooth and quiet? That could be attributed to the type of resistance and drive system it possesses. One can still use the bike without power because the console is powered by the battery, no cord, or power outlet required. The Stamina Elite Total Body Recumbent Exercise Bike is a perfect machine for home use and can be placed anywhere in your home.
This recumbent bike made it in our best recumbent bikes list; you may check it out if you wish to view other options as well.
<<<Click here to purchase the Stamina Elite Total Body Recumbent Exercise Bike>>>
The Frame/Sturdiness
This recumbent bike has a sturdy steel construction that offers solid workouts. A bike that could last and withstand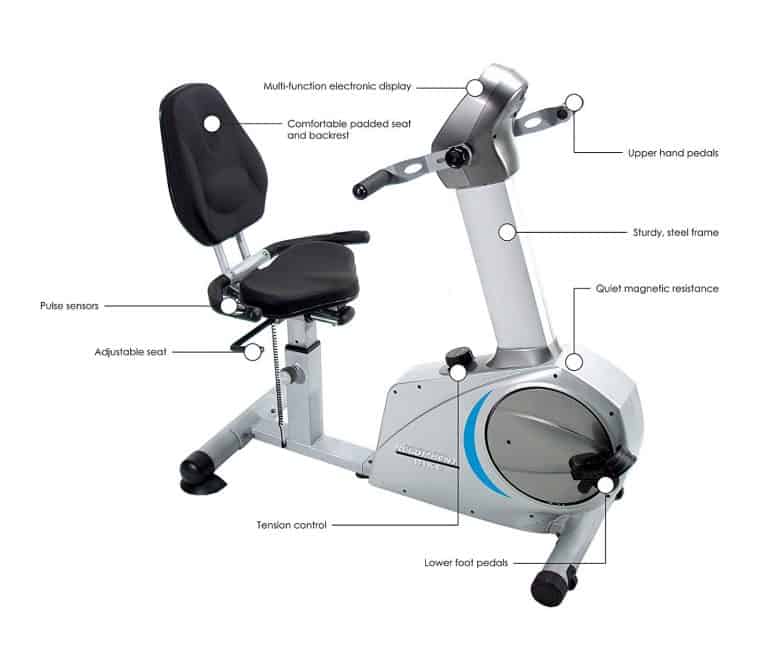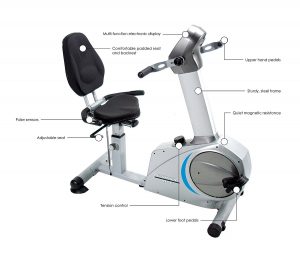 years of prolonged hard use. It has got large and wide stabilizers at the back and front that ensure that the bike does not wobble or move during an intense workout.
You know that a workout that is smooth and void of wobbling will make the user be relaxed and not distracted by the annoying movement of the machine. A user can choose to amuse himself by watching a favorite TV show or listening to music while he gets on with working out.
The machine seems to hold up and lasts longer because no user has complained of it not been durable except one user that complained it broke down after almost 3 years of virtually daily use of the machine. 3 years is a bit fair but not enough to make anyone that bought the bike to feel he has gotten the worth of the money spent on buying it. However, machines cannot be trusted 100% in terms of durability but if the bike promises a higher percentage of lasting a reasonable amount of time then it worth purchasing and it appears this bike does make that promise.
It is advised and recommended to buy a rubber mat along with the bike to further boost the stability of the machine on an uneven floor.
Older individuals of 70 and 79 years old have expressed a lot of love for the Stamina Elite Total Body Recumbent Exercise Bike and the 79 years old had this to say, quote ''Perfect exercise for a 79-year-old man!'' I tried all types of exercise equipment at fitness stores, then seen this one advertised. I could not find one in any store, so I took a chance and ordered it, delivered in 5 days to my basement. Took 2 hours to put together and work perfectly. I had a question, called Stamina, they put a bike together, called me back in one hour and solved my problem'' end of quote.
The machine simply for the old and young alike and the majority of the users have expressed so.
The warranty is 5 years on frame and 1 year on the parts. This is not so great since other cheaper recumbent bikes come with a lot better warranty. However, it is still good that it covers the frame for 5 years though.
The Seat/Adjustability/Comfort
The seat has always been the core source of comfort in recumbent bikes especially if it is well contoured, padded, and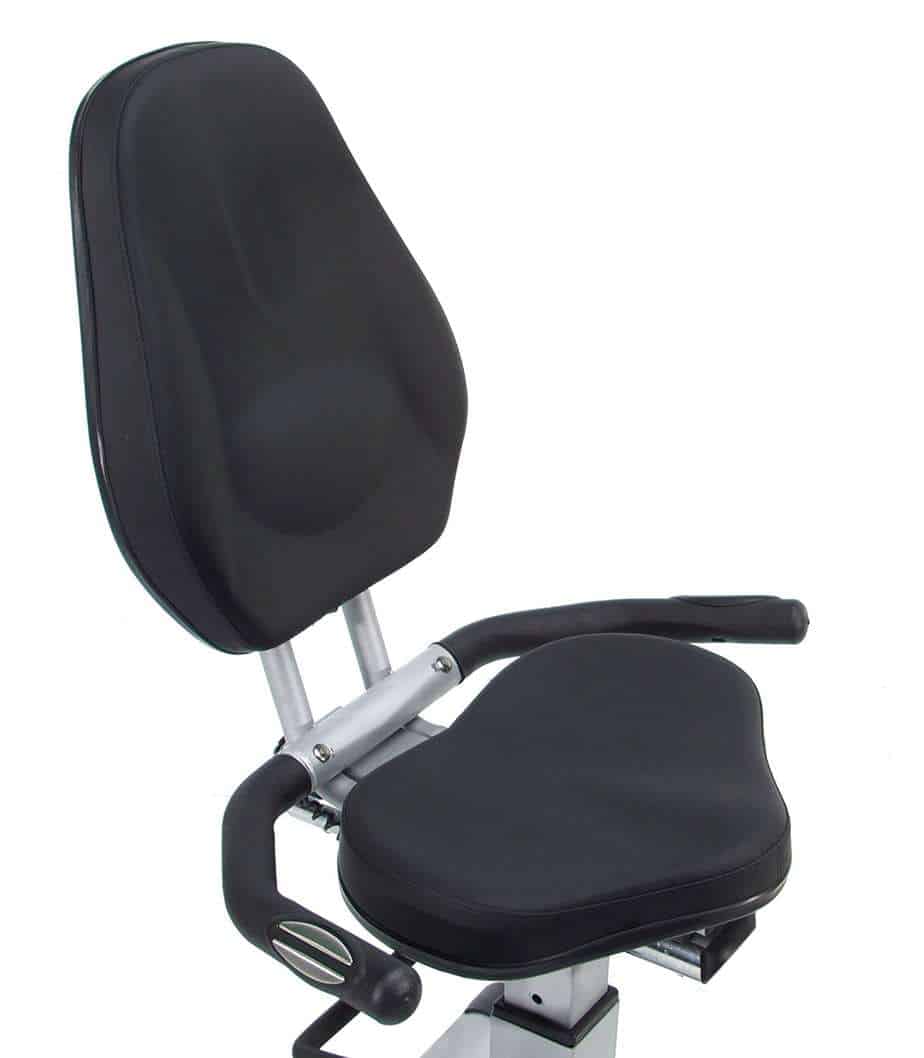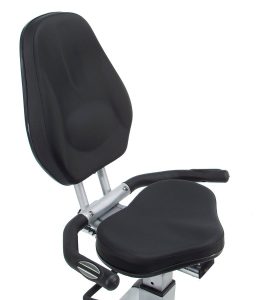 adjustable. The reason being that, if the seat is well-padded and contoured it will convey lasting comfort that could allow the user to work out longer. If the seat is adjustable, it can accommodate users of different heights and sizes.
Fortunately, the Stamina Elite Total Body Recumbent Exercise Bike has the attributes of a good recumbent seat. It can be adjusted up/down as well as forward/backward.
Users between the heights of 5 feet 4'' to 6 feet 2 inches can be accommodated.
It is possible to adjust the seat while seated, and it takes only a few seconds.
The bike has a step-thru design that allows everyone to easily step on and off the machine without any hassle.
The backrest doesn't adjust independently but does with the seat.
The Handlebars
Aside from the hand pedal at the front of the bike, it has the traditional handlebars on either side of the seat with the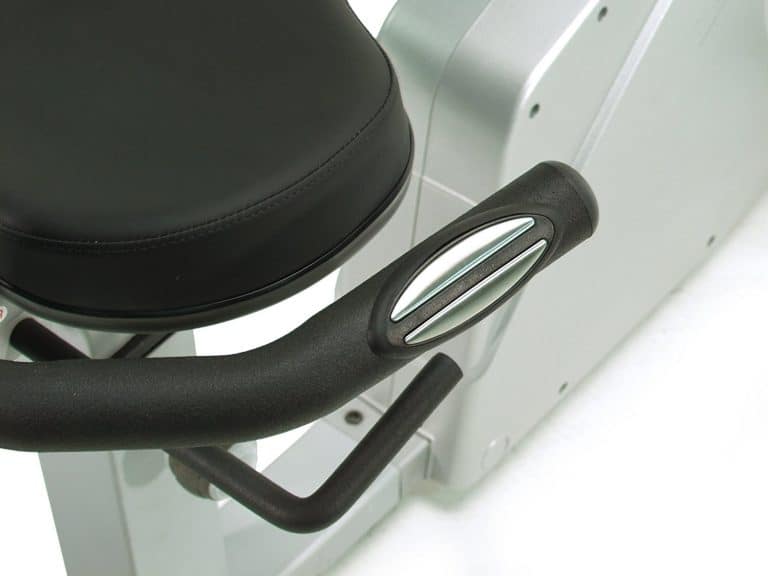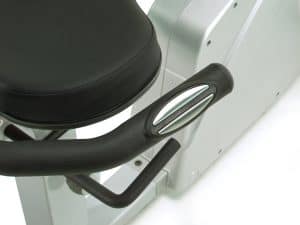 heart rate sensors embedded in them which help to transmit the user's heart rate data to the monitor so that the user can always maintain target heart rate zone at all times during workouts.  They are positioned strategically so that they can provide the much-needed support and leverage to the user when pedaling with the feet. The handlebars are also covered with plastic sort of material to provide comfort to the hands and palms.
The Drive
The fact that this machine is a quiet and smooth point to the possibility of the bike using a belt drive system that is famously known for operating smoothly and quietly. Belt drive usually does not require any form of maintenance like the counterpart chain drive.
Moreover, the drive system is encased in a plastic material at the front of the bike to prevent exposure to dirt that could create a problem, prevent harm to children or pets, and even the user's ankles as well.
The Resistance
This bike comes with 8 levels of magnetic resistance system that can be controlled via the tension knob that is below and in front of the seat.
Some individuals have wondered if the hand pedals have a resistance effect; yes, they can be increased or decreased only when it is being used without pedaling with the feet. In other words, when you pedal with the feet, the hand pedals are without resistance.
The resistance knob is positioned in a strategic place that will make it easy to be reached by the user and it is also easy to use. On top of the control knob are the resistance levels indicated. To increase the resistance simply turns it clockwise and anti-clockwise to decrease the resistance.
The resistance is very effective because it can get almost anyone's heart rate up when level 8 is used. Therefore, users can experience challenging workouts that get rid of tons of calories. Nevertheless, some advanced users may not find the 8-level resistance quite challenging.  The resistance is best for those that wish to gain and maintain a healthy body, not for those looking for serious challenging workouts.
It is also very smooth and quiet during operation and when transiting from one resistance level to another.
The Console
The console has a basic monitor that displays workout data such as the time, speed, calories burned, distance, and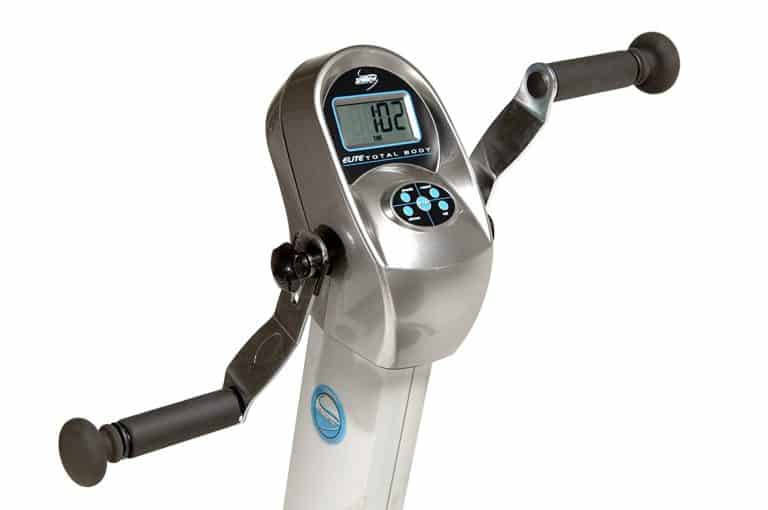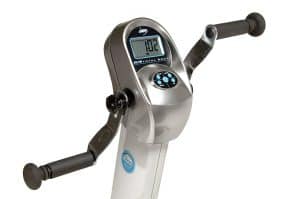 heart rate. The monitor also has a scan function that displays these workout data one at a time for several seconds and then displays another and continues in this pattern rotationally.
This helps the user to keep track of workout progress and can motivate a user to work out harder.
The heart rate data is only displayed when the user grips the handlebars with the heart rate sensors in them and the speed and distance are measured in miles.
Even as a user can use the SCAN function to have all the workout data automatically display so also he can choose to have just one measure or value to display at a time and steady.
A user can set a target using the buttons (mode, reset, down, up, and enter). One can easily set a target for heart rate and gets beeps when the target is exceeded and a user can also set a target for distance, time, and calories and the console will begin a countdown from the target.
The monitor is not the backlit type of console because it is a pretty basic type. Therefore, readability will be great when it is being used in a well-lit room or location otherwise, a user will have to strain the eyes to view the metrics on the console.
To get accurate heart rate reading, a user has to make sure that the hands are moist and warm, however, the heart rate reading is considered not to be 100% correct. This problem is not prevalent with the Stamina Elite Total Body Recumbent Exercise Bike but with any other bike and even the most expensive ones. The HR chest strap is a lot accurate and reliable than the handle grip sensors but they are still useful though.
The bike cannot track and store your workout progress.
The console is being powered by 2 AA batteries that can be installed and used easily.
Therefore, you can use this bike even when there is a power outage and also when the batteries in the console are dead. The only thing is that you will not be able to see all those workout metrics such as distance, speed, time, calories burned, and heart rate.
The console can be started manually by a push of a button and can also automatically start when the pedals are being used. It goes off if there is no activity on the bike for a couple of minutes and every value will reset when the console is turned back.
The Hand Pedals
The hand pedals are the features that make the Stamina Elite Total Body Recumbent Exercise Bike stand out from the rest…at least most. With the hand pedals, a recumbent enthusiast will have the liberty to work on the upper body as well.
The inclusion of the hand pedals makes it possible for users to have a full-body workout that affects almost every muscle group of the body such as the back, shoulders, arms, legs, chest, abdominal, etc.
A user can choose to use the hand pedals alone to work out or to use both with the feet pedals. When both are used concurrently the resistance will only be applied on the feet pedals but when used alone at different times then the resistance can work for both with the same resistance tension control knob.
The resistance does not work on either of them when used in reverse.
The handle pedals are coated with a soft rubber foam to prevent blisters and slippage during a workout. Interestingly, the hand pedals can be adjusted for optimum suitability.
Accessories
Unfortunately, this unit does not come with any other accessories such as a water bottle holder, MP3 port, or speakers. Therefore, you have to just improvise on these things by placing your tablet or MP3 on the tablet close to you so that you can watch a movie or listen to your favorite music. The same thing with water, get a bottle of water and place it on the table close to you for hydration.
Storage
The bike is non-foldable with a 50'' by 24'' footprint and weighs about 117 pounds which could be considered average in weight. This is certainly not the sort of bike you can store under the bed or inside the closet. It has to be placed somewhere under the stairs that have enough space or close to the wall.
It is integrated with small transport wheels that could aid in the relocation of the bike conveniently by lifting it from the back so that most of the weight will be at the front. One person can lift it and wheel it to the location it is intended to be stored or used without much hassle.
Like most of the transport wheels found on other bikes they best work on a hard surface or floor, otherwise, using them on a soft or carpet floor can cause some friction.
Also, be careful when using it on a wooden floor so as not to dent or scratch the floor with the transport wheels.
Approval Rating
This bike has positive reviews and feedback and popular.  It has an approval rating of 4.3 out of 5 (at the time this review was written) of over 100 Amazon customer reviews. This is to say over 85% of its users are impressed with the overall bike performance and features.
Most of the users are willing to recommend it to friends except of course very few had negative complaints about it. You may click right here to find out what the real Amazon users are saying right now.
Product Dimensions
50'' Length
24'' Width
49'' Height
Weighs about 117 pounds
Supports maximum user weight capacity of 250 pounds
Warranty
5 Years on Frame
1 Year on Parts
Features/Pros Overview
Hand pedals for upper body workouts
You can experience full-body workouts with this machine
It has got a sturdy frame that supports up to 250 pounds maximum user weight capacity
The seat is comfortable, well-padded, and fully adjustable
The operation of the bike is smooth and quiet which means a user will not be distracted by any annoying noise neither will he worry about disturbing the family or neighbors
It has a battery-powered console that can be used without the need for a power outlet.
The bike does not need an electrical outlet to work or operate
It has a contact heart rate monitor that allows a user to observe workout progress.
Warranty of 5 years on frame and 1 year on parts.
It has got 8 levels of magnetic resistance
Easy to adjust tension control
Easy to assemble
Cons
No preset workouts
It does not have accessories such as a water bottle holder, tablet/magazine shelf, MP3 port, etc.
The resistance may not be challenging enough for some advanced users.
Shipping, Assembly, and Maintenance
Shipping
The shipping cost and delivery duration time of the Stamina Elite Total Body Recumbent Exercise Bike solely depend on the retailer you are purchasing from, however, Amazon provides free shipping and usually delivers the product to your doorstep in about 3 to 5 days depending on your location.
Assembly
The bike is usually delivered with the major components preassembled leaving you with other smaller components to fix. It is very easy to assemble since it comes with an instruction manual that will walk you through the steps of assembling it and It takes 1 to 2 hours to fully assemble.
You are expected to fix the stabilizer bars, pedals, seat assembly, rear frame, seat, backrest, hand pedals, and handlebars on either side of the seat.
Tools for assembly are also included but you may require your tools to successfully assemble it.
Maintenance
The bike does not require any serious or major maintenance but to wipe clean of dust and sweat all the time.
 Conclusion
The Stamina Elite Total Body Recumbent Exercise Bike is certainly a recommendable recumbent bike especially for those that wish to gain a healthy body and not necessarily to experience extremely challenging workouts.
This is an ideal bike for home use and for everyone that wishes to use a recumbent that is also able to work the upper body.
However, we expected it to have some extras/accessories and a better console.
That being said, it is still a recommendable bike from us (even though we think there is still room for improvements) and of course from most individuals that have used it.
If you still have any questions you need answers to do not hesitate to holler at us and we will be glad to respond accordingly.
Stamina Elite Total Body Recumbent Exercise Bike Review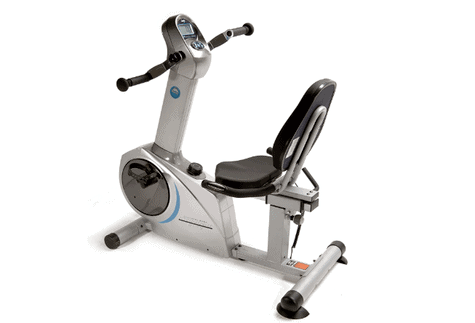 The Stamina Elite Total Body Recumbent Exercise Bike is one of the few recumbent bikes that can offer overall body workout. One cannot be wrong to say that this recumbent bike is an outstanding and unique machine that could do a lot to your entire body muscle groups. Both beginner and advanced users will appreciate this machine.
Product Brand: Stamina
Product In-Stock: InStock