The Nordic Track R35 Commercial Recumbent Bike comes with a 14'' HD Touchscreen console and a 30-day free iFIT family membership.
It is constructed for comfort and productivity. The integrated large seat with ventilated backrest provides comfort and enhanced lumbar support for pain-free prolonged workouts.
It is the upgraded version of the Nordic Track VR21 Commercial Recumbent Bike.
Click right here to have a peek at the best price of the Nordic Track R35 Commercial Recumbent Bike.
The Frame & Construction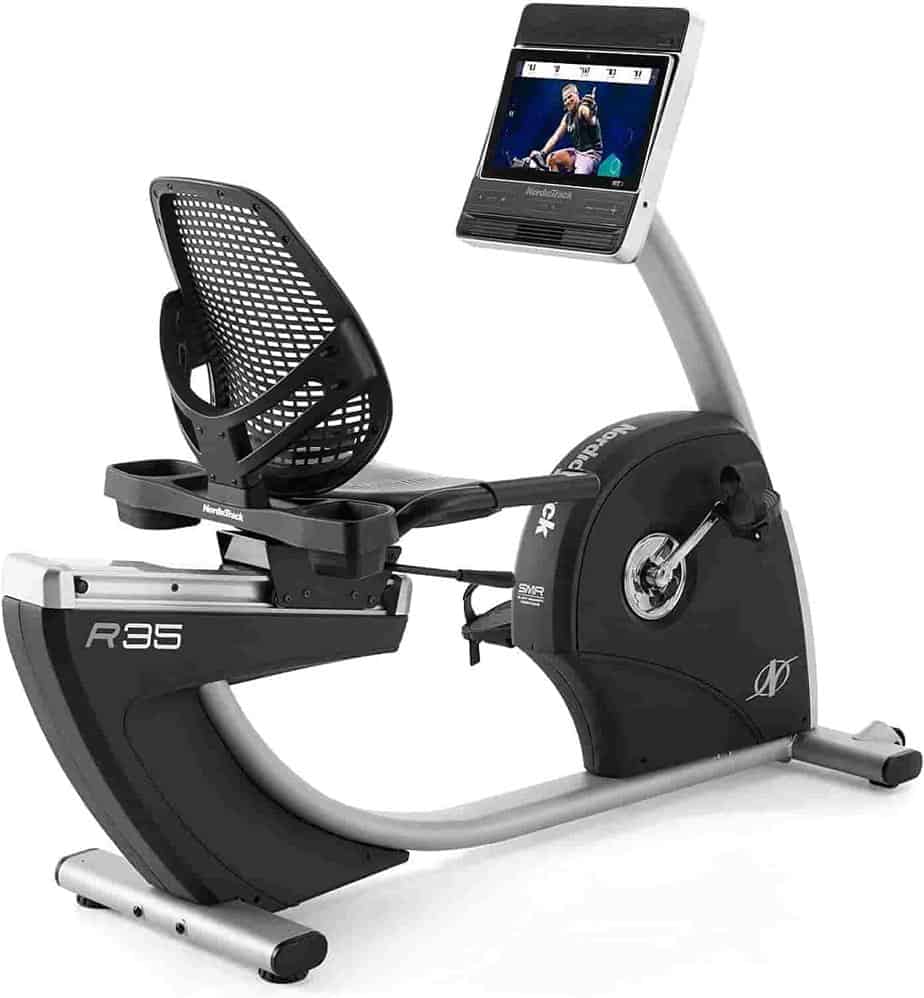 The Nordic Track R35 Commercial Recumbent Bike is equipped with a sleek yet durable heavy-duty cylindrical-shaped steel frame that is powder coated with gray anti-corrosion paint. It has other protective and cosmetic parts that are made of ABS material, these include the drive system shrouds, the seat base covers, the backrest, stabilizers' end caps, and adjustable levelers.
Also, the seat beam/slide rail is made of extruded aluminum.
The bike supports a maximum user weight capacity of 350 lbs./158.7 kg.
Users won't experience stability problems because the recumbent bike's base features stabilizers with adjustable levelers, and its overall assembled weight (less than 192 lbs./87 kg) also enhances stability.
However, due to the weight, it might be a good idea to place the unit on a protective rubber mat to prevent floor damage.
Moreover, some users might be concerned about moving it to and from the storage area due to the weight. Of course, this is a legitimate concern, but they don't have to be because there are transport wheels at the front base that allow them to roll it away by lifting the rear base. After all, most of its weight is designated at the front part of it.
The bike's step-thru design enables you to easily slide in and out of it. This is one of the advantages of a recumbent bike. Users, including those with physical disabilities, will be able to easily mount and dismount the equipment without having to struggle.
The overall assembled dimensions of the recumbent bike are 68.22'' long by 23.69'' wide by 53.42'' high. Thus, it requires a workout area with dimensions of 5'6'' (173.27 cm) length by 1'97'' (60.17 cm) width, with extra clearance of 2' on each side of it for accessibility and safety purposes.
The Seat of the Nordic Track R35 Commercial Recumbent Bike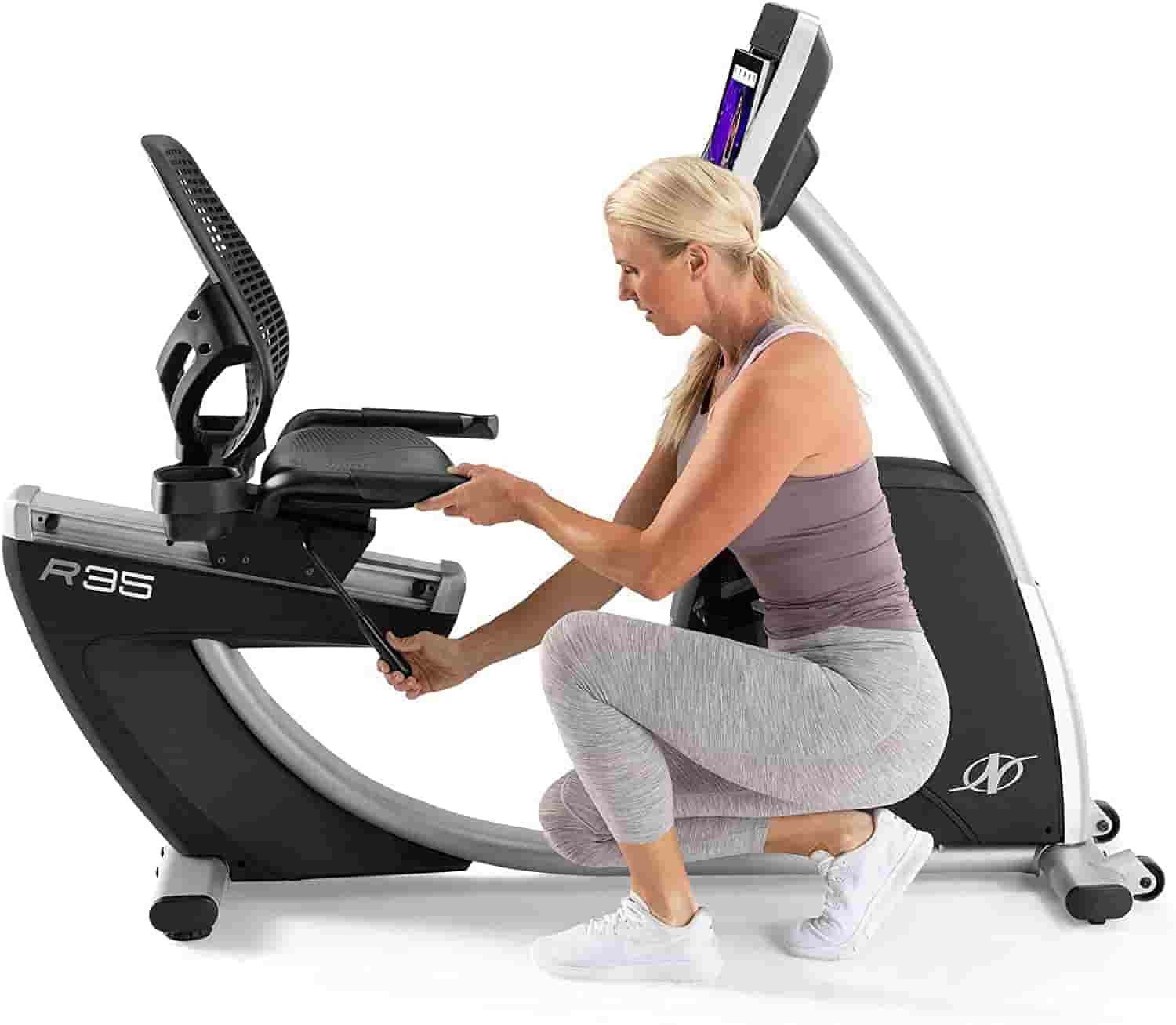 The Nordic Track R35 Commercial Recumbent Bike features a large, cushioned, and contoured seat. Its backrest is ventilated, high, and wide enough for comfortable lumbar support.
You will be able to train longer without soreness or stress in the back.
The seat is attached to a slanted aluminum rail with an adjustable lever that makes it easy to adjust horizontally (fore/aft) even while seated. Although it cannot be adjusted vertically, but the distance between it and the front mast increases and decreases as the horizontal adjustment is made.
The rail is somewhat long, thus, several adjustment positions are obtainable. Therefore, users between the heights of 5' to 6'5'' could be accommodated.
The backrest cannot independently be adjusted to recline just like the one on the Spirit Fitness XBR55 Recumbent Bike.
The Handlebars
There is just a set of handlebars as opposed to 2 sets that are usually on most recumbent bikes. These handlebars are attached to the seat, and they do not have heart rate sensors integrated into them, instead, they have resistance control buttons on the right side and volume control buttons on the left side.
The grips are coated with a thick, soft rubber foam material that guarantees firm and comfortable grips.
Like the backrest, the handlebars are not adjustable, they are static.
Pedals
The pedals are large, self-leveling, and textured, with adjustable safety straps. Different foot sizes can be accommodated securely and comfortably. They are designed to be ridden with standard gym shoes or sneakers.
Their external parts are made of durable plastic material while the core is made of metallic alloy.
They are attached to a sturdy crankset and strong chrome-plated crank arms.
The Drive
The R36 Recumbent Bike is equipped with a belt drive system. It mainly comprises an anti-stretch belt, a pulley, and a flywheel.
Since the flywheel is 25 lbs./11.13 kg in weight and is perimeter weighted, the operation of the bike is not only silent but also free of vibration.
One other advantage of a belt drive system such as this is that it doesn't require maintenance as a chain drive system does.
The drive is bidirectional; meaning you can pedal in reverse if you so wish in order to exercise some muscle groups that could not have been otherwise exercised.
That said, coasting is not possible because the pedals move as long as the flywheel moves, and they are directly connected.
The Resistance System
The Nordic Track R35 Commercial Recumbent Bike features a silent magnetic resistance system (SMR) that is powered by electricity. In other words, it is only functional when the bike is plugged into a power outlet.
As a result, a power adapter is included in the package for this purpose.
The internal elements of this resistance system include a small servo motor, a magnetic brake pad, and the 25 lbs./11.3 kg inertia-enhanced flywheel.
The servo motor is responsible for moving the magnetic brake pad closer or farther away from the flywheel so that when the magnetic brake pad emits magnetic fields around the flywheel (without touching it), resistance is generated.
This is the reason why the operation of the bike remains silent at any given time regardless of the resistance level being used.
The resistance system offers 26 digitally adjustable levels. The adjustment could be made via the control buttons on the right side of the handlebars or via the buttons on the right side of the console.
Moreover, if connected to the iFIT's live coaching, the resistance might automatically adjust as well.
The resistance level transition is seamless. Users will be able to experience a variety of workout challenges for weight loss, cardiovascular health improvement, and more.
Finally, since no friction occurs during the process of generating resistance, no maintenance or replacement of parts will be needed.
The Console
The console on the Nordic Track R35 Commercial Recumbent Bike is unique. It features a 14'' HD Touchscreen display technology that can be tilted for the best viewing angle.
It is not complicated to use; there are only 3 control buttons below the screen which include the volume adjustment buttons on the left side, fan buttons on the middle, and resistance buttons on the right side.
The console is Bluetooth-enabled and it's iFIT compatible. The bike comes with a 30-day free membership. Thus, you can try out the workout app for a month to know if it is worth subscribing to.
The iFIT app offers lots of workout resources that could not only make your workout sessions productive but also fun.
Once you turn ON the console, you will be prompted to create an account if you don't already have one and the app will be synced with your bike. Upon setting up the account, you will be given access to a wide range of features that include virtual trails based on Google Maps, live coaching, and On-Demand workout videos; you can track your workout progress online, compete with other users, get nutrition and sleep advice, and more.
One of the cool things about the app is that the resistance automatically adjusts when using live coaching. In other words, this is referred to as Automatic Trainer Control where the trainer will auto-adjust your resistance level to match the global terrain and optimize your workout experiences to meet your fitness goals.
A single iFIT membership allows you to create up to 5 individual profiles that each track health metrics, workout history, and exercise preferences. This is cool for the family because multiple users can use the bike.
Accessory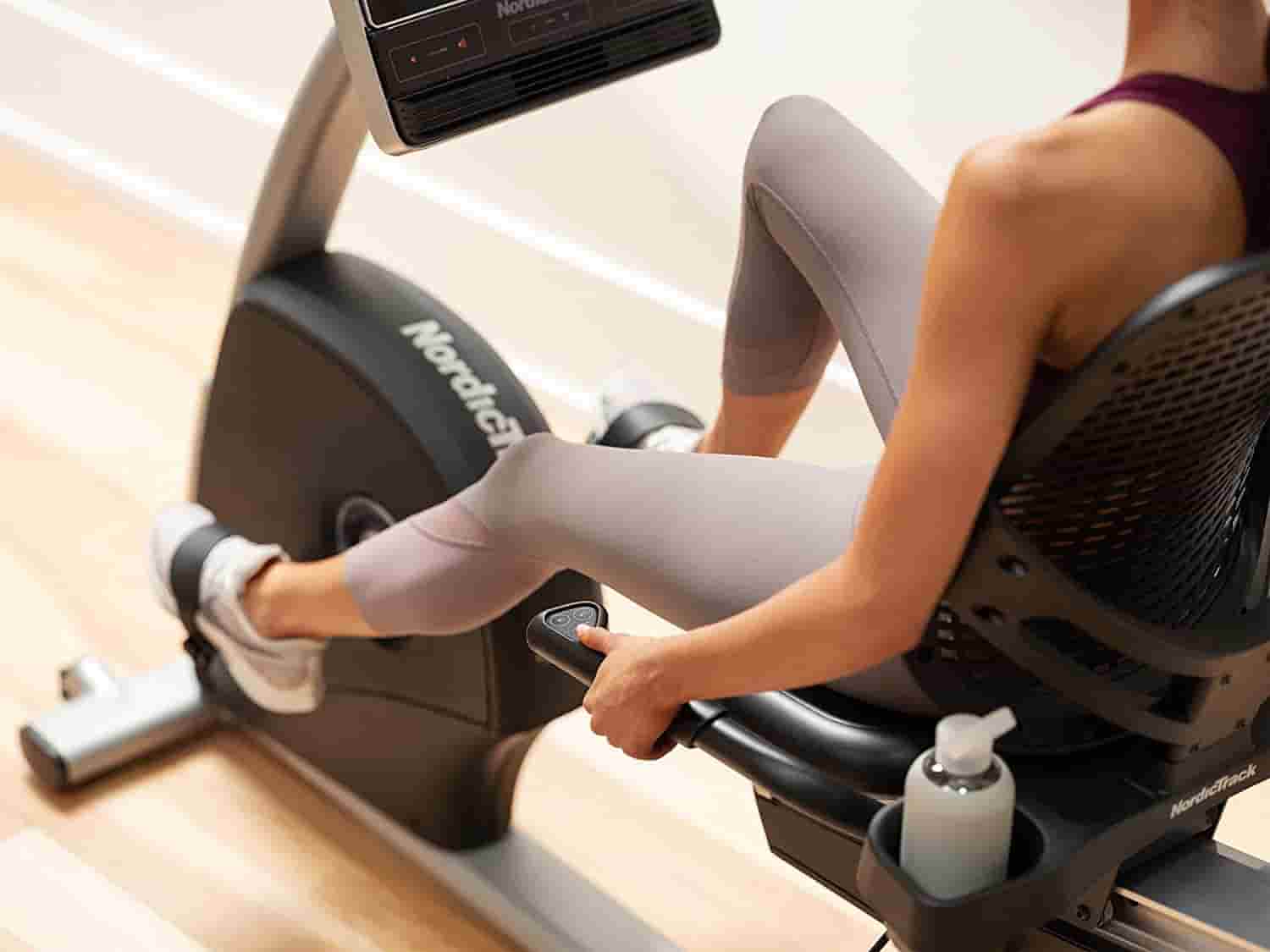 The recumbent bike has a set of cup holders for keeping water handy for proper hydration maintenance during a workout session.
There is also an automatic cooling fan that auto-adjusts based on your workout intensity. It automatically increases airflow when you pedal faster and decreases it when you slow down. It is also possible to set it permanently at a level of your choice.
The bike incorporates 2'' digitally amplified speakers that can be controlled via the buttons on the console or via the buttons on the left side handle of the handlebars. There is a Bluetooth Audio Capability that allows you to sync your earphones with the bike so that you can listen to iFIT trainers and workout videos undistracted.
Storage
The Nordic Track R35 Commercial Recumbent Bike NTEX14921 could fit in a storage area with measurements of 5'6'' (173.27 cm) length by 1'97'' (60.17 cm) width.
It has a set of front-mounted transport wheels that enable users to easily move it around the room regardless of the fact that it is weighty.
Pros/Features Overview
Sturdy and durable (commercial-grade construction)
Supports up to 350 lbs./158.7 kg maximum user weight capacity
Its operation is smooth, quiet, and vibration-free; thanks to the belt drive system with the 25 lbs./11.33 kg high inertia flywheel
SMR-silent magnetic resistance system provides 26 adjustable levels for weight loss and overall physical fitness improvement
The 14'' HD Touchscreen tiltable console provides a clear and crystal view of the display
30-day free iFIT membership avails virtual exotic trails around the world, live coaching, thousands of On-Demand workout videos, and more
Bluetooth connectivity for the iFIT app and earphones
Up to 5 profiles for multiple users
Auto-Breeze cooling fan that automatically adjusts
2'' digitally adjustable speakers are included
Step-thru design
Robust base with adjustable levelers that promote stability
The seat is large and cushioned with a ventilated lumbar support backrest
The seat handlebars are cushioned for secure and comfortable grips
The pedals are ergonomically designed, large, and textured with adjustable safety straps to accommodate different foot sizes
Transport wheels included for an easy relocation process
Water bottle holders included
Easy to assemble
Maintenance is easy
Warranty is impressive
Cons
A monthly subscription to the iFIT app is required after the expiration of the free 30-day membership if you wish to continue using it
There are no handlebars at the front (in the console area)
No heart rate sensors on the seat handlebars
Warranty
Frame: 10 Years
Parts: 2 Years
Labor: 1 Year
Product Dimensions & Specifications
Length: 68.22''
Width: 23.69''
Height: 53.42''
Shipping dimensions: 66'' L x 28.5'' W x 14'' H
Net weight: N/A
Gross weight: 192 lbs./87 kg
Maximum user weight capacity: 350 lbs./158.7 kg
Frame: Commercial-grade steel
Flywheel weight: 25 lbs./11.33 kg high inertia
Drive: Belt
Resistance: Silent magnetic resistance (SMR) system with 26 adjustable levels
Seat: 2-way adjustable
Handlebars: 1 set at the seat
Pedals: Large, textured, and balance-weighted with adjustable safety straps
Console: 14'' HD Touchscreen
IFIT compatible (1-month free iFIT membership included)
Bluetooth connectivity
Auto-Breeze cooling fan
Water bottle holders
2'' digitally amplified speakers
Transport wheels
Shipping
The Nordic Track R35 Commercial Recumbent Bike arrives in a box and it's pretty heavy. It weighs 192 lbs./87 kg with dimensions of 66'' long by 28.5'' wide by 14'' high.
Shipping is activated upon placing an order and major vendors like Amazon do not charge for shipping. Usually, it takes a couple of days to weeks to get the product delivered.
Assembly
The unit requires minimal assembly because the major components are preassembled. However, it will still take more than an hour to unbox and completely assemble.
An instruction manual and tools required for a successful assembly are included in the package.
Maintenance
It will suffice to say that there is no maintenance required. However, you need to keep it clean at all times. Make sure to store it in a cool, dry, and clean area.
Always check the parts to ensure that they are in good condition and tight.
Conclusion
The Nordic Track R35 Commercial Recumbent Bike has commercial-grade construction. It supports 350 lbs./158.7 kg maximum user weight capacity. The 14'' HD Touchscreen console features a crystal-clear display, and the 30-day free iFIT membership avails workout resources that guarantee a productive and fun-filled workout experience.
Nordic Track R35 Commercial Recumbent Bike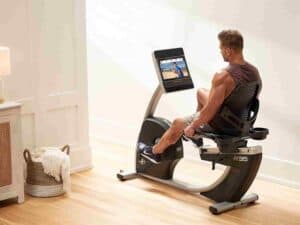 The Nordic Track R35 Commercial Recumbent Bike comes with a 14'' HD Touchscreen console and a 30-day free iFIT family membership.
Product Brand: NordicTrack
Product In-Stock: InStock