The Harison B6 Upright Indoor Exercise Bike is designed for home use. With a stylish and durable design, it offers 8 adjustable levels of resistance and customizable settings for a better productive workout experience.
It has a simple and basic LCD monitor that tracks your workout progress so that you can remain motivated to achieve your fitness goals.
This upright bike has the same features as the Harison B7 Upright Indoor Exercise Bike. Except that the latter has 14 resistance levels as opposed to 8 resistance levels of the B6 Upright Bike.
Click right here to have a peek at the best price of the Harison B6 Upright Indoor Exercise Bike.
Frame & Construction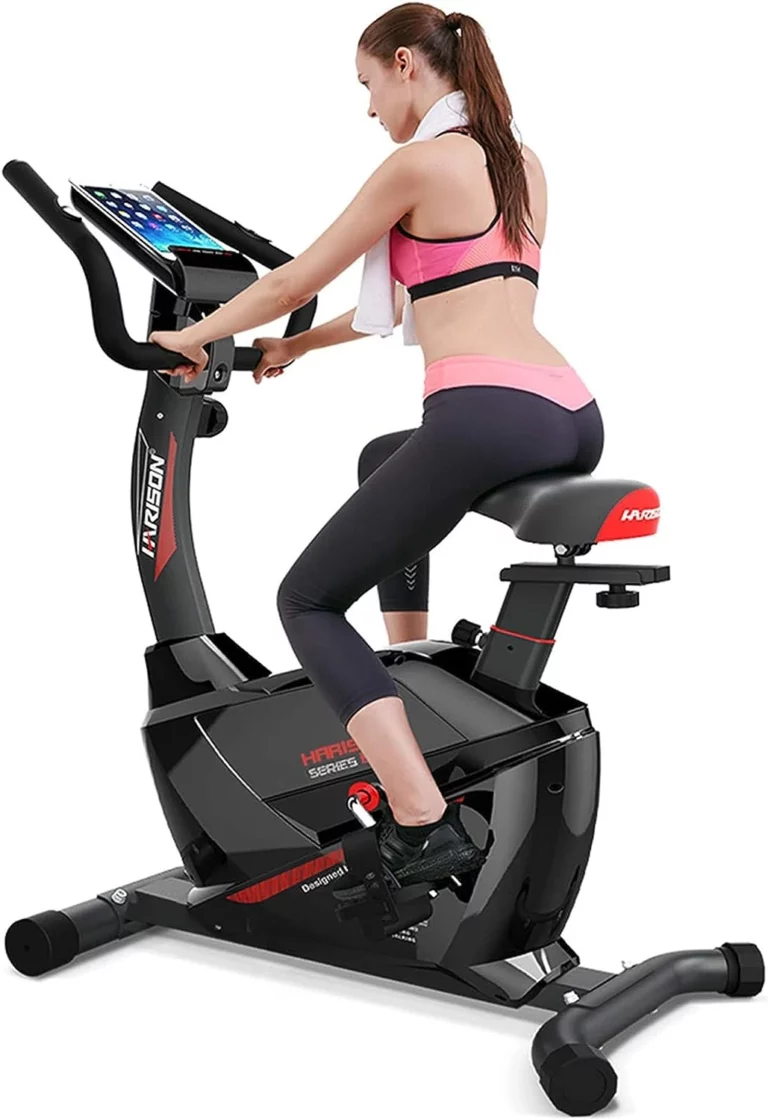 The Harison B6 Upright Indoor Exercise Bike's frame is made of steel and coated with anti-corrosion paint to keep rust at bay and prolong its lifespan. Other parts such as the flywheel shrouds, the stabilizers' end caps, the console casing, and the pedals are made of durable plastic material.
It is sturdily designed to support up to 350 lbs./136 kg maximum user weight capacity
Users will enjoy consistent stability because the base features robust front and rear cylindrically-shaped steel stabilizers. The rear stabilizer even integrates adjustable polygonal levelers that enable users to improve the overall stability of the bike on a surface that may not be entirely even.
The unit's assembled dimensions are 45'' long by 30'' wide by 50'' high. In other words, it is a compact machine that requires a workout area with measurements of 3'75'' (114.3 cm) in length by 2'5'' (76.2 cm) in width.
On top of that, a clearance of at least 2' must be considered around the bike for ease of access and safety reasons.
There are transport wheels incorporated into the front base. This will enable users to easily move the unit to a storage area without any hassle. After all, the bike is lightweight and only weighs 55 lbs./25 kg. There are transport wheels incorporated into the front base. This will enable users to easily move the unit to a storage area without any hassle. After all, the bike is lightweight and only weighs 55 lbs./25 kg.
The Seat of the Harison B6 Upright Indoor Exercise Bike
This Bike has been crafted with maximum comfort in mind. Whether you're a beginner or an experienced cyclist, the specially designed seat will provide you with a pleasant and enjoyable workout experience.
The seat can be adjusted both vertically and horizontally, making it suitable for people of different heights and body types. This flexibility allows for proper alignment and reduces the strain on joints, resulting in more comfort and a lower chance of injury.
Thus, users between heights of 4'8''-6'4'' tall can fit into the bike. To clear all doubts about whether the bike fits or not you can measure your inseam (measurement of the inner thigh to the ankle), and if it falls between 26.5''-38.9'' you are supported.
The Handlebar Harison B6 Upright Indoor Exercise Bike
The non-adjustable handlebar is ergonomically designed to fit all users of different heights, considering it is not as adjustable as the seat.
It is coated with anti-slip soft rubber foam that is meant to keep your grips consistently firm and comfortable through a prolonged workout.
The handlebar offers a variety of different grips that will enable users to train in different postures.
Heart rate sensors are integrated into either side of the handlebar so that when grasped during a workout the user's pulse rate will be transmitted to the monitor for observation.
Pedals
The pedals of the Harison B6 Upright Indoor Exercise Bike are simple and standard. They are made of durable plastic with a metallic core.
The surfaces are textured and there are safety adjustable straps; these features are meant to keep the feet stable and comfortable even during an intense workout moment.
The pedals are self-level and can only be ridden barefoot or with a pair of regular gym shoes.
It is recommended not to stand on the pedals while cycling.
The Drive
This upright bike is equipped with a drive belt system that is known for its quiet and smooth operation.
The drive system comprises an anti-stretch poly v belt, a pulley, and 18.7 lbs./8.5 kg perimeter weighted magnetic flywheel.
There are two advantages to this type of drive system. First, is its quiet and smooth operation. Hence, users can exercise with the bike anywhere, anytime, regardless of the people around.
Second, it is free of maintenance. In other words, a user won't be required to service it in any way. No post-lubrication or adjustment is needed.
The drive system makes it possible for users to pedal in reverse if they wish.
The Resistance System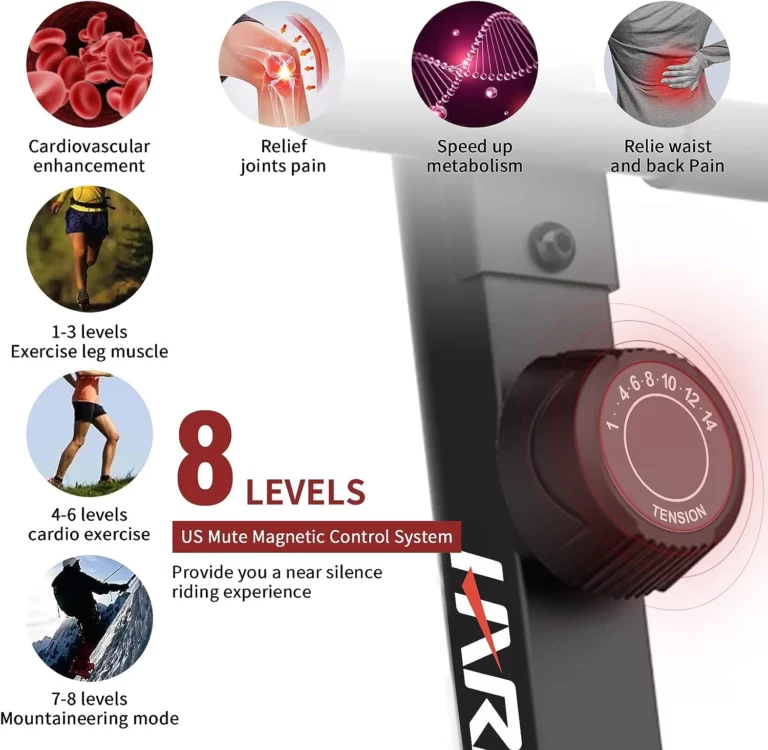 The resistance system of this bike is magnetic, and it complements the drive system in terms of maintaining smooth and quiet operation. Differently put, the operation of the bike remains quiet and smooth even when the resistance is engaged at any level.
The resistance system mainly consists of a magnetic brake pad, and the 18.7 lbs./8.5 kg magnetic flywheels. So, resistance is generated without friction because the magnetic brake pad releases magnetic fields around the flywheel which induces resistance.
The resistance is manually adjustable via the control knob on the mast and there are 8 adjustable levels.
The resistance can be increased or decreased by turning the control knob clockwise or counterclockwise, respectively.
Moreover, just like the drive system, the resistance system does not also require any maintenance because no part wears out during the process of generating resistance. Therefore, no replacement will be required for any part over a period of time.
The Console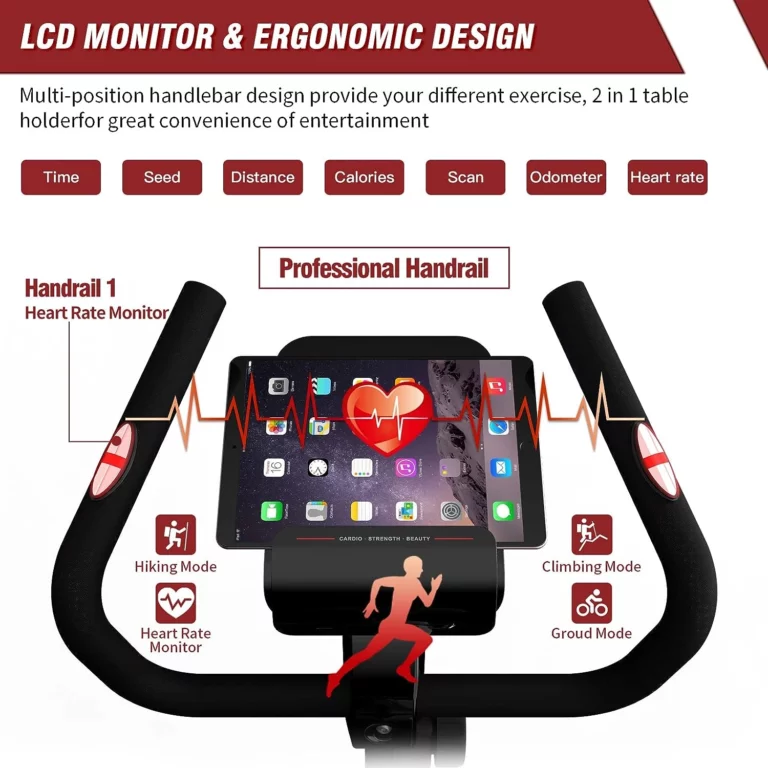 The Harison B6 Upright Indoor Exercise Bike console is simple and basic. It doesn't have any special feature other than a non-backlit LCD monitor that tracks Time, Distance, Speed, Calories-Burned, Odometer, and Heart Rate.
These workout metrics are displayed one at a time after every few seconds because they cannot all be displayed at once.
The readability is good if it is being viewed in a well-lit environment, otherwise, it may be difficult to discern due to the absence of backlight.
The Heart Rate data can only be displayed and viewed if the user holds onto the part of the handlebar with the heart rate sensors while cycling.
There are three intuitive navigation buttons that include Set, Mode, and Reset. These buttons will allow you to select, set, and reset how you want the workout data to display.
By default, the SCAN function of the console rotates the display of each workout data one at a time as aforementioned. However, you can also decide to set a certain preferred data to display constantly instead.
The console is powered by 2 AA batteries (included).
Accessory
The unit features a tablet holder that can accommodate a sizeable tablet device for entertainment purposes.
The only problem is that the display gets blocked if a device is placed on the holder. Therefore, it is not possible for the user to simultaneously keep an eye on the LCD display and get entertained.
There is no water bottle holder available. So, you will have to improvise to keep water handy for the purpose of maintaining proper hydration during a workout session.
Storage
The B6 Upright Bike is not foldable, but it is compact, lightweight, and transportable. Therefore, it is storage-friendly because it doesn't take up much space and can easily be moved around the room via the integrated transport wheels.
Pros/Features Overview
Sturdy and durable
Compact, lightweight, and portable
Transport wheels included for easy relocation
Operation is smooth and quiet
Offers low-impact cardio
Doesn't need to be plugged into a power outlet to function
If features a magnetic resistance system with 8 adjustable levels for a variety of intense workout experiences
It is customizable, thanks to the 4-way adjustable seat and the 2-way adjustable handlebar; supports inseams of 26.5''-38.9'' or 4.8''-6'4'' tall individuals
Supports 350 lbs./158.7 kg maximum user weight capacity
The LCD monitor tracks Time, Distance, Speed, Odometer, Calories-Burned, and Heart Rate
Not difficult to assemble
Minimum maintenance required
Tablet holder included
Self-weighted pedals
Cons
The LCD monitor is not backlit
No water bottle holder
No workout programs
No online connectivity
Not for serious advanced athletes
Warranty
30-Day risk-free trial
1 Year limited warranty
Product Dimensions & Specifications
Length: 45''
Width: 30''
Height: 50''
Shipping Dimension: 34'' L x 25'' W x 10'' H
Maximum User Weight Capacity: 350 lbs./158.7 kg
Supported User Heights: 4.8''-6'4''
Supported Inseams: 26.5''-38.9''
Net Weight: 55 lbs./25 kg
Gross Weight: 58 lbs./26.31 kg
Drive: Belt
Resistance: Manual magnetic with 8 adjustable levels
Seat: 4-way adjustable
Handlebar: 2-way adjustable
Pedals: Textured with adjustable safety straps
Monitor: Nonbacklit LCD
Heart Rate Monitoring System: EKG contact grips
Tablet holder: Yes
Transport Wheels: Yes
Flywheel: 18.7 lbs./8.5 kg
Shipping
When purchasing the Harison B6 Upright Indoor Exercise Bike, it is important to find out the shipping method. It is essential to check the retailer's website or contact their customer service to find out what shipping options are available, as different retailers have varying shipping policies.
This unit is usually shipped in a box that weighs 58 lbs./36.31 kg with dimensions of 34'' long by 25'' wide by 10'' high. Because of its size and weight, retailers often rely on professional shipping companies that specialize in handling bulky and heavy items to ensure special care is taken during delivery.
It will be packaged securely with a sturdy box and protective materials to protect it from any damage during transit. To save space and make shipping easier, the bike's components, such as the seat, pedals, and handlebars, may be disassembled.
The amount of time it takes for your exercise bike to be delivered to you depends on where you live and the shipping option you choose. Many stores provide estimated delivery dates, which can vary from a couple of days up to several weeks. If you need the bike urgently, some stores offer accelerated shipping.
Once the Harison B6 Upright Indoor Exercise Bike is shipped, you will receive a tracking number that can be used to monitor the package's location and approximate delivery date.
Upon delivery, it is important to check the exercise bike for any signs of damage or missing parts. If there are any issues, contact the retailer right away. Although retailers and shipping companies take steps to guarantee the safe delivery of the bike, it is still a good idea to examine the product when it arrives.
Additionally, many retailers have policies in place to handle returns and exchanges in similar circumstances, and this retailer provides the opportunity to return any bike with any issue.
Assembly
The process of putting together the Harrison B6 is straightforward and can be completed in a few steps. You do not need any additional tools or hardware, as all the items needed to assemble the bike are provided in the package. Start by unpacking all the components and arranging them in an orderly fashion. Ensure that you have all the components like the main frame, seat, pedals, handlebars, and console.
Begin by using the wrench or Allen key given to you to firmly attach the bolts to the main frame and base. Ensure they are tightened correctly to guarantee steadiness and security. Next, put the seat post into the fitting opening on the main frame and fasten the bolts to keep it in position. Finally, set the seat to a height and placement that is comfortable for you.
After installing the seat it's time to add the handlebar. Insert the post of the handlebar into the corresponding position in the main frame and use bolts to fasten it securely.
Once the main components have been assembled, you can now attach the pedals. Each pedal will usually be labeled with a \"left\" and \"right\", so ensure you attach them to the correct crank arms. To secure the pedals, use either a wrench or an Allen key.
To complete the installation, place the console into its slot and fasten the bolts to keep it secure. Don't forget to add the batteries before you can use the console.
Upon attaching all the components correctly, inspect the bike to ensure that everything is properly aligned and tightened. If any alterations need to be made, do them and then ensure that all screws and bolts are tightly fastened.
Congratulations! You have assembled the Harison B6 Upright Indoor Exercise Bike. Now it's time to hop on and begin your journey to a healthier you. Be sure to follow the manufacturer's guidelines for safe use and maintenance to ensure that your bike stays in top shape for years to come.
Maintenance
It is essential to clean your Harison B6 Upright Indoor Exercise Bike regularly in order to keep it in optimum condition. Use a soft cloth or sponge with a mild soap and water solution to wipe down the frame, handlebars, seat, pedals, and console. Refrain from using harsh chemicals or abrasive materials that may damage the surface.
Check your pedal straps often to make sure they are in good shape. If any signs of wear or tear are visible, you should think about getting new ones, so that you can have a secure and comfortable fit while you work out.
It is important to keep your console and electronic components dust-free. To do this, use a soft, dry cloth to gently wipe the display screen and buttons. Avoid spraying any cleaning solutions directly onto the console, as this can potentially harm the electronic parts.
Do check your bike on a regular basis to ensure that it is functioning properly and is safe to ride. Make sure all bolts and screws are tightly secured. If the bike is unstable or shaking while in use, inspect the bike more thoroughly and tighten any loose parts. If the issue persists, contact the manufacturer for help.
If you plan to keep the Harison B6 Upright Indoor Exercise Bike in storage for an extended period of time, be sure to place it in a clean and dry area. Put a protective sheet or bike cover over the bike to ward off dust. Avoid storing the bike in areas with extreme temperatures or high levels of humidity, as this could lead to rust or other damage.
Conclusion
If you're looking for an exercise bike that is affordable and able to provide decent cardiovascular workouts the Harison B6 Upright Indoor Exercise Bike might be a good option. Its smooth and quiet ride, adjustable resistance, and durable construction will provide a comfortable and reliable experience, while the LCD monitor allows you to track your progress.
This bike's compact design makes it perfect for small spaces and easy to store. Ultimately, investing in the Harison B6 Upright Indoor Exercise Bike is an excellent way to improve your cardiovascular health and overall fitness.
Harison B6 Upright Indoor Exercise Bike Review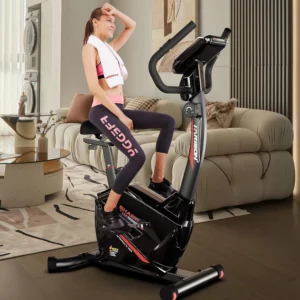 The Harison B6 Upright Indoor Exercise Bike is designed for home use. With a stylish and durable design, it offers 8 adjustable levels of resistance and customizable settings for a better productive workout experience.
Product Brand: Harison
Product In-Stock: InStock