The Exerpeutic 1000xl Magnetic Elliptical offers full body and low-impact cardio. A good choice for those that wish to work out in the comfort of their home without experiencing back, and joint pains that have always been associated with exercising.
This is a good alternative to running on a hard asphalt road and in bad weather.
It is affordable and built to support a maximum user capacity of 300 lbs./136 kg. Its operation is quiet, thus, your workout activities won't interfere with other people's business.
The elliptical trainer is a companion in your quest to getting physically fit.
Click right here to have a peek at the best price of the Exerpeutic 1000xl Magnetic Elliptical on Amazon.
The Frame and Construction
The Exerpeutic 1000xl Magnetic Elliptical is a lightweight machine that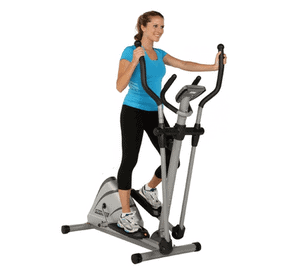 weighs about 76 lbs./34 kg with a small footprint and still maintains good stability.
Its base framework features front and rear steel stabilizers that also have a rubber cap on each end for floor-friendliness. The rear stabilizer is adorned with polygonal shaped adjustable levelers that enable you to balance the bike on crooked surfaces.
As a result, the bike holds up and doesn't wobble during workouts.
Moreover, there are transport wheels at the front base for easy relocation of the bike for storage.
The bike's frame is made of heavy-duty anti-corrosion coated steel and ABS plastic for other parts such as the drive's casings and other cosmetic coverings.
Its overall assembled dimensions are 54" long by 23" wide by 63" high. It needs an area with measurements of 4'5" length by 2′ width for workout activities.
Although, it is going to require an extra clearance of 1-2" around it for safety and easy access reasons.
The unit offers workouts that target the back, the arms, the core, the hips, the calves, the shoulders, and the chest muscle groups.
The Handlebars
The Exerpeutic 1000xl Magnetic Elliptical incorporates 2 sets of handlebars. One set is mobile while the other is static and they are both at the front part of the machine.
Therefore, you can exercise the whole of the body or choose to exercise the lower body alone.
The static handlebars are attached to the console mast and they integrate the EKG heart rate sensors. Your heart rate is read and transmitted to the monitor when they are held during a workout. This enables you to track and maintain your target heart rate zone at all times.
While on the other, the moveable handlebars do not have heart rate sensors on them and they are connected to the pedals. Meaning, they work in tandem with the pedals. When the pedals move they also move.
Both the static and the moveable handlebars are well coated with anti-skid rubber foam for comfortable and secure grips.
The Pedals of the Exerpeutic 1000xl Magnetic Elliptical
The pedals are large, ribbed with a protective 1" guard at the arch and front of the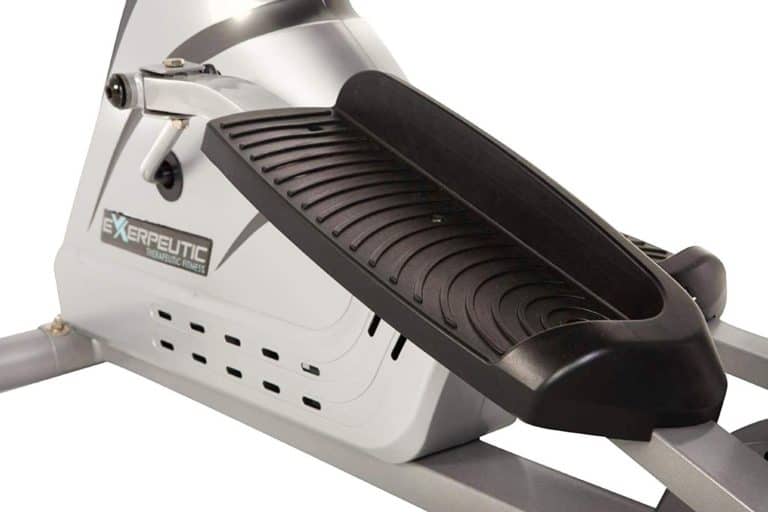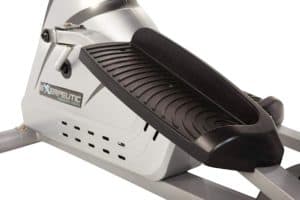 feet. They accommodate different foot sizes and standard gym shoes.
They are attached to the bars that connect the mobile handlebars and the cranks. The pedal inclines downward when at its highest position providing the mechanical movement that simulates the natural motion of jogging or running. Only that this time, your joints don't suffer from stress.
They have a stride length of 13" which may not be enough for taller individuals to extend their stride fully. Therefore, it will be suitable for users that are less than 6′ tall.
Speaking of the ceiling height; the pedal's highest position should not be more than 20" tops. So, do the math, add your height to 20" and a couple of more inches to determine if the ceiling height of where you intend to use it is OK.
The Drive
This elliptical trainer is a rear and belt-driven machine like the Ancheer Elliptical Trainer. It consists of a durable v-belt, solid cranks, pulleys, and an unspecified weight precision-balanced flywheel.
Its operation is smooth and quiet, so much that you can enjoy watching your favorite TV show or listening to music while working out without noise interference from the bike. Train at any time of the day without disturbing or invading other people's privacy.
On top of that, the drive is maintenance-free. It does not need periodic lubrication or adjustment as the chain drive system does.
Its dual-direction capability allows you to pedals in reverse for workout diversification and toning of more muscle groups.
The Resistance
The Exerpeutic 1000xl Magnetic Elliptical machine features a manual magnetic resistance system with 8 adjustable levels. This offers different intensities that range from light to challenging workouts.
However, an advanced athlete may not be impressed with the workout difficulties but they are suitable for beginners and intermediary users whose goals are to lose weight, improve heart and lungs' health, and recover from an injury.
No friction occurs when generating resistance, hence, no part gets damaged and replacement is not required.
The bike's operation is not accompanied by vibration when the resistance is engaged or applied
To increase or decrease the resistance intensity, simply dial the tension knob clockwise or anticlockwise respectively.
The Console
This elliptical machine integrates a basic console that features an LCD monitor. It is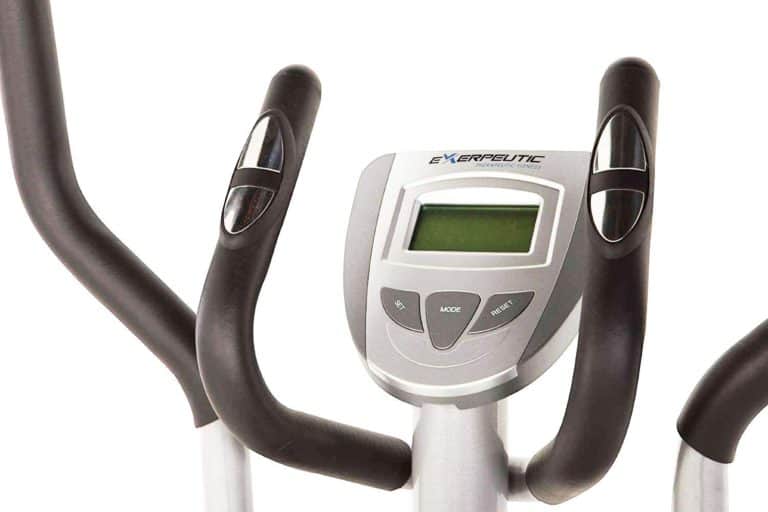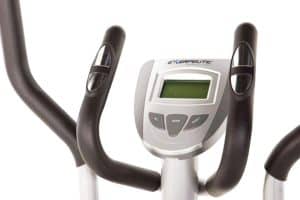 not telemetry-enabled, it does not connect to an app, and its monitor is not backlit.
However, the monitor does display workout stats such as Time, Speed, Distance, Calories Burned, Odometer, and Pulse. It does so with high readability as long as it's being viewed in a room with good illumination.
Its SCAN function rotationally displays the workout stats one at a time after every 6 seconds because the monitor cannot display them all at once. But you can override it by setting a certain workout value of your choice to constantly display without changing.
The monitor also offers goal settings (count-down) for Time, Distance, and Calories.
3 navigation buttons include Set, Mode, and Reset keys. Press the Mode button to change any current stat that is being displayed, use the Set button to set goal value for Time, Distance, Calories, or Pulse, and use the Reset button to clear a value.
The monitor is powered by 2 AA batteries. It automatically turns OFF when you stop pedaling for a few minutes, and it automatically turns ON when you resume pedaling.
Accessory
No water bottle or tablet holder on this elliptical trainer.
Storage
The Exerpeutic 1000xl Magnetic Elliptical is not foldable, neither is it large. It is
portable and lightweight.
A storage area with measurements of 4'5" length by 2" will be enough.
Simply raise the rear base and tilt it over to its transport wheels at the front base and roll it away for storage.
Approval Rating
The Exerpeutic 1000xl Magnetic Elliptical has been around for a while and has garnered a lot of Amazon customers' reviews most of which are positive, thus, its approval rating is impressive.
Moreover, independent review sites also have a favorable view of it.
Pros/Features Overview
It is durably built and stable
It is affordable when compared to other elliptical trainers
It doesn't take up too much space & it's portable
Supports a maximum user weight capacity of 300 lbs./136 kg
Large and ribbed pedals with 13" stride length accommodate most foot sizes and standard gym shoes
Double set of handlebars for full or lower body cardio workouts
It provides low-impact workouts that are gentle on the joints
Operation or transmission is quiet and smooth
Its dual-directional drive allows you to pedal in reverse
Its magnetic resistance system offers 8 different intensities for weight loss, improvement of heart and lungs' health, and more
The LCD easy-to-read monitor tracks workout progress including heart rate
Transport wheel included
Assembly is relatively easy
No complicated maintenance
Cons
No water bottle or tablet holder
The console is not telemetry-enabled & does not have online connectivity
The monitor is not backlit
Its 13" stride length may not be the best for individuals taller than 6′
Product Dimensions and Specifications
Length 54"
Width 23"
Height 63"
Shipping dimensions: 45.2" L x 23.5" W x 11" H
Net weight: 76 lbs./34.4 kg
Gross weight: 88.8 lbs./40.2 kg
Maximum user weight capacity: 300 lbs./136 kg
Drive: Belt
Resistance: Manual magnetic, 8 adjustable levels
Handlebars: 2 sets (static & moveable)
Pedals: Large & ribbed
Stride length: 13"
Frame: Steel
Incline: No
Power: None
Monitor: Nonbacklit battery-powered tracks Time, Speed, Distance, Calories Burned, Odometer, and Pulse
Heart rate monitoring: EKG contact grips
Shipping
The Exerpeutic 1000xl Magnetic Elliptical's package weight is 88.8 lbs./40.2 kg and has shipping dimensions of 45.2" L x 23.5" W x 11" H.
It is shipped out for free upon purchase by online retailers like Amazon.
Assembly
The unit is not complicated to assemble since it arrives with the major components already preassembled.
You are expected to attach the base bars, the mast, the dual handlebars, the pedals, and the console to the core unit. Remember, when attaching the left pedal into the left crank, screw in the nylon nut in a counterclockwise direction.
Assembly takes about 30 minutes, more or less, to complete.
Maintenance
Keep the unit clean and dry. Do not expose the monitor to liquid or moisture. Avoid direct sunlight to it and inspect it for a loose or broken part before use.
Conclusion
The Exerpeutic 1000xl Magnetic Elliptical may be lacking in terms of some features but it certainly gets the user to lose weight and improve overall physical fitness.
At least, you don't have to break a bank to acquire this and it offers low-impact cardio workouts that tone most of the body muscle groups.
[rank_math_rich_snippet]