The Exerpeutic Aero Air Elliptical is a budget-friendly trainer that gets you to experience low-impact workouts in your home. It is a basic machine without the bells & whistles but it's cost-effective.
It is also compact, lightweight, and portable. Easy to move around for storage and workouts.
That said, it may not be suitable for individuals taller than 6′, and those that are nearly 260 lbs./118 kg may experience wobbly movement.
However, the usage of a protective rubber mat might help to stabilize it properly.
Click right here to have a peek at the price of the Exerpeutic Aero Air Elliptical on Amazon.
This is currently out of stock but you can check out the alternative. 
The Frame and Construction
The 1301-Exerpeutic 260 Aero Air Elliptical has a space-saving design and it's pretty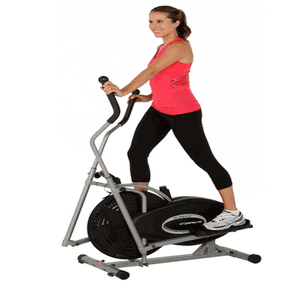 much like the Body Rider BR1830. It is not foldable, but it is compact with dimensions of 33" long by 19" wide by 46" high.
In other words, it requires a workout area with perimeters of 2'8" length by 1'6" width. Additional clearance of 1-2′ is recommended around it for safety and comfortable workouts.
It features a solid steel frame that is coated with anti-corrosion gray paint and has ABS plastic covers for the drive.
Even though it has a small footprint, it still holds up during a workout. The base framework integrates stabilizer bars that have rubber end caps. Those at the rear are adjustable so that you can balance the bike on crooked floors.
The trainer weighs 50.7 lbs./23 kg, which is not heavy but does boost its overall stability.
Handlebars of the Exerpeutic 260 Aero Air Elliptical
This full-body trainer features only a set of handlebars, as opposed to other elliptical trainers such as the Exerpeutic 1000XL which has 2 sets instead.
It doesn't have static handlebars, only the dual-action that allows the user to work out the upper body.
They don't move independently without the pedals also moving, because, they are connected.
The handlebars are well cushioned with a rubber foam that prevents sweaty hands and blisters in the palms, which may be caused by frequent and prolonged workouts.
However, EKG heart rate sensors are not integrated into them. Therefore, you will not be able to track and maintain your target heart rate zone unless you use an external pulse-tracking device.
The Pedals
The pedals on the Exerpeutic Aero Air Elliptical are large, textured, and have a 1" protective border. They can accommodate different foot sizes and conventional gym shoes.
They offer a natural slide motion that does not hurt the hips, knees, calves, or ankles.
As aforementioned, the pedals have a 13" stride length which could be fine for those that are below 6′ tall.
To determine the suitable ceiling height for this trainer, you will have to add your height to 18.5" (the highest position of the pedal) and a couple of more inches for clearance.
In most cases, 7-8′ is usually OK.
The Drive
The 1301-Exerpeutic 260 Aero Air Elliptical has a chain drive system that comprises of a chain, a fan flywheel, sprockets, and cranks.
Its operation may not be as quiet as a belt-driven elliptical trainer, but it does operate without interference. Differently put, your workout activities won't disturb the people around you and you can watch a movie or TV show without interference from the trainer.
The chain will need periodic lubrication if it has to continue functioning properly without generating noise or breaking.
That said, the drive is bi-directional, meaning you can pedal backward to diversify your workout and tone more muscle groups.
The Resistance
This elliptical trainer incorporates a manual magnetic resistance system with 8 adjustable levels. It consists of a tension knob, a metallic fan flywheel, and a magnetic brake pad.
These elements don't come in direct contact to generate resistance, instead, a magnetic field is emitted in the premise of the flywheel by the magnetic brake pad.
So, no part breaks, no part wears out, and no replacement is needed. It will suffice to say that the resistance system is maintenance-free.
Moreover, the operation of the trainer remains smooth and relatively quiet even when the resistance is engaged.
The 8 resistance levels provide different workout challenges for weight loss, improvement of heart, and lungs' health and overall physical fitness.
To increase or decrease the resistance intensity, simply dial the tension knob clockwise or counterclockwise, respectively.
Console
The Exerpeutic 260 Aero Air Elliptical has a basic console that features a nonbacklit easy-to-read LCD monitor.
The monitor tracks workout stats such as Elapsed Time, Speed, Distance, and Calories. The readability is great as long as it's being viewed in a room with good illumination, otherwise, it will be compromised.
Since the workout stats cannot be displayed all at once, the SCAN function has them switched one after the other every few seconds. You can also set a certain workout value to display constantly.
The monitor is powered by 2 AA batteries (included).
To preserve the batteries' power, the monitor turns OFF automatically when there is no pedaling activity for a few minutes, and it turns back ON when activity resumes.
Accessory
No water bottle or tablet holder.
Storage
The storage of the Exerpeutic 260 Aero Air Elliptical is easy and doesn't need much space.
It is lightweight, compact, and portable. This means it weighs only 50.7 lbs./23 kg, has the dimensions of 33" long by 19" wide, and transports wheels at the front base.
Simply raise it from the rear base and roll it over to a storage area with perimeters of  2'8" length by 1'6" width.
Approval Rating
This elliptical trainer has been popular among its users because it is cost-effective. There are several reviews written by Amazon customers and independent sites that are in favor of it.
Pros/Features Overview
It is very affordable
It can fit in a small room due to its compact design
Supports a maximum user weight capacity of 260 lbs./118 kg
Easy to store away via the transport wheels
It offers full-body and low-impact workouts that target most of the muscle groups without hurting the joints
The dual-action handlebars are cushioned and comfortable
The large and anti-skid designed pedals accommodate different foot sizes and standard gym shoes
It provides a natural elliptical motion that eliminates every bouncy movement
LCD monitor tracks workout progress
Operation is smooth and near-silent
13" stride length
Easy assembly
Cons
No heart rate monitoring function
It is not for serious athletes
It might be slightly wobbly when used by a heavy individual
Product Dimensions and Specifications
Length 33"
Width 19"
Height 46"
Shipping dimensions: 38.6" L x 25.9" W x 9.1" H
Net weight: 50.7 lbs./23 kg
Gross weight: 59.2 lbs./26.8 kg
Maximum user weight capacity: 260 lbs./118 kg
Drive: Chain
Resistance: Manual magnetic, 8 adjustable levels
Handlebar: Dual-action
Pedals: Large, textured
Stride length: 13"
Frame: Steel
Monitor: Nonbacklit battery-powered LCD tracks Elapsed Time, Speed, Distance, and Calories
Batteries included
Heart rate monitoring: No
Shipping
The Exerpeutic Aero Air Elliptical is shipped out in a single box that weighs 59.2 lbs./26.8 kg and has the dimensions of 38.6" L x 25.9" W x 9.1" H.
No shipping fee if it is purchased from Amazon, and it gets delivered in a couple of days.
Assembly
The elliptical trainer assembly is straightforward.
Major and complicated components such as the drive/resistance system are already preassembled. You only need to attach the base stabilizers, the handlebars, the pedals, and the console to the main unit/frame.
It takes 30 minutes, more or less, to completely assemble. Tools and an instruction manual are included in the package for successful assembly.
Maintenance
Keep the machine clean, and always ensure it is stored in a cool and dry area. Inspect it for a loose or broken part before use, and act accordingly if there is a problem.
Also, the chain will need to be lubricated periodically for proper performance.
Conclusion
The Exerpeutic Aero Air Elliptical is for those that are on a budget and do not have enough space area for a fitness machine.
This is their chance to own a full-body low-impact cardio machine that could help them improve their overall physical fitness.
Exerpeutic Aero Air Elliptical Review-Super Affordable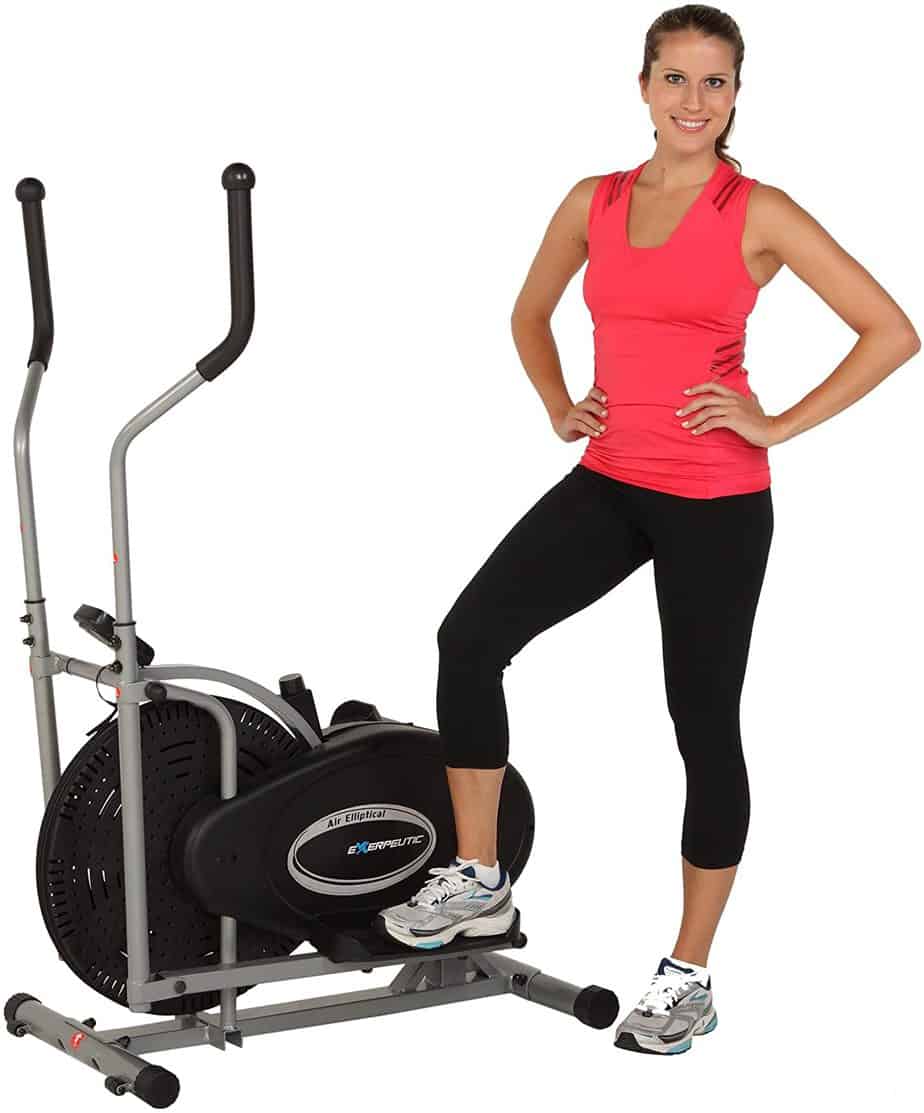 Exerpeutic Aero Air Elliptical is affordable with impressive pros, but it also has its downsides. If you have read through and felt that you can live with the
Product Brand: Exerpeutic
Product In-Stock: https://schema.org/InStock