The Body-Solid GCBT380 Cam Series Bicep Tricep Machine has the sole assignment of assisting users to build ripped arms in the comfort of their homes. It is specifically designed for home, office, and commercial use.
The machine is sturdily built with heavy gauge steel and bolts. In other words, it's rock solid and will last for a very long time.
The adjustable lifting arm and the seat ensure that you fit in comfortably. It also features an ultra-thicK DuraFirm upholstery that supports your arms comfortably while working out with the V-bar handle.
This bicep and tricep machine is made to help you accelerate your muscle gain.
Although, the machine has its limits because it doesn't work on any other muscle group other than the triceps and biceps. Moreover, if you are a heavyweight lifter, it may not allow you to train with the amount of weight you might use when using a curling bar and free weights.
Therefore, a home gym might be the way to go if you are looking forward to exercising other muscle groups of the body with heavyweight as possible.
Otherwise, click right here to have a peek at the price and of of the Body-Solid GCBT380 Cam Series Bicep Tricep Machine on Amazon.
The Frame and Construction
As aforementioned, the Body-Solid GCBT380 Cam Series Bicep Tricep Machine is built like a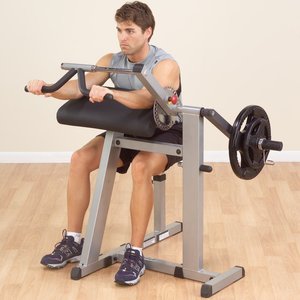 tank. It features 2" x 2" and 2" x 4" steel structural frame that is coated with anti-rust paint.
The T-shaped base integrates anti-skid pads underneath to ensure that the machine remains optimally stable.
Its overall assembled dimensions are  45" long by 43" wide by 40" high. Differently put, the unit requires a workout area with the perimeters of 3'8" length by 3'6" width.
The Seat
The GCBT380 Cam Series Bicep Tricep Machine is equipped with a comfortable cushioned seat that is 2-way adjustable. It can be raised up or down to suit users of different heights and sizes.
The arm/elbow padding is positioned at a 30-degree angle for precise biomechanical movement. It's been reported that this is way better than the old 45-degrees angle it used to be.
The machine does fit individuals as tall as 6'3".
The Handlebar
The machine has a V-bar handle that is coated with soft rubber foam for comfortable and secure grips. This means frequent and prolonged use won't cause blisters in the palms or slippage.
It is attached to the adjustable arm for an easy switch between biceps and triceps workout positions.
Resistance
The Body-Solid GCBT380 Cam Series Bicep Tricep Machine uses a weight resistance system that comprises a bar and barbells (not included). The weight is on the left side of the machine that is connected to the adjustable arm.
You will have total control as to how much weight you want to use on it, or even use it without weight. It all depends on what you wish you to accomplish.
It uses1" standard weight or Olympic weight plates that require an OA8 Olympic adapter sleeve and the safety spring clip. This enables heavyweight users to use up to three 45 lbs./20.4 kg weight.
The machine also accommodates weight plates as low as 10 lbs./4.5 kg.
Adding and removing the weight plates is straightforward and easy.
Again, the unit is not supplied with the weight plates, they are to be purchased separately.
Storage
The biceps and triceps machine does not incorporate transport wheels, thus, moving it will be problematic even though it only weighs 79 lbs./35.8 kg without weight plates.
It is best left on a dedicated workout area if you can afford it.
Pros/Features Overview
It is sturdy and durably built, hence, ideal for home and commercial use
The well-cushioned 30-degree angle padding provides adequate comfort for the elbow
It is not large, thus, won't require plenty of space
Targets the development of the triceps and biceps muscle groups with great precision
The V-handlebar can easily be adjusted to biceps or triceps workout position
Total control over the weight plates to be used
Accommodates standard and Olympic weight plates
It provides a safe and easy way to work out the arms muscle groups
Requires no maintenance
Excellent warranty
Cons
Designed for biceps and triceps workouts only
Some users may not be able to use enough weight
Poorly written instruction manual
OA8 Olympic adapter sleeve for Olympic weight plates not included (needs to be purchased separately)
Warranty
Home-Use
Lifetime for Frame & Welds
Lifetime for Bushings & Hardware
Lifetime for Pads, Cables, and Grips
Commercial-Use
Lifetime for Frame & Welds
3 Years for Bushings & Hardware
1 Years for Pads, Cables, and Grips
Product Dimensions and Specifications
Length 45"
Width 43"
Height 40"
Shipping dimensions: 7.48" L x 33.86" W x 38.19" H
Net weight: 79 lbs./35.8 kg
Gross weight: 88 lbs./49 kg
Seat: Cushioned, adjustable, and 30-degree-angle position
Handlebar: V-shape, cushioned and adjustable
Ultra-thick DuraFirm upholstery arm/elbow pad
Frame: 2" x 2" and 2" x 4" steel
Shipping
The Body-Solid GCBT380 Cam Series Bicep Tricep Machine is shipped in a box that weighs 88 lbs./40 kg with dimensions of 7.48" L x 33.86" W x 38.19" H.
Amazon offers free shipping and makes the delivery of the product in a couple of days.
Assembly
This is the tricky part because there have been complaints about the instruction manual not being helpful. However, intuitively, you can deduce where the parts are supposed to be, but it might take a little bit of time to get it done.
A few sockets and wrenches of your own might come handy and an extra hand will go a long way to assembling the machine.
Maintenance
The Bicep & Tricep Machine needs to be kept clean. Inspect it before use for any loose or broken part to avoid an accident or further damage to it.
Conclusion
The Body-Solid GCBT380 Cam Series Bicep Tricep Machine does what it's designed for. It is comfortable and it gets your biceps and triceps ripped.
However, if you are a heavyweight lifter, it might not accommodate the amount of weight you need, but the use of a sleeve adapter for the Olympic weight plates might help.
Body-Solid GCBT380 Cam Series Bicep Tricep Machine-Review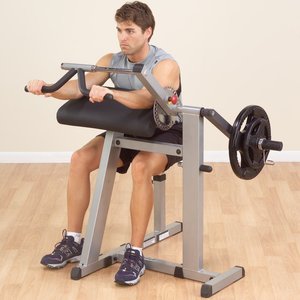 Body Solid GCBT380 Cam Series Bicep Tricep Machine was designed and assigned a duty to help you develop and build a very good biceps and triceps conveniently
Product Brand: Body-Solid
Product In-Stock: https://schema.org/InStock